Don Lemon & Fiancé Tim Malone Roam around NYC for a Romantic Date 2 Years Since Engagement
American television journalist Don Lemon and his fiancé Tim Malone enjoyed a beautiful adventure in New York City. Lemon documented their time together and shared several pictures with fans on Instagram. 
Television journalist Don Lemon has enjoyed a successful career. He had stints as an NBC correspondent and appeared on "Today" and "NBC Nightly News."
In 2006, he joined CNN as a correspondent and became famous for presenting "CNN Tonight." He is a recipient of multiple awards and also hosts "Don Lemon Tonight."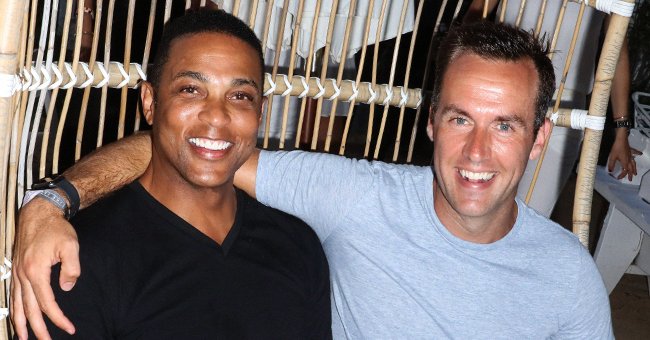 In 2011, Lemon released a memoir titled "Transparent." There, he publicly came out as gay and was one of the few openly gay Black men in broadcasting at the time. 
Lemon met real estate agent Tim Malone in New York in 2017 and started a relationship with him. In April 2019, the couple announced their engagement. Since getting then, the couple's love has only strengthened.
In a 2019 chat with Us Weekly, Lemon said it had been an amazing experience since their engagement. He also described how Malone proposed to him, revealing that his body was shaking when he asked that they spend the rest of their lives together. 
Lemon and Malone love going on adventures and spending time together. Recently, the lovebirds toured New York City and documented their experience. 
Lemon shared several pictures from him and Malone's New York City adventure with his fans in an Instagram post. The photos showed him in a white T-shirt, gray shorts, and white sneakers, while Malone wore a gray T-Shirt, blue shorts, and black sneakers. 
Lemon said he and Malone are exploring the idea of growing their family and hope to wed before having children. 
The first snap showed the couple posing at the Great Lawn, while the second picture showed them at the ever-busy Times Square area. 
In the third photo, Lemon and Malone posed with their Citi bike bicycles, while the fourth and last pictures showed them enjoying the beautiful New York City scenery. In the post's caption, Lemon wrote:
"Went on an NYC adventure today[… ]@timpmalonenyc & I stopped by #TheGreatLawn to check out Saturday's concert venue."
Some fans were in awe of the couple's incredible love and bond and complimented them for being cute and sharing their experience. 
Previously, Lemon and Malone expressed that they are not in a rush to get married. Later during an exclusive chat with People in March, the CNN anchor confirmed his wedding with Malone is still on. 
However, he said they would not talk about it until the end of the COVID-19 pandemic because more important things are happening in the world. 
In a recent appearance on the "Tamron Hall Show," Lemon said he and Malone are exploring the idea of growing their family and hope to wed before having children. 
Lemon also shared that he and Malone are considering different options for parenthood, including surrogacy and adoption. When Malone and Lemon eventually wed and have kids, they will be adding to their already large family, which already includes three adorable dogs.