Normani Rocks See-Through Skirt & Leather Corset in Stunning New Photos
Normani felt quite "thankful" as she turned up in a series of stunning photos on Instagram. The star rocked a yellow see-through skirt and a leather bustier that put her amazing curves on display.
Singer and dancer Normani Kordei Hamilton, well known for her excellent fashion style, set her Instagram page alight with her new post. The "Dancing with a Stranger" crooner looked radiant in a corset and a maxi skirt.
The star flooded her page with a series of photos of her new style featuring corset outfits that got fans talking. Her comment section was also filled up with appreciative words and love emojis.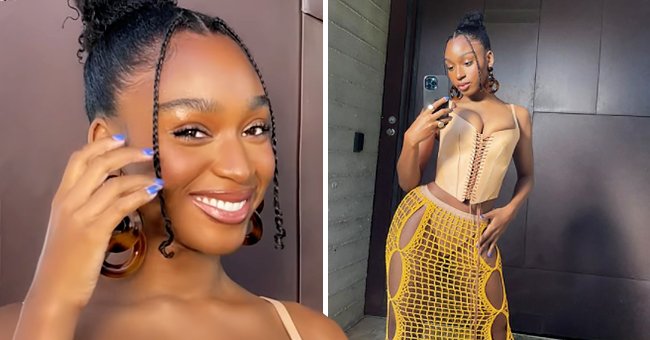 NORMANI'S STUNNING POST
Rocking a brown leather corset and sheer maxi knit skirt, the "Motivation" singer looked stunning as she posed for a series of photos. One of the seven images shared featured a closer view of the star's elegant figure.
She styled her dark hair in a tight updo while leaving two braided strands falling freely around her face. In the last image posted, she laid on the ground with one elbow supporting her upper body.
Her post has gotten over 623,305 likes and 5,461 comments. The "Dance with a Stranger" artist series of photos came with a short but detailed caption that read, "thankful. been going through uncomfortable change, but God remains faithful."
NORMANI GOT SNUBBED FOR THE 2021 VMAs
Normani revealed that she would not be performing at the 2021 MTV Video Music Awards. And a social media update also confirmed that she had not been invited to perform.
Being the only black person in the girls' group [Fifth Harmony] [Normani] believed she didn't get the same opportunities.
For fans who had been anticipating the star's performance at this year's VMAs, the news came as a big blow. But the star's fans are not letting the snub slide and started the #LetNormaniPerform campaign on social media.
The 25-year-old artist also opened up in an interview with Atlanta radio station Q99.7 about how she felt about being ignored. According to Normani, she was "disappointed," but that would stop her from feeling good.
NORMANI'S TIME ON THE FIFTH HARMONY 
In a recent interview, the dancer opened up about her time and how she felt singing in the former girls' group Fifth Harmony. Normani noted that as a group member, she felt "overlooked."
Being the only black person in the girls' group, including Ally Brooke, Dinah Jane, Lauren Jauregui, and Camila Cabello, the star believed she didn't get the same opportunities as the other group members during performances.
Normani also revealed that while growing up, she faced problems with racism which extended way into her teenage years. But the star noted that she is now "reinventing" herself as she focuses on her career.
While Fifth Harmony was still running, they dropped many hit songs that rocked the music industry. Now, after the girls' group disbanded, the group members are doing their own thing.
Camilla Cabello released some singles and collaborations before dropping her album. She has also performed at award shows and got two Grammy Award nominations. Lauren Jauregui did a feature on Halsey's "Strangers" track while still in the group.
For Jauregui's first solo project, she revealed that she wouldn't have any features. Normani has also dropped hit singles since she left the group. Other group members have remained in the spotlight, keeping fans entertained.