Chris Brown's Mom Joyce Hawkins Looks Younger than Her Age Posing with Body Paint on Her Chest in a Beaded Top
Chris Brown's mother, Joyce Hawkins, was barely recognizable in a new photo she shared that showed her looking much younger than her age. 
Chris Brown is one of the world's most popular musicians and is famous for his multiple hit songs. The singer owes much of his rise to fame and success to his mom, Joyce Hawkins, who helped to nurture him and has been there for him at all times. 
Being the mother of a famous singer has its benefits. Brown's fame has rubbed off on his mom, who is now popular among his fans. Hawkins has an Instagram account with 406k followers.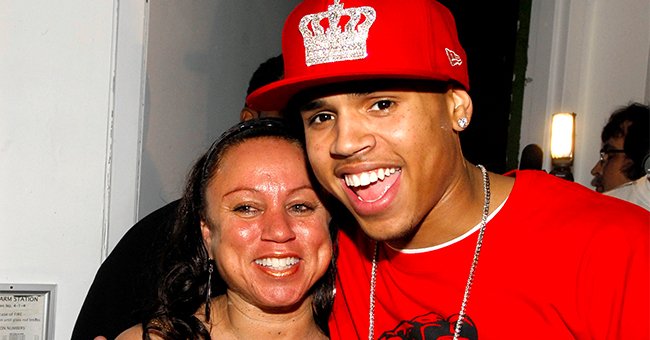 There, she usually posts pictures and videos of her precious moments with her son, grandkids, and friends. Many of Hawkins' fans have connected with her through her posts. 
However, the post she made on Wednesday caused shock among many of them as they could hardly recognize that it was her. This was after she shared an unforgettable picture of herself.
The snapshot showed Hawkins looking much younger than her age. She wore a white jeweled bra and had body paint over her upper body, including her cleavage and shoulders. 
Hawkins had her makeup on and smiled as she posed for the camera. She accessorized her look with hoop earrings and looked so stunning that most people who commented on the post ran out of adjectives to describe her.
After reports emerged that Brown had fathered a baby in 2014 and his then-girlfriend, Karrueche Tran, dumped him.
Hawkins thanked the graphics artist who did her body paint and described it as amazing in the post's caption. She also wrote, "I FELT LIKE A SHOWGIRL IN VEGAS!!! THANK YOU SO MUCH!!!!! ❤️❤️❤️❤️." 
This is not the first time Hawkins is wowing her fans with gorgeous pictures of herself. Since undergoing a huge transformation, she has become very active on social media and enjoys showing her beauty. 
Although Hawkins' transformation has wowed fans, she felt their brunt earlier last year when they accused her of a major photoshop fail after she seemingly edited her appearance in a throwback picture she previously shared. 
Brown has a close relationship with his mom, who has stood by his side throughout all his legal troubles, starting with his assault on singer and ex-girlfriend, Rihanna. 
However, the relationship between mother and son has been tested many times, especially when Brown was at a rehabilitation center to treat his anger management issues. 
Then, the mother-son duo worked on repairing their strained relationship as Brown realized his mom wanted nothing but the best for him. He also had to come to terms with the fact that she is an authority in his life and has only his best interests at heart. 
After reports emerged that Brown had fathered a baby in 2014 and his then-girlfriend, Karrueche Tran, dumped him, Hawkins showed her love for her son by declaring she will help him raise his baby girl. 
After Royalty's birth, Brown has also welcomed a son named Aeko. His mother has been by his side and helped to raise his kids. There is nothing Hawkins loves best than being there for her son. That is one thing she does best.