Man Reveals Reason He Was Rejected after a First Date and It's Staggeringly Petty
A man was rejected after going on a first date, but what shocked him and many people online was not the rejection itself but the petty reason behind it. 
First dates are nerve-wracking for most people, and they often don't amount to long-term relationships for many reasons. However, one man experienced rejection because of something he said in passing. 
One sentence was enough for his date to write him off entirely. Twitter user, Jacques, detailed his experience and told netizens about the unbelievable reason his date lost interest.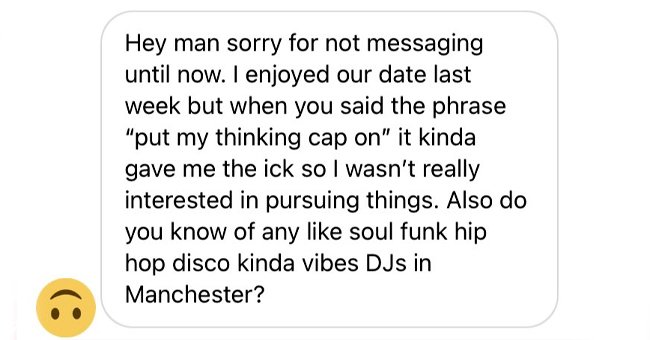 MESSAGE WENT VIRAL 
This month, he shared a screenshot of the message his former love interest sent him. He briefly captioned the tweet,  "Ah right ok then," and the post has gone viral.
The message, which came 10 days after their encounter, simply stated that a phrase Jacques used gave his date "the ick," and consequently, he lost interest. 
Honestly people are so dumb and shallow. My partner says stupid stuff all the time and I just go 'Uhuh' and laugh- this person isn't ready to date really so they're projecting into the 'fault' being on you rather than look at themselves.

— 𝐿𝑖𝑣𝑒 𝐿𝑎𝑢𝑔ℎ 𝐿𝑜𝑎𝑡ℎ𝑒💙 (@flowersofmyself) August 23, 2021
ISSUE WITH THE THINKING CAP 
The phrase his date was referring to is the common saying, "put my thinking cap on." Jacques and fellow online community members were baffled by the date's disdain for this simple idiom. 
Jacques initially didn't respond to the message, but when a fellow Twitter user suggested a clever reply, he decided to take action.
To make the situation even more awkward, in the same message, the date asked Jacques if he knew about any "soul-funk hip hop disco kind of vibes DJs in Manchester?" 
im extremely elderly can someone explain what the problem is with putting your thinking cap on

— HOT GUTS (@Real_hotguts) August 22, 2021
A CLEVER REPLY 
Jacques initially didn't respond to the message, but he decided to take action when a fellow Twitter user suggested a clever reply. He then sent his former date a message of his own ... 
In the Twitter thread, he stated that he sent a message back, and it comically stated: "I'll have to put my thinking cap on." Jacques added that this led his former love interest to block him online. 
If the reply wasn't 'let me put my thinking cap on' I would be disappointed 😂

— Paul Gray (@Grayzo17) August 23, 2021
THE ONLINE REACTION 
With thousands of likes and retweets, the internet had a lot to say about this incident. One user said that the date's "kinda gave me the ick" phrase was even "weirder" to use. 
Another netizen added:
"Can you imagine passing up on the potential love of your life in this economy because they said 'put my thinking cap on.' I can't even. Lol." 
I couldn't agree more. I feel disgusted just reading the words "thinking cap". I can't imagine how that person felt when hearing them.

— Rob Kew (@Rob_Kew) August 23, 2021
AT LEAST HE GAVE HIM A REASON 
While someone else stated that "this is honestly the worst. I cannot believe people like this exist. I am actually astounded," not everyone felt the same. Some users commended the date for sharing their feelings.
Netizens pointed out that the Twitter user was at least offered a reason for the loss of interest—albeit a purportedly baffling reason. One commenter expressed: "At least he gave him a reason & didn't just ghost."