Fans Praise LeBron James' Wife for Looking Classy as She Poses in Tight Dress with Open Back on Her B-Day
LeBron James' wife Savannah Brinson celebrated her 35th birthday on Friday and left many people dropping jaws with her stylish outfit and incredible beauty. 
At 36, LeBron James continues to leave jaw-dropping performances on the NBA court. The talismanic basketballer has impacted all the teams he has played for and won NBA Championships wherever he has been. 
LeBron is not the only one in his family with awesome abilities. His wife, Savannah Brinson, who he has been dating since they were teenagers and married in 2013, is also turning heads in her own way.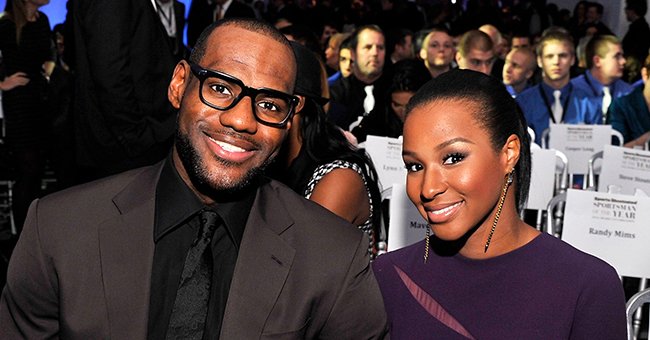 Brinson, an entrepreneur and philanthropist from Ohio, celebrated her 35th birthday on Friday. LeBron spared no expense in celebrating his beautiful wife and threw her a surprise birthday party. 
The Shade Room captured moments from Brinson's birthday party and shared them on a post on its official Instagram page. The first video in the post showed the moment LeBron and his beautiful wife walked into the party venue with multiple guests screaming, "Surprise!"
Although the party was a surprise, Brinson was well dressed for it. She wore a tight black dress with an open back and looked all shades gorgeous with her short blonde hair. When the celebrant saw the guests, she burst out laughing and started hugging some of her friends. 
Another video showed singer Giveon doing a special number for Brinson. That was not all the singing that happened at Brinson's birthday bash. 
Brinson and LeBron attended the Los Angeles premiere of his movie.
LeBron is famous for his basketball skills, but he showed guests a glimpse of his vocals when he sang a beautiful "Happy Birthday" song for his beloved wife. The impressed guests joined him in singing and applauded his show of affection afterward. 
Brinson soaked every moment in by moving her body and nodding her head to her husband's song. However, that was not the only surprise LeBron had for her. The LA Lakers star also had pictures of Brinson as decor. 

When it was time to dance, Brinson showcased her dancing skills by moving her body to the beat of the songs the DJ dished out. While dancing, she showed off more details of her stylish outfit, which also had a thigh-reaching slit on its side. 
King Carter shared a video showing Brinson as she posed for snaps while clad in her stylish outfit. The beautiful diva savored every moment and looked incredibly gorgeous. Brinson also shared the videos Carter posted on her Instagram Story.

Many fans could not get over Brinson's gorgeous look on her birthday and shared their thoughts. One fan said she is stunning and a true class act, adding that women can learn so much from her modeled behavior. 
One fan commended LeBron for making his wife look like she smelled like money, while another admirer said Brinson is beautiful all around. 
Brinson's birthday party is coming over a month after she and LeBron attended the Los Angeles premiere of his movie "Space Jam: A New Legacy." 
LeBron wore a fitted navy suit with a matching dress shirt, tie, and black dress shoes. Meanwhile, Brinson stunned in a neon green dress with matching heels.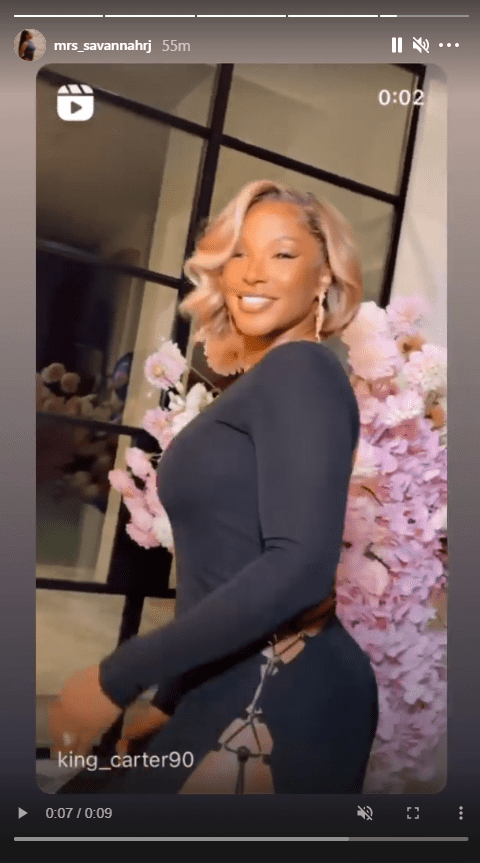 The couple was not alone on the night as they were joined by their adorable six-year-old daughter, Zhuri James, who wore a lovely light blue floral dress. 
Zhuri is the third of LeBron and Brinson's three children in their over two-decades-long love story. The couple is also parents to sons LeBron "Bronny" James Jr., 16, and Bryce Maximus James, 14.