Paramedics Face Furious Reactions to TikTok of Them Dancing in the Back of an Ambulance
Two female paramedics have stirred an online frenzy after footage of them dancing in the back of an ambulance surfaced on TikTok. The post fast resulted in an inter-platform showdown.
TikTok users have frowned upon a seemingly hearty display by two paramedics caught dancing on the job at the back of an Ambulance. One of the medics, Rhianna Higgins, shared the heartwarming display on the platform in an attempt to let fans in on how she spent her break.
The video showed the paramedics, assigned to the Yorkshire Ambulance Service, dancing cheerfully as Justin Bieber's "Baby" remix rammed in the background. Higgins implied the dance craze was filmed during a rest break, captioning: "Little boogie on break."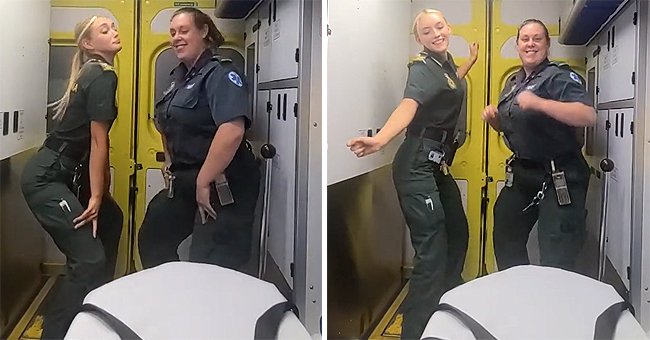 As affirmed in the post, the Yorkshire Ambulance Service has since confirmed that the jolly colleagues filmed the recording during their break.
Despite Higgins' disclosure that the dance session was filmed during their free time, TikTok users wouldn't have that. Instead, many took to the platform to criticize the two emergency personnel for not doing their jobs properly.
The clip garnered over 270,000 views and thousands of comments in no time, with TikTokers throwing hateful words and profanities at the perpetrators. One user wrote: "Should be saving lives, but making TikTok is a priority."
Others blamed the two women for the ill-fate of relatives and loved ones who had sought medical help on the verge of fatal emergencies in the past. A user commented: "Now I know why my nan didn't make it."
Many users attributed the women's seeming misplaced priorities to the widespread incompetence of paramedics and ambulance services. One of the comments read:
"This is why ambulances take so long to respond."

One TikToker, who claimed to work for the ambulance service, pointed out that the unprofessional behavior of Higgins and her partners not only presented the department in a bad light but also made them vulnerable to attack for political gains.
The comment read: "I work for the ambulance service. Personally, I disagree with this. Politicians will use this to say we're not overworked/stressed." Although some users sprang up in defense of the colleagues, the negative comments they faced garnered media attention.

Following coverage by the press, the news became widespread, quickly becoming a subject of discussion across other platforms. Unlike TikTokers, who found the women's behavior unacceptable, Twitter users were keen on defending them, noting that whatever they chose to do during their break was justified.
Others maintained that Higgins, the other woman, and every emergency worker out there deserved to let off some steam given the intense effort they put into saving people daily, especially during the pandemic.