Fans Say Nia Long Is 'Killing It' as She Works Out in Skimpy Black Top in New Video
Nia Long celebrated "Nia Long Day" in New York City by sharing a video that showed her working out clad in a skimpy black top and her fans had their say. 
American actress Nia Long is known for starring as Beulah "Lisa" Wilkes on the sitcom "The Fresh Prince of Bel-Air." She has starred in many other movies and television series and is a recipient of multiple awards. 
Due to her numerous career achievements, in 2019, Bill de Blasio, the Mayor of New York City, declared August 27 as Nia Long Day. On Friday, Long celebrated the second edition of her day by working out.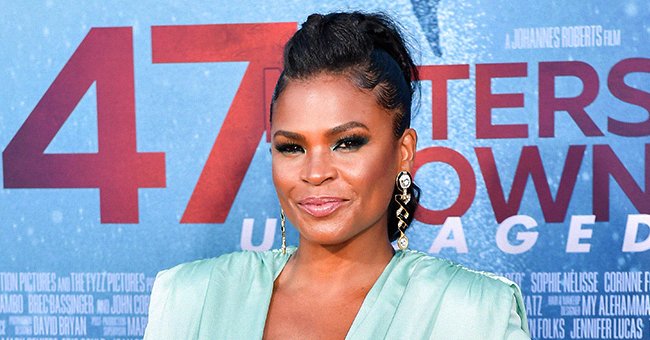 She shared a video on her Instagram page that showed her pushing two dumbbells. She wore a pink open button top over a skimpy black top and completed her look with a black and white polka dot bandana. The star lay on a long bench while pushing the dumbbells and talked as she did.
She also wished everyone a happy Friday and expressed love for them before exclaiming that the day was officially a "Nia Long Day" in New York City, and she loved it. In the post's caption, she wrote:
"I'm so greatful for the honor and for all of YOU who stand strong with me. We got this!!! Love y'all! @naqamwashington you're the best baby!!! #nialongday 🥰."
Many of Long's fans commented on her post and hailed her for working out. One fan said she was "killing it" while another urged her on. A third person said they enjoy Long's determination and willingness to stay healthy and urged her to keep going.
Finally, an impressed fan described Long as an amazing person, while another fan wished her a Happy Nia Long Day.
Ime went a step higher in his career as the Boston Celtics named him its new head coach.

Working out is one way Long loves to stay healthy, youthful, and sexy despite being 50 years old. In May, the "Fresh Prince of Bel-Air" star caused a stir after a Twitter user tweeted two side-by-side snaps of the actress.
One photo showed Long when she was 25, while the second snap showed her at 50. In no time, the tweet began to trend as many tweeps commented on how Long has not aged a day. 

Long is a mother of two children. She has an older son, Maasai, born in 2000, from a previous relationship. In November 2011, she welcomed a second son, Kez Sunday Udoka. 
Long shares her second son with her longtime partner and former basketball star, Ime Udoka. The couple has been dating since 2010 and became engaged in 2015. 
Since retiring from basketball as a player, Ime has become a coach on the sidelines. He has worked as an assistant coach for some NBA teams like the San Antonio Spurs and the Brooklyn Nets.
Recently, Ime went a step higher in his career as the Boston Celtics named him its new head coach, making him their 18th coach in 75 years. 
Long has also been making great strides in her career, which has not always been easy given that she is a mother of two. However, she found a way to make things work.
Two years after welcoming Kez, Long opened up on how she balances motherhood with her career. Despite the challenges of combining motherhood with work, she said she loved every moment of it.