Steve Harvey's 3rd Wife Shows off Her Insane Physique & Flexibility Doing Air Gymnastics in Daring Tight Outfit
Steve Harvey's wife, Marjorie Harvey, wowed fans in new photos with her daring air gymnastics routines. The mom of seven looked extraordinary as she flaunted her skills in a skin-tight outfit.
Marjorie Harvey, Steve Harvey's wife, took to Instagram to flaunt her incredible flexibility and stunning figure in new photos. The shots showed the fashion designer practicing air gymnastics in black form-fitting gym attire.
The entrepreneur took fans through her routine in a series of four photos, each showing her performing a unique move right above a gym mat.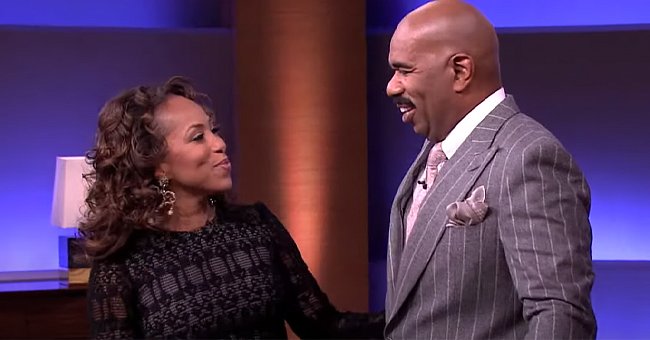 A LOOK AT THE DARING PHOTOS
The first shot showed Marjorie hanging from an orange drape strapped to two metal bars. She curled her limbs around the drape to keep her airborne as she stretched out her body.
In the second picture, Steve's wife hung upside down, suspending her weight on the orange drape. She appeared at ease, even with one of her legs stretched upward and the other arched towards her chest.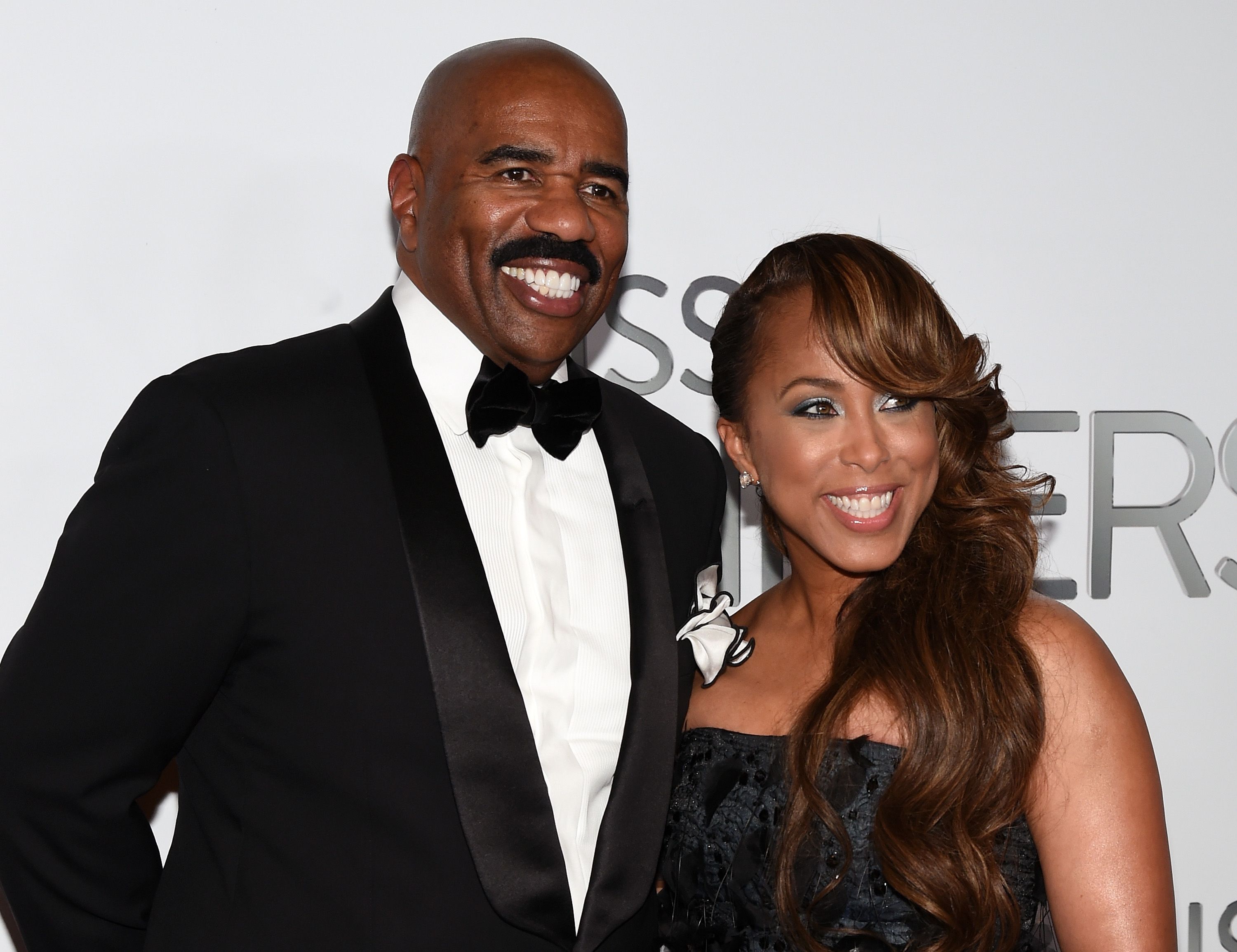 The next pic showed the icon, still suspended head-down, with her two legs stretched out in front of her, forming a perfect right-angle.
Marjorie performed a heart trick in the last photo, curling her left leg around the drape while the other arched towards her head. Using both palms, she grabbed her right toes, pulling it towards her head to form a circle with her frame.
STEVE FOUND HIMSELF A GEM
Marjorie's energetic stretches attracted beautiful comments from fans, all in awe of her flexibility and amazing physique. One fan commented:
"Steve ain't neva eva going nowhere… he couldn't even if he tried. Mrs. Marj is EVERYTHING ok honey?"
Marjorie's physique has been making headlines for years since completing her 21-day fitness challenge in 2016. The challenge left her with a banging body, which she has strived to maintain to date.
Since her remarkable body transformation, the star has flaunted her amazing curves and trim physique on social media. She also posts about how she manages to keep herself in shape, to maintain her title as the beautiful wife of Steve Harvey.
MARJORIE AND STEVE'S LOVE STORY
Steve and Marjorie's love story began over three decades ago, following their first meeting in a Memphis comedy club. They had an instant connection, which led to the start of a new romance. However, they broke up shortly after, going their separate ways.
After surviving a series of broken marriages, the pair finally reconnected in 2005. They tied the knot in 2007, starting a blended family comprising Steve's four kids and Marjorie's three children from previous marriages.
Since tying the knot, the twosome has made their relationship the cynosure of all eyes, living happily while traveling the world.
MEET THE KIDS
Marjorie has three biological children, including a son, Jason Harvey, and two daughters, Lori Harvey and Morgan Harvey. She welcomed her kids during her second marriage to Darnell Woods. Following their marriage, Steve Harvey adopted Marjorie's three children.
In addition to his kids with Marjorie, the comedian has four children, Brandi, Karlie, Broderick Jr., and Wynton, from a previous marriage.
He welcomed twin daughters Brandi Harvey and Karlie Harvey from his first marriage to Marcia Harvey. The marriage also yielded son Broderick, while he shares Wynton with his second wife, Mary Shakelford.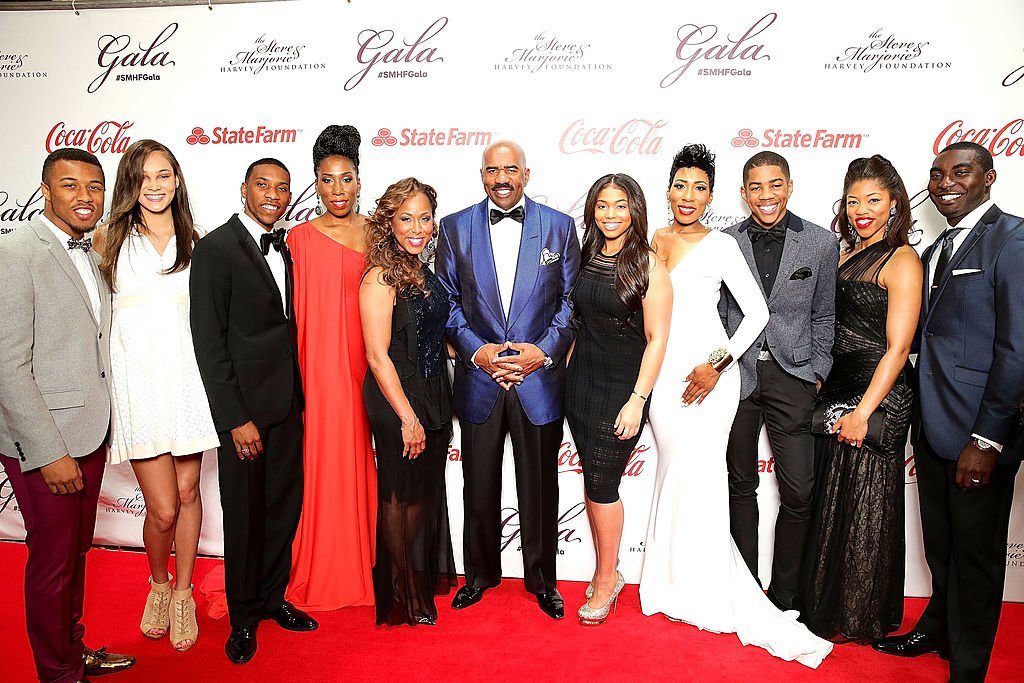 MARJORIE'S THOUGHTS ON STEVE
While Steve and Marjorie have enjoyed a blissful marriage for fourteen years, they each have attributes difficult for the other party to embrace.
Marjorie once opened up about her husband's tendency to leave things messy around the house. She expressed displeasure over the habit, which she claimed was rubbing off on the kids. She divulged:
"If you're ever looking for Steve, you don't have to wonder where he is, because there is literally a trail. When he gets home it's his briefcase. If he's eating, it's food, all over the house."
In his defense, Steve maintained he didn't have to clean up since he had housekeepers tasked with doing just that. Other than his carefree nature though, Marjorie admitted he was the best husband in the world, who has lived up to everything he promised her before their wedding.