Steve Harvey's Wife Marjorie, Posts Adorable Snaps of Grandsons, Ezra & Noah, Wearing Dapper Outfits
Marjorie Harvey melted fan's hearts with a recent post of her adorable grandsons before a dinner date. The two boys, Ezra and Noah's adorable smiles are reminiscent of their grandfather Steve Harvey. 
Marjorie Harvey has been married to comedian and TV personality Steve Harvey for fourteen years. Although Marjorie and Harvey met way back in the 80s, they married other people before finally tying the knot. 
As a result, the two individually started their families before reuniting in 2005 to marry in 2007. Together, the couple has a blended family that consists of seven children and five grandchildren who keep them busy.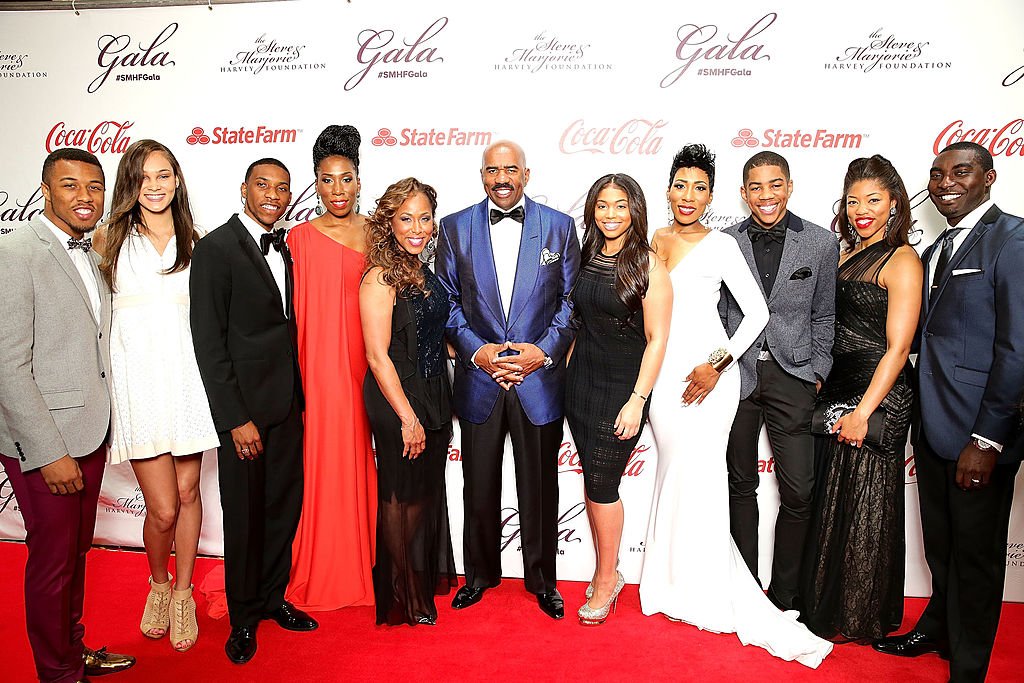 ADORABLE DINNER DATES 
Marjorie seems to take pride in her role as a grandmother, as she often posts her fun activities with her grandkids. In a recent post, she showcases her grandsons Ezra and Noah, who smile in dapper outfits. 
The caption to her post reveals that the adorable pair are her dinner dates, making the image even sweeter. Although the duo is Harvey's stepson, Jason's children, their wide smiles resemble the comedian. 
The cute boys' outfit choices also look like stylish pieces straight from their grandfather's closet. Little Ezra's waistcoat, shirt, and trouser combination take on the comedian's signature suite-style he is best known for. 
Additionally, Noah's tracksuit outfit resembles a casual outfit that his fashion-forward grandfather would wear. In the second photo of the post, followers can see the pair sporting napkins to protect their stylish garments. 
The two boys look comfortable in their grandmother's presence as they enjoy their dinner together. Marjorie even shares a video of the boys happily digging into their meals at the restaurant table. 
While Marjorie seems to be having the best time with her grandmotherly duties, Harvey has a different take. The comedian previously opened up about being a grandfather during his talk show that has since been canceled. 
GRANDFATHERHOOD, ACCORDING TO STEVE 
Harvey jokingly opened up about being a father to many children he eagerly couldn't wait to get out of his home. However, Harvey's empty-nester dreams were crushed by the arrival of his grandchildren. 
Harvey jokes that his children now leave their children with him and his wife, keeping the house full. Although the above scenario may not be Harvey's favorite, it is much better than what it could have been. 
A BLENDED FAMILY 
The comedian and his wife revealed that their children were not initially happy about the blended families. However, things are much different now, and the family is closer than ever, thanks to Marjorie's approach to the matter. 
While Harvey admittedly just told his kids to "deal with" the change, Marjorie had other plans to convince everyone. She revealed that she spoke to all of the children and explained the new situation in a way that resonated: 
"I just told them, 'Everyone is included. Everyone has access to their parents...'" 
The couple now answers to "mom" and "dad" from all seven children. Harvey has expressed that he wouldn't have it any other way, and seeing his children and grandchildren flourish make his work all worth it. 
Harvey's children include Karli, Brandi, Broderick, Wynton, Morgan, Jason, and Lori. Karli and Brandi are twins from Harvey's first marriage with Marcia Harvey, who also mothered Harvey's son, Broderick. 
After divorcing Marcia, Harvey expanded his family with his second wife, Mary Lee, who had his last biological son, Wynton. The comedian later extended his family again with his third wife, Marjorie, by adopting her children.
Marjorie's children include Morgan, Jason, and Lori, who all have Harvey's surname since the adoption. With a family that huge, Harvey can look forward to many more mini-me's that Marjorie can sweetly show off on Instagram.