Heidi Klum & Sofia Vergara's Powder Routine Revealed during AGT Dressing Room Tour
This month, fans got to have a tour of "America's Got Talent" judge Heidi Klum's dressing room on the show. The star also revealed the routine that she and her co-star, Sofia Vergara, participated in.
"People TV" was lucky to get a dressing room tour from Heidi Klum, 48, on the set of her show "America's Got Talent (AGT)." Fans were given a behind-the-scenes look at the Pasadena Civic Auditorium in California.
Klum couldn't help but laugh as she stood in the small space joking how quick the tour was because of the room's minute size. She even recalled how a stain on her dressing room couch happened five years ago.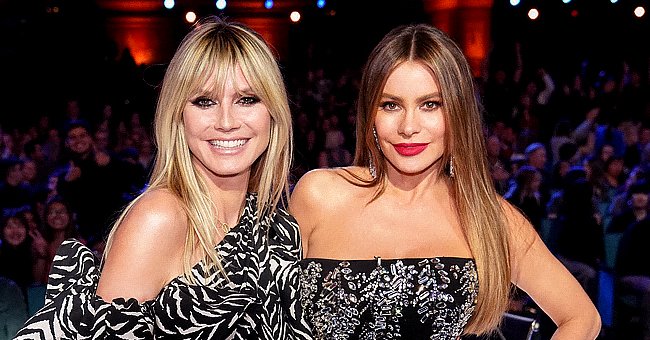 The model joked that she hoped the mark was just makeup. The AGT judge also confessed that she actually kept her makeup bag right under the show's judge's table before noting:
"I powder with Sofia [Vergara]. We love powdering."
Her makeup bag was conveniently placed so that Klum could have access to it make touch-ups in-between scenes. During the tour, the star also popped over to Sofia Vergara's dressing room next door.
The pair chatted about high heels before Klum shared some backstage secrets. She joked how fellow judge Simon Cowell had the competition's red buzzer sound "turned up" during live shows.
Klum said the buzzer was quite loud, and Cowell would always ask to make it louder. On the recent second episode of the semi-finals, the supermodel cemented herself as a style icon with her look.
[Heidi] Klum kept herself safe from COVID-19 by wearing a matching face mask.
She wore a bright canary yellow suit which she paired with a matching blazer and pants. The star had the blazer's long belt tied around the waist to allow her endless legs to be shown off.
Her outfit was completed with gold open-toed heels and matching yellow nail polish. She showed off her pedicure in an Instagram video post while co-judge Howie Mandel also presented his own black pedicure.
A few days before that, Klum rocked a white mini dress while celebrating her husband, Tom Kaulitz's 32nd birthday. During the September 2, 2021, event, the star modeled on a table in front of friends and family.
On Monday, the AGT judge was spotted wearing a black maxi dress as she left the famous Nobu Malibu restaurant. She was accompanied by her husband and her children Henry, 15, and Lou, 11.
The judge, who's been on AGT for eight seasons, wore the dress with matching platform sandals while holding a faux leather jacket. Klum kept herself safe from COVID-19 by wearing a matching face mask.