Man Rushes into Neighbor's Blazing Home 20 Years after Losing Wife and Daughters in House Fire
Twenty years after losing his wife and two young kids in a fire incident, a Massachusetts man heroically rescued his neighbor from her blazing home. 
At about 5 am on Sunday, September 5, 2021, Mark Collum heard a woman screaming and dashed outside to see what the trouble was. He saw his neighbor's house on Wethersfield street was in flames. 
He saw his neighbor in the kitchen milling around and flames billowing out the back, filling up the kitchen. Mark ran into the home and managed to get his neighbor, Deb Shanahan, out of her burning house.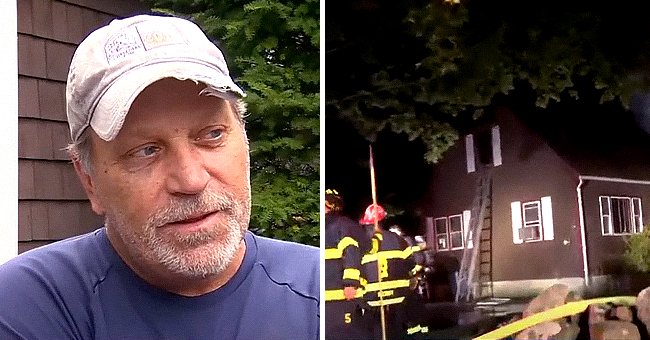 He described his heroic act to reporters and explained he just grabbed Shanahan and took her out. Mark also added: 
"I had a little smoke in my lungs, same with her, so we just kind of took her outside and things worked out well. Thank God."
Shanahan sustained injuries from the inferno, but it could have been worse had Mark not acted quickly. However, officials of the Rowley Fire Department said she would recover from her wounds. Meanwhile, the investigation into the cause of the fire is ongoing. 
While Mark's heroism is commendable, it is happening twenty years after he lost his wife and young children in similar circumstances, making it more astounding. 
In January 2021, Mark's wife, Lisa Collum, and their daughters, four-year-old Lindsay and five-month-old Carly died after an inferno ripped through their home in Ipswich, Massachusetts. 
The fire trapped Lisa and Lindsay on the third floor while Carly was tossed from the building. Meanwhile, Mark was not at home at the time of the incident. 
20 Years After His Wife and Children Died in House Fire, Mass. Man Rescues Neighbor from Blaze https://t.co/jrMMKnP6Jz

— MSN (@MSN) September 7, 2021
Several people in the building, including Collum's relatives, escaped without severe injuries. A firefighter driving by the house spotted the fire, which was brought under control about an hour-and-a-half afterward. 
While Lisa and Lindsay died in the inferno, Carly passed after being flown to New England Medical Center, with the cause of her death not immediately ascertained. 
His actions are remarkable, especially given his family's deaths in a house fire in 2001. https://t.co/yOB44eMjge

— WIS News 10 (@wis10) September 8, 2021
Mark, a commercial fisherman, reflected on the incident of 20 years ago and his life-saving actions on Sunday. He said it still resonates with him but expressed delight that things worked out. He also said: 
"I'm just glad I was here and did the right thing. That's all. Hopefully, Deb's alright and everything worked out well today, so I'm kind of glad."
Mark Collum lost his wife and two young children in a blaze.

Twenty years later, he is now being called a hero for rescuing his neighbor from her burning home. https://t.co/SCvWlMuH8j

— News 4 San Antonio (@News4SA) September 6, 2021
Home and property owners should take precautionary measures to avoid fire outbreaks and store flammable products properly. Kudos to Mark and wishing Shanahan a quick recovery from her injuries.