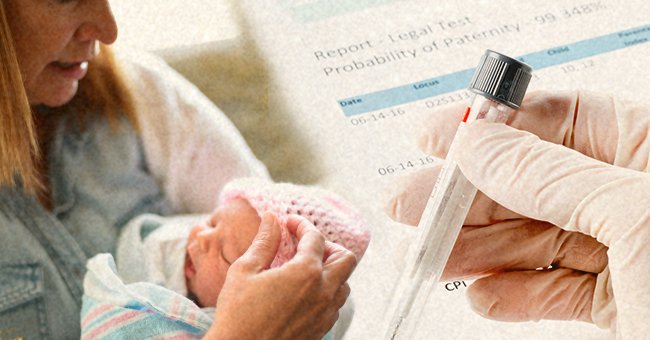 Shutterstock
Grandparents Secretly Test Their Grandson's DNA, Spark Scandal in the Family

A dad became furious when he realized the extent of his parents' deep-seated racism, choosing to cut them out of his son's life forever and unforgivingly.
A father took to a Reddit forum, where individuals ask if they were in the wrong. He inquired if he did the right thing by completely blocking his parents from taking part in his, his wife, and his newborn son's life.
Going by the online name PaperBackWriter00, this parent of one told the story. He revealed that he met his wife while she was waitressing, and upon presenting her to his mother and father, they immediately expressed dislike towards her.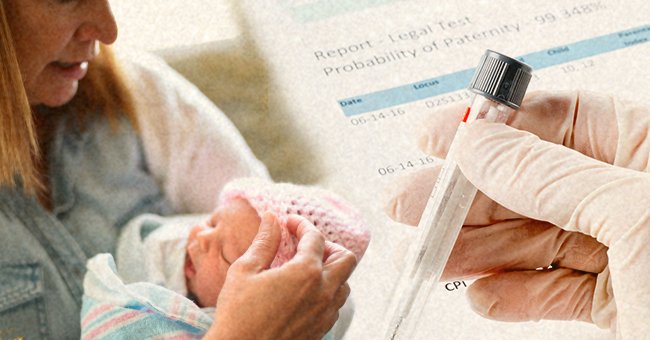 A woman holding a baby [left]; A DNA test [right]. | Source: Shutterstock
The poster claimed they had underlying racist biases against his then-girlfriend, leading to their objection. After announcing their engagement, his parents vehemently disapproved; the dad expressed:
"Because of this we decided to elope and only invited my brother and Sonya's bestfriends to be our witnesses."
Although this left a bitter taste, when their baby Garreth was finally born, PaperBackWriter00 and his spouse expressed grace towards the parents who wanted a relationship with the child. They allowed them into their lives.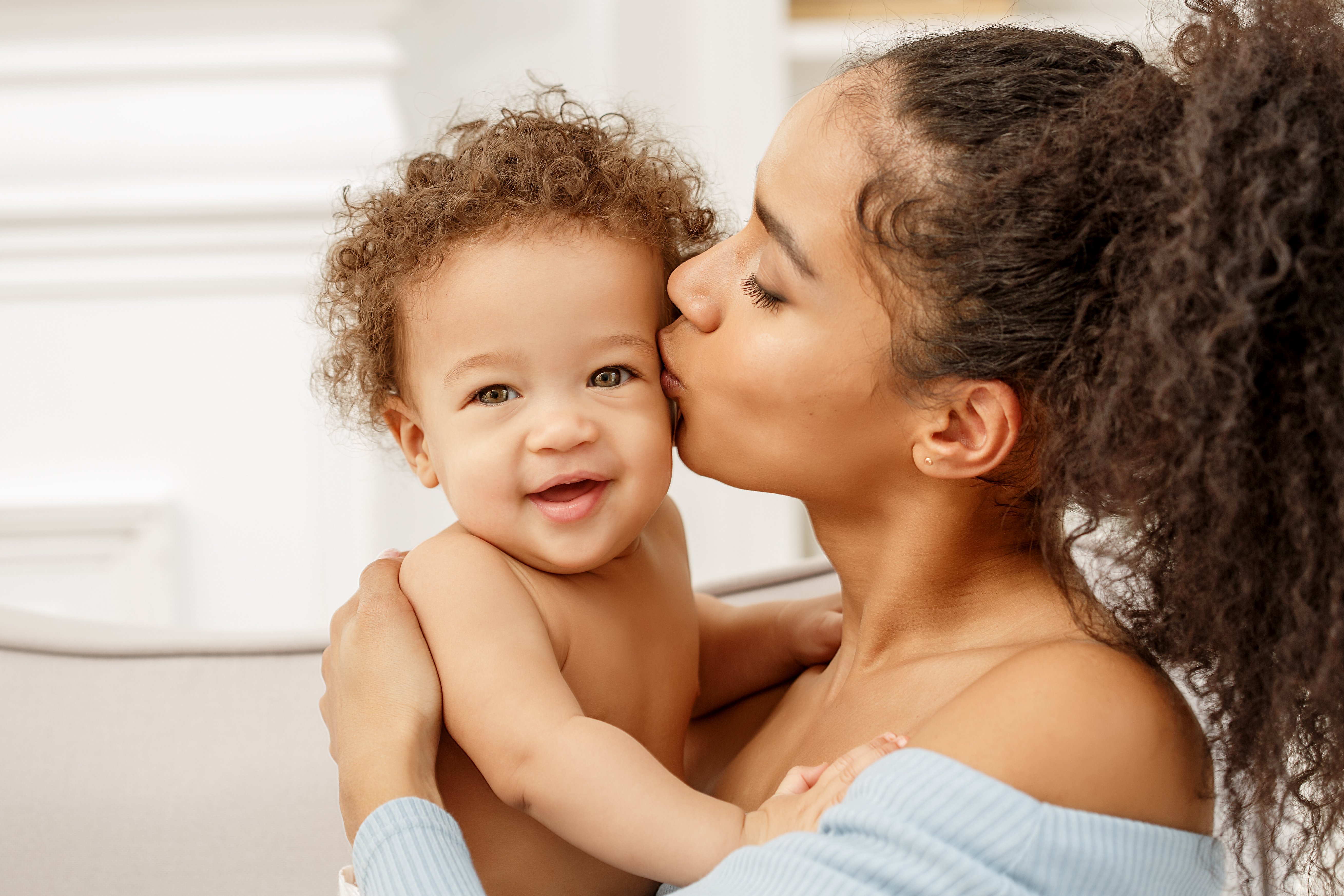 A mother kissing her baby on the cheek. | Source: Shutterstock
Everything appeared to be going well, he stated, until one day, he overheard a strange comment from his mom as she was enjoying the time with his baby. She expressed how great she felt that she now knew that Garreth was her actual grandson.
A black woman...was suspected of trafficking a white girl who is actually her sister.
Upon demanding what she meant, his mother eventually confessed that they conducted a DNA test on the baby due to their wariness towards his wife. This, he believes, confirmed their racism.

Individual commenting on a Reddit post by PaperBackWriter00. | Source: reddit.com/AITA
This was the last straw for the poster, as he explained to his fellow Redditors that no matter how hard they have tried, he has not let them back into their lives since. Many commenters were supportive, with one expressing:
"And eventually they'll direct those same racist remarks to [the] grandson."
Others also pointed out the unethical nature of Garreth's grandparents, possibly frauding the baby's parents' signature to get the test. There were a tiny minority of negative comments, some wondering if there was something more to the story.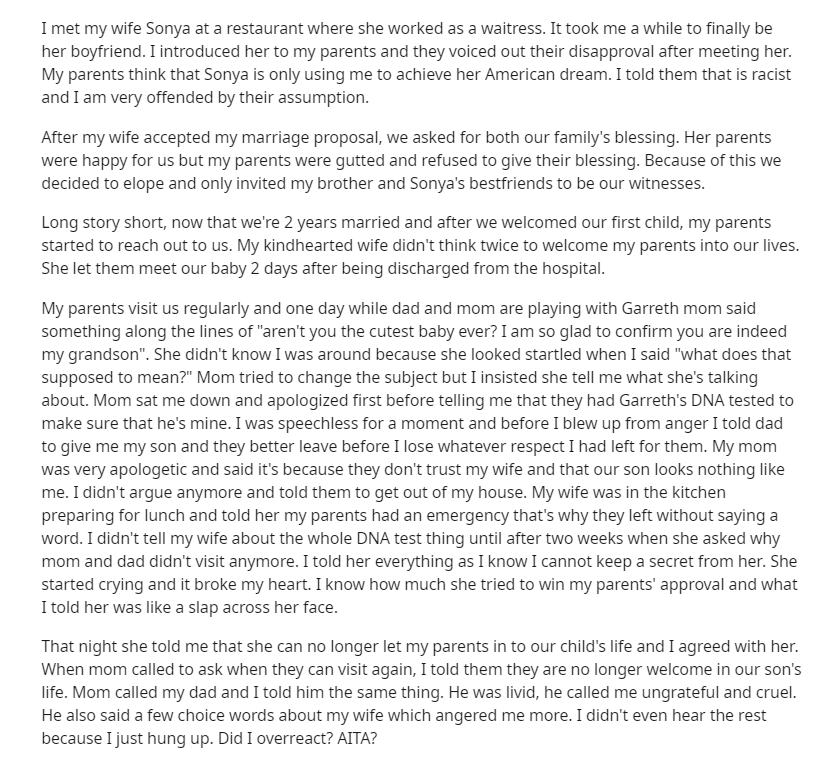 PaperBackWriter00 asking other Redditors for advice. | Source: reddit.com/AITA
Sadly, this family is not the only target of discrimination. A black woman who was suspected of trafficking a white girl who is her sister at Dallas Airport wound up in tears.
21-year-old black Lakeyjanay Bailey questioned whether she would have been treated differently if she were of a different race. Upon landing at Dallas Fort Worth International Airport, officers were waiting for her under this suspicion.
This fiasco occurred after a fellow commuter saw Bailey with her 4-year-old adopted sister and reported it. The 21-year-old faced no legal repercussions, but there is no doubt that these incidents may forever scar her and the hurt parent.
Please fill in your e-mail so we can share with you our top stories!