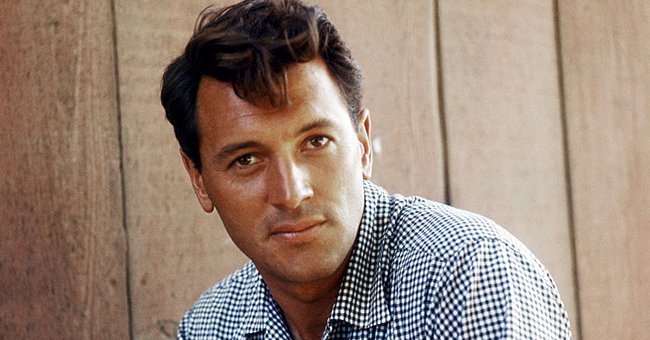 Getty Images
Rock Hudson Hid Fatal Diagnosis from 30-Years-Younger Ex-lover – Inside the Actor's Gay Double-Life

Hollywood in the 20th century thrived on secrets, concocted as a means to either cover up ailments or sexual preferences. One such facade involved Rock Hudson, who kept his fatal diagnosis from his young lover for years.
Rock Hudson was one of the most sought-after movie actors of his era. His life began in Illinois, born to Roy Harold Scherer and Katherine Wood. Before he hit the ten-year mark, his parents were living separately.
His mother married Wallace Fitzgerald soon after, but life became unbearable for young Hudson as his stepfather became abusive and often mocked him for taking an interest in acting, even forcing him to take his last name.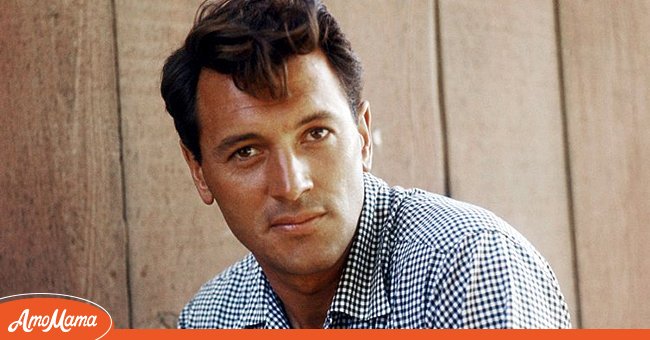 American actor Rock Hudson, Circa 1960 | Source: Getty Images
ROCK HUDSON SETS FOOT IN HOLLYWOOD
Deep down, he'd always wanted to be an actor, but his inability to remember lines in school plays prevented him from jumping on an acting career in his younger days.
Soon after he graduated high school, he began working at the post office, then later served in WW II as an airplane mechanic. Once the war ended, he became a truck driver and, during his free time, hung out at studio gates, passing out his photos to producers.
Henry Willson, a talent scout, and his soon-to-be agent spotted him and changed his name from Roy Harold Scherer, Jr, had his teeth capped, and helped him take lessons in riding, fencing, singing, and most importantly, acting.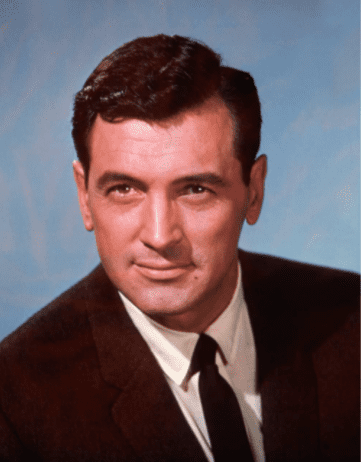 Movie Star Rock Hudson 01.04.1967 | Source: Getty Images
But it was his striking appearance and size that got him his very first roles. In 1948, and at only 23, he took on his first role in "Fighter Squadron." Eight years after his debut, he bagged a nomination for his role in "Giant."
Hudson would appear in numerous popular movies, including "Seconds," "Pillow Talk," " The Lawless Breed," "All That Heaven Allows," and "The Tarnished Angels," among many others.
When asked about [his deteriorating health], Hudson brushed it off, saying he's caught the flu and was recovering.
MARRIAGE AND GAY RUMOURS
Towards the end of 1955, Confidential magazine threatened to expose Hudson's sexuality, which he had kept a secret for years. Soon after, he married Willson's secretary, Phyllis Gates.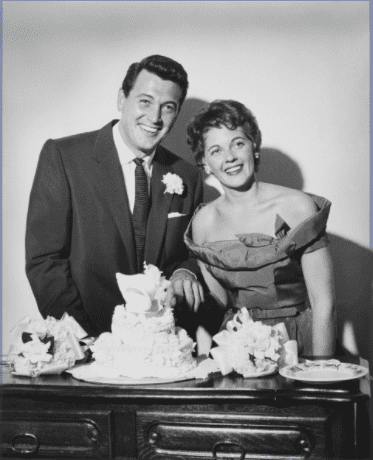 American actor Rock Hudson (1925 - 1985) with Phyllis Gates (1925 - 2006), on their wedding day, Santa Barbara, California, 9th November 1955.| Source: Getty Images
The marriage raised eyebrows, as it was seemingly a stunt at calming down his homosexuality rumors, but Gates emphasized that he married the actor out of love. However, Gates filed for divorce three years later.
She claimed she was undergoing mental cruelty, and Hudson, surprisingly, did not dispute the divorce. In fact, he paid alimony to Gates for the next ten years. Gates did not marry again.
Despite his best efforts to keep his sexual preferences under lock and key, a source once disclosed that many Hollywood personalities knew of his secret, including his friends, Elizabeth Taylor and Marilyn Monroe.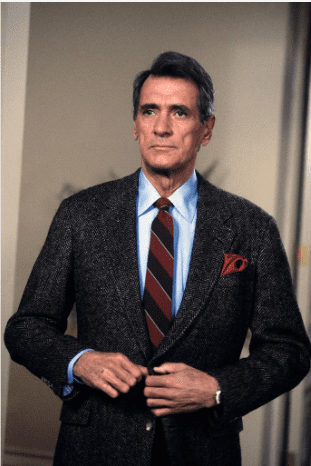 American Actor Rock Hudson on the set of "Dynasty" - "Circumstantial Evidence" 2/13/85 | Source: Getty Images
HIS ONE TRUE LOVE
Between 1962 and 1965, Hudson found himself in a secret relationship with Lee Garlington, who has since opened up about his gay whirlwind romance with the "Lover Come Back" star.
Garlington recalls their first meeting saying there was nothing to write home about, but soon after, they would not leave each other's sides. The affair, however, had to remain a secret, and Garlington retells how he'd sneak out after spending a night at Hudson's:
'I'd sneak out at 6 am in my Chevy Nova and coast down the street without turning on the engine so the neighbors wouldn't hear. We thought we were being so clever.'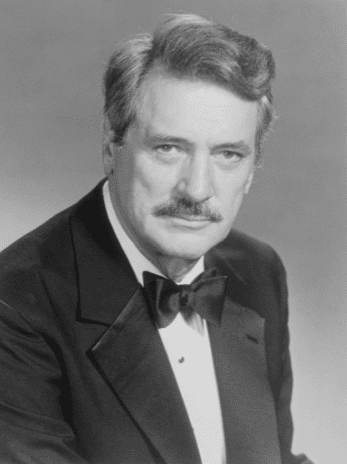 American actor Rock Hudson in 1982 | Source: Getty Images
Garlington says he did not realize how much of an impact he had in Hudson's life until he read his biography in which Hudson referred to Garlington as his "true love."
Their secret romance was broken off when a fan entered Hudson's home looking for evidence of his sexuality. Even though nothing was found, Hudson was pretty shaken up and decided to end the affair.
He is alleged to have had more secret affairs with several other men, including his agent Willson, but one of the most memorable ones was with a younger actor, Marc Christian.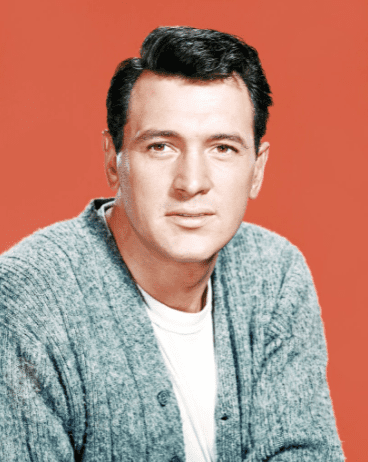 American actor Rock Hudson (1925 - 1985), circa 1955. | Source: Getty Images
HIS TWO-YEAR-LONG AFFAIR WITH MARC CHRISTIAN
When the two's pathways collided, Christian was 28 and an actor, well known for his roles in the 1988 "Deadly Addiction." Hudson was twice his age. They met in 1982 at a fundraiser for a political cause. Soon after, they were spending more time together.
When 1983 was coming around, Hudson's attorney, Harold Rhoden, says that Hudson had realized he was falling in love with the young actor and claimed to have never felt the way he did since he was in high school.
Four months in, the two went for a weekend getaway, and that was the genesis of a love affair that would later leave the young Christian devastated and in fear of his life.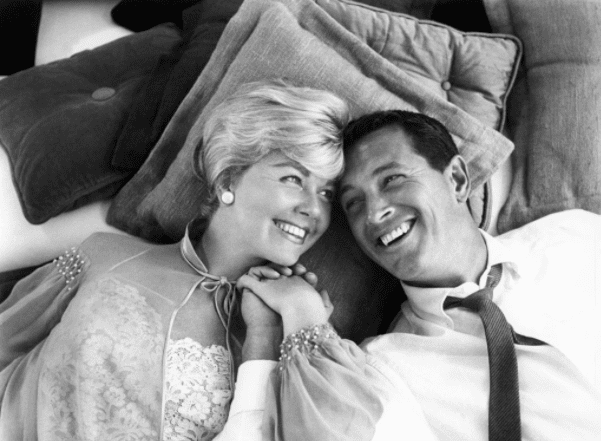 American actors Doris Day (1922 - 2019) and Rock Hudson (1925 – 1985) in a scene from the Universal-International comedy 'Pillow Talk,' 1959. | Source: Getty Images
Towards the end of that year, the lovers were living together in Hudson's Beverly Hills house, and theirs seemed to be a perfect match until Hudson began experiencing strange symptoms.
THE FATAL DIAGNOSIS AND KEEPING IT A SECRET
In 1984, Hudson attended a dinner party at Ronald and Nancy Reagan's home, and those that saw him that night commented on how ill he looked. When asked about it, Hudson brushed it off, saying he's caught the flu and was recovering.
A few weeks after the dinner, Hudson started experiencing strange symptoms, ranging from fast weight loss, body sores, and extreme sweating bouts, especially at night. He was eventually diagnosed with AIDS.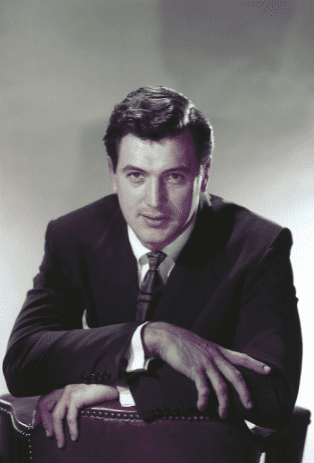 American actor Rock Hudson (1925 - 1985), circa 1954. | Source: Getty Images
At the time, not much was known of the disease, but what was certain is that it was dreaded all across the world and ignorantly associated with homosexuality.
The fact that those suffering from the disease were ridiculed and stigmatized made Hudson afraid to let out his secret, except to a few friends here and there. Contrary to anyone's expectations, he kept the man he was sleeping with in the dark.
THE LAWSUIT
Within the first year of his diagnosis, Hudson had done whatever he could to find a cure for his ailment, and even though he never found one, he highly impacted the virus's research and shed light on the condition.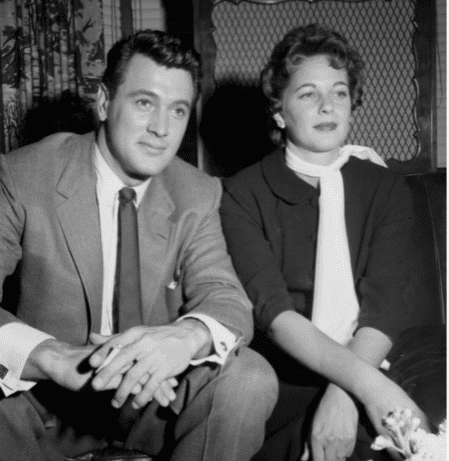 Actor Rock Hudson and his wife Phyllis Gates pose at home in Los Angeles, California. Circa 1955: | Source: Getty Images
He did eventually announce to the public about the virus, but he never did talk to Christian about it, and he learned of it after Hudson released a statement.
Hudson passed on in 1985 in his home, and soon after his death, Christian sued him for hiding the truth about the disease from him. He cited emotional distress and fear of infection.
The jury, after listening to his case, awarded him a cool 21.7 million dollars, but the amount was later cut down to 5.5 million dollars.
Please fill in your e-mail so we can share with you our top stories!