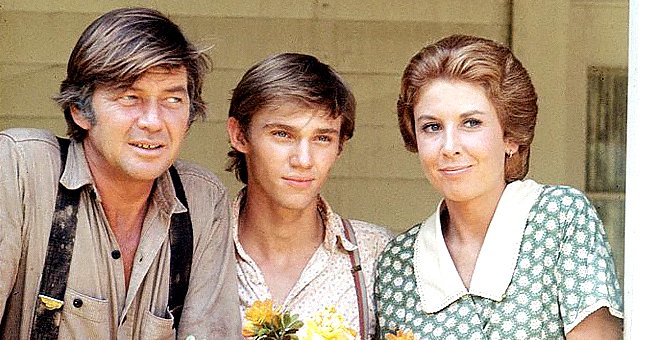 Getty Images
Ralph Waite Turned to Addiction after Losing His Little Girl but 'The Waltons' Cast Helped Him Battle It

Ralph Waite's story tells one of humanity at its finest. The actor lost himself to addiction following the loss of his little girl, but luckily for him, the "The Waltons" cast was around to help him battle it.
Ralph Waite was a very complex man who lived a complicated life. He experienced a fair amount of tragic happenings in his lifetime, but he nonetheless lived the way he desired so that when he finally died at age 85, he left a legacy.
He is well known for his acting skills, but before he took up that calling, Waite served the Lord as an ordained minister. It was just one of the chapters of his life, and it preceded the tragedy that almost ruined his life.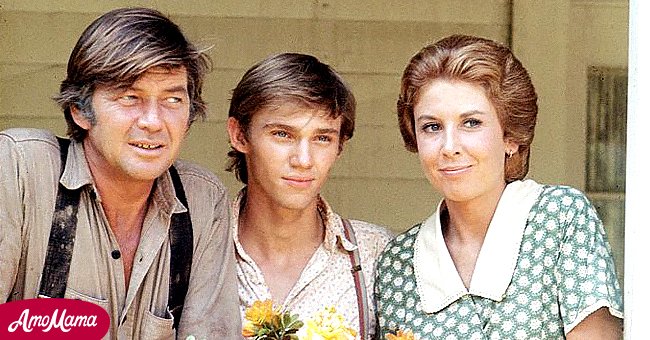 Picture of Ralph Waite with other cast members on "The Waltons" | Photo: Getty Images
WHO WAS RALPH WAITE?
Waite was born to a construction engineer and was raised in suburban White Plains, N.Y., in an environment that was not very artistic and totally secular.
As a child, he never attended a play or concert, nor did he go to church. Not that it curved his dreamy nature. He was the show-off, the dreamer, and the storyteller who always had his head in the clouds.
He graduated from Bucknell, after which he met and married Beverly Hall, the daughter of religious writer Clarence Hall. Thanks to her, he was introduced to the works of theological heavyweights like Niebuhr and Tillich.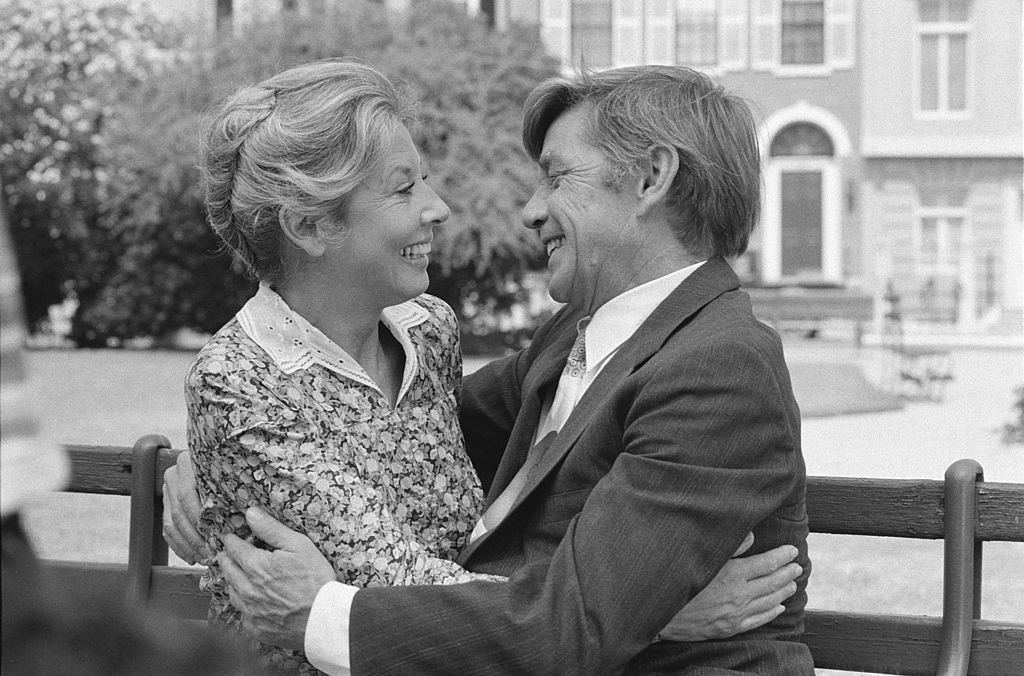 Michael Learned and Ralph Waite while filming the episde "The Empty Nest" on June 16, 1978. | Photo: Getty Images
She also inspired him to become a New York City social worker en route to the Yale Divinity School. The pair had already welcomed three daughters by the time he earned his degree and became a minister in the Presbyterian Church and the United Church of Christ.
Waite was not satisfied. He was frustrated when he realized that his sense of "social justice" was too rigorous for his congregation.
He later left the ministry, upset with what he saw as hypocrisy in the church, and went to work for Harper & Row as an editor for religious books. Unfortunately, that kept him busy for only a short period.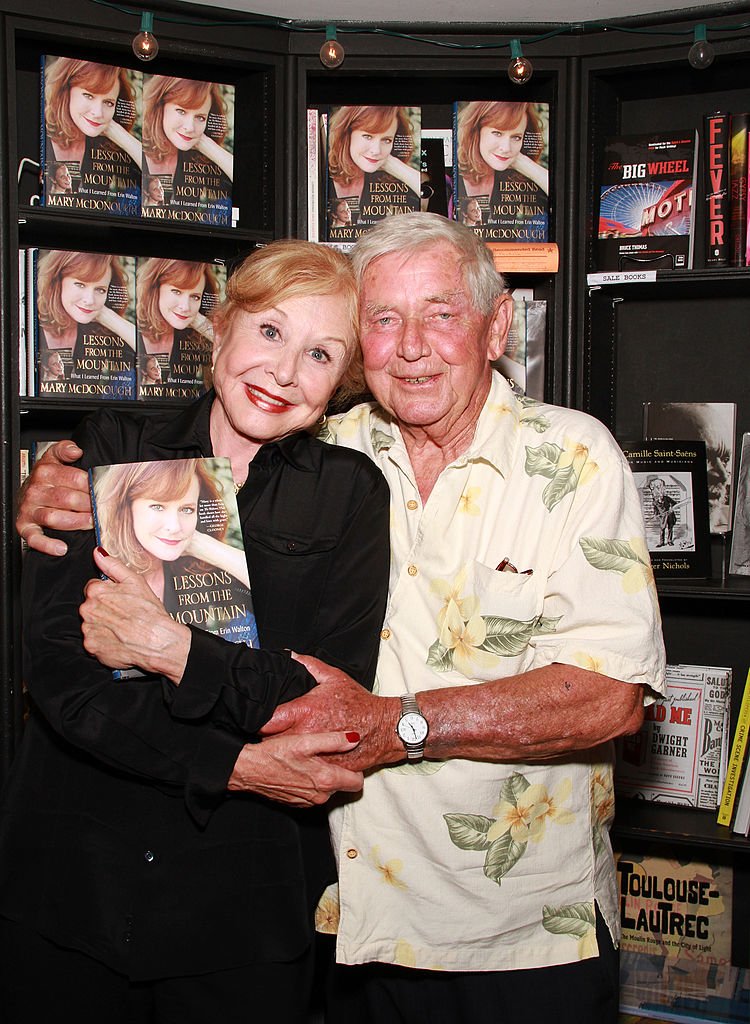 Michael Learned and Ralph Waite attend the signing of Mary McDonough's book at Book Soup on April 16, 2011 in West Hollywood, California. | Photo: Getty Images
Meanwhile, at home, things were not going well with his wife, and he drank too much — a problem that was greatly magnified after he lost his oldest daughter to Leukemia in 1964.
The death affected him deeply, and he sought refuge at the bottom of alcoholic drinks. This kept on even after his marriage withered completely in 1969.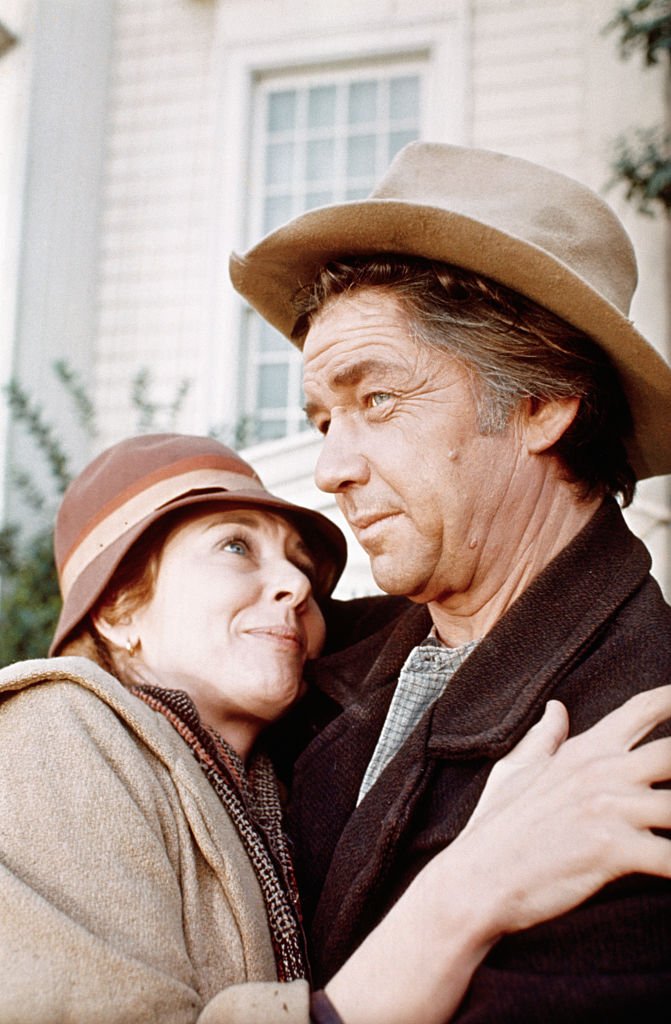 Michael Learned embraces actor Ralph Waite in scene from the TV series "The Waltons." | Photo: Getty Images
HIS SAVING GRACE
Waite never knew he would go into acting. The only reason he tried to act was that a friend suggested that he try acting school, which he did because he figured there was nothing to lose.
The two had a strange yet beautiful relationship where there was a lot of love and no sexual gratification. It resonated with his being, and that was when he knew that he loved acting. He started with Broadway and slowly worked his way up.
His hard work was rewarded when he started getting movie roles. This gave him courage, so he wrote a screenplay and showed it to producer Lee Rich, who ran Lorimar Productions with Merv Adelson.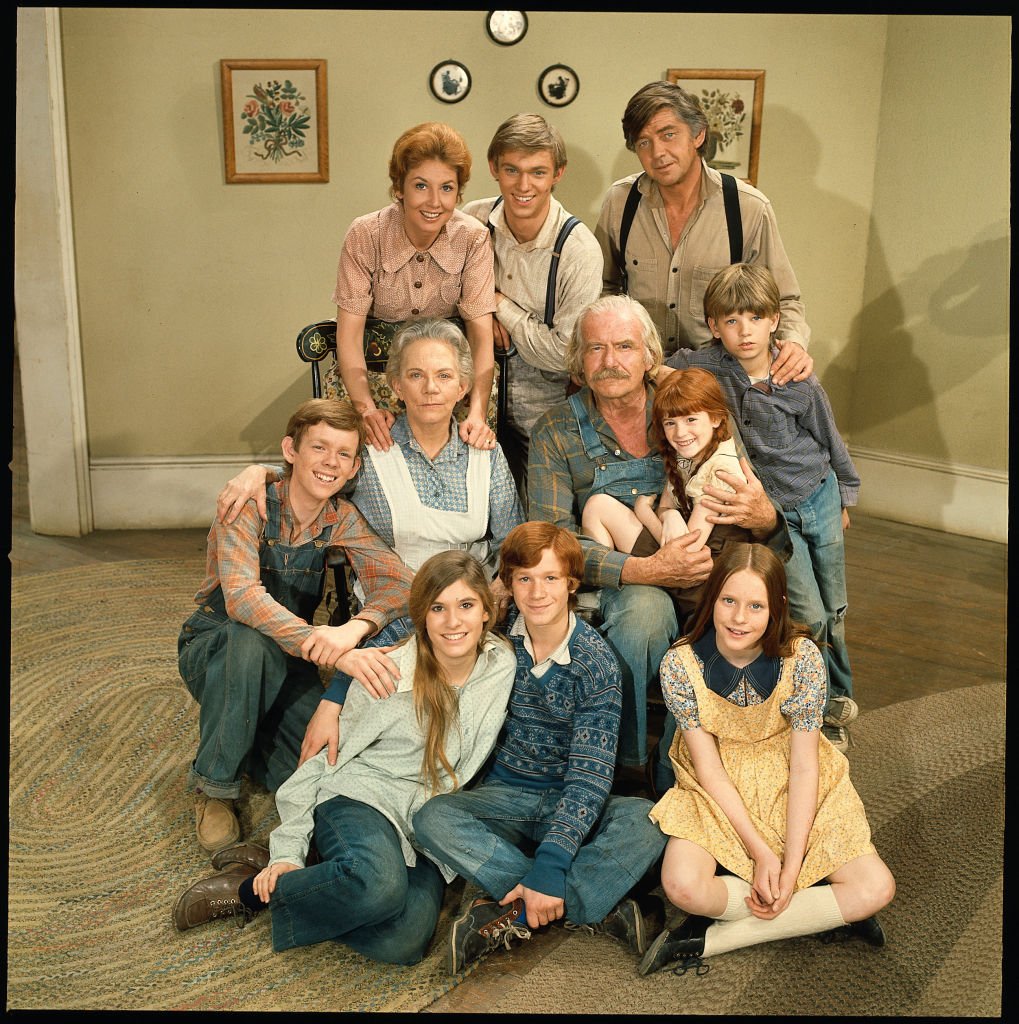 The cast of the hit television series "The Waltons" poses for a promotional photo on January 1, 1972. | Photo: Getty Images
Rich did not care about the script; however, he asked if Waite was interested in playing John Walton, a father of a Depression family in the Blue Ridge Mountains. It would be his defining role.
By the time he was cast as John Walton on "The Waltons," he already had a reputation as a serious stage actor but had only been cast in one other TV show, a "Nichols" episode.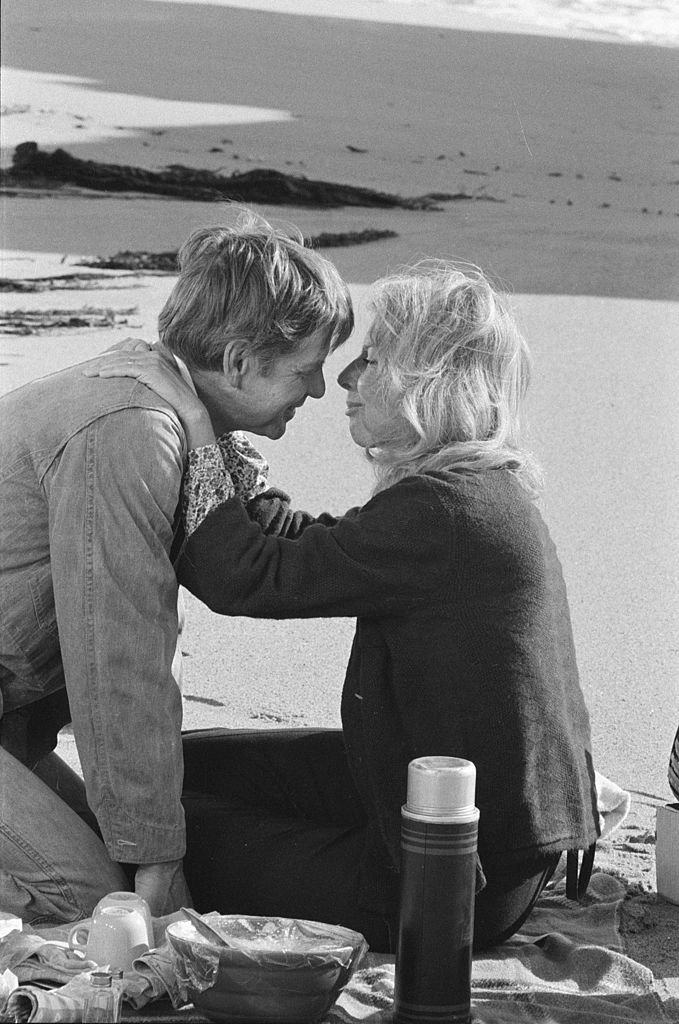 ichael Learned and Ralph Waite while filming the episode "The Parting" on November 16, 1978. | Photo: Getty Images
When the show took off, the time he spent with his onscreen family transformed his life. He fell in love with the Waltons cast, and it helped him change. Among the cast was a woman he had chemistry with, his onscreen wife, Michael Learned.
Nothing eventually happened between them, but she was his friend for life. Waite reportedly credited the show for being one of the reasons he quit drinking.
It took one day of sitting at the kitchen table surrounded by his onscreen family for him to feel fake, so he got himself sober.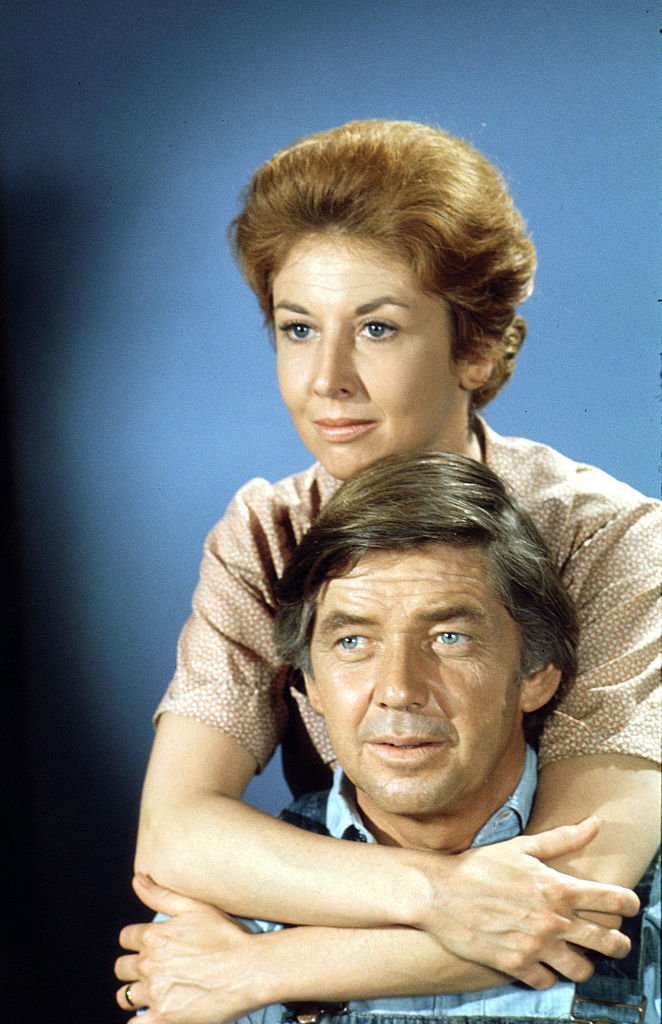 A portrait of Michael Learned and Ralph Waite on the show "The Waltons." | Photo: Getty Images
SOME OF HIS ACHIEVEMENTS
Waite established the Los Angeles Actors Theatre in 1975. To start it, he pumped in $50,000 of his own cash to produce and direct revivals of "The Hairy Ape" and "The Kitchen," in which he also acted.
The theatre he founded bagged many important awards, including the Margaret Harford Award given by the Los Angeles Drama Critics Circle for "its consistently high standards, its commitment to adventurous theater and to community involvement."
Outside entertainment, Waite demonstrated his usefulness in politics and community work. Some of the things he accomplished include heading an alcohol and drug recovery program and helping to build low-income housing.
In politics, he ran for the House of Representatives; however, despite having the support of Hollywood friends like Al Pacino, he lost to Al McCandless.
Waite tried again in 1998; he ran against Mary Bono and lost to her twice. His political campaign suffered because he was also committed to life as an actor.
HIS DEATH
Waite passed away on a Thursday in February 2014 at his home in South Palm Desert. The news was revealed by Steve Gordon, the Waite family's accountant.
Waite was a great man who was loved by many people despite his faults. Learned from The Waltons, which Waite starred on for nine years, called him a "good honest actor and good honest man."
The two had a strange yet beautiful relationship where there was a lot of love and no sexual gratification. She called him her spirit husband and has admitted that they loved each other for decades.
Waite was survived by his wife, Linda East; a daughter, Kathleen; a stepson, Liam; and three grandchildren. East was his third wife, one he married after his second marriage to Kerry Shear fell through.
Please fill in your e-mail so we can share with you our top stories!
The information in this article is not intended or implied to be a substitute for professional medical advice, diagnosis or treatment. All content, including text, and images contained on news.AmoMama.com, or available through news.AmoMama.com is for general information purposes only. news.AmoMama.com does not take responsibility for any action taken as a result of reading this article. Before undertaking any course of treatment please consult with your healthcare provider.