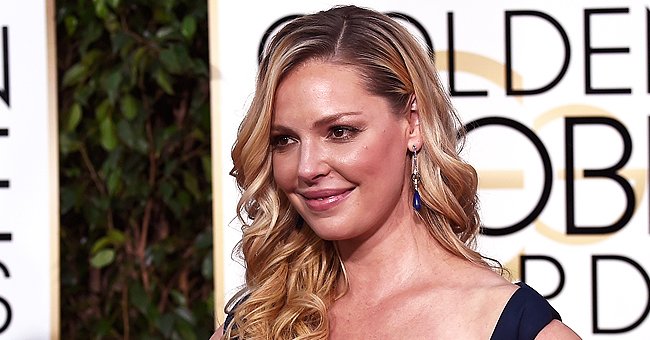 Getty Images
Katherine Heigl Opens Up about the Working Conditions of Cast and Crew on Sets

Former "Grey's Anatomy" star Katherine Heigl opened up about the harsh and tiring working conditions many film and movie cast and crew members have to deal with when filming in a lengthy Instagram post.
Katherine Heigl, "Grey's Anatomy," alum, took to Instagram this week to share an insightful look into the challenging and exhausting working conditions many cast and crew members are forced to endure on set. The actress also reflected on her time on the medical show and her comments in the past.
Heigl penned a lengthy statement about her opinion on the working conditions on many production sets. Alongside her long caption and supporting comments, the "Firefly Lane" actress shared the IATSE logo and throwback photos of herself on set through the years.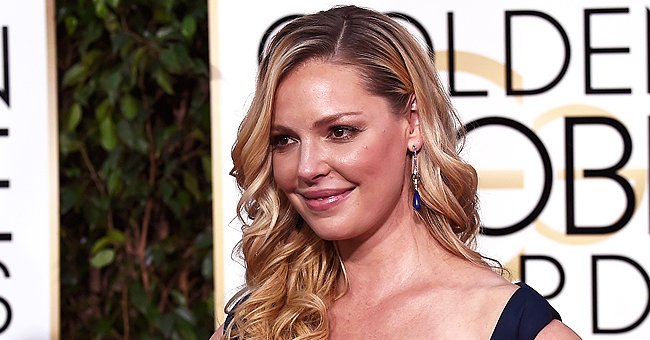 Katherine Heigl on the red carpet at The Golden Globes, 2015, Beverly Hills, California. | Photo: Getty Images
Her post was to show support for IATSE, the International Alliance of Theatrical Stage Employees. The alliance has demanded better working conditions for more than 60,000 behind-the-scenes workers in film, television, and theater.
The actress started her supportive post by sharing how different crew members have impacted and played significant roles in her life, both on set and in her personal life. Heigl described the crew members she worked with as family and wrote:
"I've celebrated life's big and small milestones with my crews. First real love. Marriage. Babies. Turning 21. Turning 30. Turning 40. "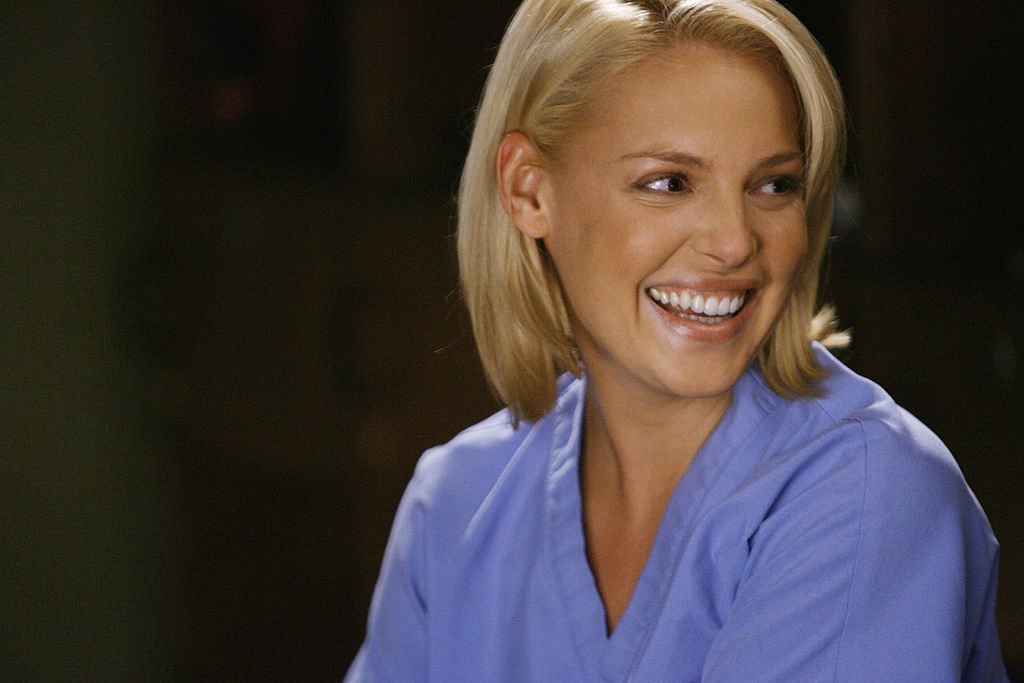 Katherine Heigl as her character Dr. Izzy Stevens in "Grey's Anatomy." | Photo: Getty Images
Heigl then touched on her comments from ten years ago about the ridiculous working hours crew and actors were forced to follow during filming and production. One such interview was in 2009 when Heigl appeared on David Letterman's show and admitted her first day back on set was 17 hours long.
The "27 Dresses" actress has always been open and honest about the industry working conditions, so it is no surprise that she did not shy away from describing all of the harsh conditions many staff members have to face while working on set. The biggest one being the long working hours.
Heigl ended her lengthy statement by sharing her support for IATSE and their demands.
Heigl emphasized how serious the exhaustion can get from working such long hours in the comment section. She noted that fatigue affects the body in several ways, including many people suffering from mental and physical illnesses.
Although the public has a glamourized perception of what working on a Hollywood set might be like, Heigl revealed the reality of the job. It is not sexy nor glamorous to be working for so long and hard for a job that warrants an early grave. She then explained that the post was not about herself:
"To be very clear this is NOT about me... This is for the crew. It is for my family from another mother."
The "Knocked Up" actress explained that her post was not about herself, as she is now in a place where she can turn down a job if she can not handle its demands. She remarked that she has grown out of worrying about upsetting others if she creates healthy boundaries for herself.
Heigl ended her lengthy statement by sharing her support for IATSE and their demands. She wrote that it was time for the crew and cast members to receive fair and reasonable working conditions, wages, and working hours.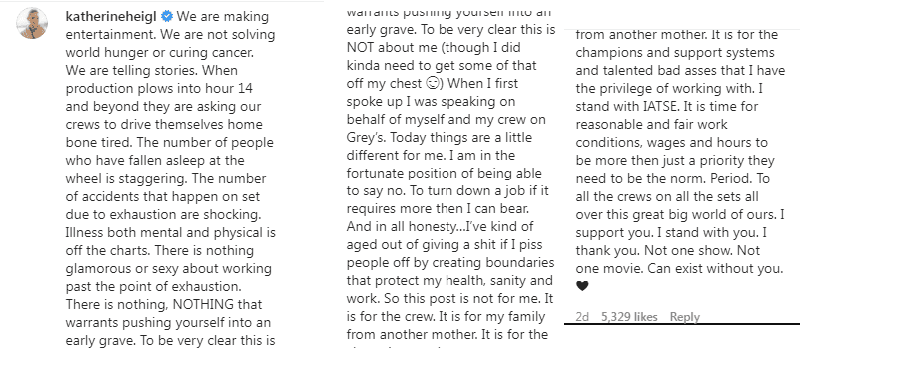 Katherine Heigl continued her message in the comment section. | Photo: Instagram/katherineheigl
Heigl has been open and forthcoming when sharing her own experiences while working on a demanding set. Unfortunately, the outspoken actress received a lot of criticism about her past remarks. Many fans thought Heigl's comments caused her character Izzy Stevens's sudden exit.
However, the truth is a little different. In an interview with The Daily Telegraph, Heigl shared that when she started her family with her husband, Josh Kelley, she felt she needed time to be a mother to her children and could not work a full-time role.
Please fill in your e-mail so we can share with you our top stories!