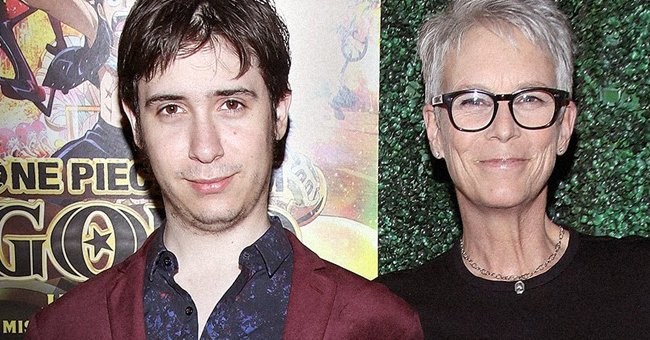 Getty Images
Jamie Lee Curtis Watched in 'Wonder and Pride' as Son Thomas Transitioned into Her Daughter Ruby

Jamie Lee Curtis has had to let go of some things as she aged, including the age-old idea of fixed genders — an idea her son Thomas redefined when he decided to transition into a female; her marriage is now around the corner.
Jamie Lee Curtis is thriving still after all these years. The talented actress might have her fair share of tribulations, including an addiction that could very well have been the death of her, but she's still going strong.
Thankfully, after a friend of hers planted a seed of change in her heart, she was able to nurture it, and it allowed her to break free of her vicious cycles. These days, Jamie is all about doing better and unlearning outdated knowledge.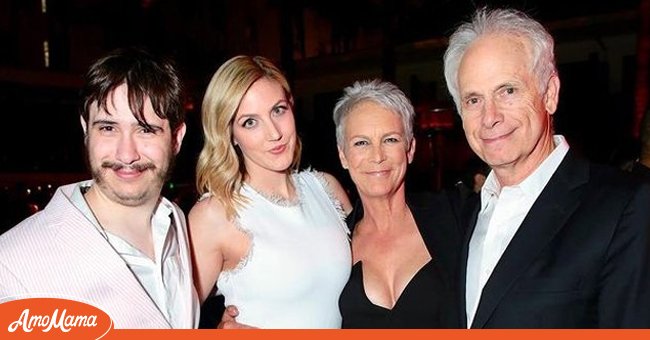 Actress Jamie Lee Curtis and her children | Photo: Getty Images
One of the things she has been focusing on is family. After she recovered from her drug addiction, Jamie, with help from her third husband, Christopher Guest, busied herself with raising their kids, both of whom were adopted.
It was not an easy task, especially when one of them started to challenge one of the oldest ideas, an idea which states that gender is fixed.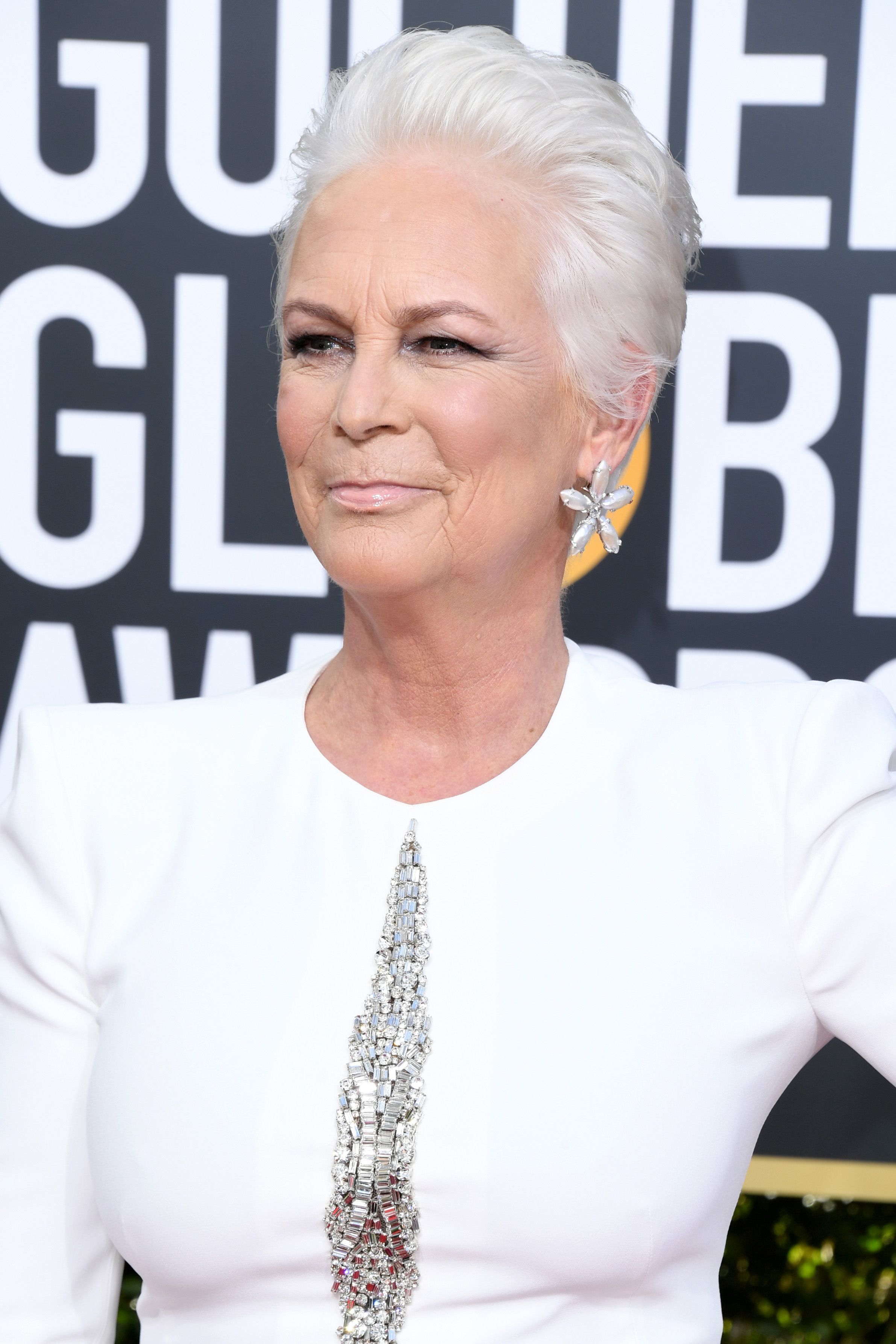 Jamie Lee Curtis at the Golden Globe Awards at The Beverly Hilton Hotel on January 6, 2019 | Photo: Getty Images
It was an idea Jamie had to shed, and when she did, the devoted mother was able to watch in "wonder and pride" as her child switched genders. In the past, the talented entertainer has shown support for transgender people with some of her actions.
Just last year, she signed a contract that would allow her to direct and star in a TV movie based on GLAAD Media Institute alum Sara Cunningham, the founder of Free Mom Hugs, a platform that celebrates the LGBTQIA+ community. Here are the details.
THE TRANSFORMATION
Jamie and her husband, Christopher Guest, got married in 1984, and as stated earlier, they share two adopted children, Annie and Ruby (formerly Thomas).
The lovely pair welcomed their first child, Annie, in 1986 while their second, Ruby, joined the family in 1996. Adoption was the only way for Jamie and her husband to have kids as they struggled with infertility.
In 1996, Curtis wrote a book titled "Tell Me Again About The Night I Was Born" to emphasize the importance of sharing birth stories with adopted children.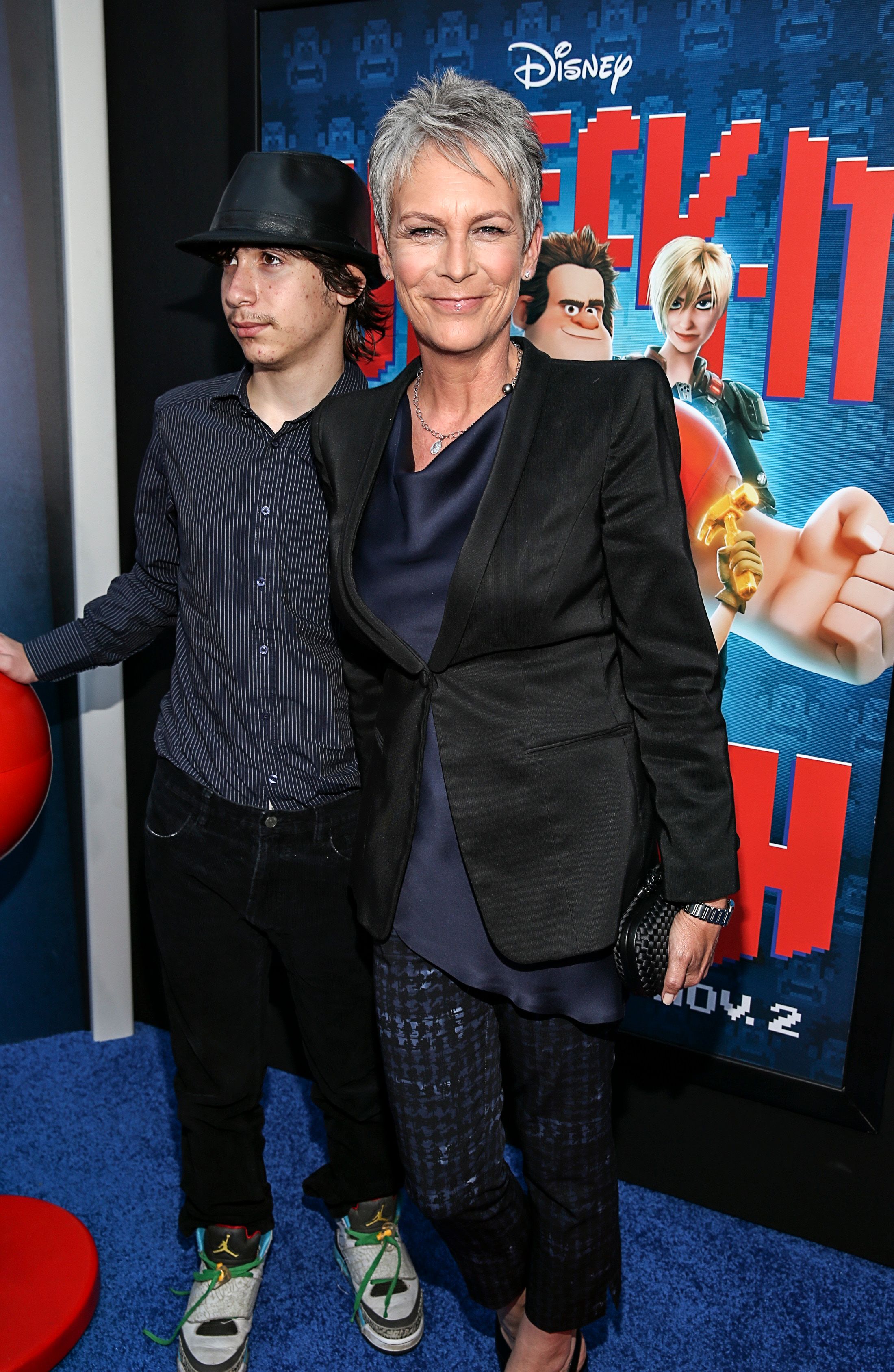 Jamie Lee Curtis and Thomas Guest during the Premiere Of Walt Disney Animation Studios' "Wreck-It Ralph" at the El Capitan Theatre on October 29, 2012 | Photo: Getty Images
The actress has been very candid about her life as a mother and how it has changed her life for the better. Her second child Ruby was born a boy; however, he decided later on in life that he would rather be a female, hence the change in moniker from Thomas to Ruby.
Watching it all happen has been quite the experience for Jamie, who was born in an older time, one that would have frowned upon her son's decision to become her daughter.
That life exposed her to the LGBTQIA+ and helped prepare her for the future she never saw coming.
Still, change is a constant phenomenon, and Jamie hardly needed any prompting to accept her child's choice. In fact, she proudly watched her son make the transformation and is all in support of it.
According to an interview the proud mother had with a representative of AARP earlier this year, she will be officiating her daughter's wedding ceremony next year. It is yet unclear if her partner is a man or woman.
It is certainly a welcome turn of events for a woman who never even imagined that she would ever become a mother. The role changed her life drastically, and in time, she began to make every decision with her kids in mind.
One look at her children and how great their lives are going, and the result of Jamie's decision to put her kids first become apparent.
HER UPBRINGING PREPARED HER FOR IT
Jamie came from a family of entertainers, which is why she is regarded by many in Hollywood as royalty. That life exposed her to the LGBTQIA+ and helped prepare her for the future she never saw coming.
Quite a few of her mother's associates, including her make-up artist and even acting colleagues, were part of the LGBT community. Aside from helping her accept the LGBTQIA+, Jamie has also credited her mother, Janet Leigh, and stepfather Robert Brandt for teaching her the importance of family.
Leigh and Brandt were together for more than four decades which was more than enough time for Jamie to understand the essence of genuine family bonds.
RUBY GUEST
Even though Jamie is regarded as Hollywood royalty having come from a long line of showbiz big shots, neither of her two kids grew up to share her desire to be in front of a camera.
According to AARP, Ruby is now a computer gaming editor — a vocation she chose after having sampled a taste of the entertainment world thanks to her parents.
She used to join Jamie and her husband on the red carpet as a child, but as she got older, that changed, and she appeared less and less often.
ANNIE GUEST
Annie was the first child Jamie and Guest welcomed. She was adopted through an adoption agency and has since grown into a beautiful woman.
Unlike her mother, she opted for a life outside the spotlight and became a successful dance instructor after earning a degree in dance from Kenyon College, where she was tagged the "best choreographer" by her peers.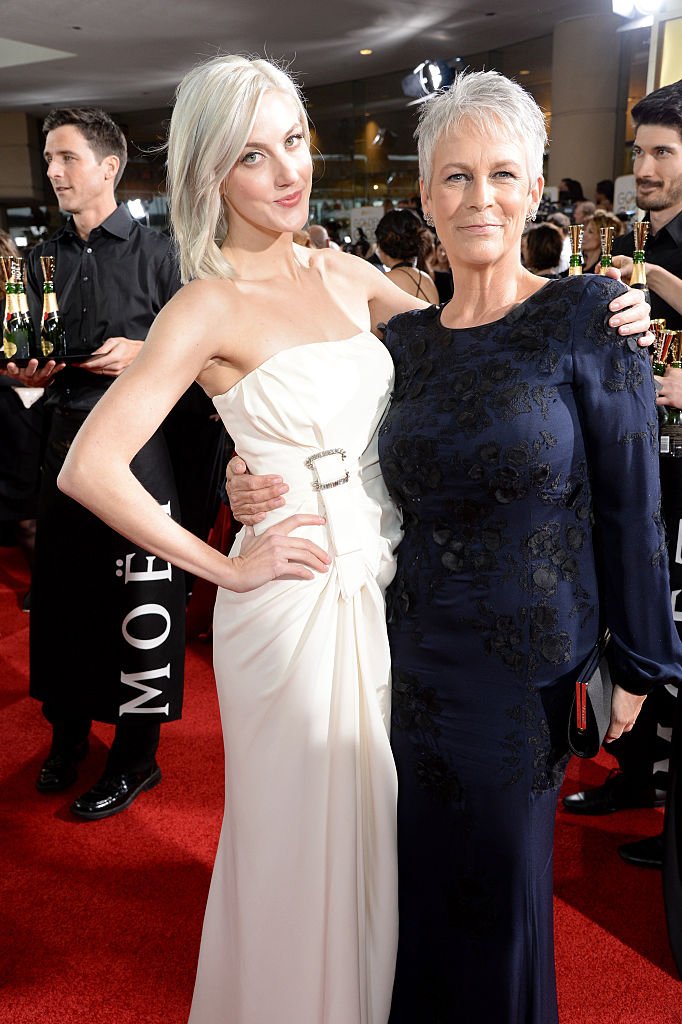 Annie Guest and actress Jamie Lee Curtis at the 73rd Annual Golden Globe Awards on January 10, 2016 | Photo: Getty Images
According to Closerweekly, she is currently a team director at the MNR Dance Factory in Los Angeles. She beat her younger sibling to the altar as she is already married to Jason Wolf.
The two reportedly got married in July 2019 at their 1920s Spanish Colonial home in California. Annie and her husband are yet to become parents themselves, but Jamie hopes to become a grandmother someday.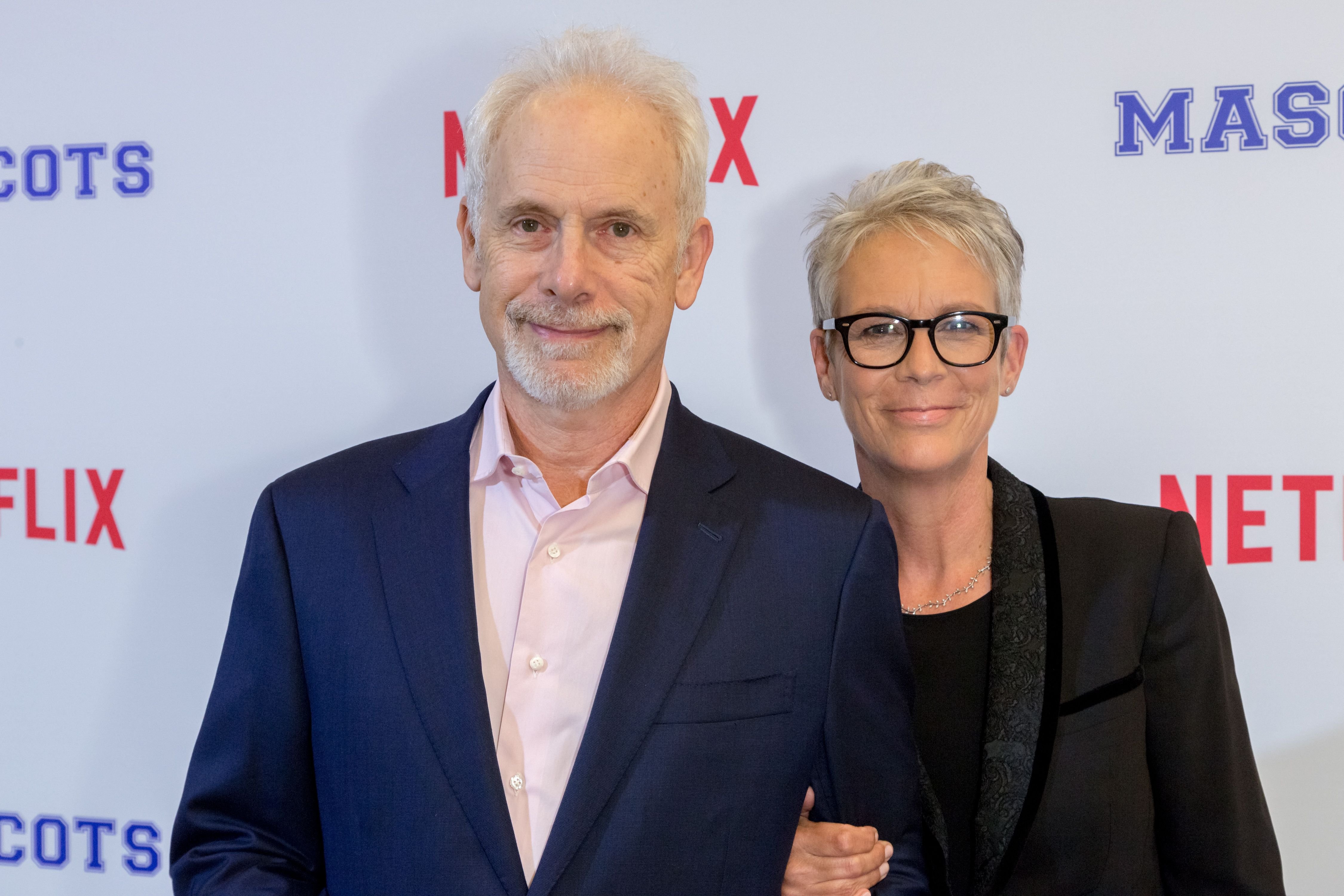 Jamie Lee Curtis and husband Christopher Guest at a Screening Of Netflix's "Mascots" at the Linwood Dunn Theater in Los Angeles, California | Photo: /Getty Images
Her love for kids is well known, and the talented woman has contributed to making the world a better place for kids in many ways. For example, the Syzygy Foundation was founded by her and Guest to support children's health and environmental causes.
Last year during the pandemic, Jamie also launched myhandinyours.com, an online shop that offers aesthetic objects made by artists to benefit Children's Hospital in Los Angeles. Since it started, it has raised approximately $250,000 for the hospital.
Please fill in your e-mail so we can share with you our top stories!