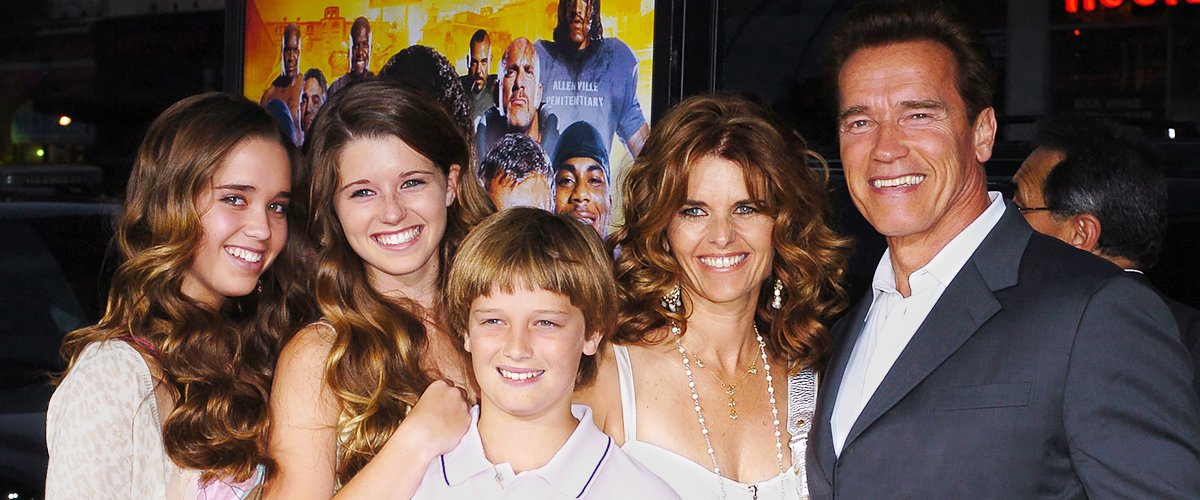 Getty Images
Arnold Schwarzenegger & Maria Shriver Share 4 Children - Reason Behind their Unfinalized Divorce & His Remorse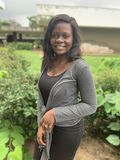 Despite Arnold Schwarzenegger's words at their star-studded wedding to always love his wife, Maria Shriver, the actor also fathered a child with the family housekeeper.
Austrian American actor and businessman Arnold Schwarzenegger is often regarded as a man of class, talent, and elegance. He has managed to keep netizens talking throughout his career, either about his professional life or his family affairs.
In 2017, he made the headlines after his separation from his ex-wife, journalist Maria Shriver, came to the limelight. During the period of their union, the former couple had four children. Take a deeper look into the circumstances surrounding Shriver and Arnold's marriage and divorce.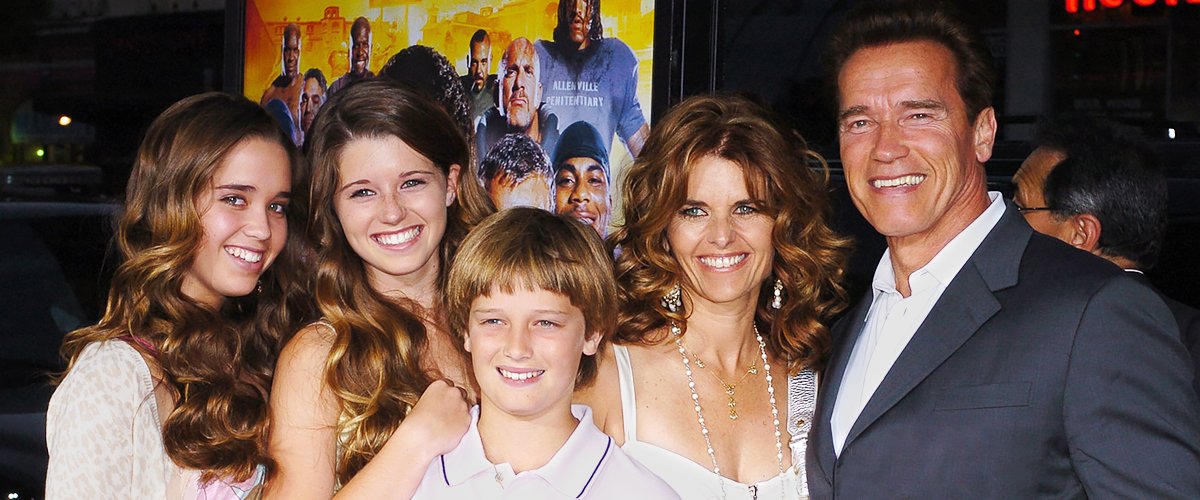 A picture of Arnold Schwarzenegger, his wife Maria Shriver and their kids | Photo: Getty Images
HOW DID THE PAIR MEET?
Shriver and Arnold first met each other at a charity tennis tournament in 1977. At the time of their encounter, the latter was already a former Mr. Universe champion and had a thriving career in the movie industry.
On the other hand, Shriver was just a television journalist. Although they saw each other at the event, the pair had no conversation until renowned journalist Tom Brokaw officially introduced them. Shortly after the introduction, the duo became romantically involved.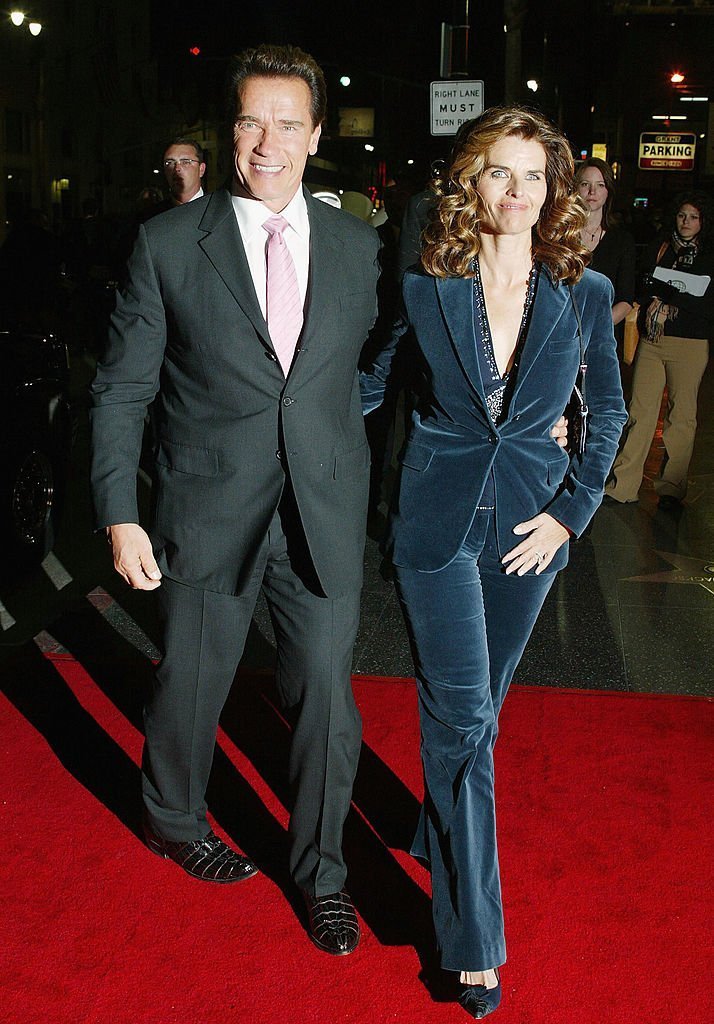 Arnold Schwarzenegger and his wife Maria Shriver on November 28, 2005 in Hollywood, California | Photo: Getty Images
INSIDE THEIR RELATIONSHIP
The former California governor and his ex-wife dated for nine years before they finally married in 1986. The fantastic wedding ceremony took place at St. Francis Xavier Church in Hyannis, Massachusetts, USA.
About 500 guests were in attendance, with Caroline Kennedy, the daughter of the former president of the United States, John F. Kennedy, standing in as the maid of honor, and Franco Columbu, former Mr. Universe, standing as the best man.
After exchanging their vows, the pair proceeded to the star-studded reception at Kennedy compound in Hyannisport.
SHRIVER AND ARNOLD'S CHILDREN
Shortly after their marriage, the former couple decided to expand their little family. In December 1989, Shriver and Arnold welcomed their first child and daughter, Katherine Schwarzenegger. She is currently an author with three books to her name.
In addition, Katherine is a graduate of the University of Southern California and an ambassador for the American Society For The Prevention of Cruelty To Animals. The author walked down the aisle with her husband, Chris Pratt, in June 2019, and they have child.
CHRISTINA SCHWARZENEGGER
Christina is Shriver and Arnold's second child and daughter. She was born in July 1991, two years after the arrival of Katherine. She is currently a degree holder from Georgetown University, and like her parents, she also took an interest in the movie industry.
In 2018, she produced the Netflix documentary "Take Your Pills" with her mother. Christiana also works as the assistant editor for Goop — a lifestyle brand founded by Gwyneth Paltrow.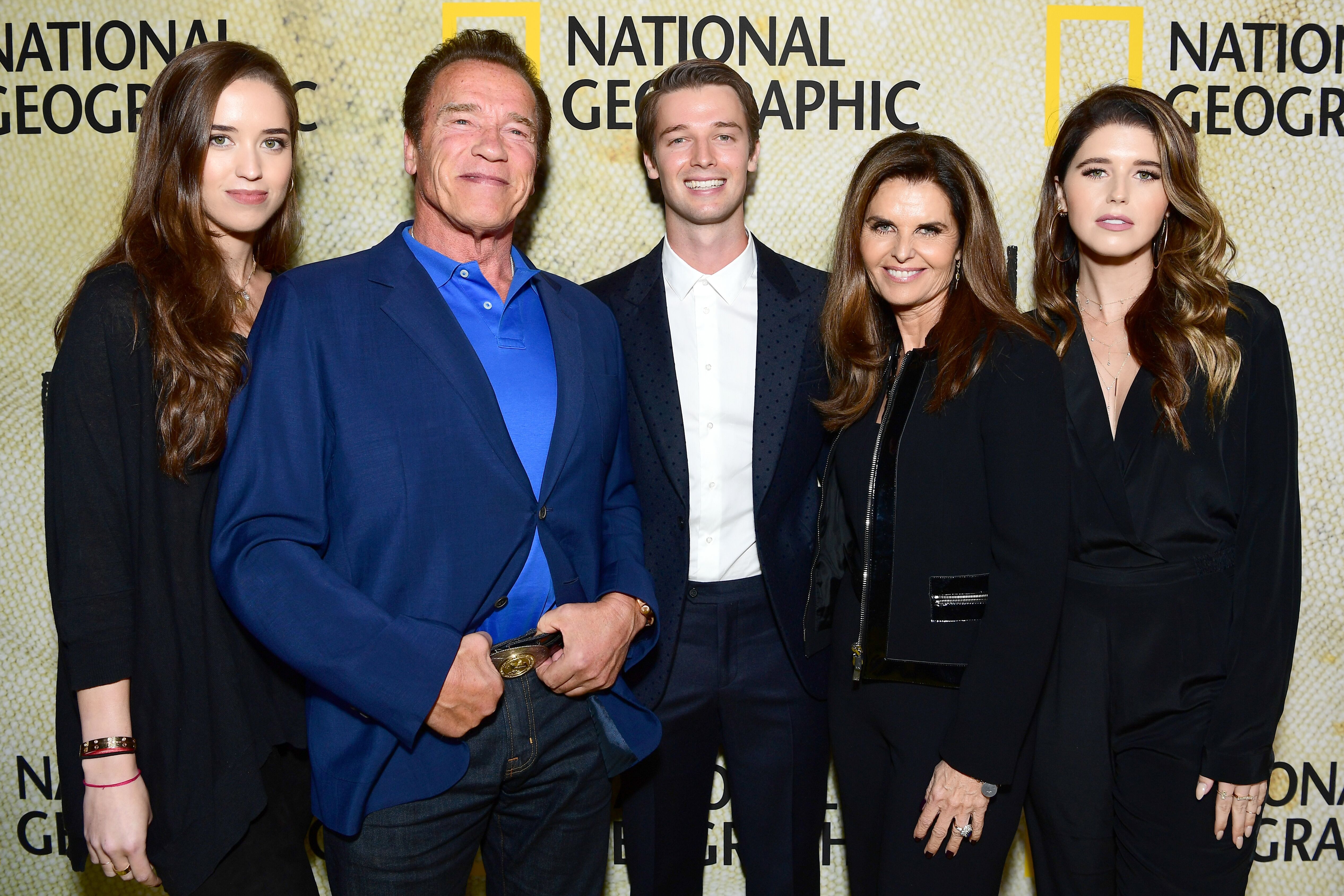 Arnold Schwarzenegger and Maria Shriver attend the premiere of National Geographic's The Long Road Home | Photo: Getty Images
PATRICK SCHWARZENEGGER
The "Terminator" actor and the journalist welcomed their third child and first son, Patrick, in September 1993. Over the years, Patrick has proven that the apple indeed doesn't fall far from the tree, as he has inherited his father's love for acting.
He has made appearances in movies like "Scouts Guide To The Zombie Apocalypse," "Midnight Sun" and "Grown Ups 2." Apart from his movie credits, Patrick is also a model and the CEO of a clothing line.
CHRISTOPHER SCHWARZENEGGER
Christopher is the last of Shriver and Arnold's children. He was born in September 1997, and unlike his siblings, the young man prefers to live his life away from the spotlight. Last year, he graduated from the University of Michigan.
THE BIG REVELATION
A day after Arnold left the California Governor's Office in 2011, he made a shocking revelation during a therapy session with his former wife. The politician made it known that he once had an affair with their housekeeper, Mildred Baena.
Details of the affair were further explained in his memoir. Arnold revealed that he slept with Mildred in 1996 in the guest house of his home in Pacific Palisades. Shriver was on vacation with their kids at an unknown location at the time.
Shortly after the affair, Mildred got pregnant, at the same time when Shriver was pregnant with her last child. The women bonded during that period, and in 1997, Mildred's son, Joseph Baena, was born, just two months after Christopher was born.
Years passed, and Shriver began to spot the uncanny resemblance between Joseph and her husband, which led to the confrontation during the 2011 therapy session. After his revelation, their marriage never remained the same.
SHRIVER AND ARNOLD'S DIVORCE
Two months after Arnold admitted to cheating on Shriver, the latter filed for a divorce citing irreconcilable differences. At the time Shriver filed for divorce, the couple was already married for 25 years.
The journalist and her ex-spouse released a statement addressing the situation. In the statement, the couple noted that they would live apart while they tried to work out the future of their relationship.
However, they said they would continue co-parenting their children as they were the light and center of their lives. Arnold remained remorseful about his infidelity, and six years after the scandal, he spoke candidly about the affair.
Arnold said he was still working on putting the mistake behind him. Furthermore, he explained that he would change the turnout of events if he could, but beating himself up about the affair would not change anything.
He was more determined to move forward and be a great father to his five kids. To date, Shriver and Arnold remain legally married. However, they are close to settling their divorce after ten years.
ARNOLD'S RELATIONSHIP WITH JOSEPH
Despite the circumstances surrounding the father and son's relationship, they still share a close bond. Arnold paid for Joseph's college education and attended his graduation from Pepperdine in 2019.
Joseph might share a good relationship with his dad, but the same may not be said about his step-siblings. A source once revealed that the young man shares no connection with Katherine or Christina.
However, their odd relationship does not stop Joseph and his mom from wishing them well. The mother and son said a big congratulations to Katherine after pictures from her wedding day were shared.
Please fill in your e-mail so we can share with you our top stories!