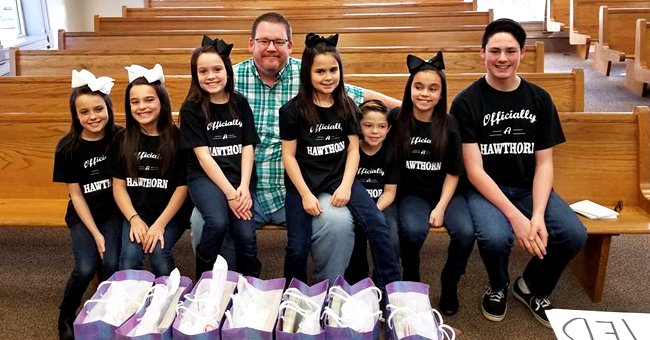 facebook.com/Michael Hawthorn
Couple Fostering Twins Find Out They Have 5 More Relatives and Make an Unexpected Decision in 2018

Seven siblings were stuck in a broken and dangerous system, with torn clothes, bugs in their food, and floors for beds. They were doomed to a life of suffering and hardship, or so they thought.
Father Michael Hawthorn and mother Terri Hawthorn already had four beautiful biological children, who by 2018 had already entered into adulthood. With more space in their home and hearts, the pair decided to make a surprising decision.
This couple initially hosted foreign exchange students, eventually choosing to take in foster children. While Michael and Terri were adamant that they would never adopt, life had other plans for this mom and dad.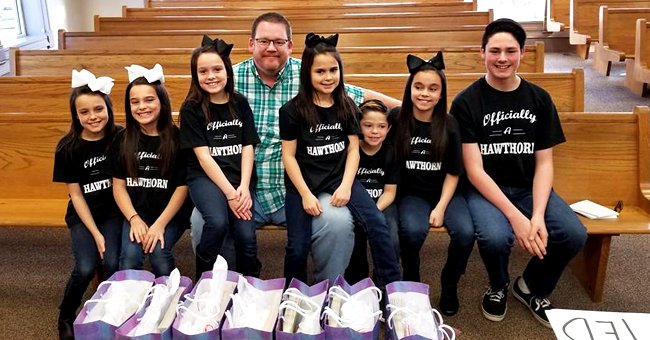 Michael Hawthorn with his seven adopted siblings. | Source: facebook.com/Michael Hawthorn
First, in April of 2018, the couple adopted two siblings: Korgan, who was 3 years old, and Haizlee, who was one year old. During this period and over the course of three years, they also fostered 10-year-old twins Lacey and Layna at intervals.
Tony...was abandoned by his original adoptive parents at 11 years old.
The family had also met these two girls' 5 siblings: 8-year-old Nixson, 9-year-old Arria and Addiley, 11-year-old Kyndal, and 15-year-old Dawson. They all had spent over 1000 days in foster care.

Individual commenting on a YouTube video by THV11. | Source: youtube.com/THV11
The road wasn't straightforward, but with the help of Arkansas State Senator Alan Clark in December of 2018, Michael and his wife officially became the parents of these seven beautiful children. The dad
expressed
:
"They were ours already...All this did was make it official."
Terri has shared deep gratitude and joy at becoming the mom of these 7 children. The loving spouse and parent stated that she loves seeing them smile and laugh.
The State Senator himself expressed his delight at seeing the married pair gain full custody of the seven children, commending them on what great parents they were. Alan stated that both these kids and their new mother and father are all blessed to have one another.
The kids felt the same, with one of them speaking about how wonderful it felt to be in a space that feels safe. Another expressed how much their life quality had improved, having had torn clothes and bugs in their food beforehand.
One of Michael and Terri's biological children Micah Hawthorn, 20 years old at the time, paused her acting career in California to help her parents look after the children. The 20-year-old said that it was an easy decision for her.
STRANDED AND LOST
Licensed foster parent Peter Mutabazi from Charlotte, North Carolina, also welcomed parentless child Tony into his life. His original adoptive parents abandoned him at 11 years old.
The couple who deserted this young boy cited "failed adoption" after signing an agreement that took away their parental rights. Mutabazi took Tony in without any intent to adopt but soon enough, the boy found his way into Mutabazi's heart, and he decided to adopt him.
The new father said that Tony is the kindest and most intelligent child he knows. If not adopted, foster kids tend to find it more challenging to get a job or earn enough money to survive, and so these siblings and Tony could have just have had their lives saved by their new loving parents.
Please fill in your e-mail so we can share with you our top stories!