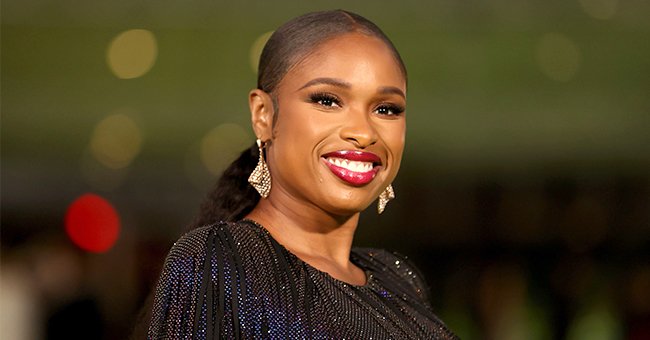 Getty Images
Jennifer Hudson's Ex-Fiancé David Otunga Makes Fans 'Cry' with 'Epic' Tribute for Their Son

Jennifer Hudson's ex-fiancé David Otunga always takes to his Instagram to show his love for their son. This time, for National Sons Day, he did it with a video tribute that melted hearts.
The lawyer turned wrestler was engaged to the singer and actress for ten years before their shocking split, which led to a custody battle for their only child.
Nearly two years after their split, they reach an agreement, and the couple, in their respective ways, keeps on showing their son that their love for him will never wane.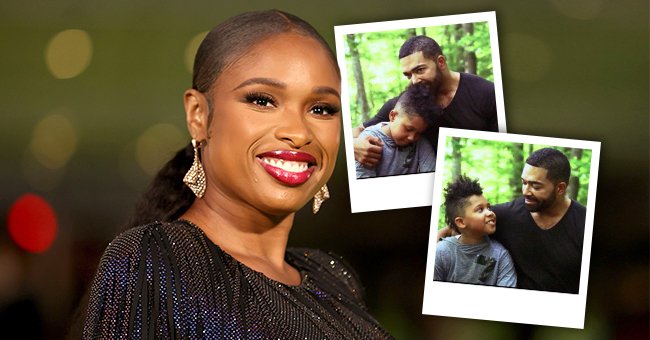 Photo of Jennifer Hudson and photo of David Otunga with their son David Otunga Jr. | Photo instagram.com/davidotunga, Getty Images
ABOUT DAVID OTUNGA
Otunga is an American lawyer, wrestler, and former reality TV actor working at World Wrestling Entertainment. He became famous after being one of the final three contestants on VH1's "I Love New York 2."
During his wrestling career, he was part of the clan known as the Nexus, during which time he became twice WWE Tag Team Champion, once with John Cena and once with Michael McGillicutty.
Otunga played Officer Jake Devans in the 2013 movie "The Call" with Halle Berry. He also appeared as Lt. Michael' Lou' Ortega in the 2017 movie "Live To Tell" and as Will in 2019's "A Madea Family Funeral."
ABOUT JENNIFER HUDSON
The American singer and actress came to the limelight in the third season of American Idol in 2004 after she came seventh. In 2006, she won an Oscar and a Golden Globe.
The awards were for being the best actress as Effie White in the musical drama "Dreamgirls," alongside Beyoncé. She made significant headlines again in 2008 after the murder of her mother, older brother, and nephew in their Chicago home.
In 2008, she released her first studio album and had four albums featuring various artists. She sang at the Super Bowl in 2009, became the Weight Watchers ambassador in 2010, and received a star on the Hollywood Walk of Fame in 2013.
She starred in the live-action version of the musical "Cats" in December 2019 and then played Aretha Franklin in the 2021 biographical film titled "Respect."
HUDSON AND OTUNGA'S RELATIONSHIP
After being introduced by a mutual contact in 2007, Hudson and Otunga started dating. Less than a year later, he proposed to her on her birthday in 2008, and she said yes to the ring!
Barely a month after getting engaged, that was when Hudson lost her family. On the weekend of the killings, she had visited Otunga in Florida, which saved her life.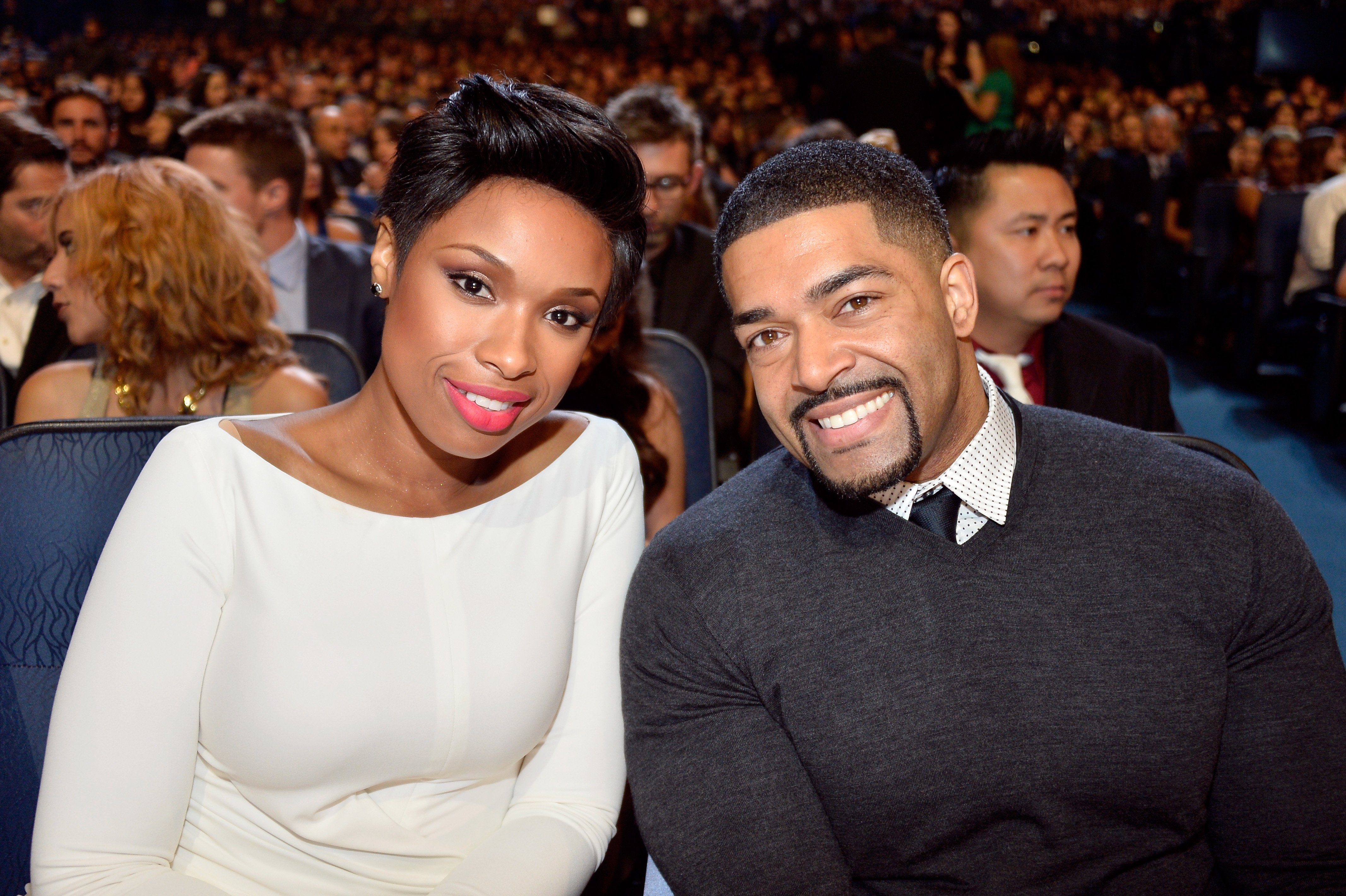 Jennifer Hudson and David Otunga at The 40th Annual People's Choice Awards on January 8, 2014 in Los Angeles | Getty Images
In August 2009, she gave birth to their first child, David Daniel Otunga, Jr. With the advent of her child and her family's loss; they put their marriage plans on hold.
In November 2017, Hudson shocked her fans when she announced her split from Otunga and even mentioned that she got a protective order against him in the best interest of their son.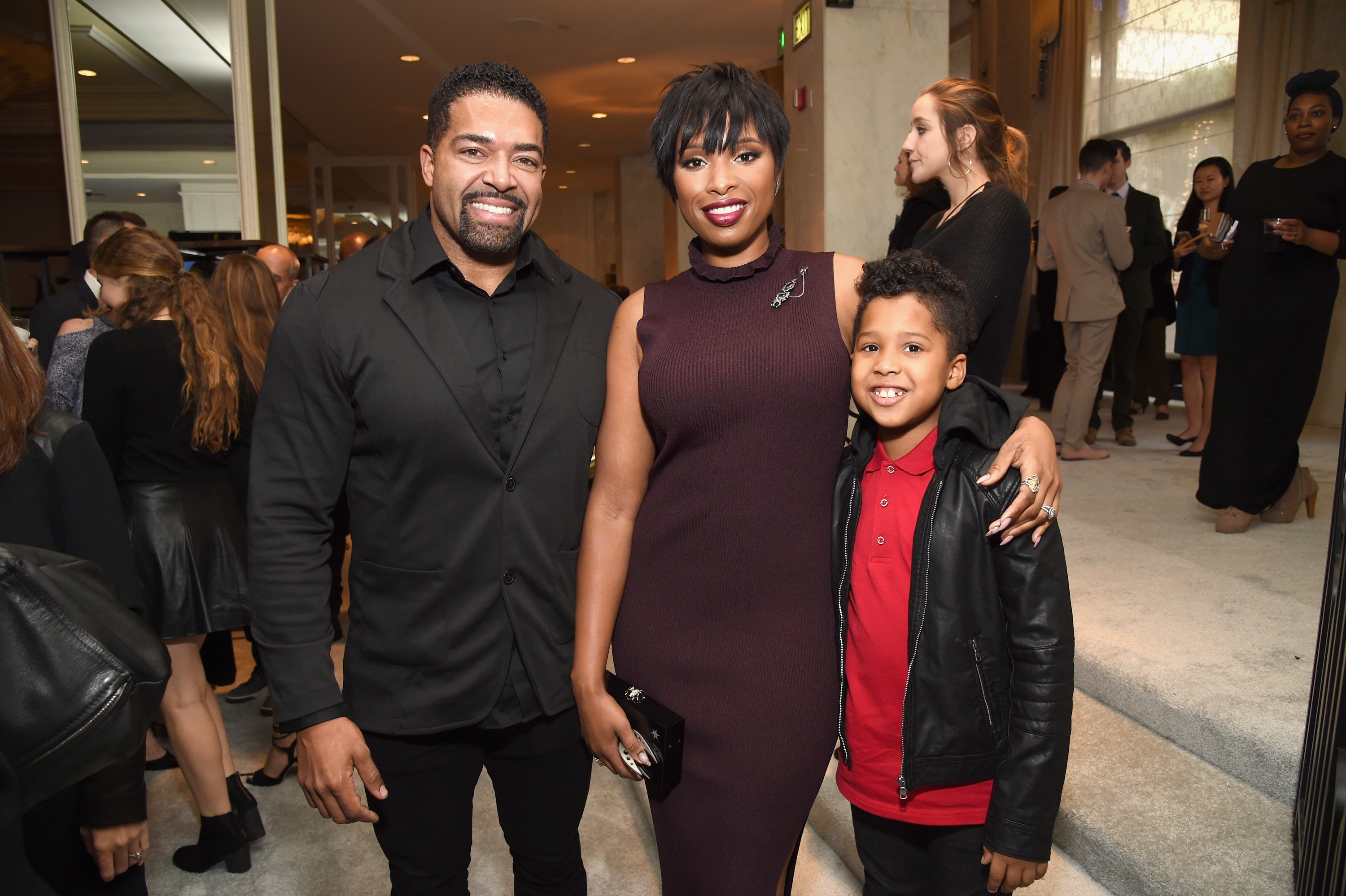 David Otunga, Jennifer Hudson, and David Otunga Jr. at the 2016 March of Dimes Celebration of Babies on December 9, 2016 in Beverly Hills | Getty Images
Despite their split, Hudson and Otunga never fail to show their son a good time and tell him that he is loved. He has a great relationship with and splits his time between both of them.
After their split, it took nearly two years before they would reach a parenting agreement. The terms of the deal were not disclosed, and their attorneys declined to comment.
The couple whose negotiations were done behind closed doors also signed a gag order that prohibited them from speaking to the media about the case.
In an interview, Otunga revealed that their son has traits of both his parents in him. Like his father, he loves exercising and his father's movies while also having his mum's passion for singing.

A fan's comment praising Otunga's video | Photo: Instagram/davidotunga
OTUNGA'S DEVOTION TO SON
For National Sons Day, celebrated on Tuesday, September 28, Otunga took to Instagram to celebrate his son in a video that touched the hearts of his fans and followers.
The video started with a look back on when David jr. was born and his growing up years as he spent time bonding with his dad. To aid the video was Will Smith's "Just the Two of Us."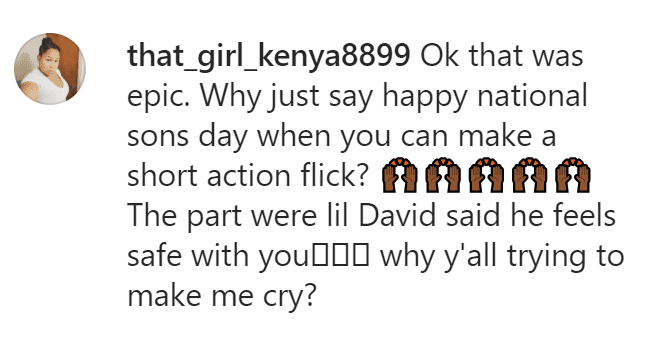 A fan's comment praising Otunga's video | Photo: Instagram/davidotunga
For Otunga, he says his life revolves around his son and hopes to give him the best opportunities while making him the best person he should be by constantly enriching his son's mind.
You can hear David Jr. saying that his favorite thing is going out with his dad. He also says that he feels safe around his dad because he has muscles, and his dad is his hero.

A fan's comment praising Otunga's video | Photo: Instagram/davidotunga
The video proceeded into a mini-movie that showed David Jr. captured after his dad got beat up. Otunga then made a comeback to get his son.
In their alone time, David Jr. tells his dad that he wants to be just like him when he grows up, and Otunga tells him that he already is like him. He is intelligent, fast, and handsome.
He had promised always to protect his son. Even though he had been stabbed and badly wounded in the fight, he was not going to give up the search for his son.
By the time his fans finished watching the video, there were tears in the eyes of some fans while another fan called him one of the best fathers.

A fan's comment praising Otunga's video | Photo: Instagram/davidotunga
Some fans believe his tribute was a fantastic tribute for a father to give his son blessings, and it was a priceless tribute. It was not the first time he had taken to Instagram to show David Jr. some affection.
On his son's 12th birthday, the duo and others celebrated with their own NBA All-Star Challenge: Skills, 3-point, Dunk contest, and All-star game with a cake that had David Jr.'s name and jersey number.
In another video, he attended his son's basketball game. At the end of the game, the father and son duo celebrated crushing the regular season and readying for the playoffs.
Even while working out together at the gym, Otunga is ready to share the bonding session while advising his fans on what they should learn from his posts.
As they lifted weights in the video, Otunga explained that he pushed weights for strength and endurance building to help his son on the basketball court.
By building strong shoulders and triceps, his son will maintain perfect form on jump shots, snatch rebounds, and finish through contact. These also help build well-defined shoulders.
Please fill in your e-mail so we can share with you our top stories!