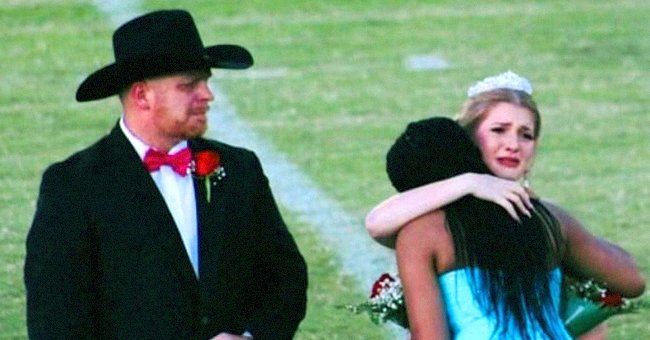 facebook.com/RickKarle
Homecoming Queen Gives Her Crown to Another Girl Whose Mom Died of Cancer on the Same Day

A high school student brought people to tears in Mississippi last month after handing her homecoming crown to another girl. The selfless act was a way to honor the girl's mother, who had just passed away.
This year, attendees of the Forrest County Agricultural High School's Homecoming witnessed a special moment. After senior pupil Nyla Covington won the crown, she walked toward Brittany Walters and did something unexpected.
Covington first gave Walters a big hug and then took off the crown and placed it on her head. At first, the student could not accept the honor, and she tried to back away from Covington. However, after she spoke with her, Walters accepted.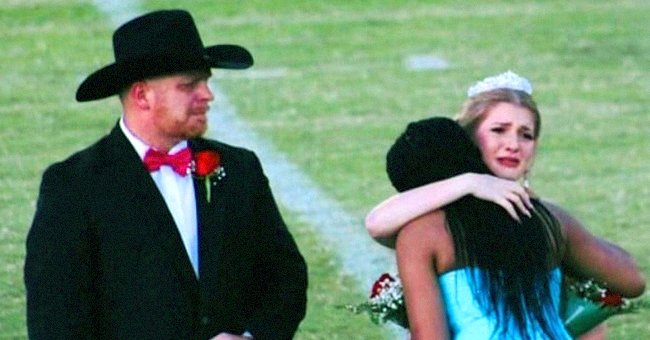 A homecoming queen prompts an emotional reaction as she hands her crown to another student who just lost her mother to cancer | Photo: Facebook/RickKarle
YOUR MOM'S QUEEN
Covington shared the extraordinary encounter and said: "I was like, 'No, come here, get it, you're your mom's queen.' I wanted her to know that." Walters' mother had passed away the very same day as their homecoming.
Walters expressed she felt her mother's presence on the field with her. She also likened her mom to Convington and said they shared similar traits. According to Walters, both of them are very giving and caring towards others.
SPECIAL HOMECOMING MEMORIES
The day was overwhelming for Walters, but she attended the homecoming despite losing her mother to cancer because she promised her mother she would not miss it. Her mom said it should be a day she remembered forever, and she was right.
Thanks to Covington, the homecoming memories would always be extra special. Walters' mother was well known at the local high school, and the principal, Will Wheat, remembered her fondly. He said she always had a smile on her face.
PROUD OF THEIR STUDENT
Walters added that her mother was helpful to everyone that came across her path. She expressed: "I feel like this is her way of still touching people." Wheat shared that he hoped Convington's actions would inspire and encourage other people.
The principal said the school was incredibly proud of Covington, and he described her gesture as a "selfless act." He also commended her parents and said they had done an excellent job raising her.
CROWN GIVEN TO A FRIEND
In 2019, a homecoming queen also inspired onlookers after she handed her crown to her friend, Emily Petty, who has down syndrome. Trinity Arrington gave the crown to her friend because she knew Petty always wanted to be a princess.
The pair was able to share the spotlight, and Petty even blew the crowd a few kisses as part of their procession. Arrington expressed that everyone was very excited for them. She also said Petty would always be her queen because she deserved it and because "it made her happy."
Please fill in your e-mail so we can share with you our top stories!