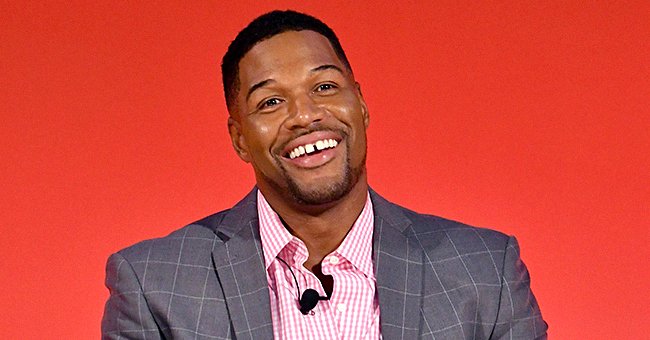 Getty Images
Michael Strahan's Twin Daughter Is Almost as Tall as Him in Photo Showing Their Likeness

While Michael Strahan stands over 6 feet tall, his twin daughter Isabella is almost as tall as him in a new photo of them in one of her volleyball games which she dominated.
Michael Strahan is a proud dad to four grown-up children who have chosen different careers from him. He is no longer the only sports star in the family, as he passed on his athletic genes to one of his twin daughters, Isabella.
Once one of the most dominant defenders in the NFL, Michael has retired and is now a TV host and businessman. After playing for a short while in high school, he was offered a scholarship to join the Texas Southern University football team.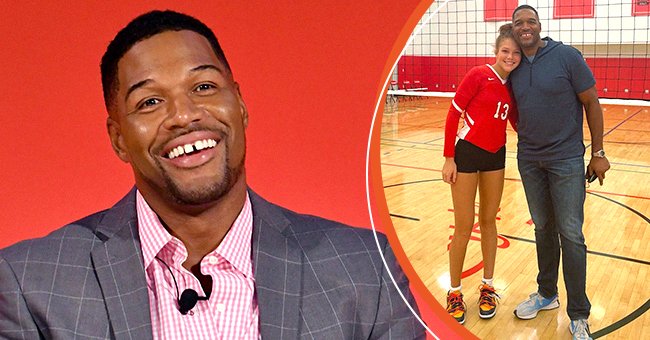 A photo collage of Michael Strahan and his daughter Isabella | Source: Instagram.com/michaelstrahan, Getty Images
There, he saw huge success and remains the school's all-time leader in sacks, with 41.5 in total. He also had the most number of sacks in a single season, with 19.
HIS PROFESSIONAL FOOTBALL CAREER
After his collegiate career, Michael was drafted by the New York Giants in the second round of the 1992 NFL draft. He would play his entire NFL career with the Giants, where he received many accolades throughout his 15-year career.
His accomplishments include having the most sacks in a single season in the history of the league, a Super Bowl ring in 2007, and in 2013, he was inducted into the NFL Hall of Fame. Now, he contributes as a TV host on "NFL on Fox."
Thanks to his contributions to the team, the New York Giants will officially retire his jersey number, 92, in his honor this November. Ultimately, if there's one thing he misses after being in the NFL for 15 years, it's this:
"I miss the guys, the sense of one-ness. And yeah, I miss the physicality of getting things done. I miss that."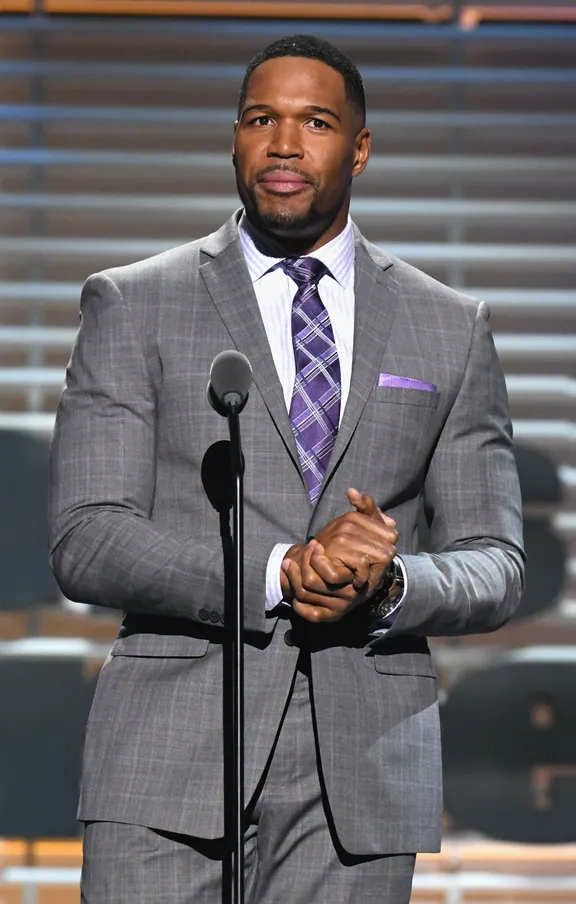 Michael Strahan at the Sports Illustrated 2017 Sportsperson of the Year Show on December 5, 2017 | Source: Getty Images
LIFE AFTER BEING AN ATHLETE
Although he misses NFL camaraderie, Michael remains a team player while hosting "NFL on Fox." He is also a host on "Good Morning America," where he was recently surprised by former teammates to celebrate the retirement of his jersey number.
While he's received many praises both as an athlete and a host, he also recently ventured into fashion by putting up "M by Michael Strahan." He sells men's clothing perfect for every occasion, be it casual wear or formal wear.
HIS GREATEST ACHIEVEMENT IN LIFE
Despite everything he's achieved in his career, Michael's greatest remains being a father. In more recent times, he's paid tribute to his late dad, and how his upbringing and the memories they shared shaped him to become the father he is today.
His daughter Isabella is now following in his footsteps in the sports world, this time as a volleyball player. The proud dad wrote "That's my girl!!" in a new social media post of both of them standing in the court as he watched her game.
HIS ATHLETE TWIN DAUGHTER ISABELLA
While the post was to show support for Isabella, many fans noticed how she was only a few inches shorter than her 6-foot-4 dad. Her height is advantageous, as like her dad said, she was "showing up and showing out on the volleyball court."
Aside from Isabella, Michael is also a dad to Isabella's twin, Sophia, and two children from his first marriage, Michael Jr. and Tanita. The TV host shares a great relationship with them, once saying he believes being a dad is the "best job and title of all."
LEARNING TO BE THE BEST DAD
Admittedly, Michael thought the first few years of his children's lives were difficult, especially when it came to his twins. It was challenging to learn about them because their moods constantly shifted, and one would be the polar opposite of the other.
By the time they grew older, he had started to realize the differences in both Sophia and Isabella and how their personalities were. Ultimately, this helped him adjust to being a dad and ensuring he could provide for both of their needs.
A PROUD DAD TO FOUR CHILDREN
While Isabella is a volleyball player, her twin Sophia is more into modeling. Michael shares the twins with his ex, Jean Muggli, and the 16-year-olds split their time between their parents' homes in New York.
The trio is often seen enjoying their time together, be it on vacation or at home. Meanwhile, Michael's only son, Michael Jr., chooses to live life away from the spotlight and is rarely seen on social media.
HIS ELDEST DAUGHTER TANITA
Last but not least, Michael's eldest daughter Tanita is a talented artist. Her Instagram page is devoted to her work, as she mostly posts about her paintings and digital artwork.
Tanita graduated from the Fashion Institute of Design and Merchandising in LA before switching tracks focusing on visual art. While she chose a different career path, the former athlete is hugely supportive of her.
In fact, on the link in his Instagram bio, fans would easily see that one of those featured is Tanita's online art gallery, where fans can see and purchase her work. The proud dad is doing all he can to support his eldest daughter's endeavors.
Michael has been busy nowadays with many hosting gigs. However, as seen on Instagram, he takes time to honor his children any way he can, whether it's by showing up in their games or posting about them on Instagram.
Please fill in your e-mail so we can share with you our top stories!