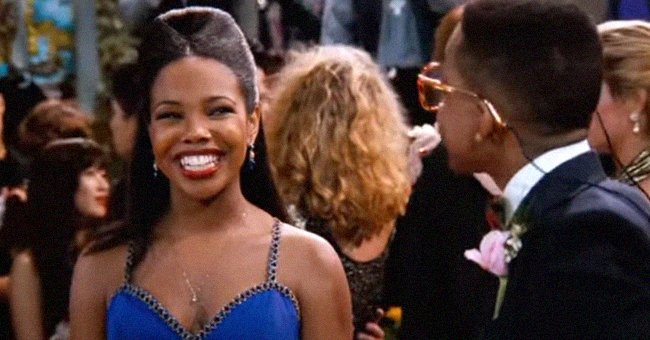 youtube.com/Derrbearrr 2.0
Fans Stunned as Kellie Williams AKA Laura on 'Family Matters' Poses with Her Daughter & TV Mom

Kellie Williams, the middle-born daughter of the Winslows from "Family Matters" poses with her onscreen mother, JoMarie Payton, decades after the show ended, causing fans to gush about their bond and a possible reunion.
Kellie Williams was one of the loved characters from the ABC/CBS family drama "Family Matters." She was a part of the Winslow family, who stole hearts and created invaluable moments in the mind of their audience for nearly a decade.
The show focused on a loving family, documenting their highs and lows and how they all contributed to making things work, alongside the infusion of some comedic scenes.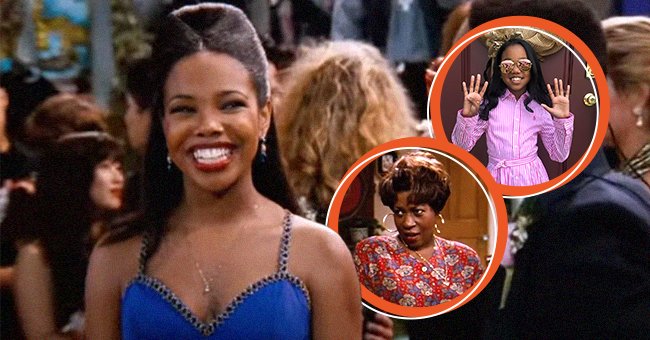 A collage of Kellie S Williams and her onscreen mom Jo Marie Payton. | Photo: Getty Images
"Family Matters" featured other acts like Jo Marie Payton as Harriet Winslow, the family's matriarch, Jamie Foxworth, Darius McCrary— Williams onscreen siblings, Jaleel White, her nerdy schoolmate, Reginald VelJohnson, and Telma Hopkins.
WHO IS KELLIE WILLIAMS?
Williams was the lady who starred as the middle-born child of Harriet Winslow on "Family Matters." The story of how she got the role is an interesting one.
Apparently, her manager caught wind of the audition, read a copy of the pilot script, and gave his client a heads up about the show.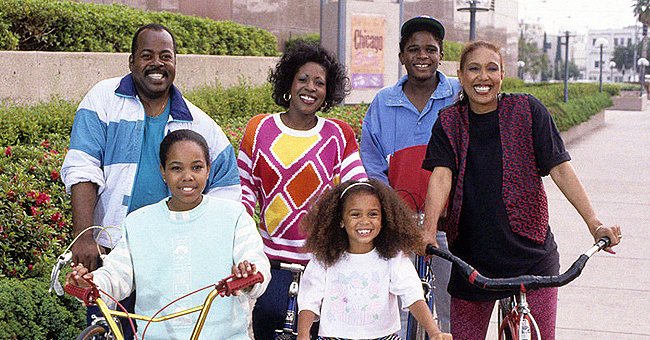 Reginald VelJohnson, Kellie Shanygne Williams, Jo Marie Payton, Valerie Jones, Darius McCrary, and Telma Hopkins on the pilot episode of "Family Matters," September 22, 1989 | Photo: Getty Images
Wiliams found it exciting after going through the scripts and requested for an audition which was made possible after her father, Earvin, a C&P Telephone Co. operator at the time, forwarded his daughter's home video audition to ABC in New York.
After watching the clip, some of the crew members and producers were impressed; they flew the young talent into Hollywood, and the rest is history.
Before her time on the show, the young teenage Williams had worked on some theatrical productions and was not a novice to the spotlight.
In fact, it seemed she had prepared herself by attending the Howard University Children's Theatre, appearing in plays like "The Colored Museum," "Joe Turner's Come and Gone," "Suspect," and "Men Don't Leave."
Although "Family Matters" put smiles on people's faces, it did not come without measured suffering. Williams had to work many hours and also studied with an academic tutor.
Whenever the series went on a break, she would move back to Forestville to attend Thomas G. Pullen School For Performing Arts in Landover, reject further professional work to focus on school work, and resume her life back at home.
JOMARIE PAYTON
Jo Marie Payton, like her onscreen daughter, started young at age 6. She is also a skilled singer who got her significant breakout role in "Family Matters."
After this feature, her career began to matter much more, as she was greatly loved and accepted by all. But she soon earned the chance to end her contract with the show and face other artistic endeavors.
Payton is actively involved in human rights movements, has been nominated several times for the NAACP awards, and runs the Frankie Payton Scholarship Fund at Albany State College.
THE MOST TALKED-ABOUT REUNION PHOTO
As the new week began, Williams dropped a never-before-seen snap of three beautiful ladies. It featured her onscreen mom, Payton, herself, and her young daughter, who has already been bitten by the acting bug.

A fan's comment on Kellie S Williams' Instagram page | Photo: Instagram/kellieswilliams
The women all posed in denim jeans, leaning close to one another as they parted their lips in wide-eyed grins. The veteran actress, Payton, in a collar-neck shirt and pixie cut, stood behind the younger ladies who sat comfortably in a chair.
While Williams and her look-alike mini-me teamed up in matching round neck shirts and ripped pants, they opted for different hairdos. The youngest wore her hair down, with a line running in the middle of her head, while her mom maintained a short, sleek hairstyle. In the caption, she wrote:
"Three generations (Me, JoMarie, and my daughter) on the set of MERRY LITTLE SWITCHMAS."

A fan's comment on Kellie S Williams' Instagram page | Photo: Instagram/kellieswilliams
WHAT DID THE FANS SAY?
Most often, celebrities get feedback from fans when they share their realities online, sometimes positive, other times, criticisms.
Williams is one woman who has fashioned her life away from controversies, leaving her legion of fans to be more in love with her rather than spotting her imperfections.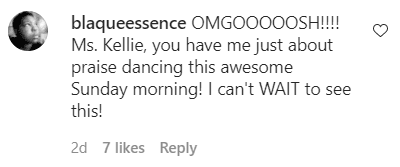 A fan's comment on Kellie S Williams' Instagram page | Photo: Instagram/kellieswilliams
When her recent photo dropped, more than forty thousand fans clicked on the like button, and a few hundred commenters thought that it was a sweet post.
One person gushed, "Omg I love this." Another commented, "Awww it's a family reunion." A third fan quipped, "Wow. Just so sweet and beautiful I still watch family matters every day." Another added:
"How wonderful! Can't wait to watch!"

A fan's comment on Kellie S Williams' Instagram page | Photo: Instagram/kellieswilliams
WILLIAMS AND HER "FAMILY MATTERS" FAMILY
Judging from her online posts and news circulating in the media, Williams did not seem to ever lose touch with her "Family Matters" co-stars, proving that the relationship on-screen really did matter.
A few months ago, Williams and her on-screen brother, Darius McCrary, reunited for a holiday project. They worked as siblings in the film "Christmas in Carolina."

A fan's comment on Kellie S Williams' Instagram page | Photo: Instagram/kellieswilliams
The film that brought these two dynamic talents together was written by Stacie Davis, directed by Peggy Williams, and was shot in South Carolina.
While speaking to ETonline, the two-time siblings explained that they love being in each other's company, whether for pleasure or business. Williams admitted she adores seeing her TV brother often.

A netizen's comment on Kellie S Williams' Instagram page | Photo: Instagram/kellieswilliams
McCrary added that he felt the same way and that the chemistry is still there, after all, they played siblings for close to ten years.
WHERE IS WILLIAMS NOW?
Williams is in a good place, and seems to have boycotted the child star jinx! She is still strong in her acting game, speaks to youths across the country, and is also enjoying her time as a mother to two kids, John Ervin and Hannah Belle Jackson.
The actress has been in a blissful marriage with Hannibal Jackson since 2009. He is the president and CEO of the IT firm "Y-Tech."
DETAILS NEVER WORTH MISSING ABOUT WILLIAMS' HUSBAND
Jackson was born in Seoul, South Korea. His mother is Korean, and his father is of African American descent. As a young boy, he had good grades but could not keep them up, so after high school, without realizing his potential yet, he joined the Army Reserves.
The experience at the Army Rescues where he performed as a Telecommunications Record Operator built up his morale. He became top of his class at George Mason University after he left the Army.
Jackson later furthered his education at the University of Maryland, University College with a master's degree in Information Assurance. As a result, he gained a lot of technical knowledge, which inspired him to build his company.
Despite his overwhelming success in business, Jackson revealed that the best decision he has made in business is marrying Williams because of her immense support, understanding, and communication throughout their journey as a couple and partners.
Please fill in your e-mail so we can share with you our top stories!