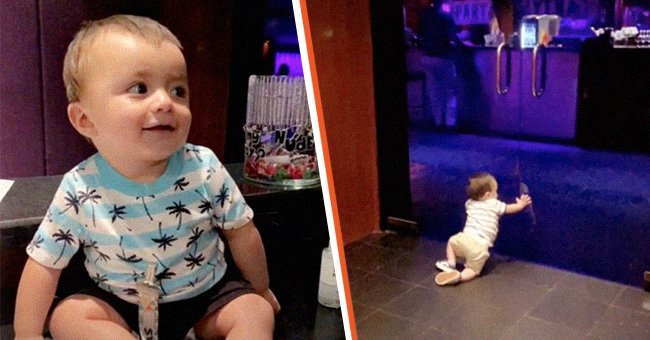 tiktok.com/whatsuarez
Mother Takes Her Son to a Strip Club She Manages, Gets Called Out by People

Netizens everywhere burst into a furious rage after discovering that one mother is taking her little boy to a strip club where she is a manager. Nini Suarez165 couldn't escape the relentless condemnation, trying desperately to fight off critics.
A TikToker and mother who refers to herself as Nini Suarez165 or @whatsuarez has shared many clips of her baby son in a strip club where she is the manager. One of the TikTok user's most recent videos gained a significant amount of attention, a lot of which was negative.
The clip shows her little one in various areas of the club, including the bar. He's also seen 'taking care' of documents for the adult entertainment business.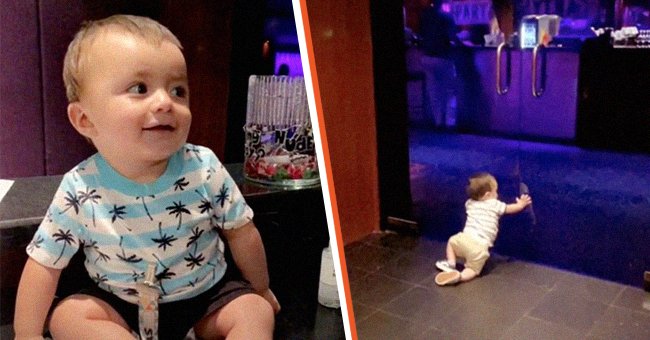 A baby boy at a strip club. | Source: tiktok.com/whatsuarez
"Pitbull Terrier" by South African hip hop group Die Antwoord played in the background as the mom took to the description, already addressing some assumably previous criticism she received for this decision. Nini Suarez165 expressed:
"When people get offended that your son is a skripclub baby, but he loves it and is loved."
Several individuals took to the comment section, agreeing with this preceding reproval. One fellow netizen referred to the video as "embarrassing" for the mother.

Individual commenting on a TikTok post by Nini Suarez165. | Source: tiktok.com/whatsuarez
Another one affirmed that if the baby isn't legally allowed in such a club until adulthood, he shouldn't be there at such a young age. TikToker @zxixiant claimed that his parents took him to adult entertainment institutions when he was younger, and he now resents them for it.
She has been penned as the "baby seller."
However, there were also a large number of supportive remarks, with some stating that they were brought up in this environment and are perfectly fine. Several also wrote that the boy would grow up to respect women due to spending this much time in a strip club.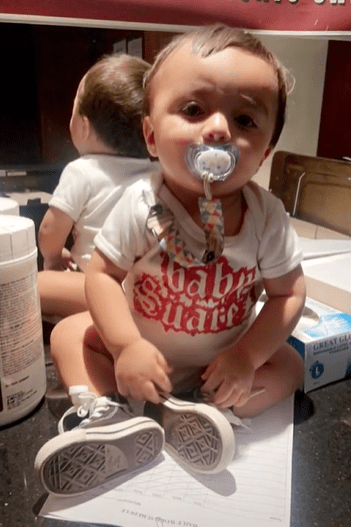 Another photo of the baby boy at a strip club. | Source: tiktok.com/whatsuarez
@whatsuarez also took to the comment section, responding to all the condemnation coming her way. The mom penned:
"People acting like there isn't worst [expletive] a kid can see on the internet."
The TikTok user also expressed her appreciation towards all those who approved of and understood her choices as a mother. The viral post has reached just over a staggering 229,000 likes.

Nini Suarez165 commenting on her own TikTok post. | Source: tiktok.com/whatsuarez
THE INTERROGATION
Following this saga, Nini Suarez165 chose to take on a Q&A on the platform to facilitate transparent dialogue. The TikToker revealed that she does take precautions with her son.
@whatsuarez claimed that he is barred from being in the areas where customers are located. Her son is only allowed in once they have exited the club, the TikTok user divulged.
CASHING IN
The scorching wrath of the public befalls many mothers, such as surrogate mom Caitlyn C from Florida. She has been penned as the "baby seller" after giving birth to two kids for other families.
Caitlyn C became a surrogate mother to help future parents who couldn't have children. However, many individuals have taken to her TikTok clips, accusing her of doing it for the money.
Responding to these trolls, Caitlyn C asserted that she already has enough finances to look after herself and her own family. As both Nini Suarez165 and Caitlyn C may know, individuals will most likely judge people no matter how they choose to live their lives.
Please fill in your e-mail so we can share with you our top stories!