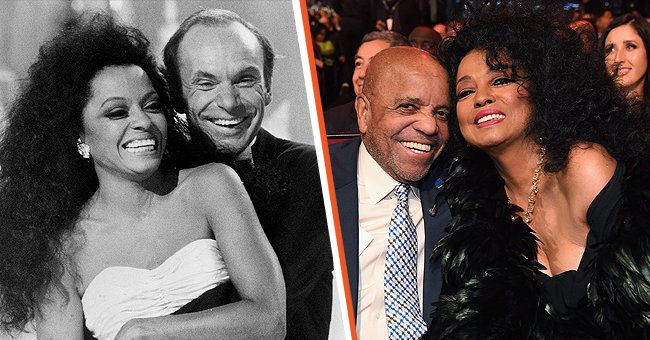 Getty Images
Diana Ross' 4 Kids from 3 Different Men Flaunt Their Strong Likeness to Mom & Fans Are Stunned

Diana Ross has five kids from three different relationships, and they all share a unique bond. See how four out of these siblings stirred a wave of reactions from fans who noticed their strong likeness to their mom.
Diana Ross, born in 1944, is a woman who was always determined to become a renowned individual in society. During her teenage years, she enrolled in clothing design classes, learning the entire procedure to become a fashion designer.
However, as fate would have it, she established a career in the entertainment industry, thanks to her incredible talent. Her voice earned her a spot as the lead vocalist in a girl band, "The Supremes."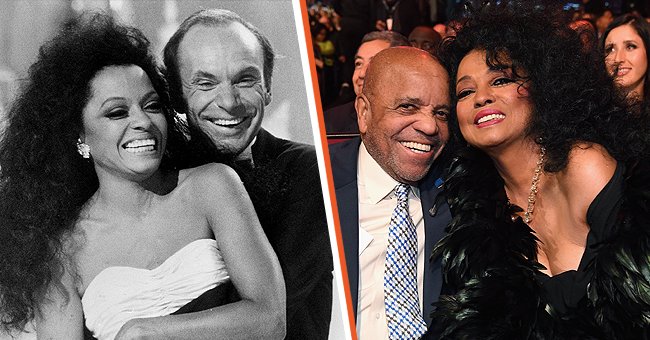 Diana Ross at events with her past partners, Berry Gordy, and Robert Ellis Silberstein | Photo: Getty images
In no time, the singer's fantastic vocals could not be contained by "The Supremes" even though they were one of the world's best-selling girl groups. Though the girls were great, Diana chose to go solo.
The world accepted this new change, and she did wonderfully well by selling numerous hit tracks and making widely accepted songs for several years.
The singer's vocals opened doors for her, landing her in the Guinness Book of World Records as the most successful female music artist in history. She also earned awards in the music industry and was recognized as the "Female Entertainer of the Century" by Billboard magazine.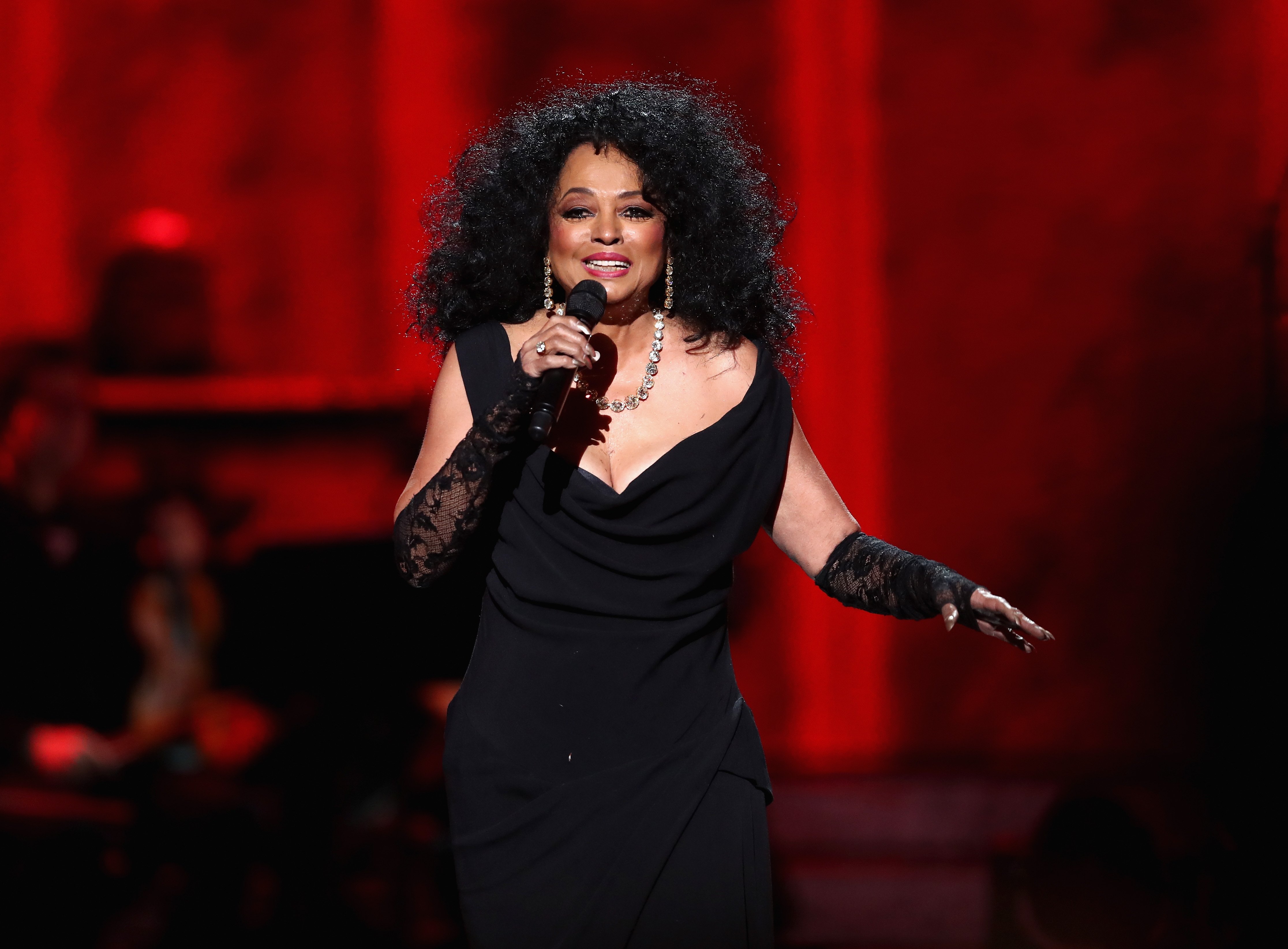 Diana Ross performs onstage during "Motown 60: A Grammy Celebration" at Microsoft Theater on February 12, 2019. | Photo: Getty Images
ROMANCE AND CHILDREN
Throughout her lifetime, the influential singer has exchanged marital vows two times but has been involved with a few men, relationships that have yielded adorable kids.
Before leaving "The Supremes," she was romantically linked to Berry Gordy, Motown's Records Chief and the affair went on for years. Before the couple went their separate ways, they gave birth to their first and only child, Rhonda Suzanne Silberstein.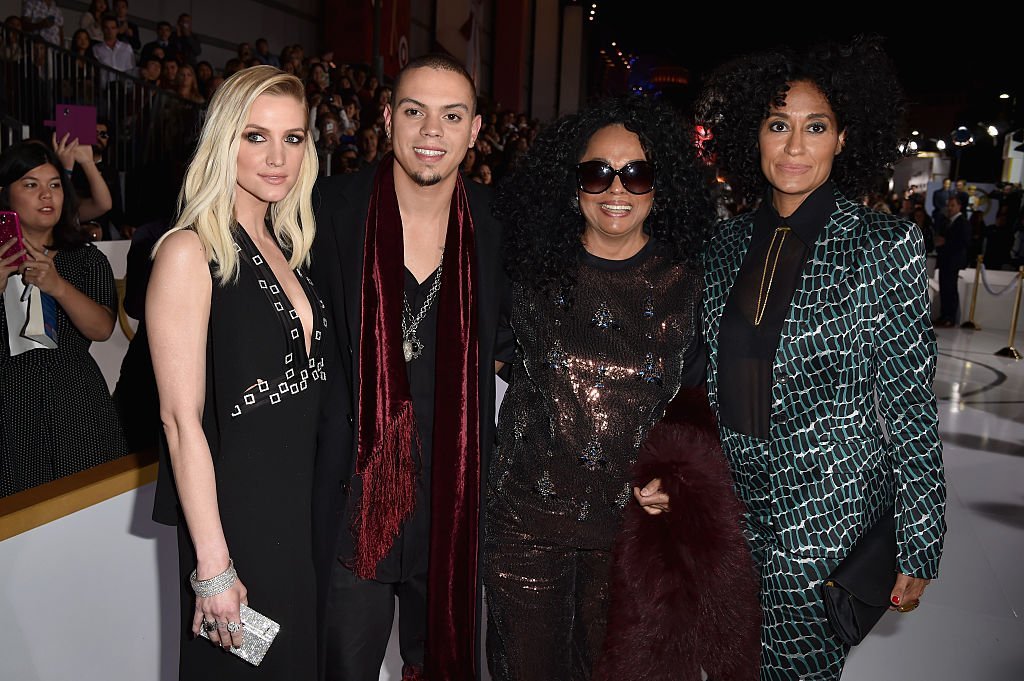 Ashlee Simpson, Evan Ross, Diana Ross and Tracee Ellis Ross at Nokia Theatre L.A. Live | Source: Getty Images
Silberstein was the name Ross adopted for her child after her involvement with her first husband, Robert Ellis Silberstein. The couple raised her like their own, and it was not until Rhonda turned 13 that Diana spilled the secrets of her real paternity.
Things seemed perfect for the lovers, and they went on to have two other daughters, Tracee Joy, born in 1972, and Chudney Lane Silberstein, in 1975. Two years later, they dissolved their marriage.
It took only a few years for the former "The Supremes" alum to find another Mr. Right. This time, she fell in love with a singer, Gene Simmons, who previously dated Cher. By 1983, three years down the line, the relationship ended.
By 1985, the mother-of-three, beautiful, talented, and in her prime, met Arne Naess Jr., a Norwegian shipping magnate; they developed a bond and proceeded to exchange marital vows in 1986.
At this point, Diana inherited her second husband's three kids, Katinka, Christoffer, and Leona. However, the couple had their own kids, two sons named Ross Arne and Evan Olav.
This was Diana's longest marriage; it ended in 2000 after stories of infidelity made the rounds—Naess had impregnated another woman in his native country. Her second ex-husband died in 2004 after suffering from a fatal accident in South Africa during a mountain climbing episode.
Diana has not been publicly involved with anyone for some time; she now enjoys the company of her adorable kids, who have nothing but love for one another despite their birth circumstances.
In 2009, the singer and mother-of-four earned another title when one of her kids welcomed a child. Now, she has five grandkids, namely Raif-Henok, Leif, Idingo, Callaway Lane, and Jagger Snow.

A netizen's comment on Chudney Ross's Instagram post | Photo: Instagram/chudneylross
THE PHOTOS IN THE NEWS
Diana seems to be loving grandmother duties and enjoying the company of her kids and sometimes, fans get to see these precious moments. Recently, a photo of her kids sharing moments together and displaying their likeness to mama was made public.
The post was shared by three siblings, with different captions. The first from Chudney's page focused on her and her older sisters and a toddler. The adults all looked similar, flaunting their mother's strong genes, as they smiled from ear to ear.

A netizen's comment on Chudney Ross's Instagram post | Photo: Instagram/chudneylross
It appeared they were excited having one another around. The image had a homely feel to it, and they all seemed dressed down. The photo with more than five thousand likes had a sweet caption that celebrated family love. It read:
"How lucky I am to have these two amazing sisters to love, laugh, support, and guide me, and my two brothers...to inspire me….and of course the mom who birth all these special humans."

A netizen's comment on Chudney Ross's Instagram post | Photo: Instagram/chudneylross
Another captivating post with an overwhelming number of likes was that of Tracee Ellis, Diana's second born. She is one of the most popular among the pack, after her mother. After sharing the photo, she wrote:
"Sisters & Everlee."

A netizen's comment on Chudney Ross's Instagram post | Photo: Instagram/chudneylross
FANS SAID WHAT?
Fans were quick to gush on the beautiful and genuinely happy faces who stole their looks from the famous Diana Ross. One fan commented, "All them Diana Ross. Pretty." Another person quipped, "How do ya all have the same face." A third person added,
"I see your mom's beautiful eyes on each of you."

A netizen's comment on Chudney Ross's Instagram post | Photo: Instagram/chudneylross
DIANA ROSS' RECORD-BREAKING DAUGHTER
While many may be fascinated by Diana's "twins," her daughter Tracee is showing that she not only inherited her mother's looks but her talent as well.
She is the singer's second-born with a reputable career in music, fashion, and acting. One of Tracee's achievements includes being the first Black woman in more than three decades to win the Golden Globe for Best Actress in a Comedy.
The actress has been in various onscreen productions, but one of her most popular works is her role as the matriarch in the family series, "Black-ish." Tracee stars as a likable mother-of-three, and a health practitioner.
TRACEE ON MARRIAGE OR KIDS
While Tracee is a mother to three onscreen children with a loving, humorous husband, she does not have any child in real life and has also never been married.
However, this smart actress adores kids and loves to play with them. In a shared video, she showed just how much love she has for kids by playing with her niece, who adorably pecked her on her cheek.
About her marital status, the Hollywood celebrity is confident and does not seem bothered, she only feels the need to correct the societal narrative of attaching a woman's accomplishments to marriage and kids.
The "Black-ish" actress affirmed that she is great at her career, even though she would love to have a large family of her own someday.
Please fill in your e-mail so we can share with you our top stories!