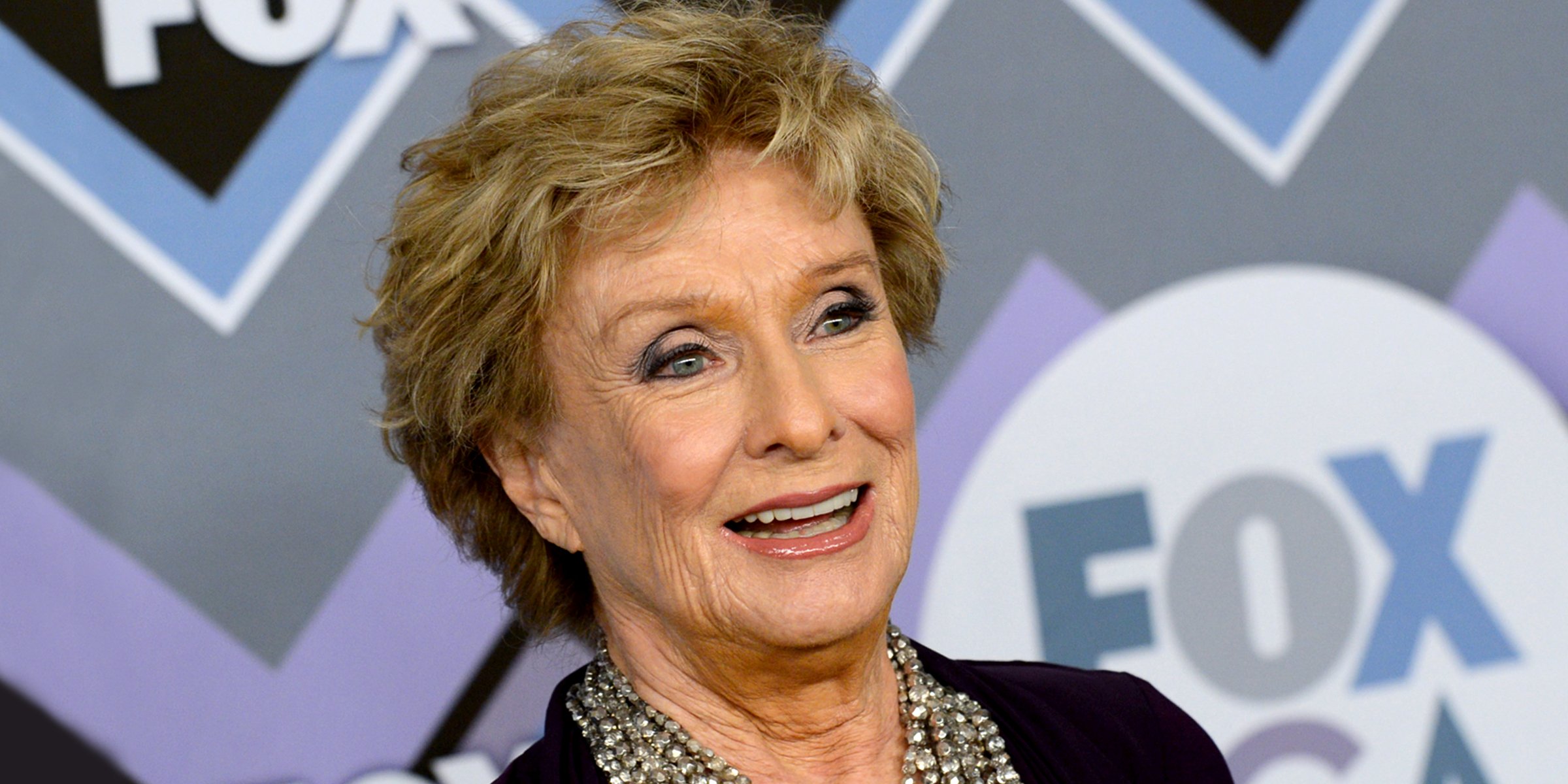 Getty Images
Cloris Leachman Miscarried & Got Call From Husband's A-List Star Mistress at 4 AM: 'I Felt Simply Awful'

Late Cloris Leachman met her only beloved husband, George Englund, through his sister Patsy. Leachman was fond of her future sister-in-law because she was not easily intimidated by those in authority and was a straightforward person.
Veteran actress Cloris Leachman met her only spouse George Englund in 1950. The couple was introduced by Englund's sister Patricia, affectionately known as Patsy.
Leachman and Patsy co-starred in the Broadway "As You Like It" at the time, and she played Celia. The two ladies shared a dressing room.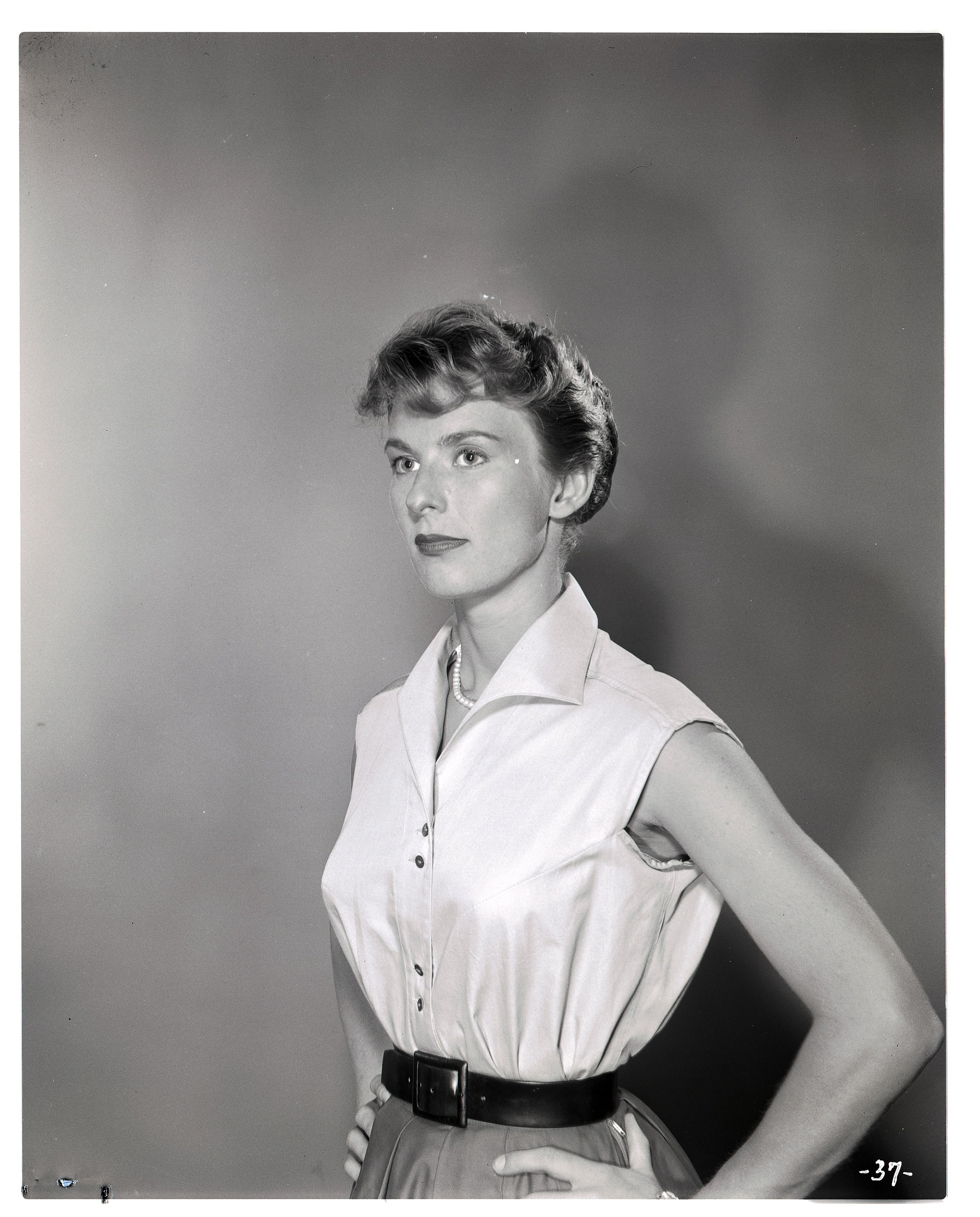 Actress and comedienne Cloris Leachman on the variety show called "The Frank Sinatra Show" on April 18, 1958. / Source: Getty Images
The eight-time Emmy Award winner revealed why she loved his sister so much in her autobiography titled "Cloris Leachman with George Englund." Leachman explained the fellow actress earned her respect when one afternoon, they went out for lunch and got back to the theater a few minutes later:
"Karl Nielsen, our very military stage manager, immediately reprimanded us and gave us a terse lecture on our responsibility to be on time. Patsy, unintimidated, spoke up, 'Karl, you are absolutely right. It won't ever happen again.'"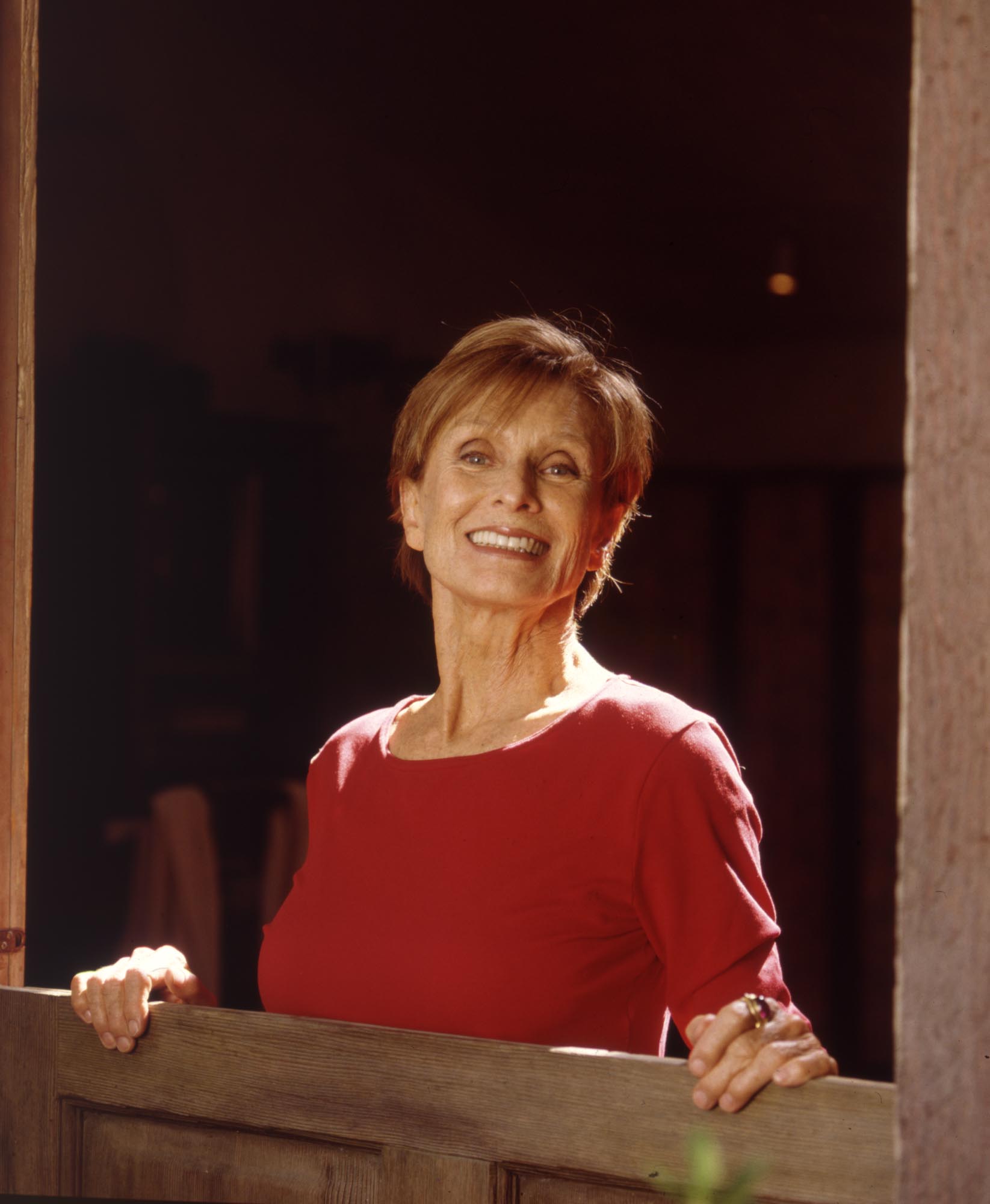 Cloris Leachman posing for exclusive portraits at home with her children and grandchildren in August 2000, Los Angeles. / Source: Getty Images
Leachman said that's all it took, and the case was closed, adding the "Last Wish" star was laudable in many ways. She even wondered if Patsy had a brother.
Thankfully for her, she did. On one evening, her brother George, including their stepfather Ken Englund and their pal Herb Sargent walked toward her and Patsy.
On another evening, George came backstage, "and the car I was driving suddenly changed lanes," said Leachman, adding that they became husband and wife not long after.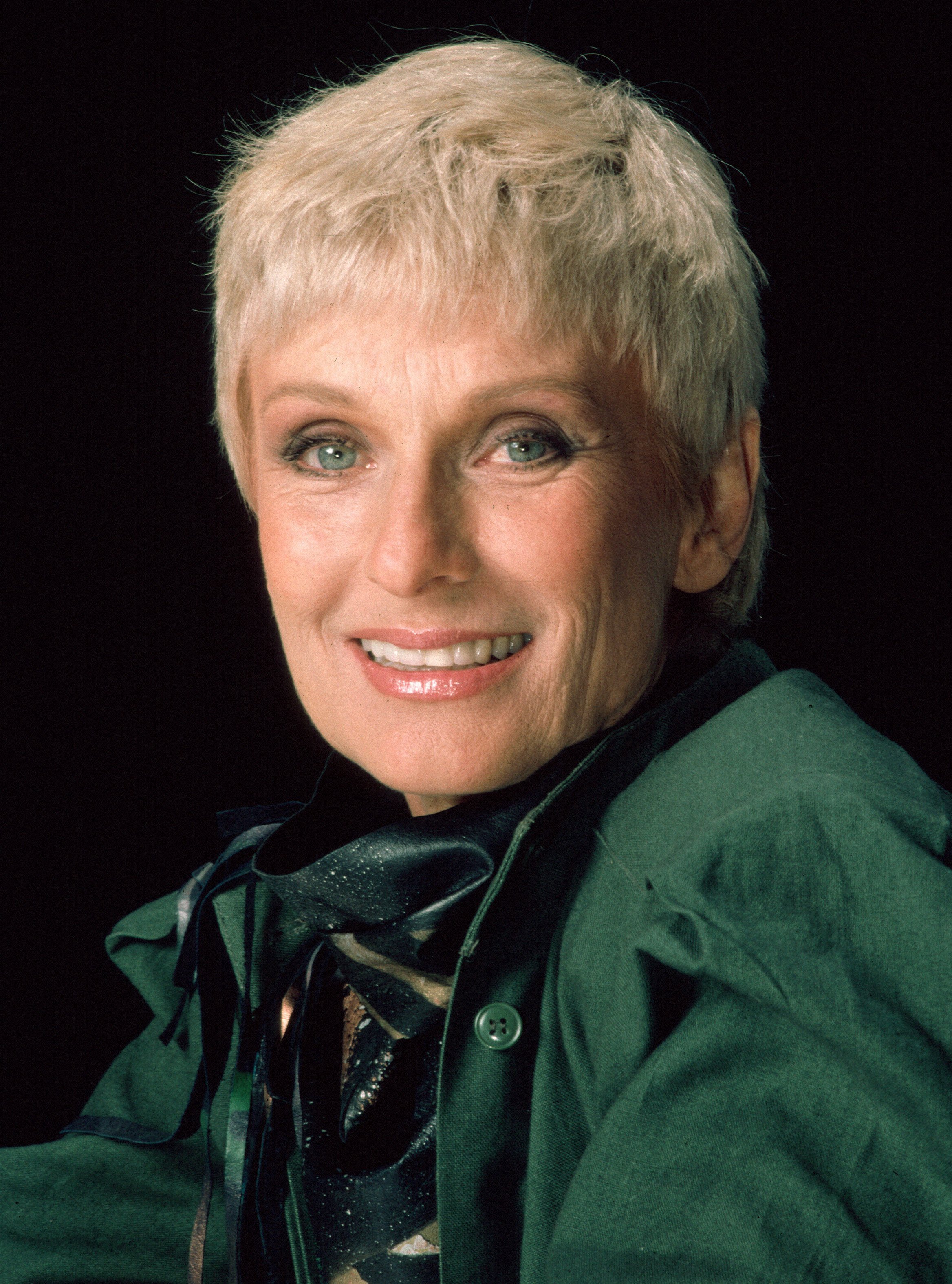 Cloris Leachman posing for a portrait in 1982 in Los Angeles, California. / Source: Getty Images
The comedienne retold the story to FilmFestival.com in 2017 and revealed she and George, a film director, first crossed paths after she moved to New York City in the 1950s:
"I was in a play called 'As You Like It' on Broadway for a year with Katharine Hepburn. It was there that I met George Englund, whose sister was in the play."
The pair lived together for four years and decided to make things official by walking down the aisle in April 1953. That same year, the newlyweds welcomed their first child, Adam. Leachman and George had four more kids, George Jr., Dinah, Morgan, and their late son Bryan.
GETTING TO KNOW GEORGE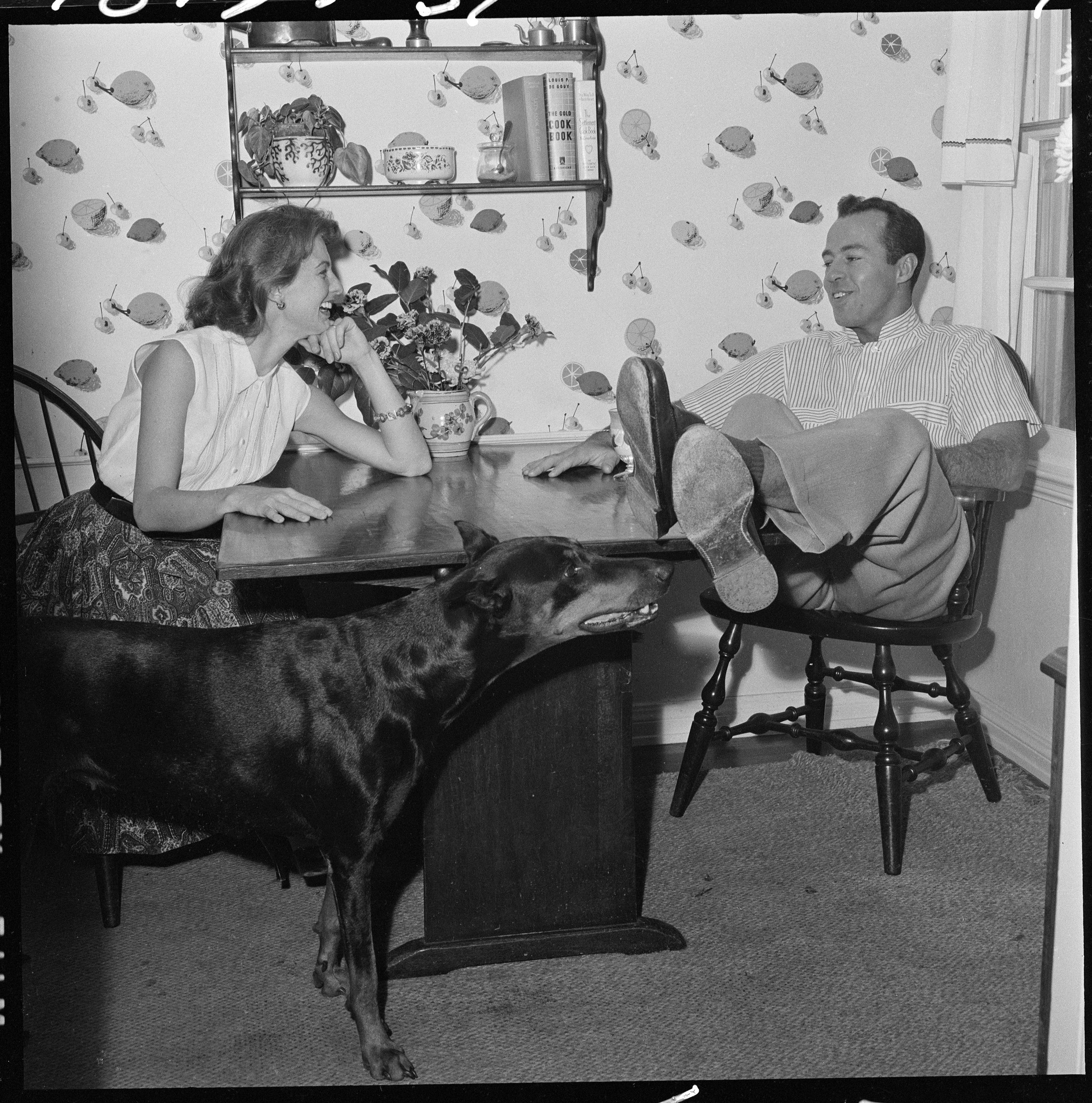 Cloris Leachman photographed with her spouse, George Englund at their West Los Angeles home on October 29, 1957. / Source: Getty Images
George was born in June 1926 to actress Mabel Albertson and Harold Austin Ripley. He was named George Howe Ripley at birth, but that changed when his parents divorced. His mother remarried and wed Ken, a screenwriter who
adopted him
and his sister Patsy.
Per the LA Times, the Washington D.C native studied at Black-Foxe Military Institute and earned an English and Philosophy degree. George also took part in sports as the captain of the basketball and tennis teams.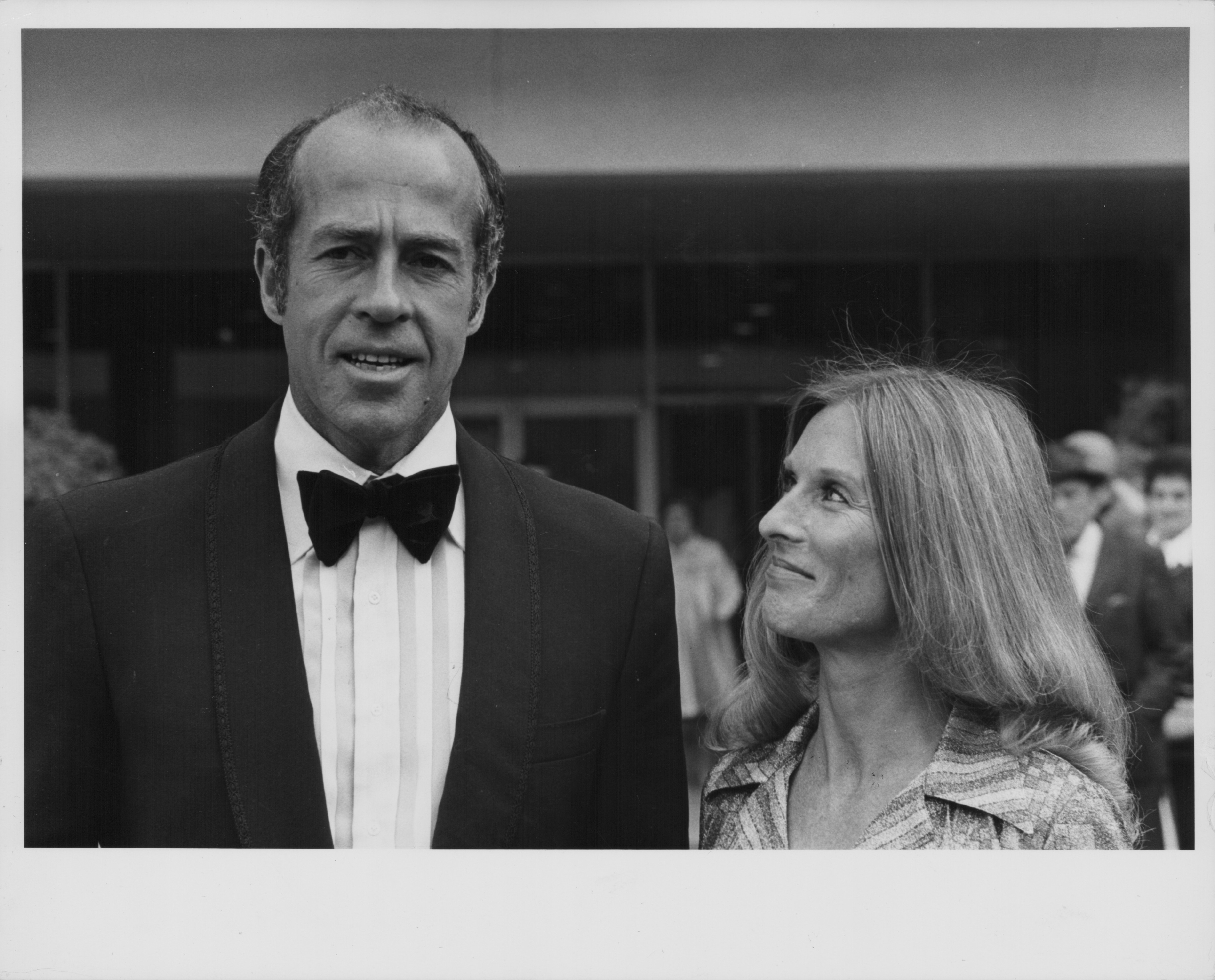 Cloris Leachman and George Englund during the Television Academy of Arts and Sciences Awards on May 20 1973 in Hollywood, California. / Source: Getty Images
Like his wife, the film editor was also a Hollywood star. But as an actor, he had only appeared in a few films and TV shows. George's main focus was being a screenwriter, a producer, and a director.
He assisted in creating "The Eddie Fisher Show," including credits in movies such as "The Ugly American," "See How She Runs," "Dark of the Sun," and "The Streets of LA."
GEORGE AND LEACHMAN ON RAISING THEIR KIDS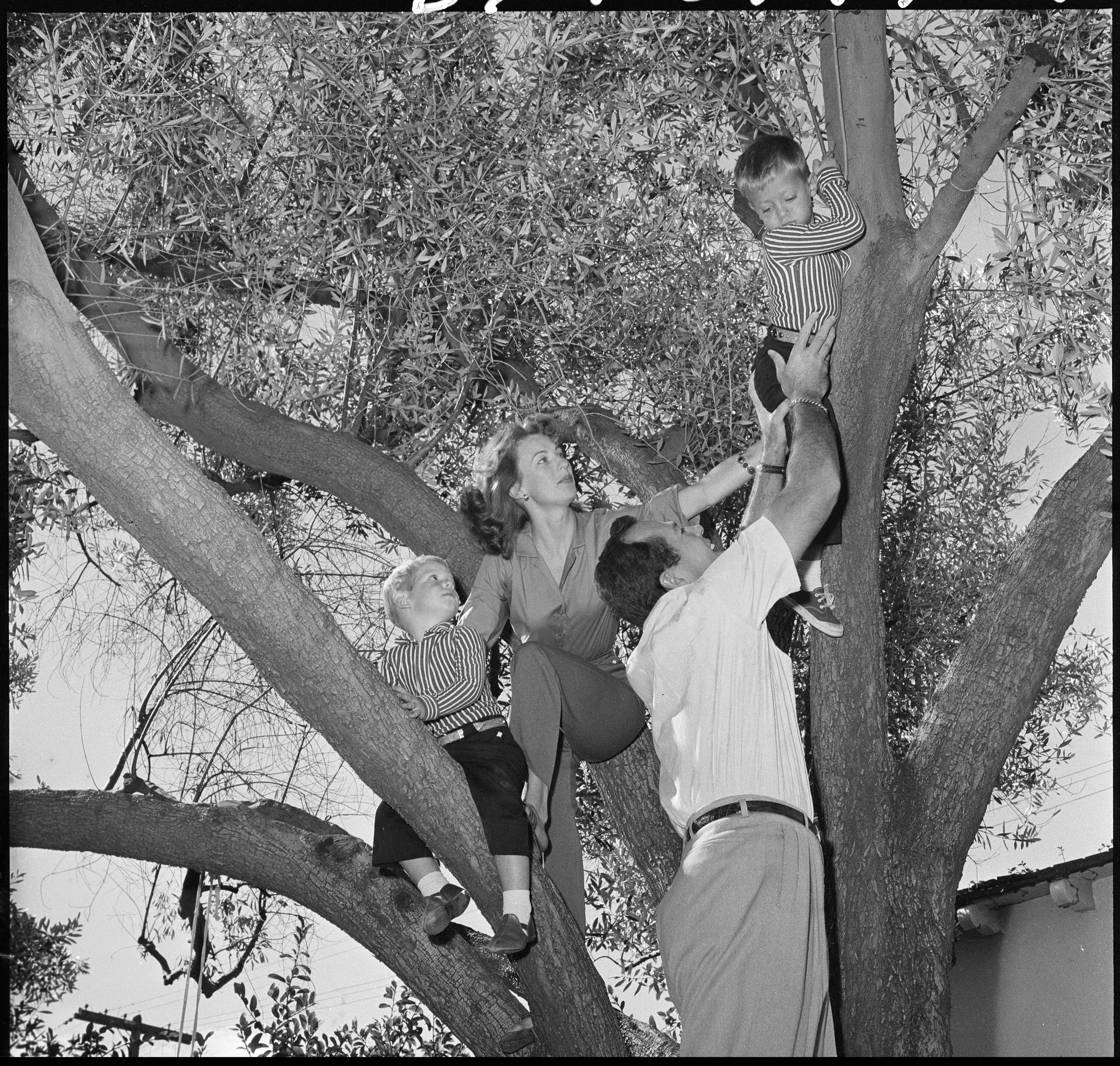 Cloris Leachman and George Englund with their sons Bryan (L) and Adam (R) on October 29, 1957. / Source: Getty Images
As a family man, George was hardly home because of work. Sometimes he was gone for weeks, leaving his wife with the housekeeper and their brood. That led to him and Leachman being at loggerheads with each other.
The Iowa native revealed when her husband came home; that he would be surprised at why things they agreed on were undone. Wondering why the kids seemed unkempt and, in some ways, uncared for. Leachman added:
"If there was one giant source of stress between us, it was, and I'm sure always will be, how the children should be raised. George feels our disagreement about it was what kept us separated so much of the time."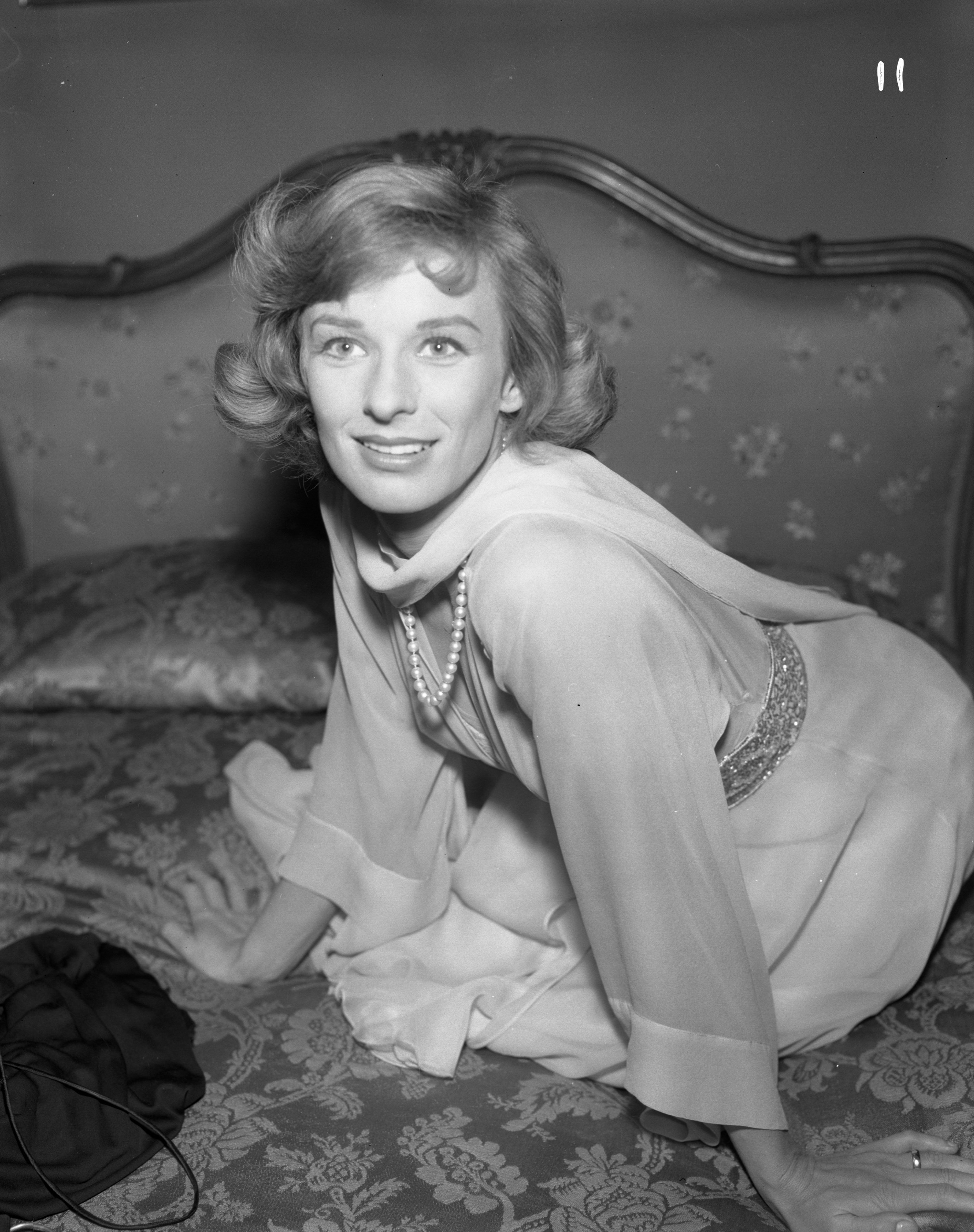 Cloris Leachman as Julie Liemer in "The Untouchables," on November 23, 1961. / Source: Getty Images
The couple lived on Beverly Glen Boulevard, two doors away from George's mother, so they saw her daily. When Mabel and her son talked about him getting a stable job, she pointed out that he was overly impatient.
The actress suggested he get a job as a television stage manager and work his way up. George told her that he did not want to be a stage manager:
"Muth, I've done that. I did my apprenticeship in New York. I don't want to be a stage manager. I want to be a producer and director."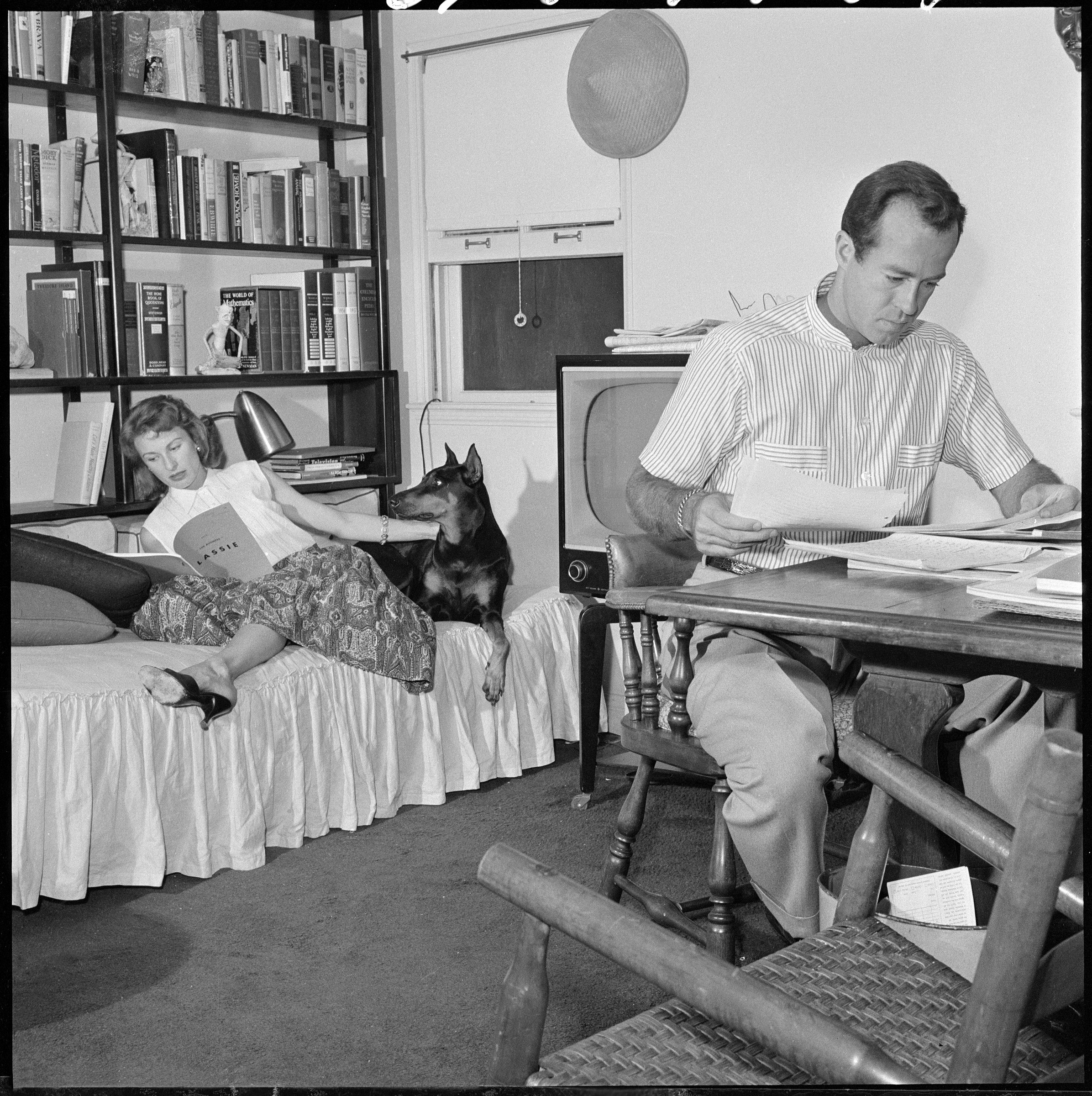 Cloris Leachman with George Englund and their family pet named Gabby at their home on October 29, 1957 in Los Angeles. / Source: Getty Images
Meanwhile, his spouse was happy to be a mom on-and-off screen, saying nothing could top that experience. But the issues the couple had still lingered. "George and I had a conflict about the same old thing, how the children should be raised,"
said
Leachman.
She starred in the 1954 drama series "Lassie" at the time, which aired for 19 seasons. All the while, George's co-star actress Joan Collins allegedly had an eye on him.
After Leachman exited the show while still in the dark about her husband's relations with Collins, she took her kids and visited her sister Mary in Darien, Connecticut. She explained, "I was concerned about the boys, who were now aged one and half, three, and four and a half.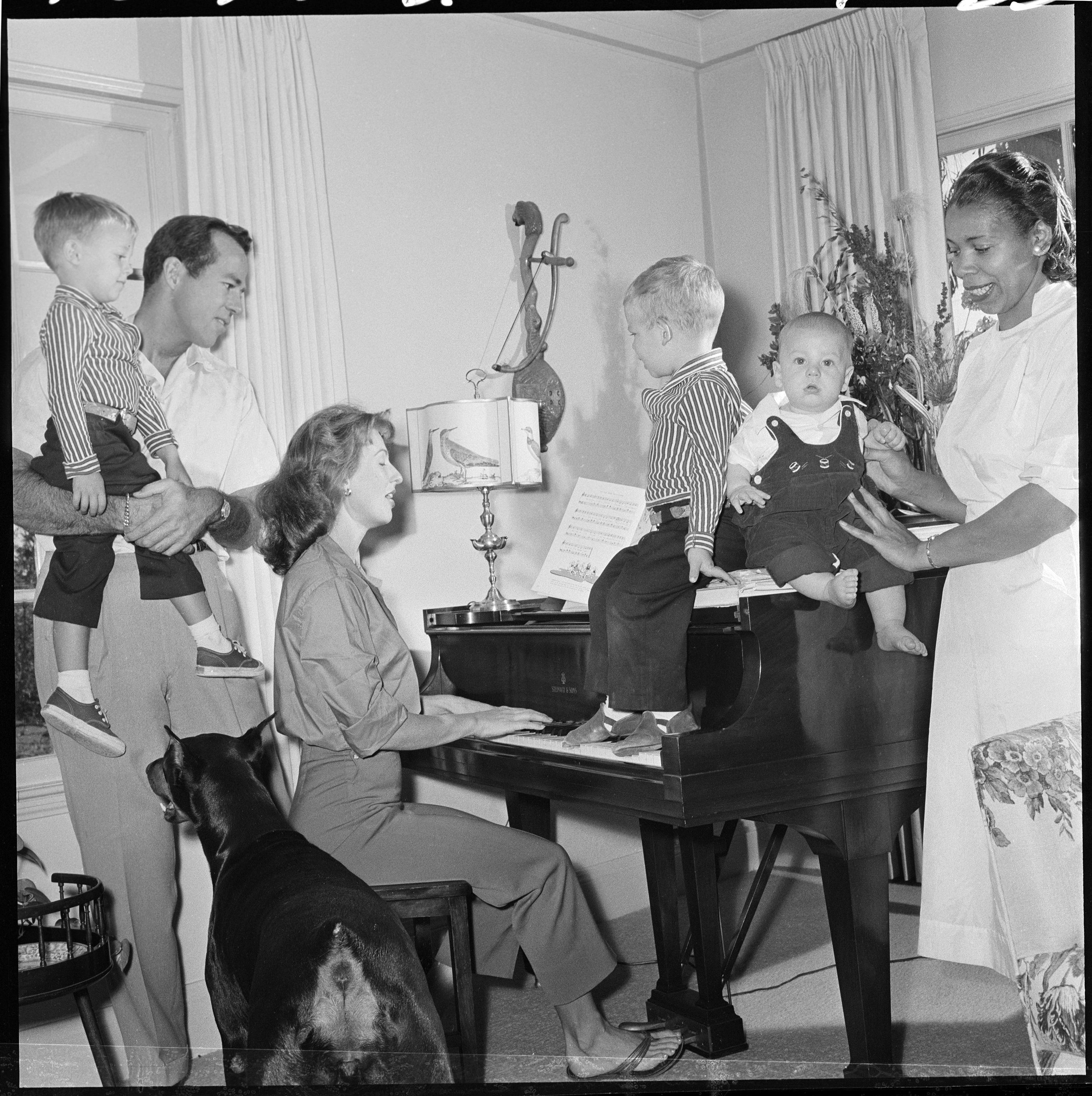 Cloris Leachman pictured playing the piano in the presence of her spouse George Englund, their kids, George Jr., Adam and Bryant and the children's nurse, Julie Harris on October 29, 1957 in Los Angeles. / Source: Getty Images
Life in Darien was good for Leachman and her children. They were warmly welcomed with open arms by Mary and her husband Bob Castle, a vice president of the J. Walter Thompson Company, an advertising agency. She
stated
:
"They welcomed my boys, and Bob was a loving surrogate father. Life was so appealing. I bought a little house nearby for fifteen thousand dollars, and the boys and I moved in."
LEACHMAN GOT PREGNANT BUT HAD A MISCARRIAGE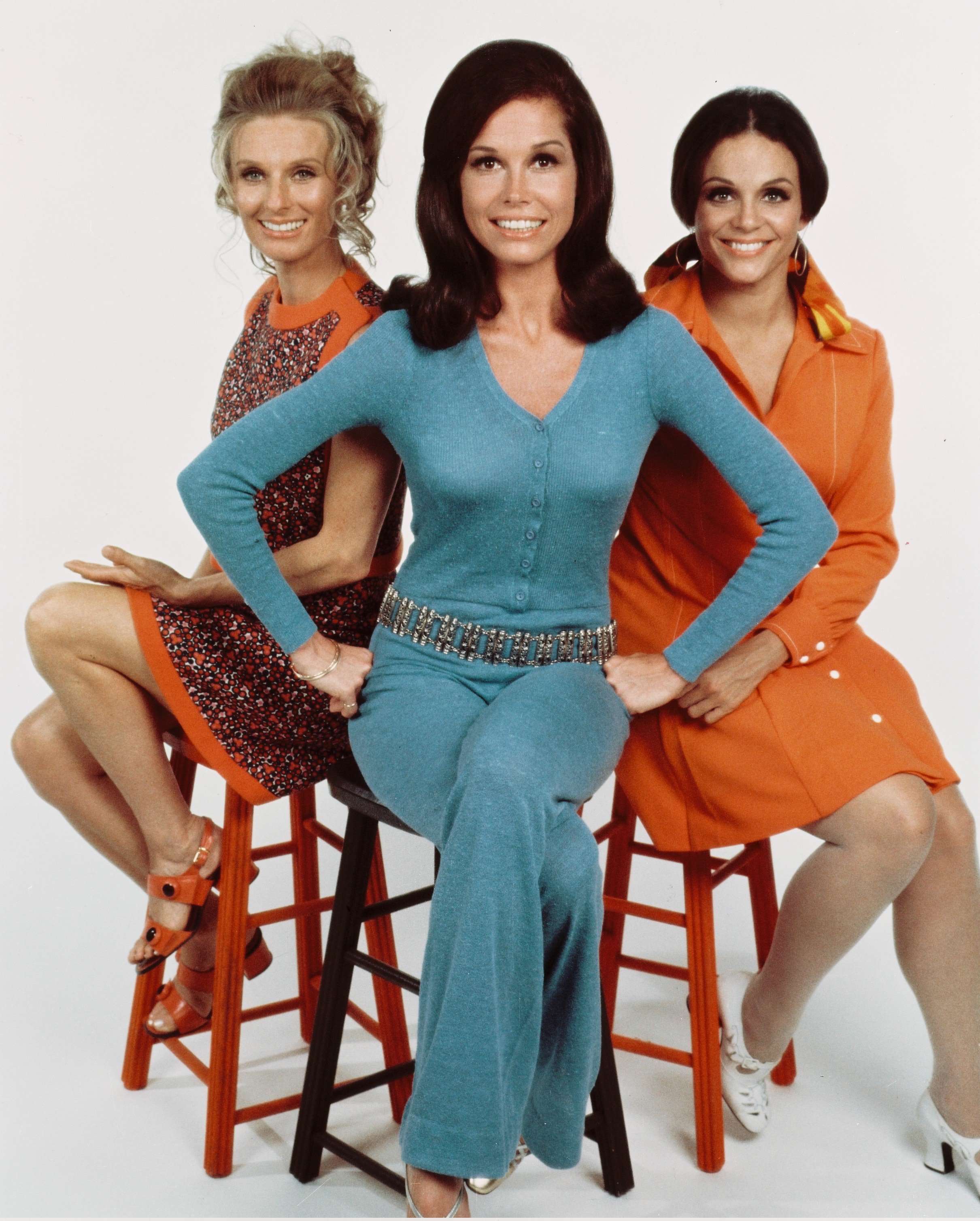 Cloris Leachman (left), Mary Tyler Moore (center), Valerie Harper posing in a publicity portrait for "The Mary Tyler Moore Show," in 1974. / Source: Getty Images
While she had found a new life with her children, her spouse was full-time in New York and would visit. One night, he came over, and Leachman conceived. Soon after, she got a call to go to Los Angeles to do a television show.
Leachman had to leave instantly, and George offered to pick up his sons and bring them back with him to LA. While filming for the TV show, the "Raising Hope" alum had to run, jump and run around repeatedly.
The rehearsal put a lot of strain on Leachman, who became exhausted, and because of her pregnancy, she was in an unfavorable position.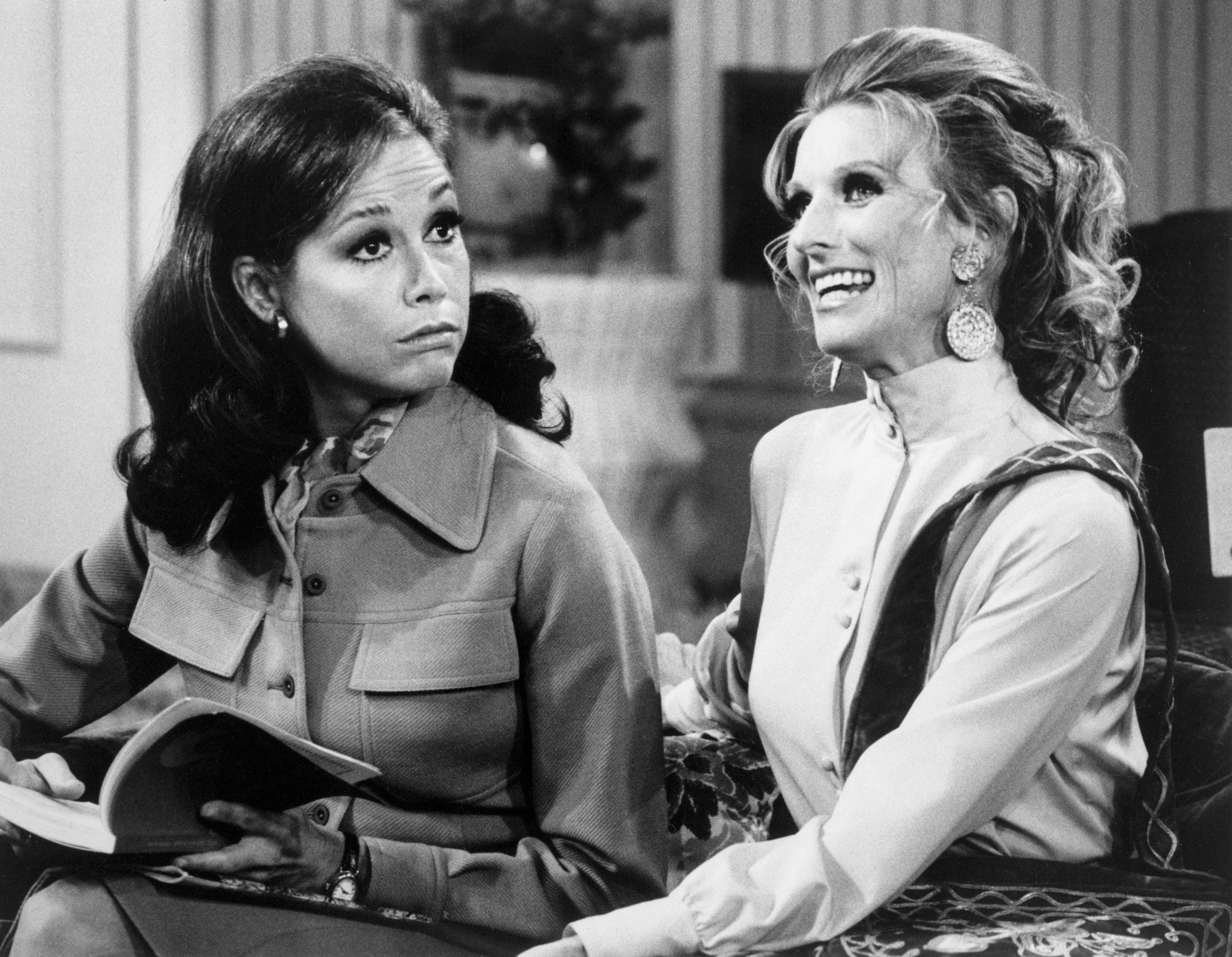 Mary Tyler Moore as Mary Richard and Cloris Leachman as her friend Phyllis Lindstrom in "The Mary Tyler Moore Show," in October 1971. / Source: Getty Images
She then began staining and later started to bleed every few minutes. "Something akin to a large liver came out of me. George took me to the hospital. I had a miscarriage," Leachman explained.
The daunting experience severely affected her emotionally, and she was heartbroken over it. When Leachman arrived home, she was frail and torn.
GEORGE BEGAN AN AFFAIR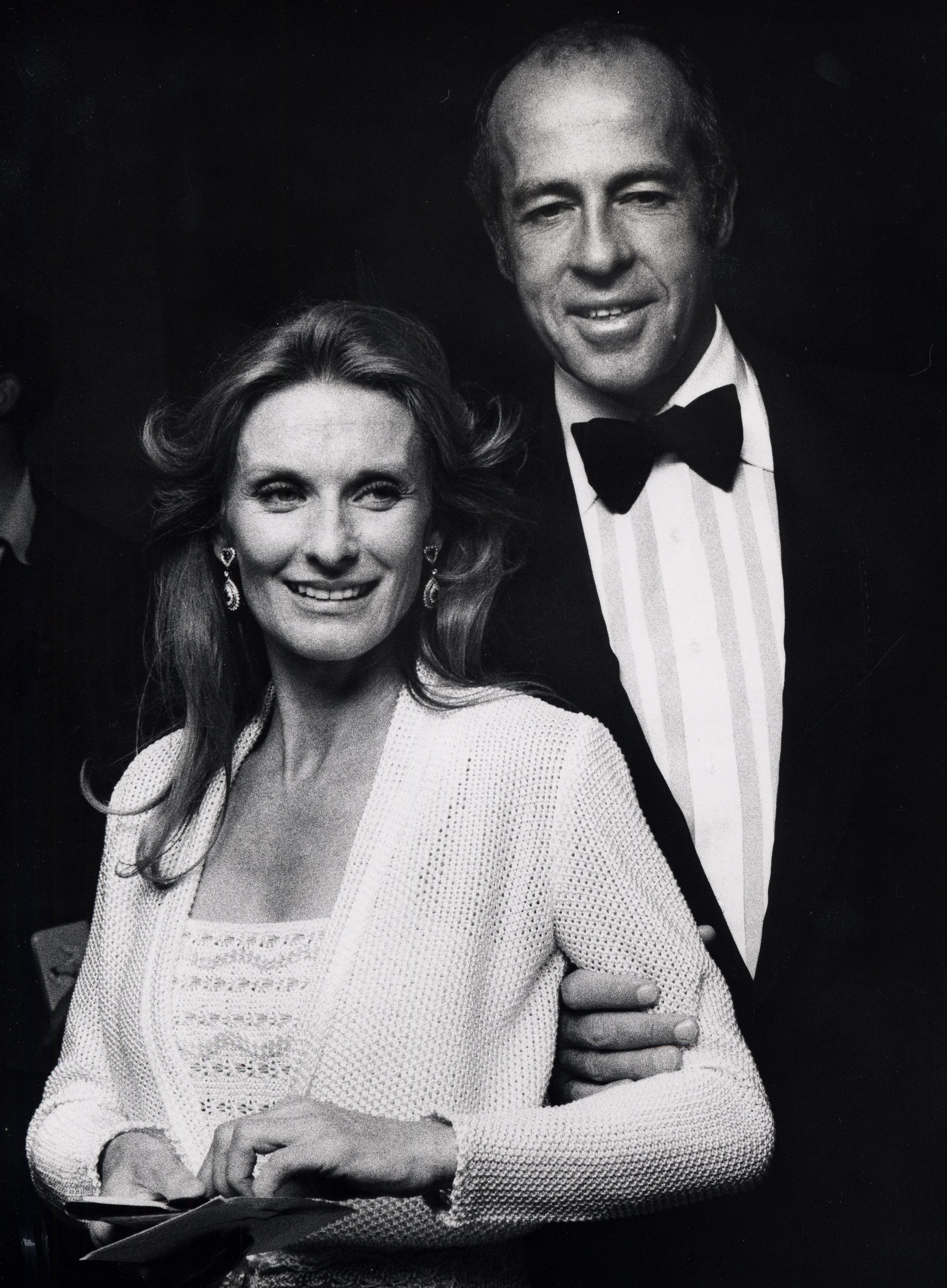 Cloris Leachman pictured with her husband, producer and film director George Englund at the Tony Awards Ball on April 21, 1974. / Source: Getty Images
While away for work in New York, George called her. Leachman divulged, "there was an urgency in his voice, 'Babe,' he said, 'you have to come back. The children need you.'"
She then went back to Darien to visit and spent the weekend with Mary and her spouse. The Hollywood starlet was worn out when she went back to New York, and in a few weeks, her health did not improve. "I was anemic and sad and lifeless," said Leachman.
One night, she called George telling him how much she missed everyone and needed to see her children. He understood her situation and assured him that he would send the kids to see her or bring them himself.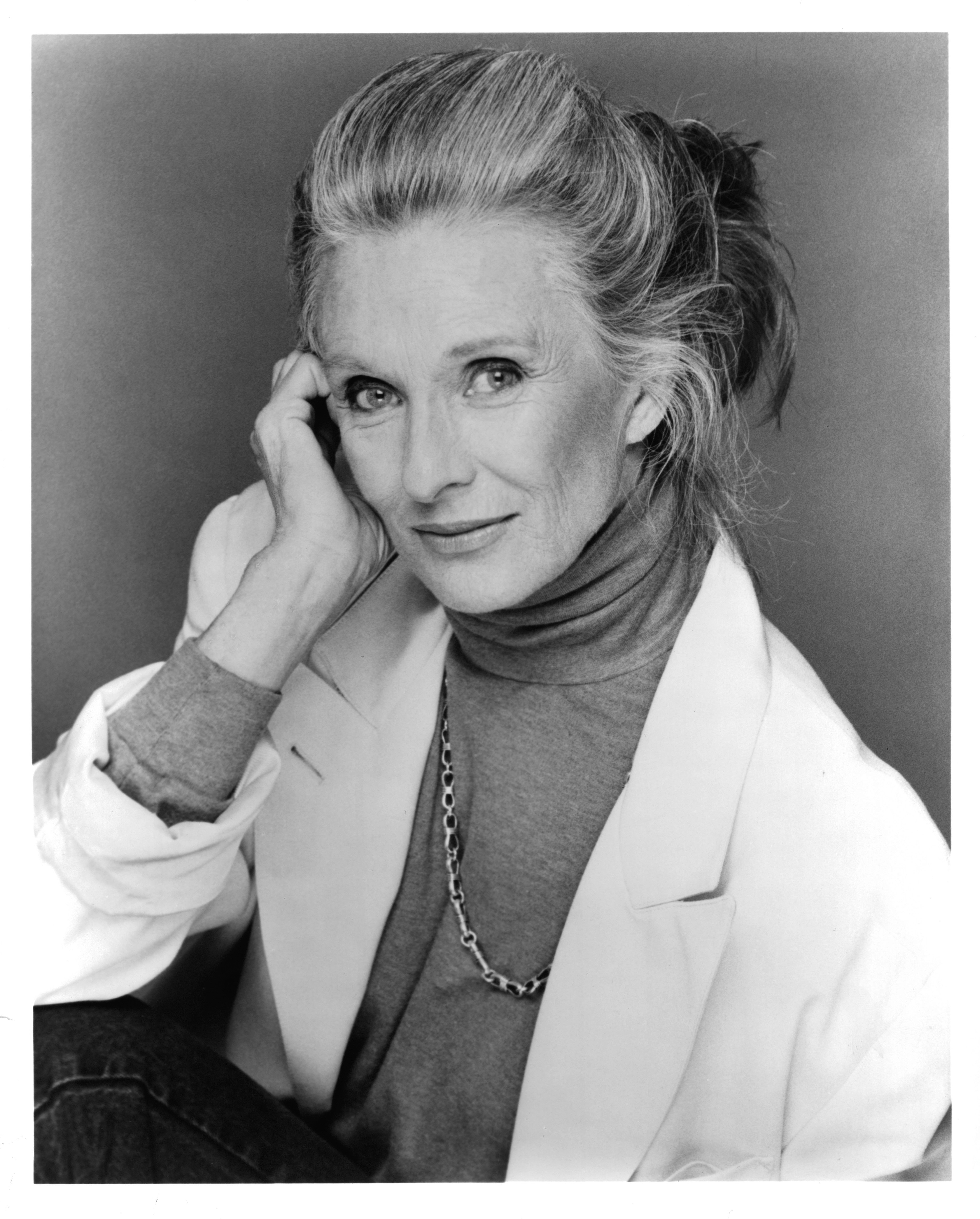 Cloris Leachman posing for a portrait while wearing in a blazer paired with a turtle neck in 1985. / Source: Getty Images
Leachman was grateful for his unwavering support, but she was not ready to see her brood no matter how much she missed them. Instead, she wanted to take it day by day until she felt better, and George agreed.
Two nights later, while standing in the wings about to perform on stage, Leachman saw a newspaper Helen Hayes had been reading with the headline: "Joan Collins Should Get An Oscar For The Love Scene She Played With George Englund Last Night."
Upon glancing at it, she went blank from reading but managed to get through her performance. Three nights later, at 4:00 a.m. Leachman received a call from Collins.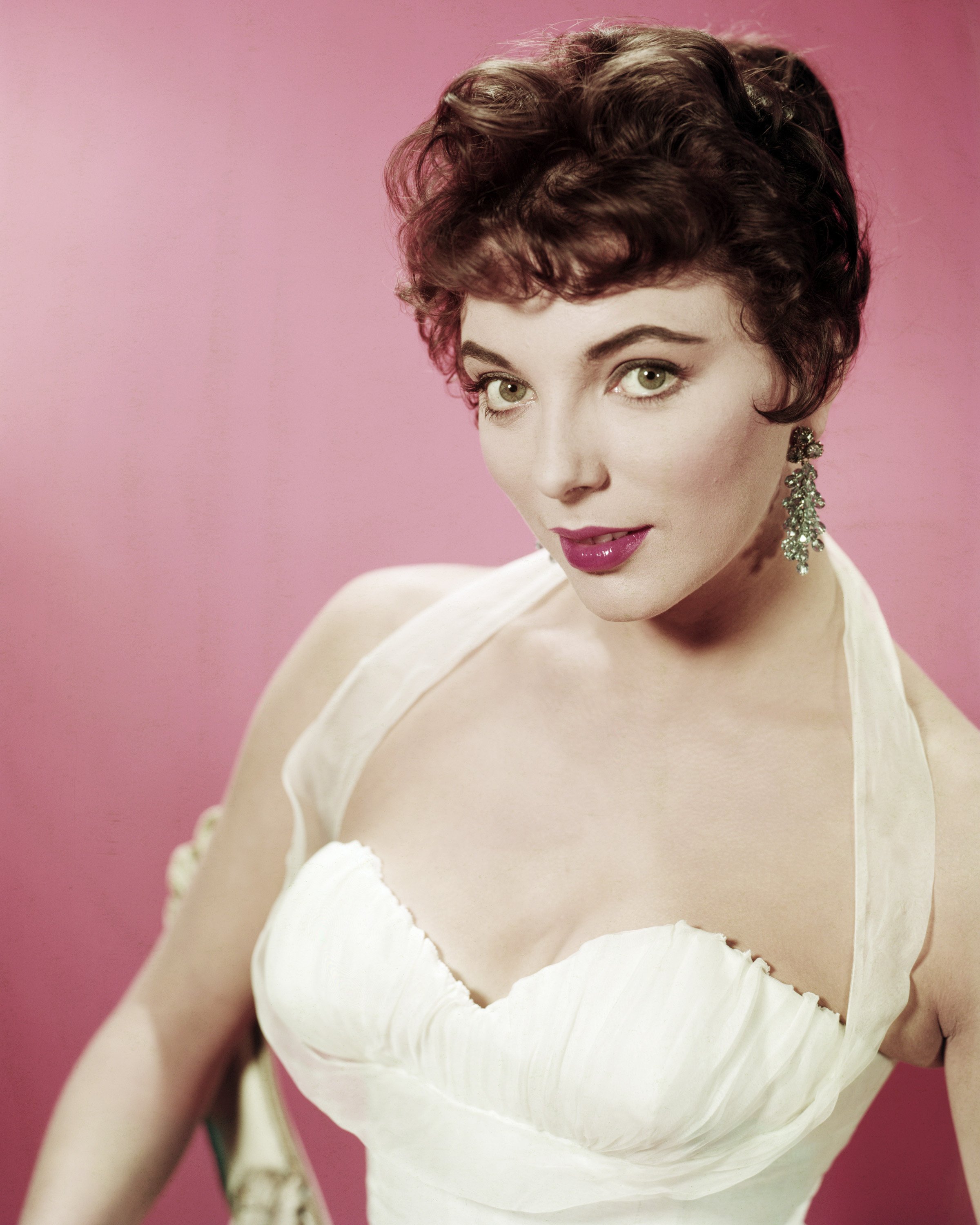 English actress Joan Collins dressed in a white evening dress in 1955. / Source: Getty Images
"Cloris, this is Joan. George just left here. We see each other every day. I'm in love with him. What do you want to do about that?" she asked.
Leachman shared she was sleepy and perplexed by what she had just heard and responded: "I don't know. I'm not sure what the choices are. Do you think you two can make a go of it?"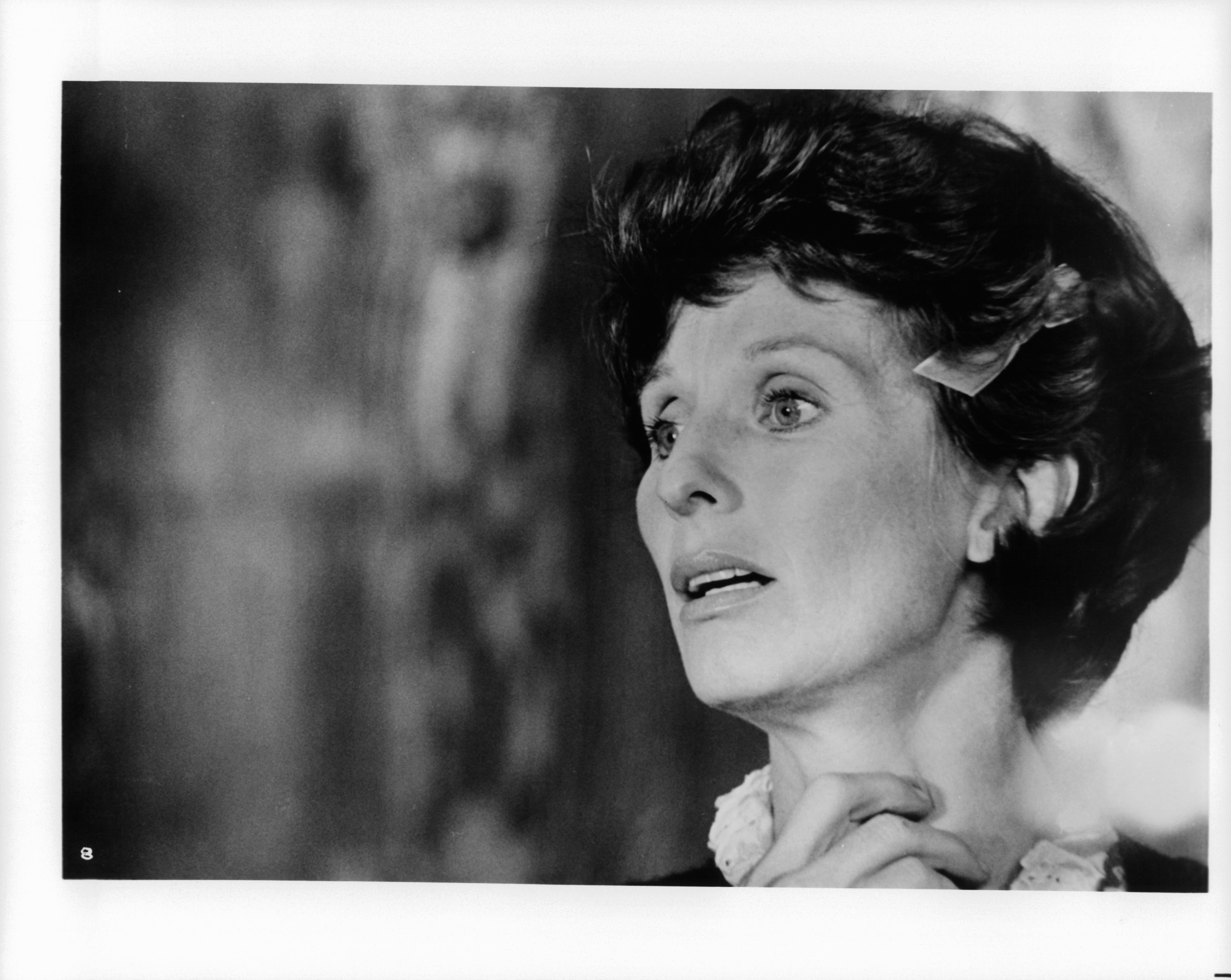 Cloris Leachman pictured in "Happy Mother's Day, Love, George," in 1973. / Source: Getty Images
Collins answered yes while saying she loved George. She noted that he loved Leachman too. Under heavy emotions, Collins dropped the phone without hanging up, and Leachman could hear her throw up in the background.
When George learned what his mistress had done, he was furious. Though he and Leachman did not have a confrontation about his affair, his main concern was his wife's stability and that of the family.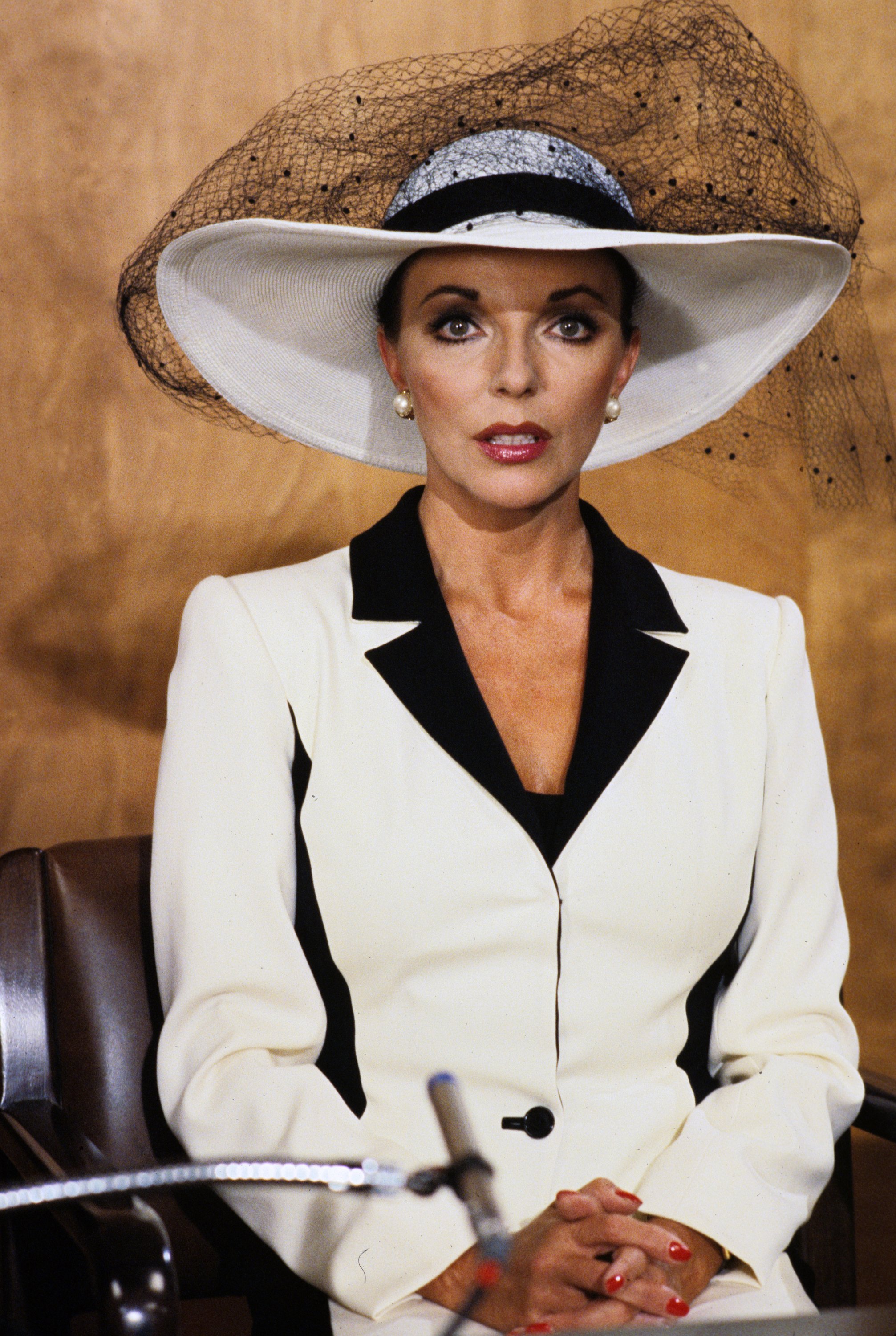 Joan Collins as Alexis Carrington on the TV show, "Dynasty" on April 20, 1981. / Source: Getty Images
In her autobiography, Leachman also revealed that she had flings of her own while married to the author. She secretly dated stars such as Gene Hackman and Andy Williams.
Surprisingly, the "Phyllis" star admitted that she suspected George was cheating on her and deemed the circumstances a "somewhat open marriage."
LEACHMAN REUNITING WITH HER SONS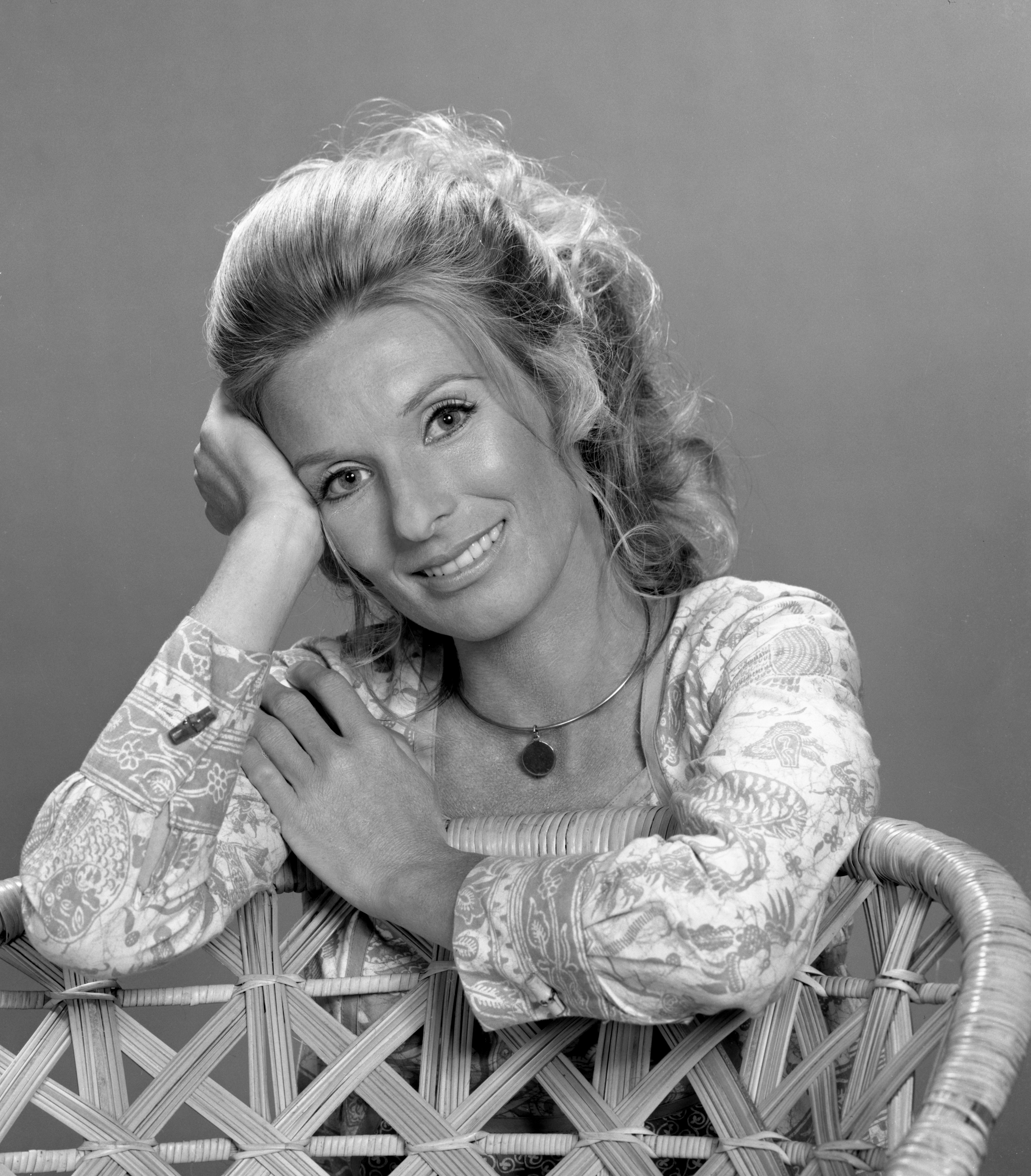 Cloris Leachman as Phyllis Lindstrom on the comedy television series "The Mary Tyler Moore Show," on June 18, 1970 in Los Angeles, California. / Source: Getty Images
Nonetheless, when Leachman finally finished up with work in the play "A Touch of the Poet," she returned to LA in a reduced state. She had no idea what would become of her union with George and felt guilty that she was away from her children for so long.
"Physically, I was still anemic," Leachman explained. When she arrived at the airport, she found George and the kids waiting for her, and what she saw was an unhappy and curious group:
"Adam was off by himself, fifteen feet away from the others. He was looking down, his eyes hooded. Bryan was standing beside George, and George held baby George in his arms."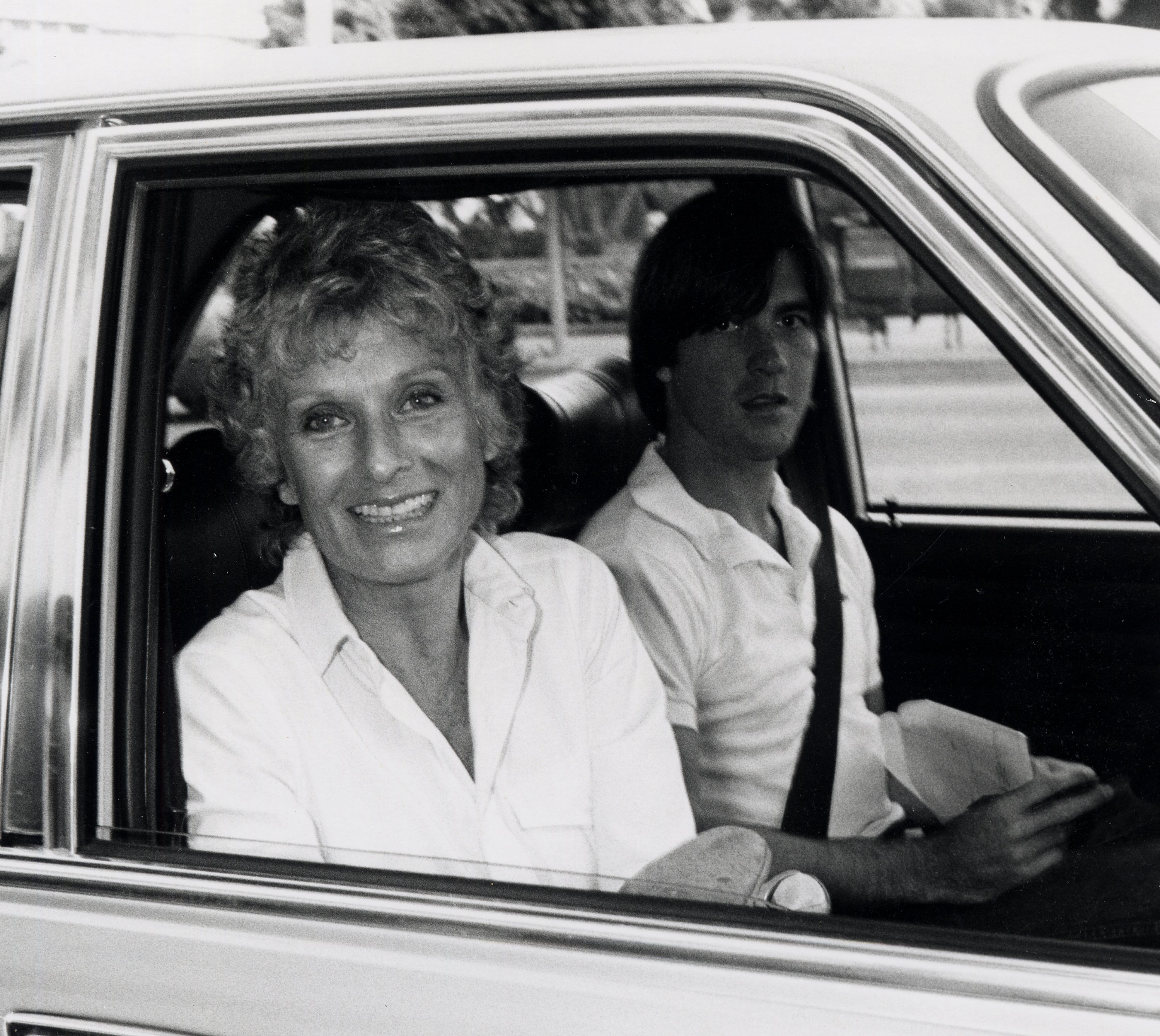 Cloris Leachman and George Englund during the 52nd Annual Academy Awards - Rehearsals at Music Center in Los Angeles, California. / Source: Getty Images
Leachman revealed George Jr. kept asking where his mother was while standing right in front of him. He did not recognize her. Before Leachman left for New York, she and her brood had moved from the little house on Beverly Glen, next to her mother-in-law, onto Comstock Avenue in West Los Angeles.
But the family of six only lived there for a year, and she and George separated. He then moved to an English cottage above the Sunset Strip.
THE COUPLE RECONCILED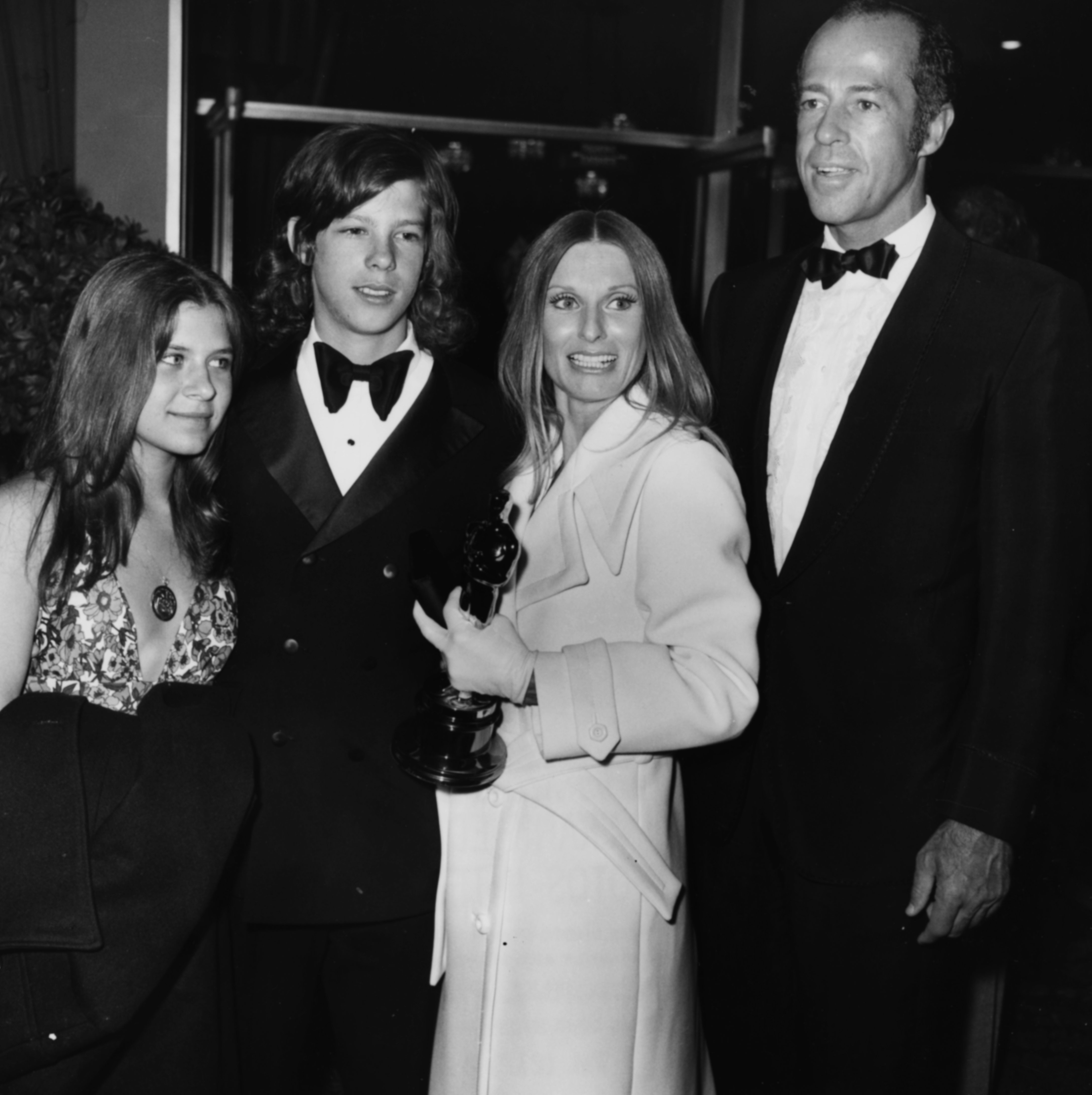 Cloris Leachman with George Englund, their son Brian and his girlfriend Mary at the Academy Awards in April 1972, Los Angeles. / Source: Getty Images
When George filmed 1963's "The Ugly American," he wanted the kids to go along with him to Thailand, and Leachman had to tag along to take care of their boys while on the trip. He wanted their children to experience different countries and their cultures, and it was important to him:
"George and I had discussions about it, and ultimately, we faced the obvious. I was the best one to go. We made a pact that under no circumstances would we fight during this trip."
Leachman shared they both understood the responsibilities he had as a producer for the movie and being a first-time director, realizing it could be a good opportunity for his career.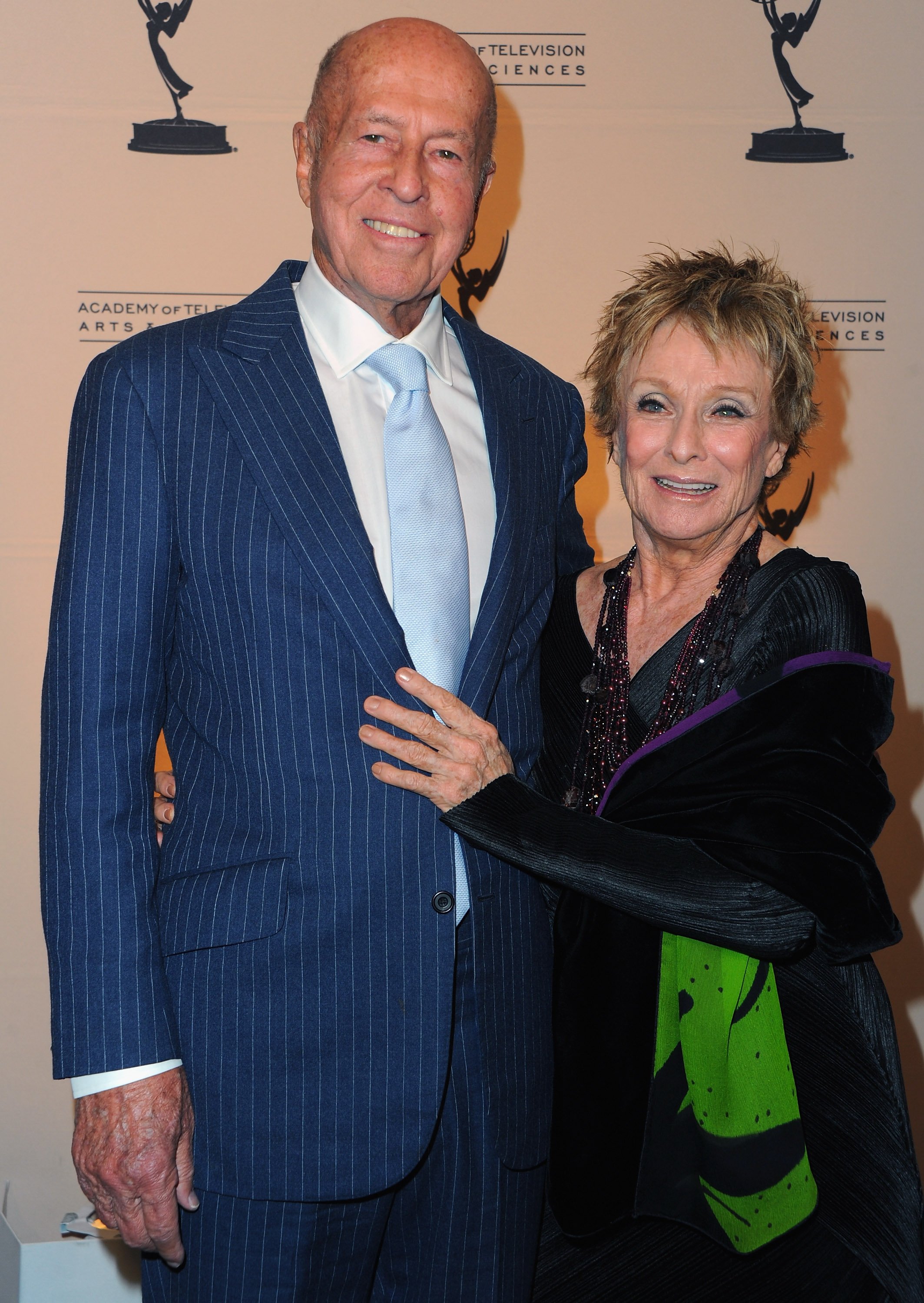 Director George Englund and his wife Cloris Leachman arriving at the Academy of Television Arts & Sciences' Hall of Fame Committe's 20th Annual Induction Gala on January 20, 2011 in Beverly Hills, California. / Source: Getty Images
The family had the experience of a lifetime while on the work trip. They visited fascinating places all over Bangkok. Every morning, they explored the city when they left the hotel in a samlor, a three-wheeled pedicab peddled by a young Thai man.
Apart from taking care of the kids, Leachman also ensured her estranged spouse was well-taken care of. She brought him juice when he was shooting outdoors, and he thought she did a marvelous job at it:
"An outstanding wife and a wonderful companion throughout the whole adventure."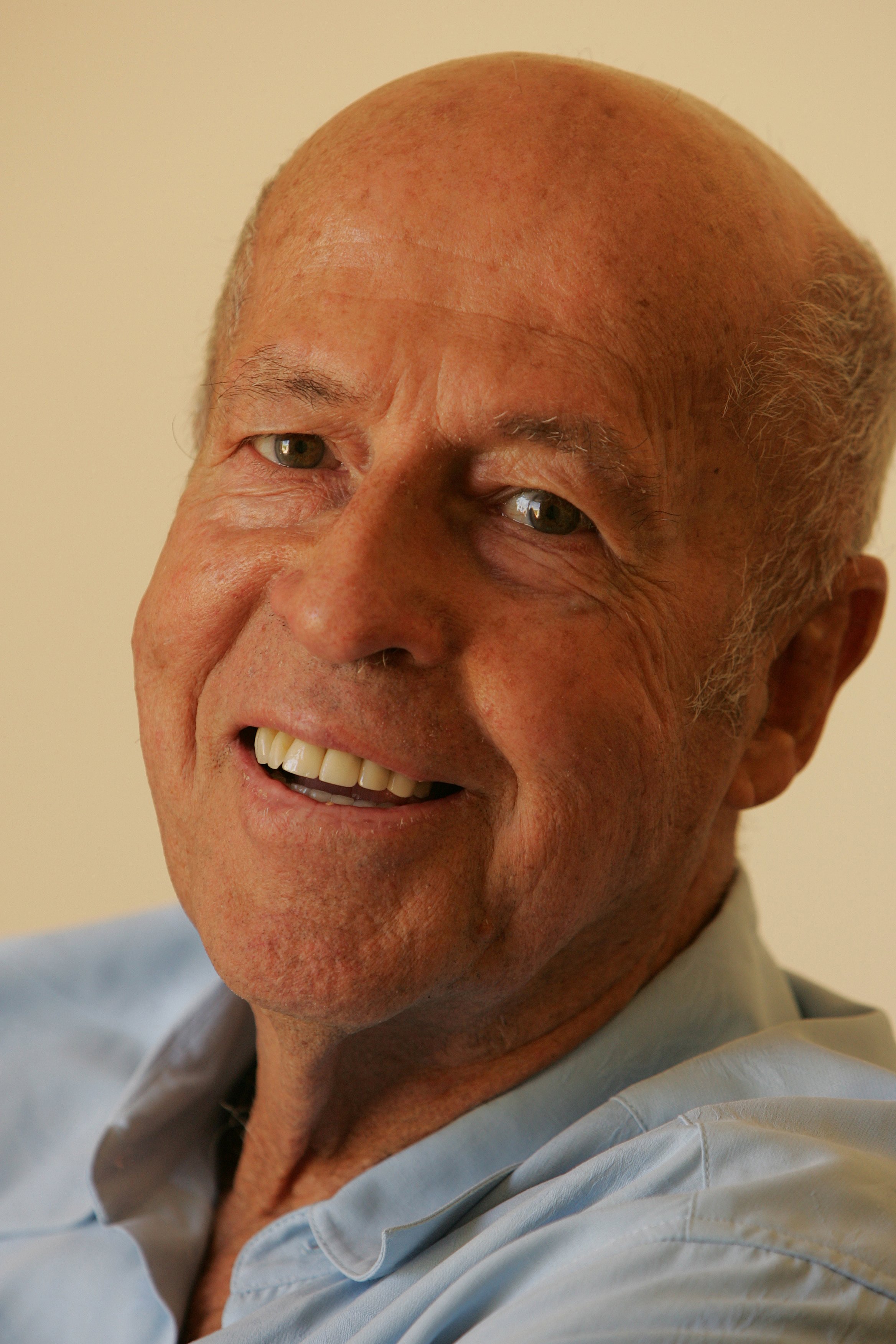 George Englund producer and author pictured at home on June 25, 2005 in Palm Springs, California. / Source: Getty Images
Seeing the couple had promised to be civil with each other; made all the difference. Not once did the pair have conflict while in a foreign land. On the other hand, George had broken up with Collins, who then moved on with actor Warren Beatty.
Leachman and George decided to fight for their marriage, and when they got back home, they purchased a house in Brentwood Park and moved in as a family.
During that period, they welcomed their fourth son, Morgan. Their only daughter, Dinah, arrived in January 1966. However, after 26 years of marriage with five kids, Leachman and George divorced in December 1978.
Please fill in your e-mail so we can share with you our top stories!
The information in this article is not intended or implied to be a substitute for professional medical advice, diagnosis or treatment. All content, including text, and images contained on news.AmoMama.com, or available through news.AmoMama.com is for general information purposes only. news.AmoMama.com does not take responsibility for any action taken as a result of reading this article. Before undertaking any course of treatment please consult with your healthcare provider.