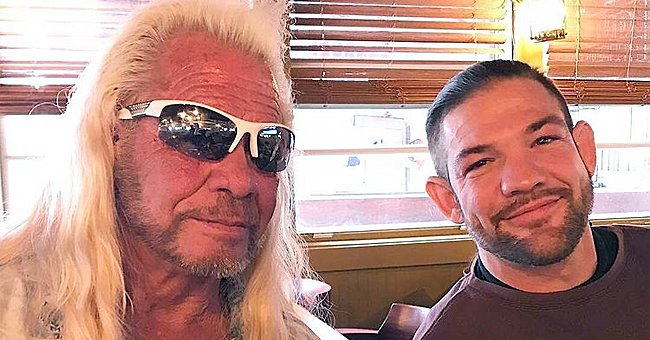 Getty Images
Weeks after Duane Chapman's Wife Died in 2019 Serious Injury Sent His Son to the Hospital

A few weeks after Duane's "Dog," Chapman lost his lovely wife Beth to cancer; the family had to deal with bad news once again as Leland Chapman was hospitalized from a severed Achilles tendon.
The Chapman family is widely known for their reality TV series "Dog the Bounty Hunter," which aired on A&E and chronicled Duane "Dog" Chapman and some of his family's experiences as bounty hunters.
Beth, Dog's wife, was a constant fixture on the show and would often be seen chasing bond defaulters alongside her husband and several other members of their family, including her step-son Leland Chapman.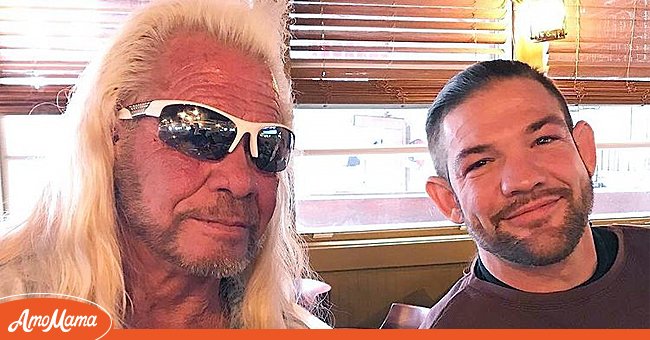 Duane "Dog" Chapman and his son Leland Chapman. | Source: Instagram/ Duane Lee Chapman
Dog and Beth's story began when Beth was 19 and Dod was 35. The two met under questionable circumstances when Beth was caught shoplifting at a local store, and Beth's dad asked Dog to post bail for her.
When she went to the office to fill out the paperwork, she met Dog for the first time, and Beth immediately fell in love with the blonde-haired bondsman.
However, the circumstances surrounding their meeting were not suitable for them to start a relationship. They went their separate ways, with Dog marrying his third wife and Beth marrying her first husband.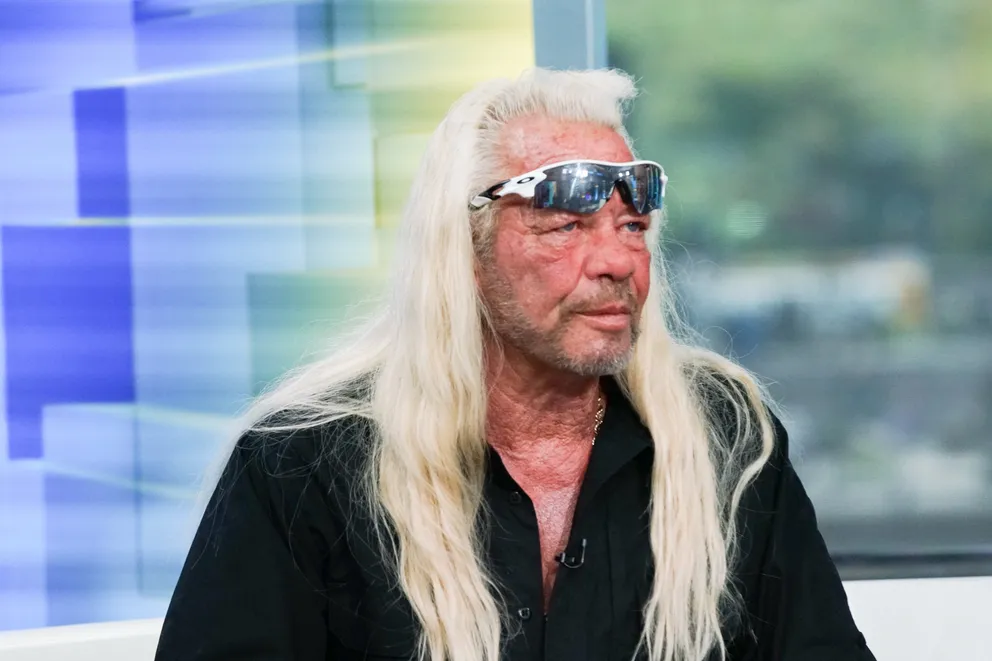 TV personality Duane Chapman aka Dog the Bounty Hunter visits "FOX & Friends" at FOX Studios on August 28, 2019 in New York City. | Source: Getty Images
But when Dog finally left his toxic relationship and moved to Colorado, the two met once again, and this time, they settled down together.
In 2004, the couple landed the reality TV show "Dog the Bounty Hunter," which went on to run for eight seasons and would be followed by several spin-offs, including "Dog and Beth: On the Hunt" and "Dog's Most Wanted."
In 2005, Dog, who already referred to Beth as his wife, finally proposed while they were in Las Vegas, and she said yes. They walked down the aisle the following year.
The duo spent the next decade raising their blended kids and catering to their growing business. In 2017, the family received devastating news when Beth was diagnosed with stage 2 throat cancer.
Beth had so much fight in her that she was declared cancer-free by November that same year after she underwent a tumor removal surgery.
In November of 2018, however, the family was dealt more bad news as the doctors discovered that cancer had returned and, this time, it had spread to her lungs. After a round of chemotherapy, Beth made it known that she did not want further treatment.
The morning of her passing, Beth stood in front of the mirror naked and had asked her husband to look at her. She then started gasping and fell unconscious, and that was the last time her family would see her conscious.
Following the injury, Leland would have to take a six-week break from the show to allow time to heal.
One of Dog's children, Bonnie, would later disclose that those last moments traumatized Dog for days, even months after Beth passed on at only 51.
A few weeks after Beth passed, the family was back on their show, chasing down criminals. Their first search did not go as planned, and it ended with a member of the Chapman clan getting hospitalized.
Leland would have to take a break from the show as he healed. His injury also meant that he would have to be on crutches during Beth's funeral service, streamed live on Dog's Most Wanted Facebook page.
LELAND CHAPMAN HOSPITALIZED
The show is known for hunting down criminals who fail to show up for their court dates, and as such, it sometimes could involve a little violence and lots of chasing and tackling.
And it was during one such chase that Leland found himself sustaining severe injuries during a search trying to catch a court date defaulter Edward Morales.
Morales had pleaded guilty to harassment a month earlier but had failed to show up for his court hearing. Leland and his father followed him to Adams County in Colorado, and it was when attempting to subdue him, Leland tore his Achilles Tendon.
According to Leland's spokesman, he was admitted to a hospital in Alabama and would be requiring surgery for his torn ACL.
Leland spoke to "Entertainment Tonight," giving an account of the incident, which came while he was still recovering from a knee injury sustained from yet another accident during a search.
Leland says he had been trying to take it easy and was chasing Morales from his car, but then he realized that Morales was getting tired and was running much slower. He decided to chase after him on foot. People reports him to have recalled the incident saying:
"When I pulled in, he made eye contact with me, and I was seeing that this guy is running at slow speed, my speed, you know what I mean? Cause he was tired himself."
After leaving his car, things quickly got out of hand. Morales, who was a little ahead of him, slammed a gate in his face, and instead of opening it as he should have, Leland kicked it.
Upon kicking it, it flexed and severed his ACL, snapping it in half. Leland says that when he attempted to walk, he felt as if he was walking on sand.
Even with his injury, he still managed to chase the culprit and consequently slow him down to allow his father, Dog, to apprehend him.
The chase and takedown were recorded on "Dog's Most Wanted," a spin-off of the original show. Following the injury, Leland would have to take a six-week break from the show to allow time to heal.
The accident shocked the family, seeing as they had not even laid Beth to rest. Dog especially was devastated at the loss of his dear wife, followed by his son's injury.
Dog has since been open about his grieving process, and it was through this, he found his fifth wife, Francie Frane. Frane was also mourning the loss of her husband to cancer.
The two bonded over their grief and comforted each other, seeing as they understood each other's pain. Eleven months after Beth passed on, the two announced that they were dating, and this September, they walked down the aisle amid criticism from family and the public.
Please fill in your e-mail so we can share with you our top stories!