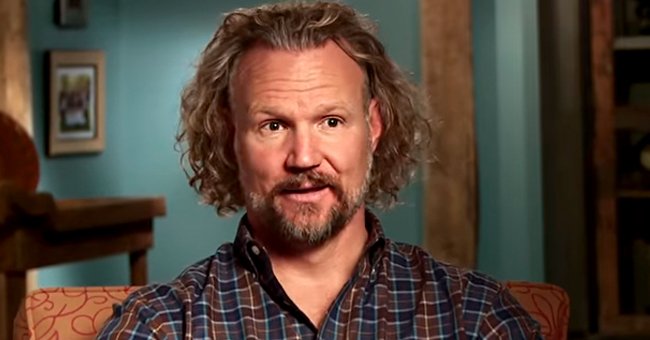 youtube.com/tlc uk
Kody Brown Is Married to 4 Women at Once - Look Inside His Huge Family With 18 Children

It's a full house! Kody Brown deals with a lot as he caters to four marriages and 18 natural and adopted children. His family came into the limelight in September 2010.
Most women would rather stay single than share their partner with another woman - or three. However, the family featured in "Sister Wives" doesn't seem to care.
Despite the divorce and much drama, they have figured out how to make their household work for almost 30 years. Their family mostly talks about the beautiful spiritual side of polygamy when they aren't arguing or crying.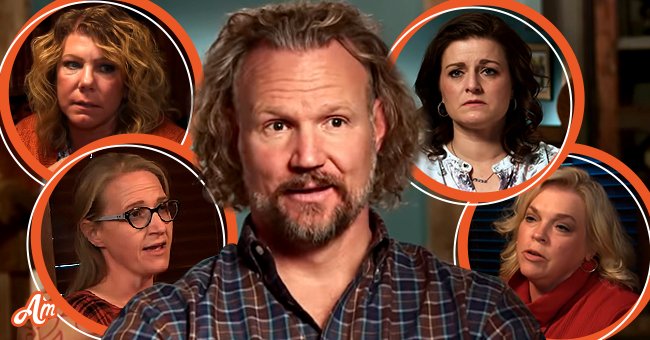 A photo of Kody, Meri, Janelle, Christine, and Robyn Brown | Photo: Youtube.com/TLC, Youtube.com/tlc uk
WHO IS KODY BROWN
Kody is a former advertiser and TV star most known for his role on the TLC's reality show which focuses on his family.
With the popularity of the show, there were more quarrels. The Browns filed a lawsuit against Utah in 2011 to repeal the state's polygamy laws.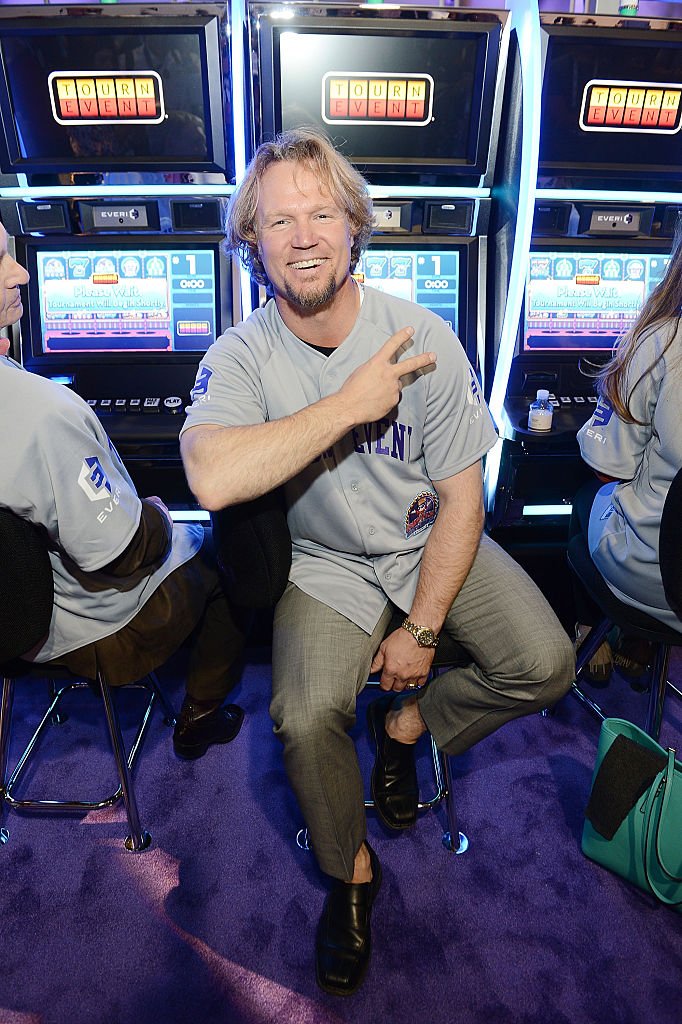 Kody Brown during the tournament event for charities at the 15th annual Global Gaming Expo on September 29, 2015, in Las Vegas | Photo: Getty Images
They won at first but had the law took on a different course. Kody believes that every polygamous household is quite distinct. He is convinced his residence is one-of-a-kind.
Throughout the show, fans have been able to join the Browns in the challenge of advancing their family and the ups and downs of their relationships.
For years, the family had lived out their polygamous style almost in secret. It is unknown how this complicated family will turn out.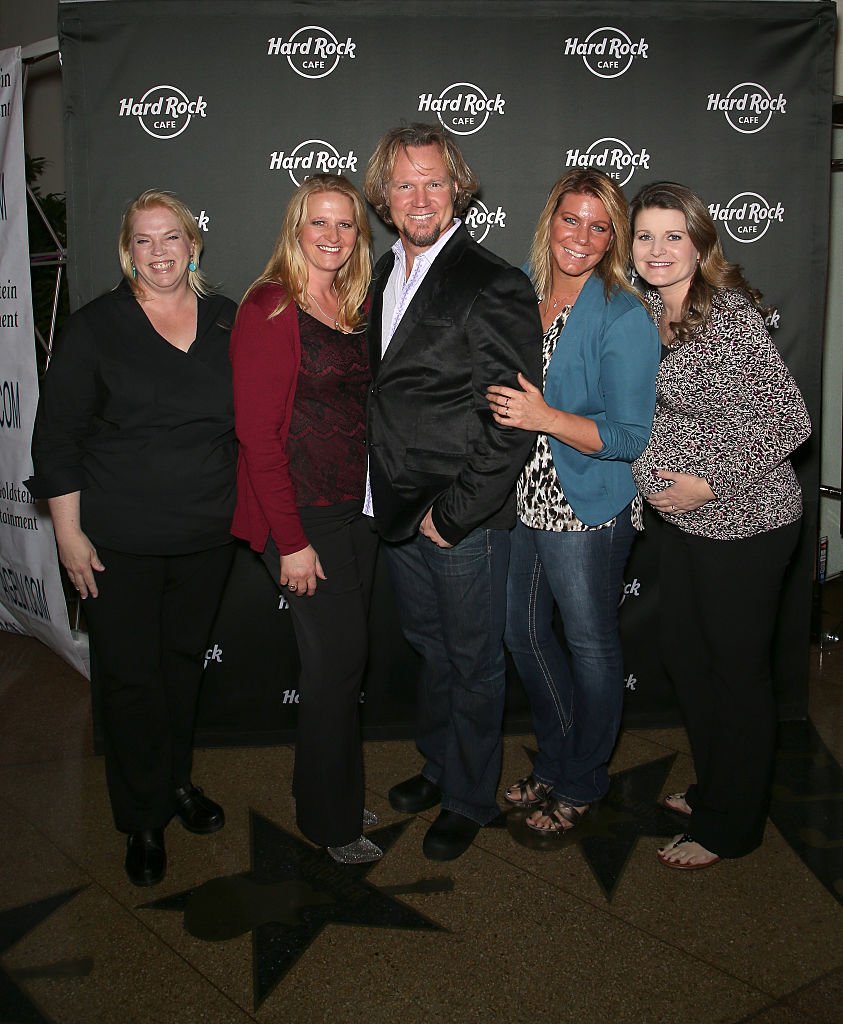 Janelle Brown, Christine Brown, Kody Brown, Meri Brown, and Robyn Brown attend Hard Rock Cafe's 25th anniversary on October 10, 2015, in Las Vegas | Photo: Getty Images
MERI
Meri grew up in a polygamous family and was young when she and Kody met through her sister. She was only 19, and he was 22.
After dating for two months, the couple believed they were soulmates and got legally married in April 1990. The couple had no children together until 1995, when their only daughter together, Mariah, was born.
Before then, Kody had already married his second wife with whom he had a son Logan Taylor, born in 1994, and his third wife, whom he married in 1994.
By the time his first child with Meri was born, his third wife had also given birth to the second child of the family, Aspyn Kristine, born in 1995, a few months before Mariah.
Meri and Kody divorced in September 2014, more than 20 years into their union, to marry his fourth wife and legally adopt her children.
While things between them aren't always perfect, Kody said he couldn't bring himself to give up on one of his women completely. They continue to be in a spiritual marriage even though not legally married.
Even though they claimed that it was just a change in the family structure and nothing more, things have not gone well in recent years.
Since the divorce, she drifted away from him and the rest of her family. She started an online relationship which later turned out to be a catfish situation.
After that, she has decided to invest her energy into her B&B business, which she runs without help from the rest of the family.
JANELLE
Janelle and Kody have an unusual relationship. After she lost her dad, her mother entered into a polygamous relationship with Kody's father. This made her Kody's stepsister before she became his wife.
Before they married spiritually, on January 20, 1993, Janelle was married to someone else in 1988, but they got divorced in 1990 and never disclosed the reason for their divorce.
Janelle and Kody have six children together; Logan Taylor, Madison 'Maddie' Rose, Hunter Elias, Robert Garrison, Gabriel, and Savanah. Besides the show, Janelle has also become an author and runs her show on TLC Network.
After her fifth child, she decided to move away from polygamy to find some peace. After two years, she agreed to go back when Kody bought a house with three separate apartments.
CHRISTINE
Christine, a real estate agent, met Kody, Janelle, and Meri through their common faith, a sect of fundamentalist Mormonism known as the Apostolic United Brethren, or AUB.
She had a crush on him right away, even though his affections for her seemed to develop more slowly. She openly flirted with Kody and hoped she would be his third wife.
The two were friends for years before she expressed interest in wanting to marry him. When they started courting each other, Christine's family was thrilled.
Her family gave their approval to the union right away. Kody and Christine became engaged shortly after they began dating.
Christine wanted things done quickly, while Kody wanted to exercise patience and take things slowly. Six weeks later, they exchanged vows.
They have six children; five girls and a boy. The oldest, Aspyn, is twenty-six, and the youngest, Truely Grace, is eleven.
ROBYN
Robyn grew up in a polygamous family. She revealed that her mother was her father's second wife. This caused her father not to acknowledge that she was his daughter publicly.
Having gotten pregnant out of wedlock, Robyn got married to David Preston Jessop in June 1999. She had a son named David Dayton and two daughters named Aurora Alice and Breanna Rose.
In 2007, the couple divorced when Robyn said she was abused in her marriage. When she met Kody in the summer of 2009, she was divorced and worried about being heartbroken again, but he fell in love right away.
They started courting with Kody taking long drives to visit her. On May 22, 2010, they were spiritually married. However, Robyn needed Kody to adopt her children so they could bear his name legally.
He had to divorce Meri legally and married Robyn in December 2014. Together, they have two children; Solomon Kody and Ariella Mae.
However, her family members were not happy about the exposure she was getting from the show. In 2014, all the wives became cofounders of an online jewelry store called My Sisterwife's Closet.
She has also appeared as a cheerleader in "Country Music Television 2000 Countdown" and in an episode of "Just Shoot Me."
The family has moved to their Coyote Pass property in Flagstaff, Arizona, and a new season of "Sister Wives" will air on November 21. There are rumors of a fifth wife and more children, but the family has confirmed none.
Please fill in your e-mail so we can share with you our top stories!