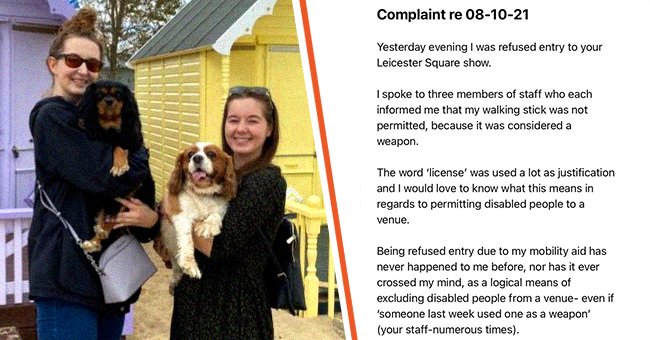 twitter.com/laurenjoyday
'Disabled' Woman Denied Entry into Comedy Event Because Her 'Walking Stick Was Considered a Weapon'

In a disgusting incident, a woman was refused entry for something she could not control. Although many put the highly distasteful occurrence down to discrimination, some blamed the alleged victim.
You would think that individuals would be sensitive and accommodating towards those with disabilities in this day and age. However, as reported by Laura Day from East Barnet, North London, this is not always so.
The young woman, who wanted to enjoy a night out, wrote a scathing complaint, which she shared on Twitter, to an organization. Day claimed they would not let her in as she was deemed dangerous by the staff.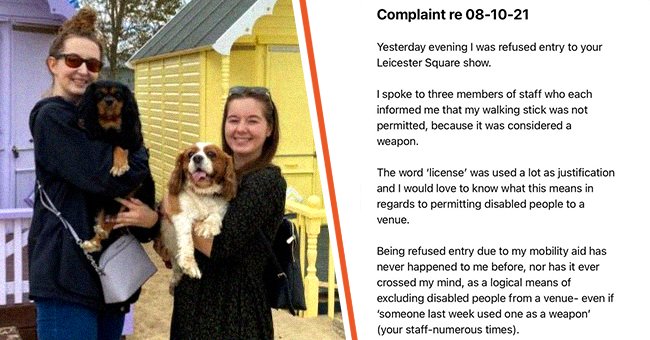 Laura Day's Twitter profile picture [left]; Laura Day's complaint letter to Comedy Carnival [right]. │Source: twitter.com/laurenjoyday
INFURIATED YET DEJECTED
According to her, the staff at Bar Rumba located in Leicester Square claimed that her walking stick, which she uses for mobility, could be used as a weapon, so she could not be let in. Commenting on her letter, the Twitter user typed:
"I'm not feeling hopeful. The number of stories we all have just like this one, happens too often and nothing changes."
This interaction with the workers at the nightclub was during an evening which Comedy Carnival, an organization that puts on comedic events, hosted. The 'disabled' woman's grievances were explicitly directed at this organization.
You May Also Like: Girl with Leg Brace Is Not Allowed to Take Classes at School Because of Her Shorts
TERRIBLE COMPROMISES
Allegedly, the only apparent solution that the staff could come up with was that she could enter without her walking stick, and the workers could escort her should she need to stand up and go somewhere.
In Day's original Tweet, the North Londoner shared this turn of events with other Twitter users. Facetiously referring to the comedic element of the event, she wrote that she doesn't find the situation funny but rather that it makes her sad.
In her letter, the Twitter user purported that they gave her free tickets for another Comedy Carnival show close by. However, Day claimed that the promoters would not provide the necessary money for transport to the other event.
FURY GROWING
Most commenters were appalled by Comedy Carnival and the nightclub's alleged handling of the situation. One expressed:
"Do they also outlaw umbrellas?… this is blatant discrimination."
However, one thought that the 'disabled' woman was to blame. Jo Higson MA penned that Day should have researched the venue beforehand and taken responsibility for what had occurred.
You May Also Like: 'Disabled' Woman Left in Tears after Home Bargains Staff Mock Her as She Narrates in a Video
SHIFTING THE BLAME
News agency MyLondon reached out to Comedy Carnival, asking if they would like to comment on what was said to have occurred. The comedy organization responded stating that the staff was under Bar Rumba's management and:
"We are appalled by the incident and do not condone discrimination of any kind."
They stated they would be cutting ties with the nightclub as soon as is possible. If anything, Day's story put's forward the question, are biases against "disabled" individuals still alive and well in today's society, or was this just an isolated incident?
Please fill in your e-mail so we can share with you our top stories!