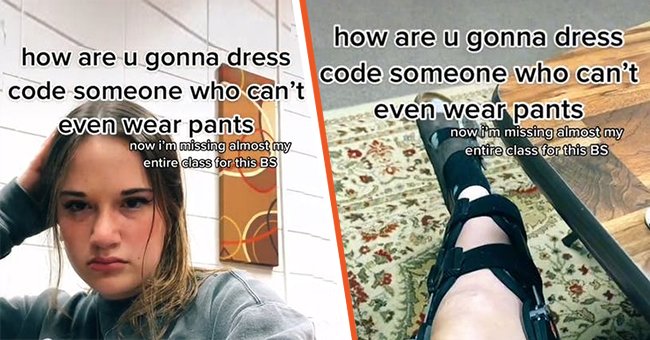 tiktok.com/kyles._.w
Girl with Leg Brace Is Not Allowed to Take Classes at School Because of Her Shorts

The dress codes in some American schools are entirely unbelievable, to the point where, like TikToker ✨kyles✨, you may be forced to leave class because of what you are wearing.
There is a myriad of different opinions on what is appropriate and inappropriate for high school students to wear while in the classroom. In some cases, individuals take issue with the rules.
✨kyles✨ or kyles._.w, was one of those people. However, this TikToker didn't keep her frustration to herself, taking to the platform to let her fellow netizens know what occurred.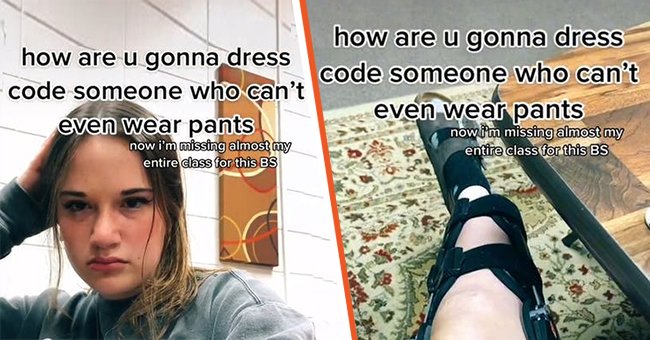 TikToker Kyles [left]; Kyles leg in a brace [right]. | Source: tiktok.com/kyles._.w
The TikToker alleged being kicked out of a class because she violated the dress code. The young lady appears to be attending a school in Arkansas, to be assumed because of a variety of her videos where she sports a hoodie with an Arkansas emblem.
According to the TikToker, she was told to leave the classroom wearing shorts meant for athletes. However, ✨kyles✨ leg brace, she purported, prevented her from wearing any other form of pants or skirts.
You may also like: Woman Outraged after Little Sister Was Slammed at School over off-the-Shoulder Top

Individual commenting on a TikTok post by ✨kyles✨. | Source: tiktok.com/kyles._.w
In the video she posted, revealing what happened, the TikTok user panned from her unimpressed look to her leg brace with the corresponding shorts. In the overlay text, the young lady penned:
"How are you going to dress code someone who can't even wear pants [?]"
Commenters expressed compassion, some advising her on other comfortable clothes such as baggy jeans, but the TikToker stated that these suggestions do not work with her brace. A significant portion of remarks thought that the school was being ridiculous, with one citing discrimination.

Individual commenting on a TikTok post by ✨kyles✨. | Source: tiktok.com/kyles._.w
These commenters aren't the only individuals outraged about school dress codes. Tom Brewer from Bristol, England, recently took action against Blaise High School as he claims they will not allow his daughter to wear trousers in which she feels comfortable. Brewer expressed:
"I believe the school is body shaming the children."
Strangely enough, TikTok user kyles._.w found the solution to her problem through her dad, or more accurately, his clothes. Posting a follow-up video, the TikToker explained that she has now taken to wearing her father's long shorts to uphold the dress code.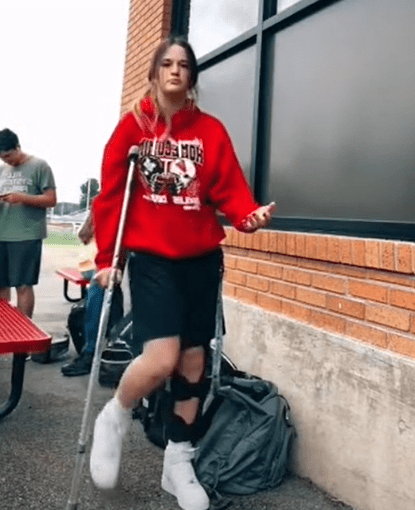 TikToker ✨kyles✨ wearing her father's baggy shorts for school. | Source: tiktok.com/kyles._.w
Once again and similar to her previous clip, the commenters were very supportive of the TikToker. However, one disagreed with ✨kyles✨ approach and seeming attitude towards the incident, penning:
"Get a grip, it's only shorts. Everyone has to follow the rules, you're not special. It doesn't impact your brace at all. 🙄"
Replying, the TikTok user stated that she's been wearing a brace for a while and knows what she should and should not be wearing. What do you think? Is this TikToker within her rights to be angry, or is it entitlement, and what approach should schools take when it comes to dress codes?
Please fill in your e-mail so we can share with you our top stories!