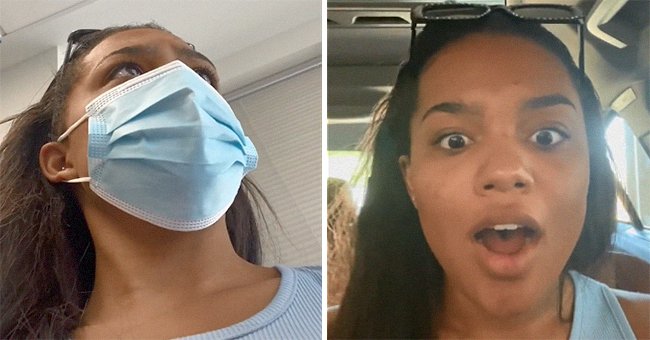 tiktok.com/itsari.aleise
Woman Outraged after Little Sister Was Slammed at School over off-the-Shoulder Top

A furious big sister barged into her little sibling's school, demanding to know what the issue was. When informed, she went into attack mode, remaining firm and determined in her stance.
TikToker Arianna Hailey was fuming when she discovered why her younger sister had run into trouble at her high school. Upon arriving, she found that the problem was her sibling's off-the-shoulder top.
Recording the incident, Hailey showed her interaction with her sister and someone who seemed to be an official at the institution. This official explained to her that the top violated the school's dress code.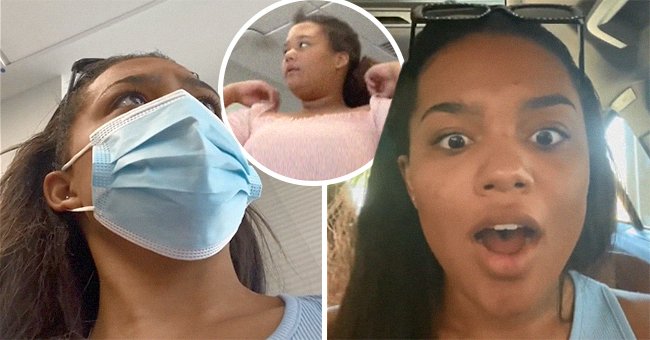 Snapshots of TikToker Arianna Hailey reacting to her little sister being disciplined for allegedly inappropriate clothing [right and left]; Arianna Hailey's sister [middle]. | Source: Source: tiktok.com/itsari.aleise
The TikTok user was not convinced and expressed her confusion as to how shoulders could be considered distracting. During the clip, the TikToker exclaimed:
"This is an outfit she'd wear to church."
Moving the camera towards her little sister, she told her that she looked great. Hailey's sibling was wearing long jeans with a pink top that covered the whole top part of the body except her shoulders.

Individual commenting on a TikTok post by Arianna Hailey. | Source: tiktok.com/itsari.aleise
The clip then swopped to her sitting in a car, venting her frustration. The TikTok user shouted at the camera, repeating the word "shoulders" and asserting that she didn't understand the issue.
They demonstrated support by staging a walkout in her honor.
It appeared that the majority of the commenters were on Hailey and her younger sister's side. However, some were not supportive, with one individual remarking that they were just rules and they should abide by them.
REFUSING TO BACK DOWN
Another young lady also had the fiery backing of a family member, as well as her school. 17-year-old Karis Wilson was sent home after a teacher stated that her outfit could make a male educator at the institution uneasy.
The teenager wore a long-sleeved turtleneck with a lace-trimmed dress over it reaching the knees. Her father, Christopher Wilson, was outraged, taking the issue to the principal, who said the teacher involved was old-fashioned and agreed that the outfit was appropriate.
Not only did this young lady have the aid of her dad, but Wilson's classmates as well. They demonstrated support by staging a walkout in her honor.
HOW TO SOLVE THE CONTROVERSY
Opinions are circling all around this matter from many different individuals, including Mekita Rivas from Parents Magazine, who expressed that schools should get rid of dress codes entirely. In 2019, Rivas penned:
"Getting rid of dress codes altogether could be the easiest fix. It would put the onus... on parents to regulate...attire."
This way, she expressed, the schoolgoers wouldn't be picked upon individually. Rivas also suggested an ongoing dialogue surrounding the issue between the school staff, parents, and students so all voices can be heard.
A DOUBLE STANDARD?
School is but one space where an individual is sorely criticized for their attire; nightclubs are another. Annabel Kershaw complained on TikTok that she and her friends were denied entry into a nightclub over "inappropriate" footwear.
The TikToker lamented that men were allowed into this club called "History" in Manchester, England, no matter what shoes they were wearing. Kershaw felt this was unfair.
The comment section was divided, with some agreeing with her and others stating that nightclubs have a right to set specific rules around clothing. It appears that society has a problem agreeing with what is and isn't appropriate when it comes to clothes.
Please fill in your e-mail so we can share with you our top stories!