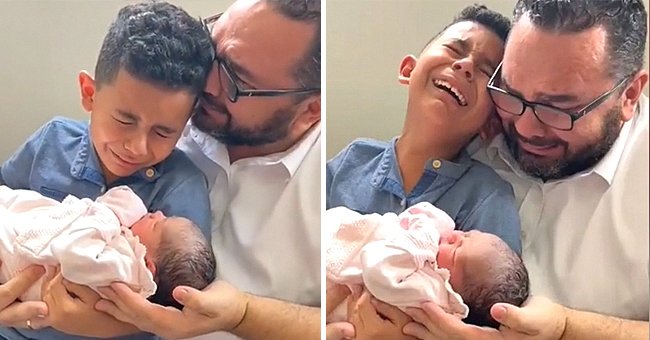 instagram.com/joaoprudencioneto
Father and Son Sob Uncontrollably as They Hold Their Family's New 'Miracle' Baby
A man and his son broke down after holding their new bundle of joy for the first time after her birth. The emotional moment capturing their priceless reactions was shared in a now-viral Instagram video.
For years, Joao Prudencio Neto and his wife waited on God to give them another kid to join their son, David, who always yearned for a sibling. They soon received their miracle, welcoming a baby girl, Giovanna, without undergoing any artificial procedures.
The family welcomed their new addition in March, giving each member a reason to smile and be thankful. Notably, none seemed more touched by the miracle than Neto and his son, who were lost for words when they met the little beauty for the first time.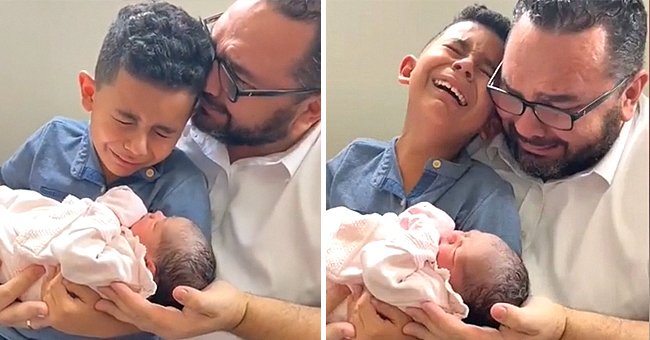 A picture of Joao Prudencio Neto and his kids | Photo: instagram.com/joaoprudencioneto
All they could do at that point was shed tears of appreciation as the years of sadness, long, tear-filled nights, and unceasing prayers came flooding back.
Neto shared a clip of the beautiful, emotion-packed moment on Instagram, also reflecting on their years of struggle. The video showed the new dad seated on a couch, with his son seated on his lap.
The young boy, who held the baby affectionately in his arms, looked excited at first. The moment he stared down at his little sister's peaceful face, he immediately broke down uncontrollably, with his dad joining in seconds later.
The dad whispered some consoling words to the boy, but those only served to intensify their overflowing emotions. The two also expressed their love to the baby girl by whispering endearments to her, officially welcoming her into the family.
Via caption, Neto explained he became infertile after welcoming David but still trusted God for a miracle. After waiting patiently for almost a decade, his wife, Caroline Prudencio, finally conceived through natural methods.
The miraculous conception happened despite his zero spermatozoa production, making it all the more touching.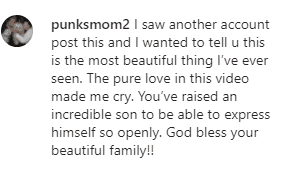 A netizen's comment on a viral Instagram post | Photo: Instagram.com/joaoprudencioneto
Neto remains grateful for that gift of healing from Jesus Christ and the wonderful miracle of childbirth. Now a fulfilled father of two, the man hopes his story would inspire others hoping for a miracle to keep believing in God. He wrote:
"Giovanna's birth is not only a blessing to our family, but also to all those who dream of one day experiencing the miracle that only Jesus can do."
He went on to explain that his family prayed every day for several years until he became a dad again. Going further, he noted that his outburst of emotion was all for the miracle.

A netizen's comment on a viral Instagram post | Photo: Instagram.com/joaoprudencioneto
Following Neto's heart-melting post, several netizens took to the comment section to congratulate the new parents for their bundle of joy. Many shared beautiful words of encouragement to the family as they finally found happiness. One wrote:
"What could be more beautiful than this? To have wanted a sibling so badly and to love a little baby sister so much. Life is beautiful."
Others hoped to tap into the family's blessing and experience their own miracle at the right time. One wrote, "I wish you and your family a happy and long life. You made me cry too… Thank you for sharing this precious moment."

A netizen's comment on a viral Instagram post | Photo: Instagram.com/joaoprudencioneto
Such beautiful stories certainly help people overcome their moments of trials and make them hopeful for a life-changing miracle.
Please fill in your e-mail so we can share with you our top stories!