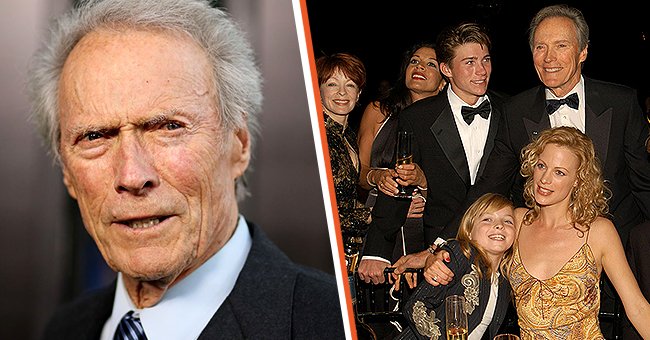 Getty Images
Clint Eastwood's 1st Love Child Was Born during Engagement to His 1st Wife
Hollywood is the one place that makes a long-lasting and happy marriage seem like an unachievable goal. With the money and fame, many celebrities cannot keep their marriages together or stay faithful to their partners.
Clint Eastwood is not new to marriage controversies fuelled by his infidelities and numerous relationship with different women in the wake of a career that has spanned over six decades.
On-screen, Eastwood is famous for his dark, turbulent, and complex films, but this spills into his personal life. However, his sullen, riotous, and careless character on film is a far cry from his off-screen personality.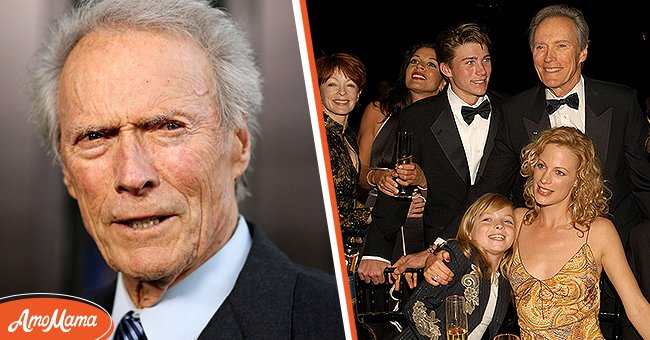 Actor and producer Clint Eastwood. Inset: With his children | Source: Getty Images
The 91-year-old is known for his many affairs over the years, but he is also a doting father and grandfather to his children and their children. But his life has not been without its fair share of wrongdoings.
In his hay days, Eastwood began an affair with a lady whose identity hadn't been revealed openly, and out of it, his first daughter Laurie was born.
It was not an ideal family set up as the two had an affair while Eastwood was engaged to his first wife, Maggie Johnson. The inevitable breakup came even before Laurie's mother could tell Eastwood she was pregnant. Or perhaps, she did not want to strain his engagement further with the news.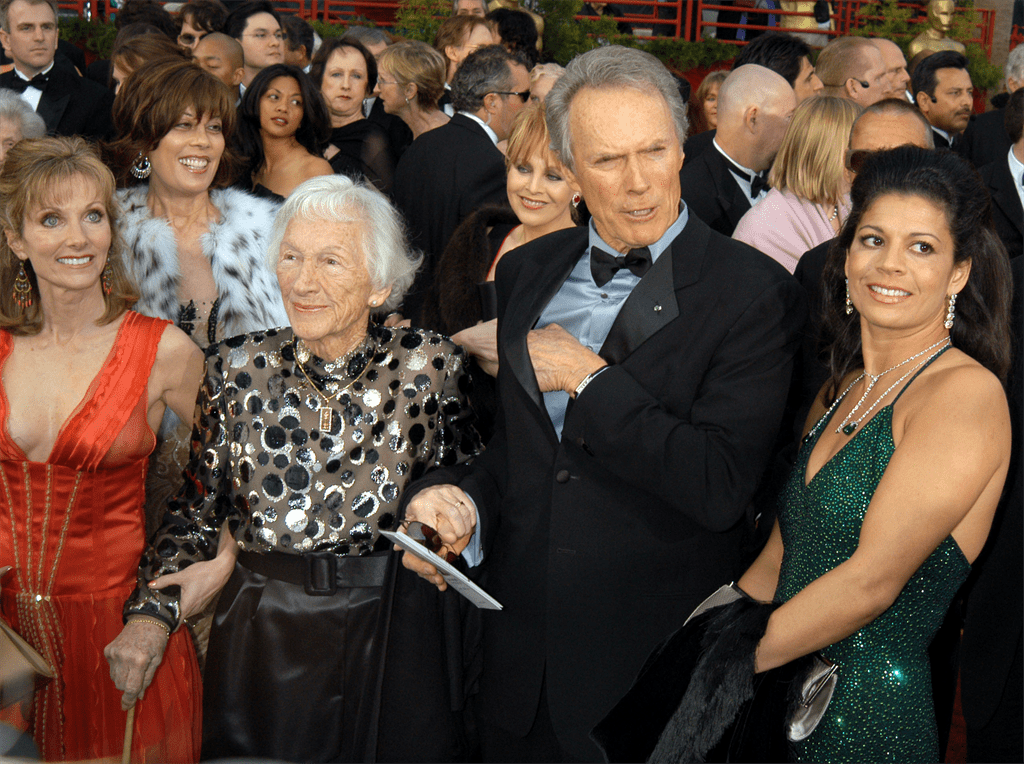 Arrivals Clint Eastwood (c) with his daughter Laurie Murray, mother Ruth Wood, and wife Dina Eastwood at The 76th Annual Academy Awards | Source: Getty Images
After they broke up and Laurie was born, her mother gave her up to adopt Helen and Clyde Warren from Seattle. Growing up, Laurie discovered that she was adopted and set out on a 30-year long journey of searching for her biological parents.
In her search, she stumbled upon her mother's documents indicating that Eastwood was her father. Daily Mail reports that Eastwood did not know of her existence for the many years that she'd lived as Laurie's mother had kept the pregnancy a secret.
A source says that Laurie did not grow up in a privileged home, and when she reached out to her biological mother, her mother did not want to be contacted.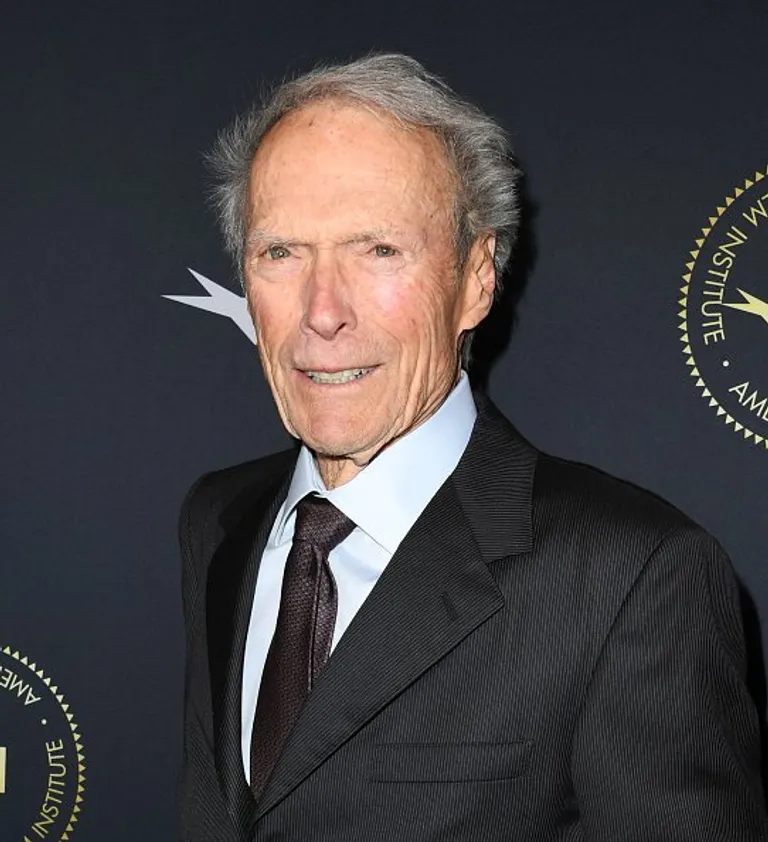 Clint Eastwood at Beverly Hills on January 03, 2020 in Los Angeles, California. | Photo: Getty Images
While it is not clear how she made contact with Eastwood, what is certain is that she was received well. It did come as a surprise to Eastwood and his family, but they welcomed her as their own. The friend also adds:
"Laurie and her family are wealthy in their own right. So it wasn't a situation, which I'm sure someone like Clint Eastwood is used to, of someone crawling out of the woodwork looking for money."
The possibility of having an eighth child had for years been a rumor, but it was confirmed during the premiere of "The Mule" in 2018. All of the "Cry Macho" actors' children, including Laurie, came out to support him.
All her siblings have since accepted the new addition to the family, and on an Instagram post, the youngest Eastwood sibling, Morgan, confirmed that Laurie was indeed her sister.
The Eastwood clan took several group photos in celebration of the long-overdue family reunion. Alison, Eastwood's daughter with Johnson, noted how rare it was to have all eight kids in one photo.
Eastwood's biographer, Patrick McGilligan, is the one that first brought to light the possibility of there being an unknown Eastwood child out there, and he commends Eastwood for being able to bring the family together in the manner that he did.
He noted how comfortable Eastwood was with his new role as father to Laurie and even admired him for it. Like the perfect father-daughter match made in heaven, the two have bonded over their love for golf.
EASTWOOD'S AFFAIRS OVER THE YEARS
Eastwood is known for his admirable contribution to the film industry, both as an actor and a director. But he's also known for his numerous affairs and infidelity sagas.
His first affair is dated back to 1953, when he was still engaged to Johnson. The affair bore him his first daughter Laurie. His marriage to Johson lasted 31 years, and they had two children, Alison and Kyle.
While still married to Johnson, Eastwood began an affair with actress and stuntwoman Roxanne Tunis, and the two had a baby, Kimber. Tunis is said to have preferred to keep the pregnancy a secret, seeing as Eastwood was still married.
The affair that began in 1959 ended in 1973, and Eastwood would once again fall into the arms of another woman, Sondra Locke. The two met during the filming of the 1976 "The Outlaw Josey Wales."
When they began dating, they were both married, Eastwood to Johnson and Locke to a husband who, according to Inquisitr, identified as gay and reportedly did not have a romantic relationship with his wife.
Today, Eastwood enjoys spending time with his girlfriend Christina Sandera as well as being a grandfather to his many grandchildren.
Locke described their meeting as "love at first sight." But even then, Eastwood had his eye on Jacelyn Reeves, a flight attendant with whom he shared two children, Scott and Kathryn.
In 1988, a year before he broke up with Locke, Eastwood began seeing Frances Fisher and had Francesca's daughter. Fisher lived with Eastwood for six years, during which he had begun seeing American reporter Dina Ruiz.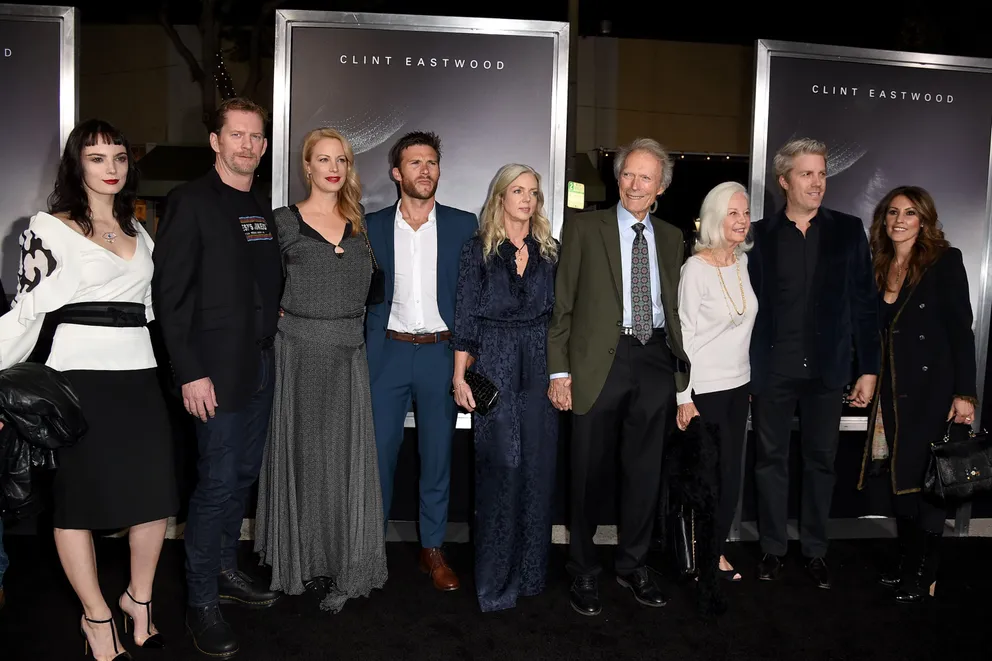 Clint Eastwood and his kids at the premiere of The Mule at the Village Theatre on December 10, 2018. | Photo: Getty Images
Ruiz ended up being Eastwood's second wife, and together they had a daughter, Morgan. The two parted ways in 2013, and since then, the "Unforgiven" actor has been spotted with several other women.
As many celebrity children do, the Eastwood children have followed in their father's footsteps. Alison has appeared in hit movies such as "Absolute Power" and "Midnight in the Garden of Good and Evil." She is also a mother of one.
Scott is also an actor, and his works can be credited to "Pacific Rim Uprising" and "The Longest Ride." Kathryn is known for her roles in "American Virus" and "Jersey Boys."
A model and actress, Francesca has appeared in television shows like "Twin Peaks" and "Fargo" as well as "Live Fast, Die Laughing." She is married to Clifton Collins Jr, and together, they have a son named Titan Wraith.
Eastwood's youngest, Morgan, has also made a career out of acting and her best works include "Changeling," "Million Dollar Baby," and the 2019 "I See You."
Today, Eastwood enjoys spending time with his girlfriend Christina Sandera and being a grandfather to his many grandchildren.
Please fill in your e-mail so we can share with you our top stories!