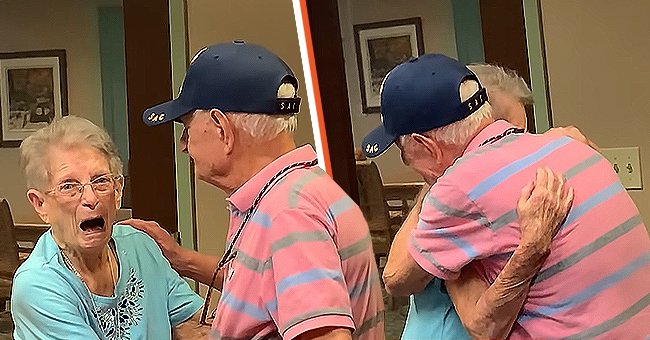 youtube.com/Happily
Grandma Can't Stop Crying after Walking into Room to Find the Brother She Hadn't Seen in Years
Two highly emotional siblings couldn't hold their tears back as they hugged each other tightly. Both were utterly overwhelmed by their pure love for each other.
For many, especially the elderly at high risk, the COVID-19 pandemic has kept relatives and friends apart, longing for each other's in-person company. However, as the vaccine rates rise, more individuals are spending time with their friends and family in person.
Due to the pandemic and her move to a senior citizen home, 95-year-old Mary Pine hadn't seen her brother 84-year-old Bob Taylor, for around 5 years. Although the two speak on the phone constantly, Taylor decided that he wanted to surprise his sister in person.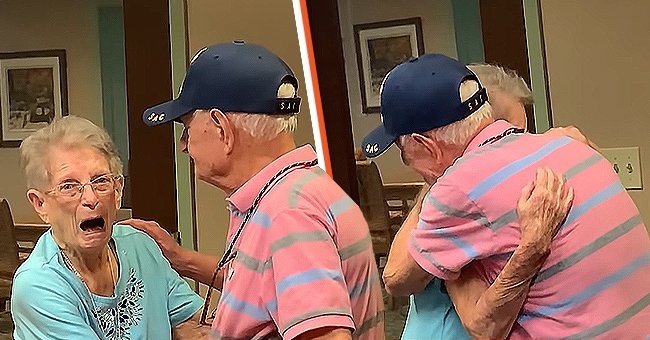 Mary Pine crying and hugging her brother Bob Taylor. | Source: youtube.com/Happily
A TOUCHING SECRET
In cahoots with two of his adult grandchildren Morgan Taylor and Kenzie Hardin, the three drove cross country from his residency in Atlanta, Georgia, all the way to Ambler, Pennsylvania, where Pine lives.
On her birthday, July 4, 2021, the grandmother was asked to come into her room at the assisted living facility. The 95-year-old had no idea what she was about to walk into.

Individual commenting on Facebook post by People. | Source: facebook.com/peoplemag/
A FLURRY OF EMOTIONS
Morgan and Hardin filmed the touching moment as the grandmother slowly came into the room with her walking aid. Everyone shouted "surprise" and wished her a Happy Birthday as Pine immediately began crying. The senior citizen said:
"Oh isn't it wonderful?"
Pine gave her brother a heartfelt hug as they both squeezed one another tightly, and she sobbed on his shoulder. The clip of the reunion was posted to Facebook and has gone viral, accumulating nearly 2000 likes.
THE PUBLIC WEIGHS IN
Out of the almost 100 comments, many individuals expressed how touched they were by the clip, and many wished the grandmother a very Happy Birthday. One person, Elaine Zimmerman, impressed by the sibling's close relationship, penned:
"Wow, can't stomach my brother!!!"
Speaking after the fact, Morgan said that she was delighted to see Pine once again. She expressed that her grandfather and his sister's joyful meeting was something she truly appreciated as a granddaughter.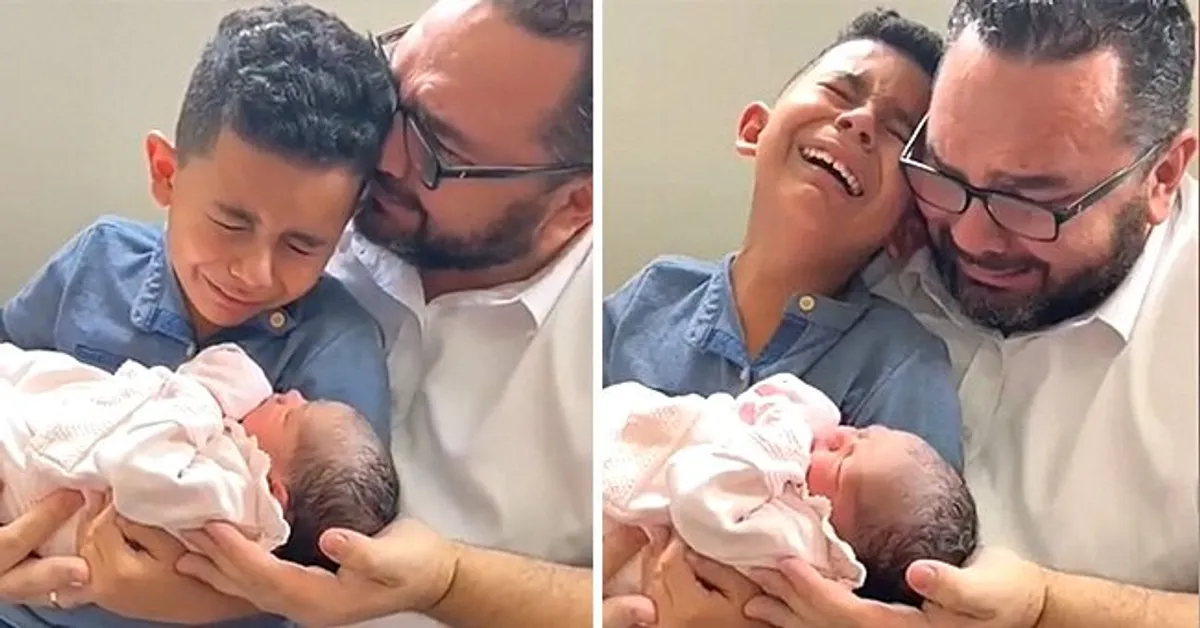 A picture of Joao Prudencio Neto and his kids | Photo: instagram.com/joaoprudencioneto
A LITTLE MIRACLE
Seeing a family member after a significant amount of time can leave anyone weeping. However, the tears truly flowed for a father, Joao Prudencio Neto, and his son David as they welcomed a new addition to their family in March.
For years, Neto and his spouse prayed for another child. Their pleas were soon answered as the baby girl Giovanna came into the world without the parents undergoing any artificial procedures.
When the father and son held the little girl for the first time, they both cried together in appreciation for the new bundle of joy. If this family and the two siblings can teach us anything, it is that family should be deeply cherished.
Please fill in your e-mail so we can share with you our top stories!