Getty Images | youtube.com/WWE
John Cena and Nikki Bella's on Air Engagement Reportedly Gave Her 'False Hope'
WWE superstars Nikki Bella and John Cena called off their relationship a few years ago. The two superstars have now taken separate paths in their lives and are living happily ever after.
Bella has a son Mateo with her partner Artem Chigvintsev, and Cena married Shay Shariatzadeh in 2020. Both of them are on good terms and happy for each other.
After their breakup, there were a lot of speculations that they faked it, and they did it to promote their shows. However, here is the real reason why they went their separate ways.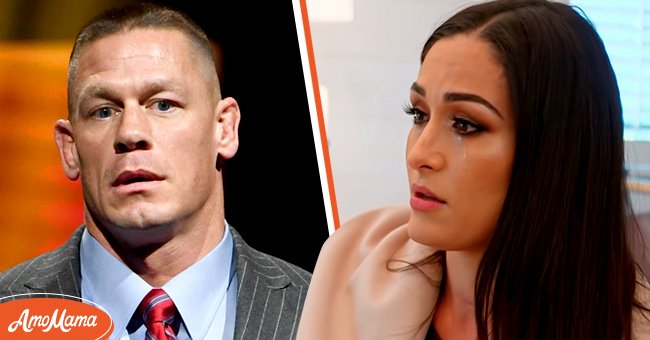 Left: John Cena at CinemaCon Big Screen Achievement Awards on March 30, 2017 in Las Vegas, Nevada. Right: Nikki Bella on her show "Total Bellas" | Photo: Getty Images, Youtube.com/WWE
LIFE OF JOHN CENA
Cena may be all muscles now, but that was not the case when he was much younger. At 12, his peers taunted him because he dressed and spoke a certain way, making him ask for a weightlifting bench as a gift.
By the time he turned 15, he was already muscular. He then became a member of the American football team with the number 54, which would become his favorite number.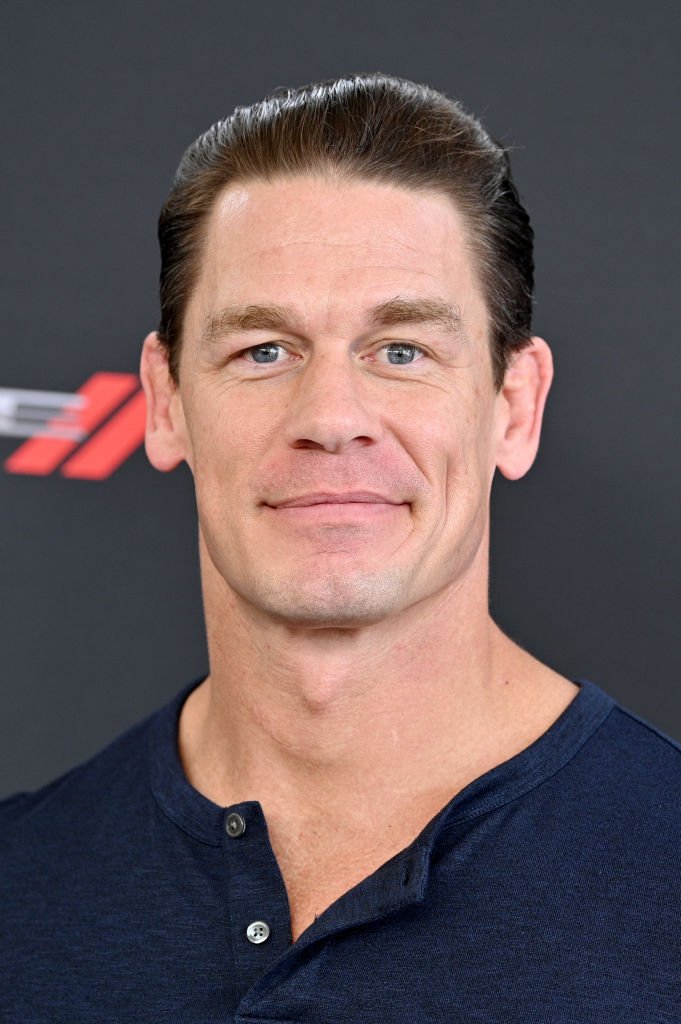 John Cena attends "The Road to F9" Global Fan Extravaganza at Maurice A. Ferre Park on January 31, 2020 in Miami | Photo: Getty Images
Cena graduated from Springfield College in exercise physiology and body movement, from injury prevention to rehabilitation exercises, before starting a career as a bodybuilder.
After his graduation in 1999, he became interested in wrestling and joined Ultimate University from Ultimate Pro Wrestling.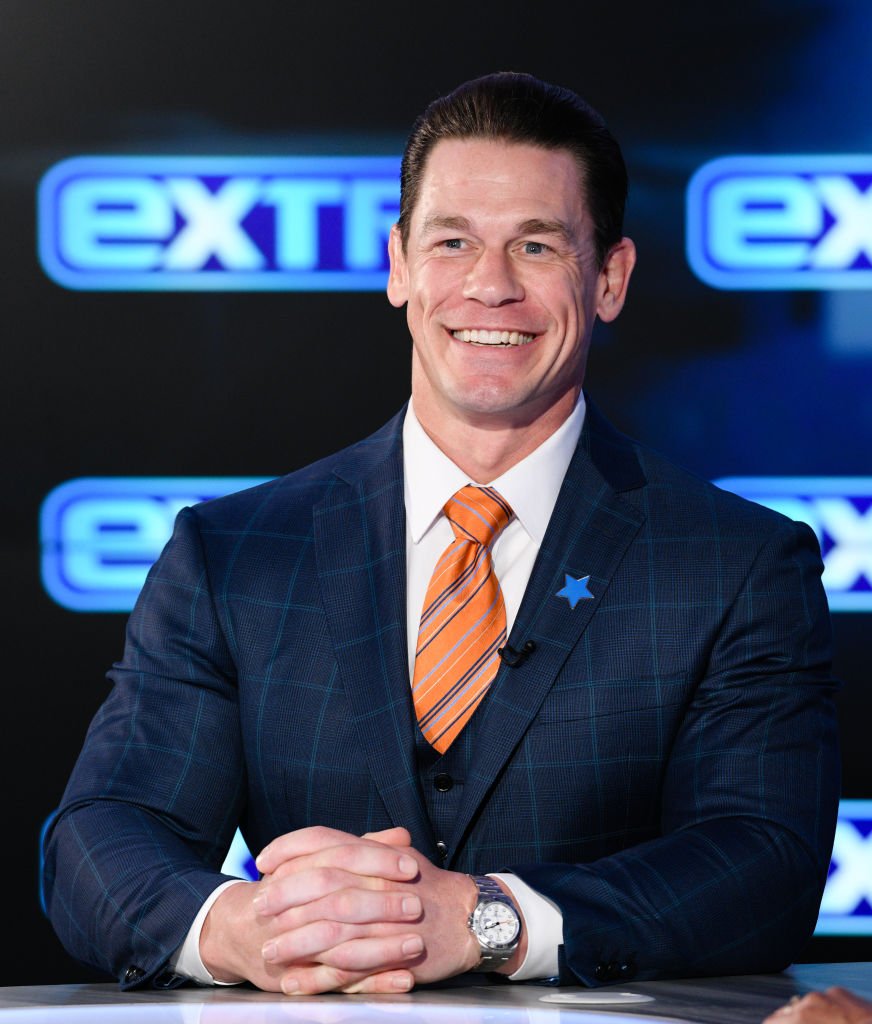 John Cena visits "Extra" at Burbank Studios on January 15, 2020 in Burbank | Photo: Getty Images
He has become WWE Championship 13 times, a 16-time world champion though on a joint record. He has also won the World Heavyweight Championship three times.
Besides that, he is a five-time champion for the United States, has won the tag team championship four times, won the Royal Rumble of 2008 and 2013, and the Money in the Bank Ladder Raw match of 2012.
In 2007, he began his film career with an action movie when he played his first character in "The Marine." After a series of movies, he joined Vin Diesel and the "Fast & Furious" gang in "F9."
Since 2004, Cena has granted over 500 wishes at the "Make-A-Wish Foundation" and has become the star with the most wishes.
In 2009, he received the Chris Greicius Celebrity Award and the Make-A-Wish Foundation Special Recognition Award in 2012 for being the first to grant 300 wishes.
He also uses his outfits during his WWE competitions to promote different causes. From being against hate to anti-harassment campaigns and even breast cancer awareness, Cena is always ready to use his voice.
In 2009, he married his high school sweetheart, but their relationship did not last as they were divorced in less than four years.
On October 12, 2020, he married Shariatzadeh in a private ceremony in Tampa, Florida. They met while he was shooting the movie "Playing with Fire."
CENA AND BELLA
Bella and Cena started dating a few months after his divorce from his ex-wife, Elizabeth Huberdeau, in 2012. Their relationship lasted for six years before they went their separate ways.
The couple had been friends for years before Cena asked Bella out to dinner. They hit it off during their intimate meal, and the rest is history. In 2013, Bella moved in with him after signing a 75-page contract.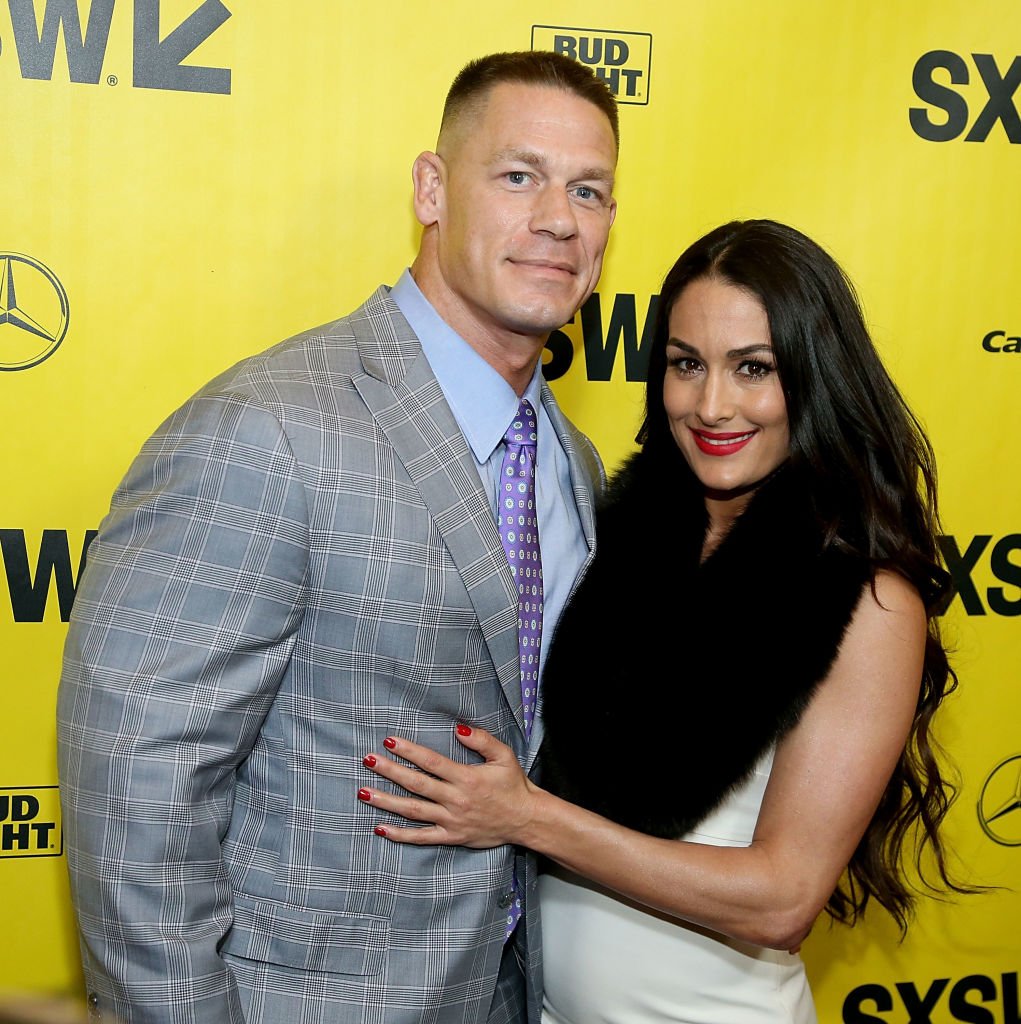 John Cena and Nikki Bella at the premiere of "Blockers" on March 10, 2018 in Texas | Photo: Getty Images
In 2014, he learned that she was once married in Las Vegas when she was 20. This information hurt him as she didn't break the news to him first.
However, their relationship continued to thrive even after she learned that he would not give her power of attorney should he find himself in a medical condition preventing him from making any decisions.
At WrestleMania 33, Cena and Bella faced real-life pair The Miz and Maryse in a mixed tag team match. Cena won the match, and after the victory, he proposed to Bella, who said yes.
For the ring, Cena specifically chose a dazzling a round-cut, center four-and-a-half carats diamond ring on a channel-set band by Tiffany & Co.
The weight of the stone represented the number of years they had been together before the proposal. Bella reportedly did not see the exciting live proposal coming.
Unfortunately, Bella and Cena, who got engaged in April 2017, took to Twitter to announce their split in April 2018. Their breakup was weeks before their slated May 5 wedding in Mexico.
They asked their fans to respect their decision and privacy at the time. A source revealed that Cena, who had earlier said he didn't have time for a spouse and kids, was getting cold feet as the day drew nearer.
Also, their differences of opinion about having children did not make things any easier. Cena didn't want kids and was vocal about it, but Bella wanted to be a mother and at some point felt that he gave her 'false hopes.'
He didn't want kids because he was focused on being the best version of himself and would not want to bring a child to the world only to neglect them. Being a mega-famous performer, entertainer, and actor was at the top of his list.
Even though he never wanted to get married again, proposing to Bella meant he had changed his stance. And she most likely thought his mind would also change when it came to having children.
In the end, even though Bella felt their relationship was incredible, she had to admit that they both wanted different things in life. When Cena wanted his vasectomy reversed, Bella couldn't let him go through with it.
She realized that it was a decision he was taking for her, and she didn't want him to regret that decision down the line. Also, she didn't want to have to force him to be a father.
After their split, Cena had time to reflect and was willing to change his stance about having children if that meant he would be with Bella. He went as far as publicly professing his love for her in an interview.
In 2019, one year after their split, Bella was already dating again. At the time, she was dating Chigvintsev, a professional dancer whom she met during her stint on "Dancing with the Stars."
At the time, Cena was not dating, but he was hoping to find his soul mate. He wanted a woman who was independent and successful by herself and had the same mindset as he does.
On becoming an actor and playing the role of a dad in movies, his stance about fatherhood got to change. He began to rethink his decision about becoming a dad.
Please fill in your e-mail so we can share with you our top stories!