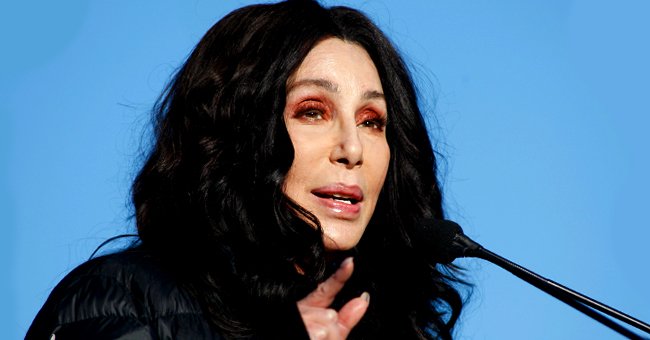 Getty Images youtube.com/WWE
Gregg Allman Passed out on His First Date with Cher and Had over 20 Drinks on Their Second
Barely three days after finalizing her divorce from Sonny Bono in 1975, Cher married Gregg Allman of the Allman Brothers Band. However, their union was short-lived.
In less than two weeks, the two were already at loggerheads, to the point that Cher asked for a separation. Eventually, they reconciled and stayed together until 1977.
Here is all that went down in their short-term relationship, including the bad first date, horrible second date, raising a child together, and more.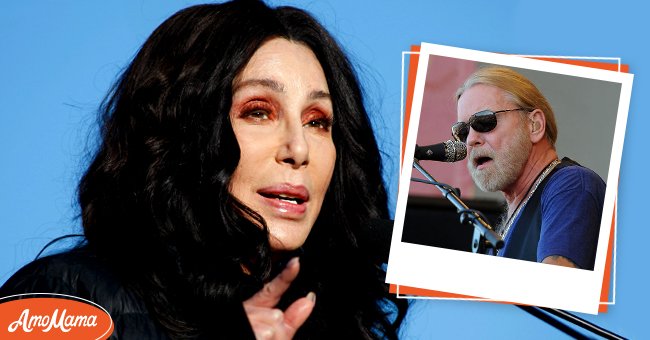 Cher speaks at Women's March "Power to the Polls" voter registration tour on January 21, 2018, in Las Vegas, [left]. Gregg Allman performs during the 41st Annual New Orleans Jazz & Heritage Festival on April 25, 2010, in New Orleans [right] | Photo: Getty Images
ABOUT CHER
On May 20, 1946, an international music icon was born in the United States. The eternally splendid Cher, born Cherilyn Sarkisian LaPierre, graced the world with her presence.
Before Madonna and Lady Gaga, Cher was the one who dared to exploit her sensual side to make her character more original and out of the ordinary.
She was the first woman in music to show her navel on television. Thankfully, it resulted in a career full of successes and not only in music. She has also been able to assert herself in movies and TV shows.
Additionally, Cher has numerous awards she can boast of. She is decorated with an Emmy, a Grammy, three Golden Globes, and even an Oscar for Best Actress for her performance in the 1988 film "Moonstruck."
As the daughter of an Armenian refugee and an aspiring actress and model of Cherokee origins, Cher showed her strong character from an early age. She managed to overcome her parent's divorce and the poor economic conditions in which she lived.
Despite these difficulties, she managed to establish herself as the queen of music. But in parallel with her professional successes, she has lived an extraordinary private life.
At 16, as a high-school dropout, Cher wanted to be a star. She soon met her first husband, Bono, 11 years her senior and an assistant to Record Producer Phil Spector.
Having met in 1962, Cher became Bono's housekeeper, and they became close friends. The former couple said they married on October 27, 1964, in Tijuana, Mexico.
Cher suffered stage fright and had to team up with Bono to be able to sing. Although he wanted her to start solo, they became a team called Caesar & Cleo.
Their only child, Chastity Sun Bono Chaz, now known as Salvatore Bono, was born five years after their wedding. After 13 years of marriage, the famous spouses separated and finally divorced on June 26, 1975.
That same year, without thinking twice, Cher married the rock star, Gregg Allman. On July 10, 1976, she became a mother for the second time, giving birth to little Elijah Blue Allman.
Unfortunately, the story with Allman was not a happy one, and the two separated after less than two years of marriage. The official demise of their sad love story came in January 1979.
She said nobody ever made her feel like Allman did. Cher described him as the kindest, most gentle, and loving person. Her only issue was that he forgot about everything when he got high, ultimately destroying the relationship.
Thankfully, Cher's love life certainly doesn't stop with two marriages. She flirted with countless others in the industry. The most famous and confirmed by the diva was with the unforgettable king of rock Elvis Presley.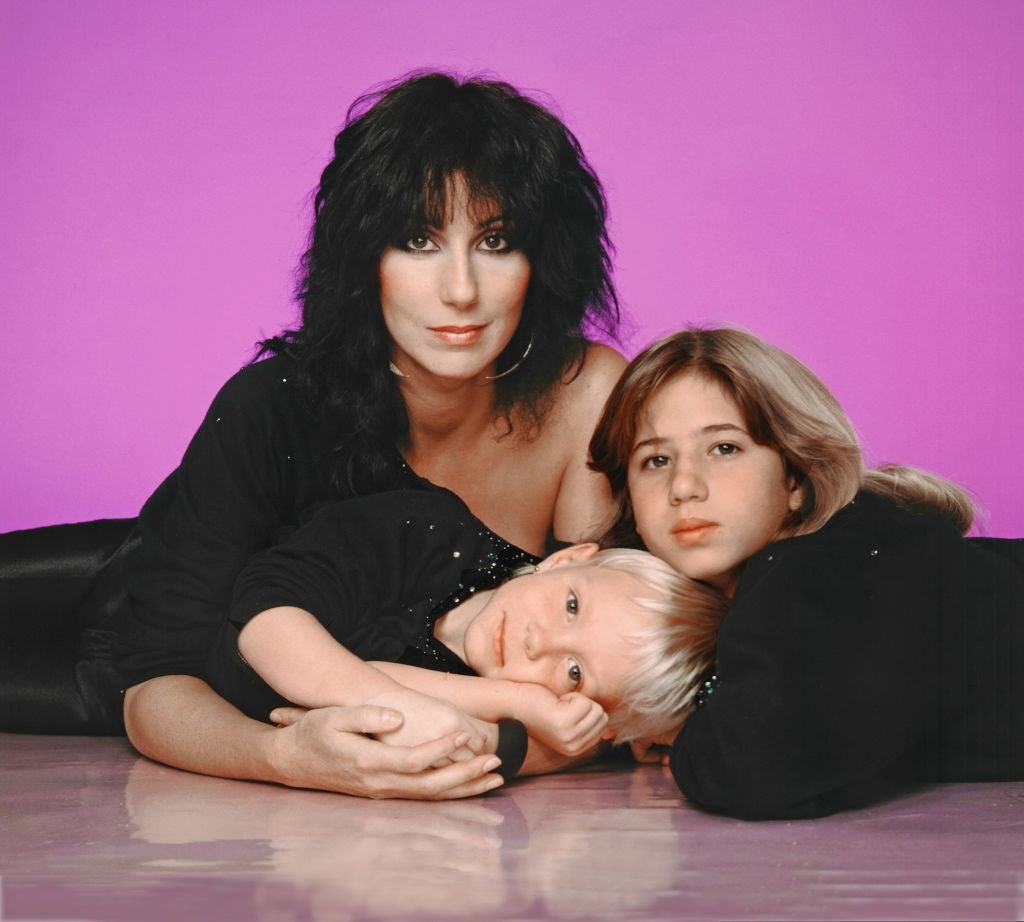 Cher with children Chaz Bono and Elijah Blue Allman posing for a portrait in 1980 in Los Angeles | Photo: Getty Images
Her life seems like the story of a Hollywood film. She has always managed to overcome thousands of obstacles before her, becoming stronger than before.
A woman who, over the years, has become a timeless legend and is still ready to amaze us today. Without a doubt, she has earned the title the "Goddess of Pop."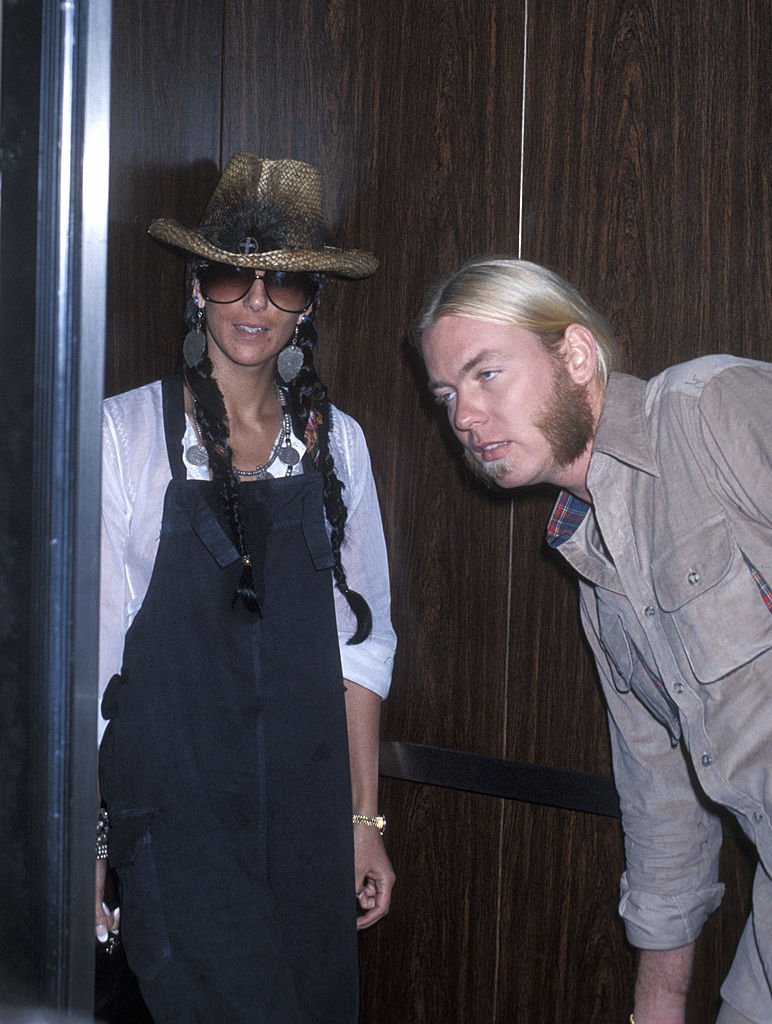 Cher and Gregg Allman on November 5, 1977, as they arrive at JFK Airport in New York | Photo: Getty Images
CHER AND ALLMAN
The couple met in January 1975 in Los Angeles while Cher was on a date with music mogul David Geffen. Allman recalls feeling rude for not greeting the singer after being star-struck by her presence. In his memoir, he said:
"She smelled like I would imagine a mermaid would smell."
Fortunately, he was able to get hold of her number and called her the next day to go on a date. The former couple eventually went out and, while first dates are usually romantic, theirs was the ultimate disaster.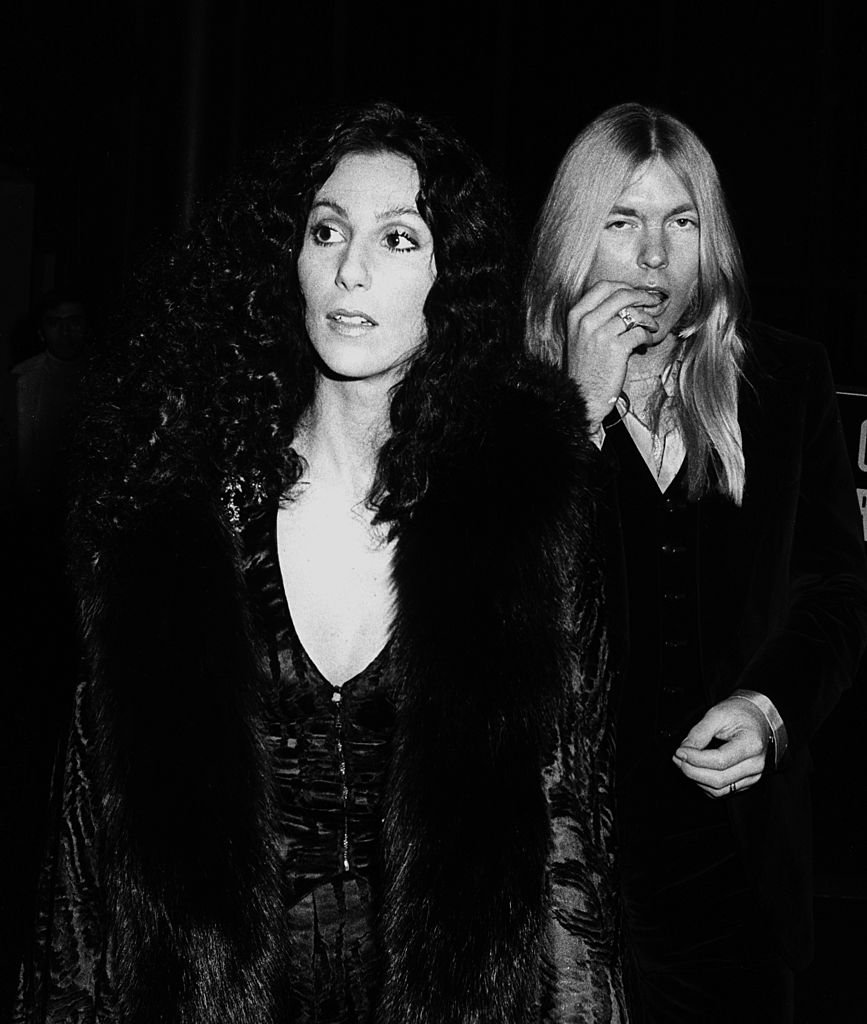 Cher and Gregg Allman at the Jimmy Carter and Walter Mondale Inaugural Party on January 20, 1977, in Washington | Photo: Getty Images
Before the date was over, Allman had passed out in the toilet from his heroin abuse. However, she gave him a second chance, and they went out on a second date.
For their second date, they went out to the disco. Allman confessed that he didn't know how to dance, but he did some dirty dancing after having 21 drinks. Meanwhile, Cher had only one drink the entire night.
Cher and Gregg Allman, on January 21, 1977, leaving the Georgetown Inn in Washington | Photo: Getty Images
Six months after their first meeting and three days after her divorce from Bono were finalized, Cher and Allman tied the knot in Las Vegas on June 30, 1975. This was a decision she immediately regretted.
Ten days later, Cher filed for a divorce as she could no longer cope with Allman's drug and alcohol addiction. When she called to inform him of the dissolution, she revealed that he was so high that he didn't understand what was happening.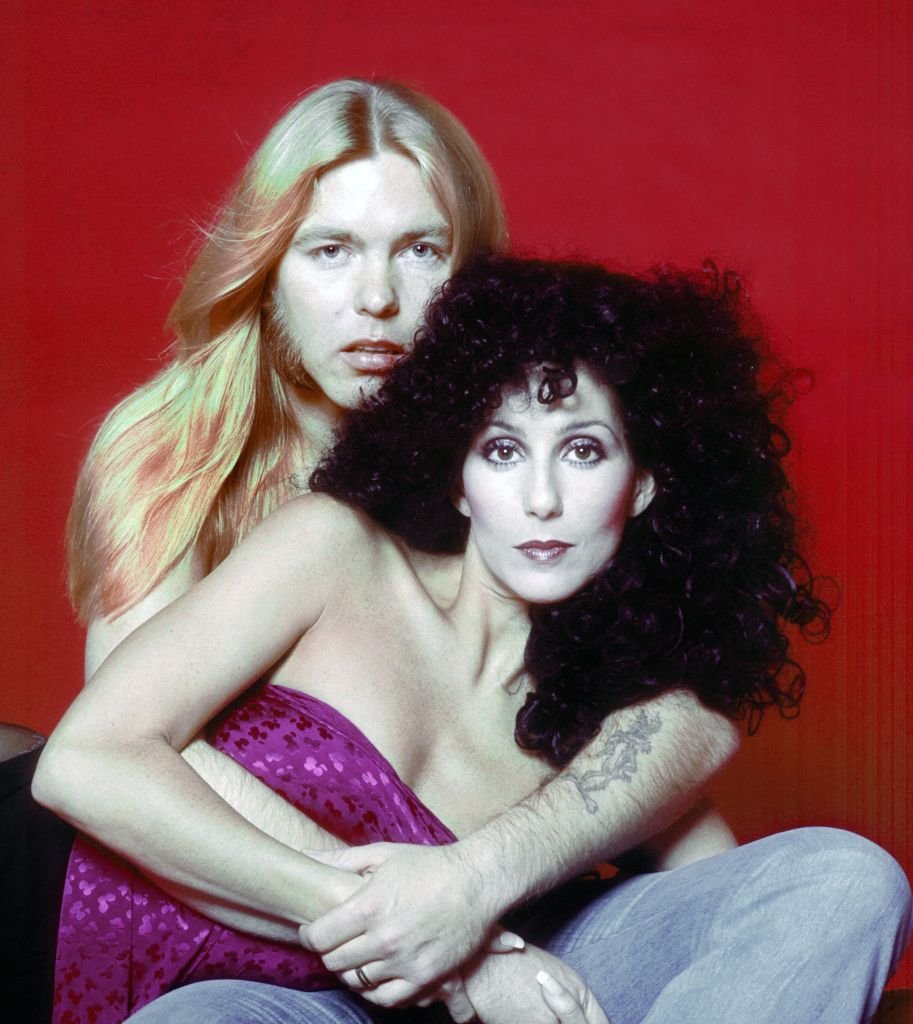 Cher and Gregg Allman pose for a portrait in 1977 in Los Angeles | Photo: Getty Images
When Allman finally realized what had happed, he decided to straighten up his act and win her back. His efforts seemed to make an effort since the couple reconciled and tried to make things work.
During this period, Cher reteamed with Bono, her ex-husband, for the "Sonny and Cher Show." The working relationship with her ex-husband was not something Allman could handle, so he filed for a divorce.
Once he learned that Cher was pregnant by him, he decided to stick around. On July 10, 1976, Cher gave birth to their son, Elijah Blue Allman.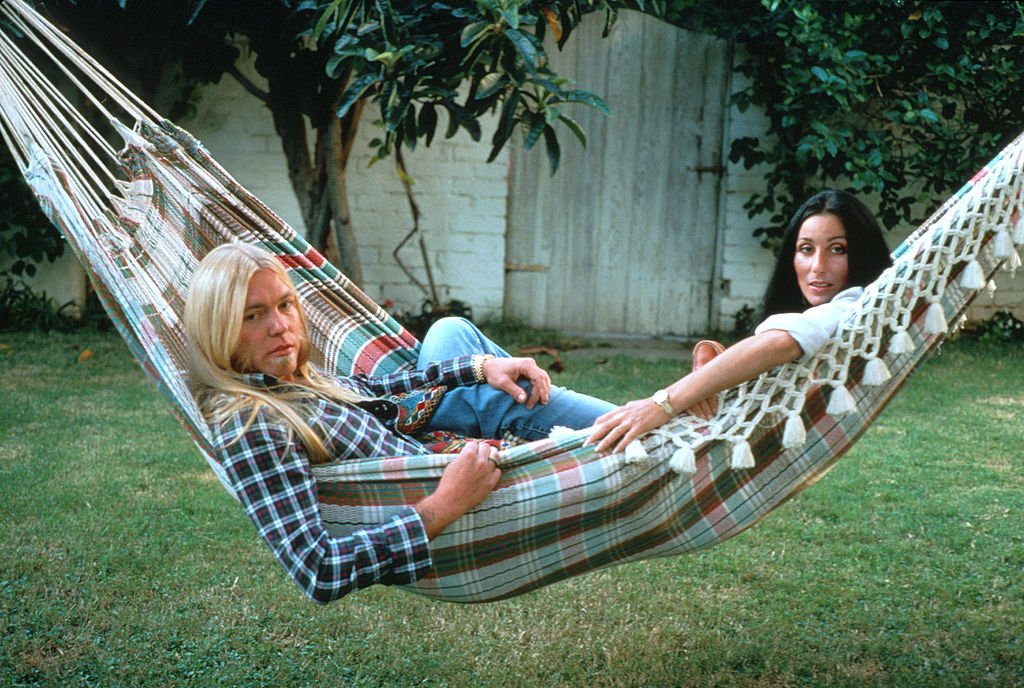 Cher and Gregg Allman pose for a portrait in a hammock at their home on October 30, 1977, in Beverly Hills | Photo: Getty Images
Their son is known as the lead singer and guitarist in the Deadsy band. His parents inspired his desire to be a musician, and he received his first guitar at 13.
Cher and Allman decided to do music and tour together. However, with fans not fully appreciating their sound, Allman's addictions resurfaced in 1977.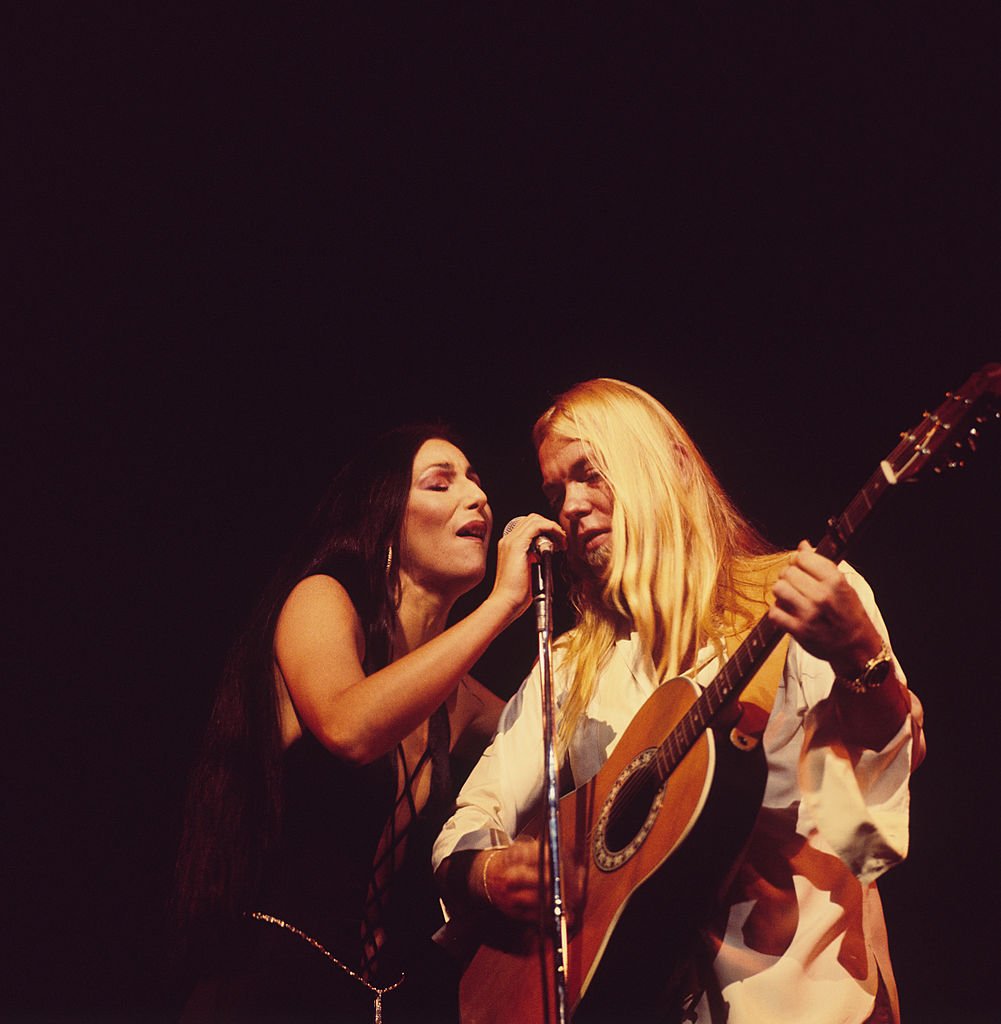 Cher and Gregg Allman perform on stage at the Rainbow Theatre in London, England on November 24, 1977 | Photo: Getty Images
On January 16, 1979, their divorce was finalized. Irrespective of the ups and downs they faced, Cher would always remember Allman fondly.
On May 27, 2017, Allman, who was only 69, died after a battle with liver cancer. Although they may have lived different lives following their divorce, Cher was affected by his passing.
Please fill in your e-mail so we can share with you our top stories!