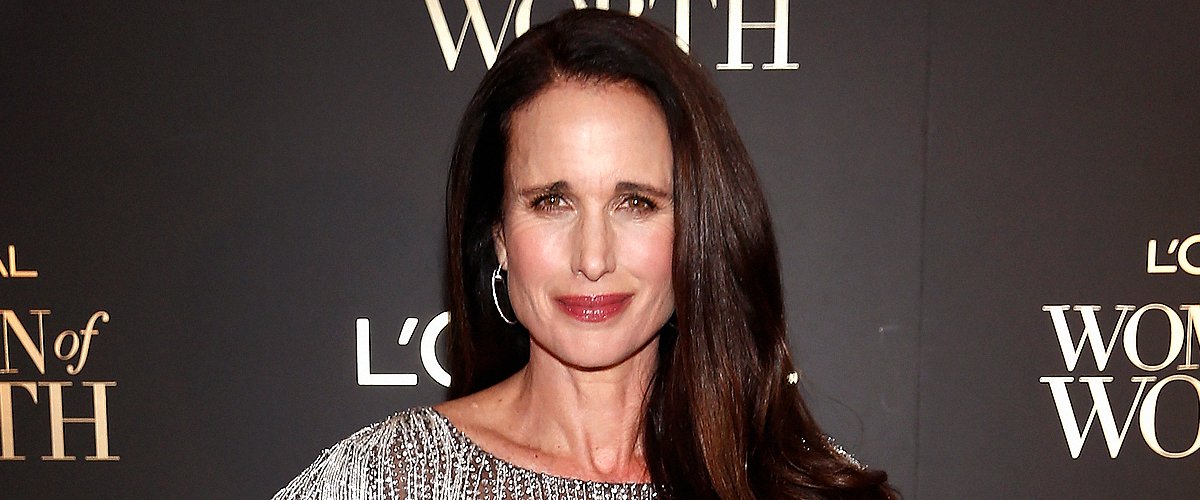 Getty Images
Andie MacDowell Didn't See Her Classmate in Decades - Later Her Sister Reintroduced Them
When Andie MacDowell decided to "enjoy life and not look for anyone," the A-lister crossed paths with her former high school classmate. After two years of dating, they tied the knot in a private ceremony.
Everyone can relate to having a crush in high school. However, not many can relate to their crush becoming an A-lister. The aforementioned is a scenario that Actress and Model Andie MacDowell made a reality after marrying a former schoolmate.
MacDowell and Rhett DeCamp Hartzog tied the knot in 2001 in a private ceremony in Asheville, N.C. However, after three years, the couple filed for divorce. MacDowell planned to walk down the aisle a third time in 2006, but it never happened.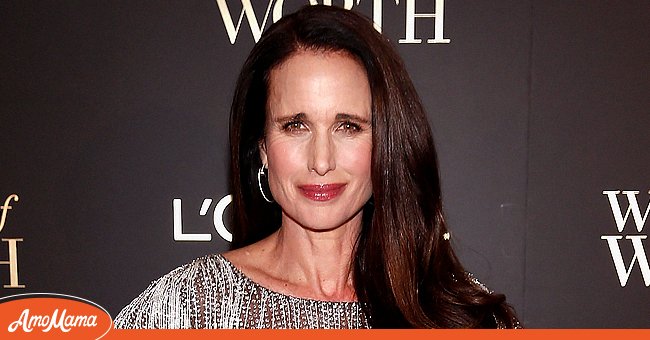 Andie MacDowell attends the L'Oréal Paris Women of Worth Celebration at The Pierre Hotel on December 5, 2018 in New York City. | Source: Getty Images
FIRST MARRIAGE
63-year-old Hollywood actress married her first husband, fellow former Model Paul Qualley. They met while working together on a campaign for Gap. The former couple had three children, Justin, 35, Rainey, 31, and Margaret, 28.
The "Four Weddings and a Funeral" actress didn't detail why she and Qualley decided to part ways. Her only remark on the split in 2002 was that it was for "the usual reasons."
Online publication Nicki Swift stated that apparently, MacDowell was frustrated with their rural life. The former couple lived on a 457-acre ranch in Montana and had a simple life.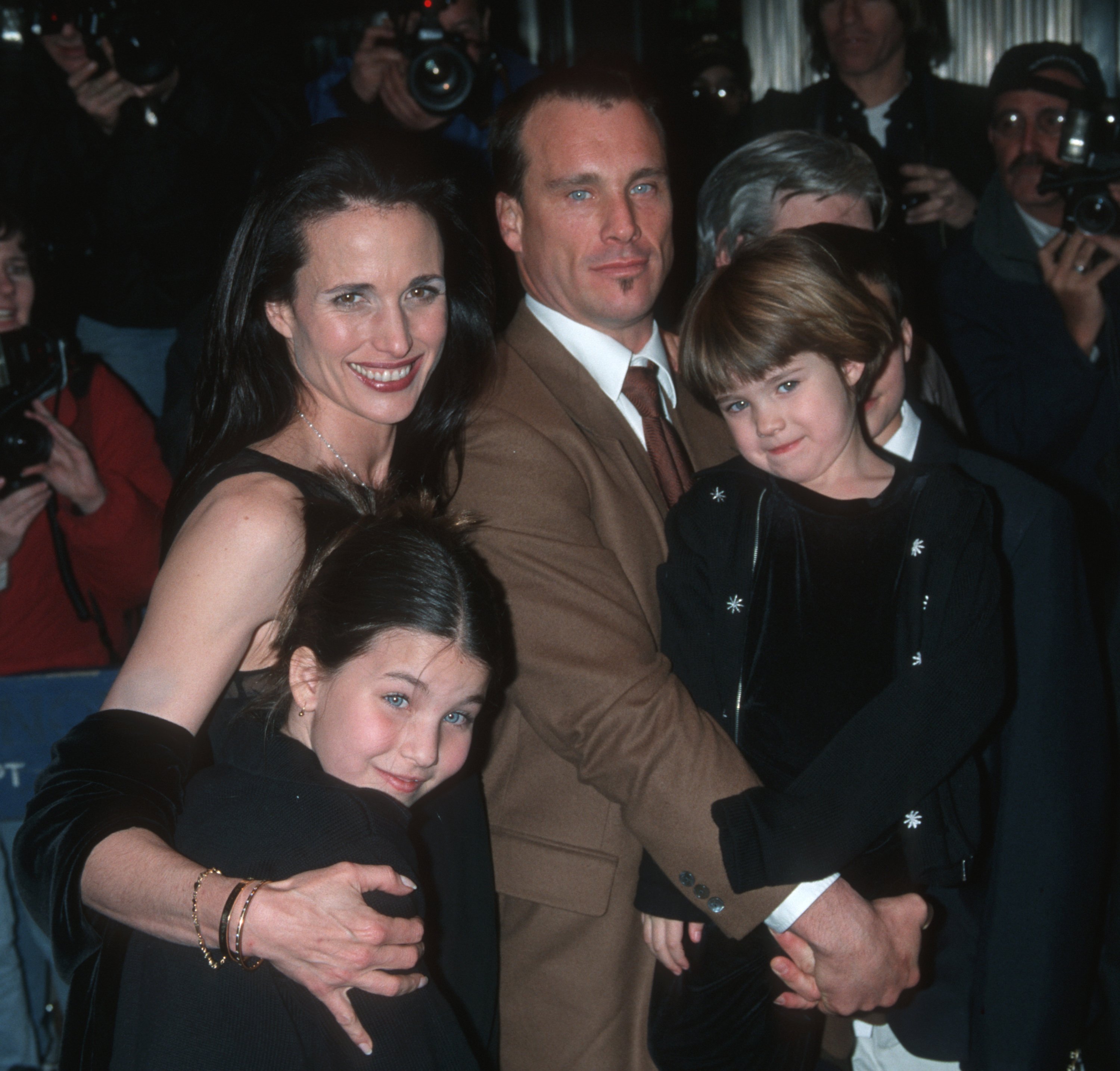 Andie MacDowell, Rainey Qualley, Paul Qualley and Margaret Qualley at the Cinema II in New York City, New York. | Source: Getty Images
In 1998, they moved to South Carolina to be close to MacDowell's sister. But a year later, they divorced. The former couple's youngest daughter, "Maid" Actress Margaret, later described how her parents were different.
Margaret said that her father's house had "no TV, no computers, no wi-fi, no microwaves." In contrast, her mother preferred a modern lifestyle. Nowadays, MacDowell has a cordial relationship with her first husband.
SECOND MARRIAGE
After nearly two years of filing for divorce from Qualley, the "Groundhog Day" actress wed again. MacDowell graduated from Gaffney High School in South Carolina in 1976, where her second hubby, Rhett DeCamp Hartzog, finished a year later.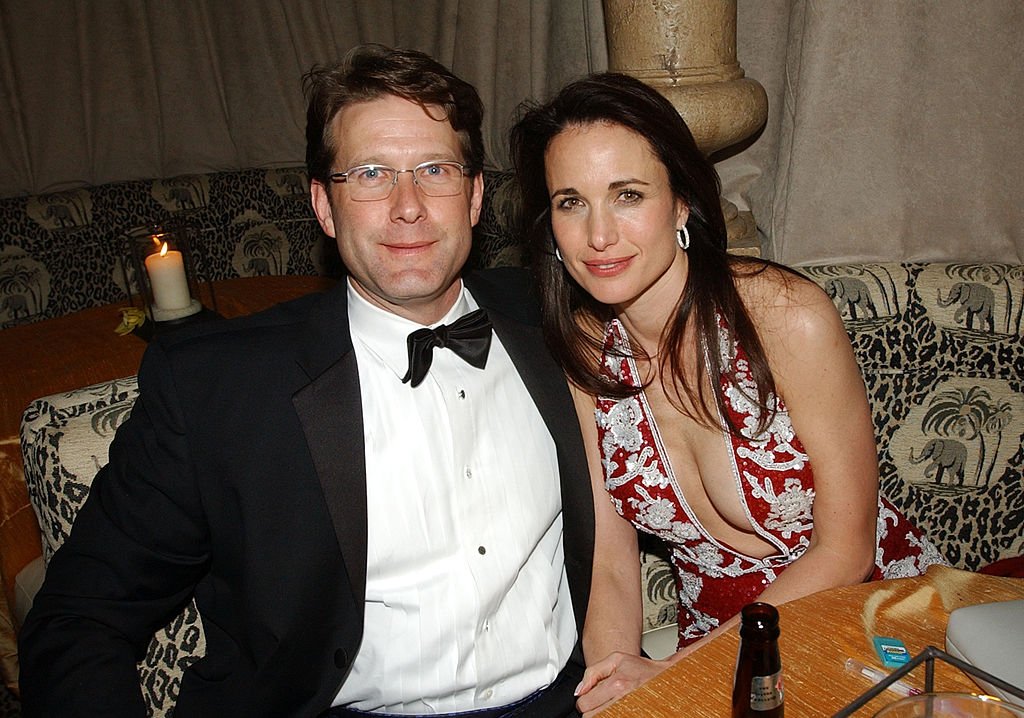 Andie MacDowell & Rhett DeCamp Hartzog at the HBO after-party at the Golden Globe Awards at the Beverly Hilton Hotel in Beverly Hills, California January 20, 2002. | Sourc: Getty Images
They hadn't seen each other for decades but were re-introduced by MacDowell's sister. Surprisingly, the duo dated for two years before tying the knot after having lunch together in Atlanta.
The Jewelry Businessman proposed to MacDowell over dinner at the Grove Park Inn in Asheville. Hartzog revealed he'd always found MacDowell beautiful "but never acted on her" and was happy when she made a move and invited him for lunch:
"I was very happy to hear from her. We just talked about friends and family and her career. She was as down to earth and as sweet as she's ever been."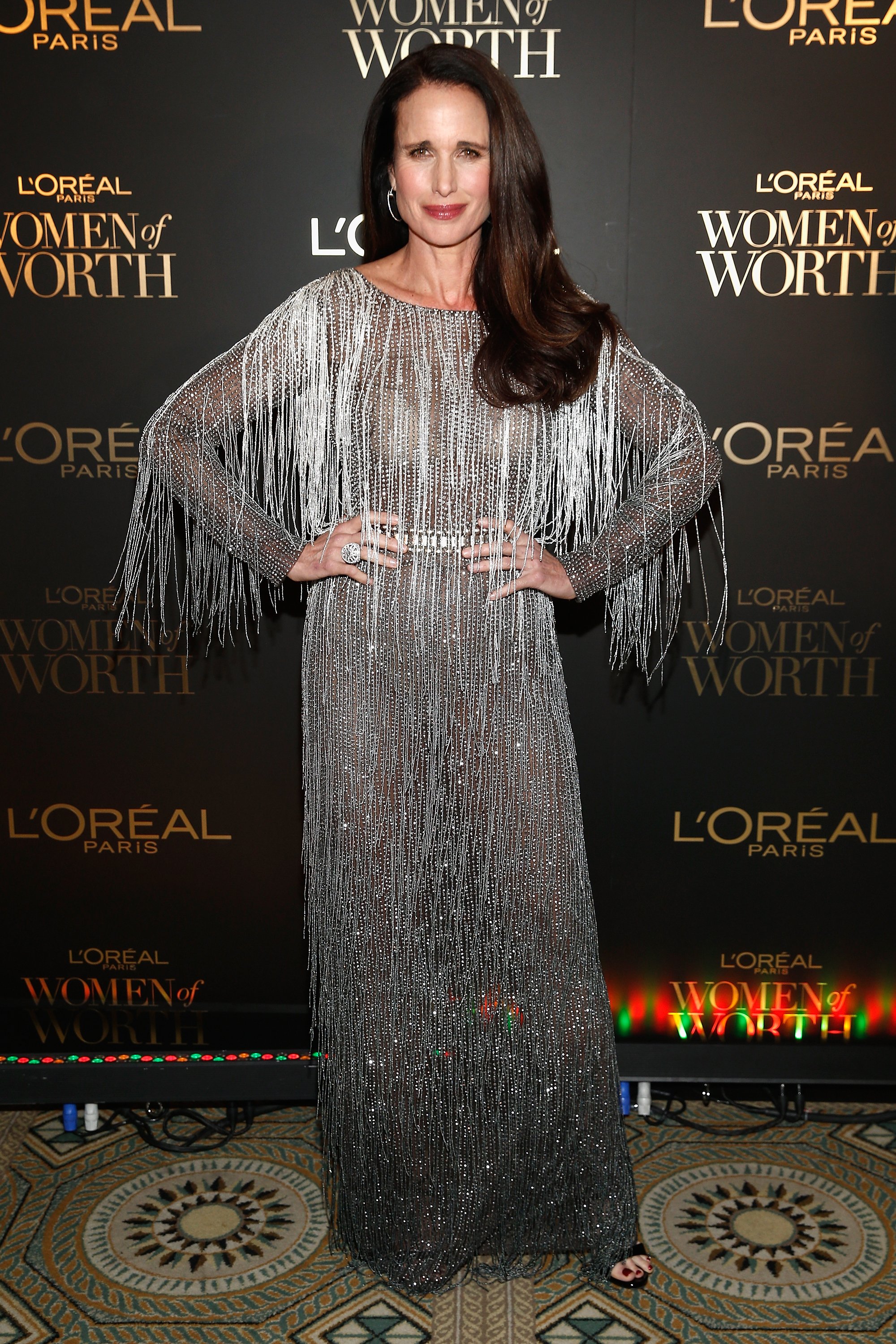 Andie MacDowell attends the L'Oréal Paris Women of Worth Celebration at The Pierre Hotel on December 5, 2018 in New York City. | Source: Getty Images
MacDowell was born Rosalie and is known among friends and family members as Rosie. Hartzog once expressed that sharing the same background may have been the reason that attracted the A-lister to him.
Apart from his closest friends, the diamond and jewelry business owner kept his relationship secret with "Rosie" for a year. MacDowell's older sister said that her story with Hartzog looked like a fairytale:
"She wanted time alone and had the usual collection of frogs she dated, so she decided 'I'm just going to enjoy life and not look for anyone. And that's when it came."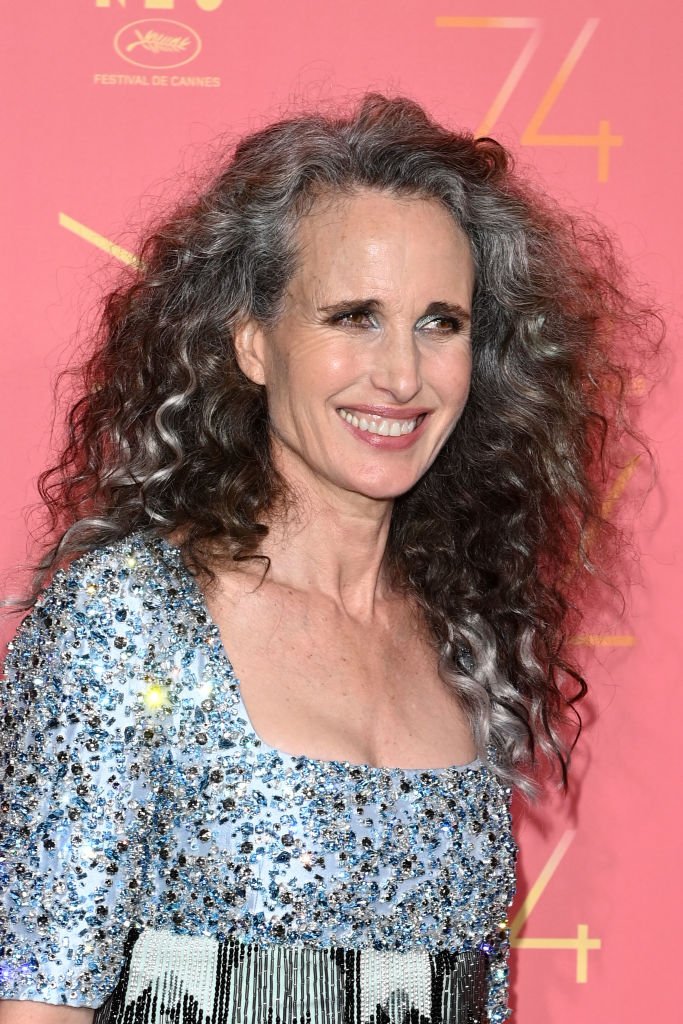 Andie MacDowell attends the opening ceremony gala dinner of the 74th annual Cannes Film Festival on July 06, 2021 in Cannes, France. | Source: Getty Images
Despite the fairytale status, the marriage didn't last, and after three years of marital bliss, they part ways.
THIRD MARRIAGE… ALMOST
In 2006, news about a third marriage surfaced in the media. People Magazine had announced MacDowell's engagement to Businessman Kevin Geagan.
A common friend introduced the couple in Ashville, N.C. and Geagan popped the question within a few months. However, the pair never got married, and the engagement eventually ended.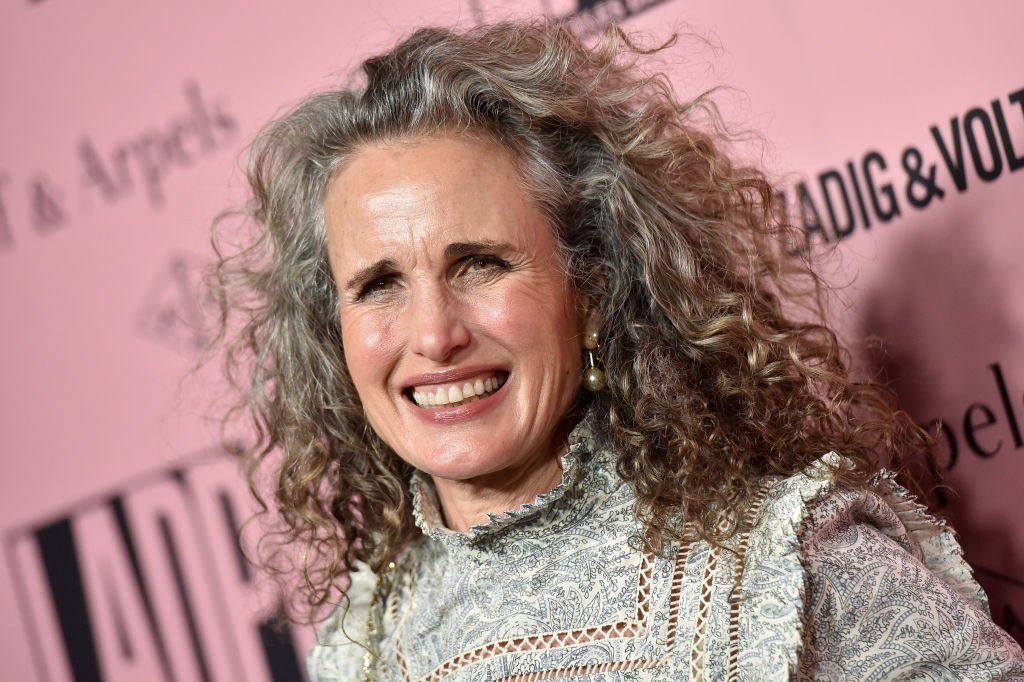 Andie MacDowell attends the L.A. Dance Project Annual Gala on October 16, 2021 in Los Angeles, California. | Source: Getty Images
In recent years, the now single MacDowell has been living in LA and experimenting with "a big city life." She's an empty nester and dealing with solitude:
"I do know from experience what's it like to be alone, but I am good at it. And I do know sadness. You can't get to my age without having felt some kind of intense pain."
LIFE AND CAREER
At 23, MacDowell worked as a model in Paris when her mother passed away of heart failure. She was 53 and was an alcoholic, and the A-lister took care of her throughout the years before she died.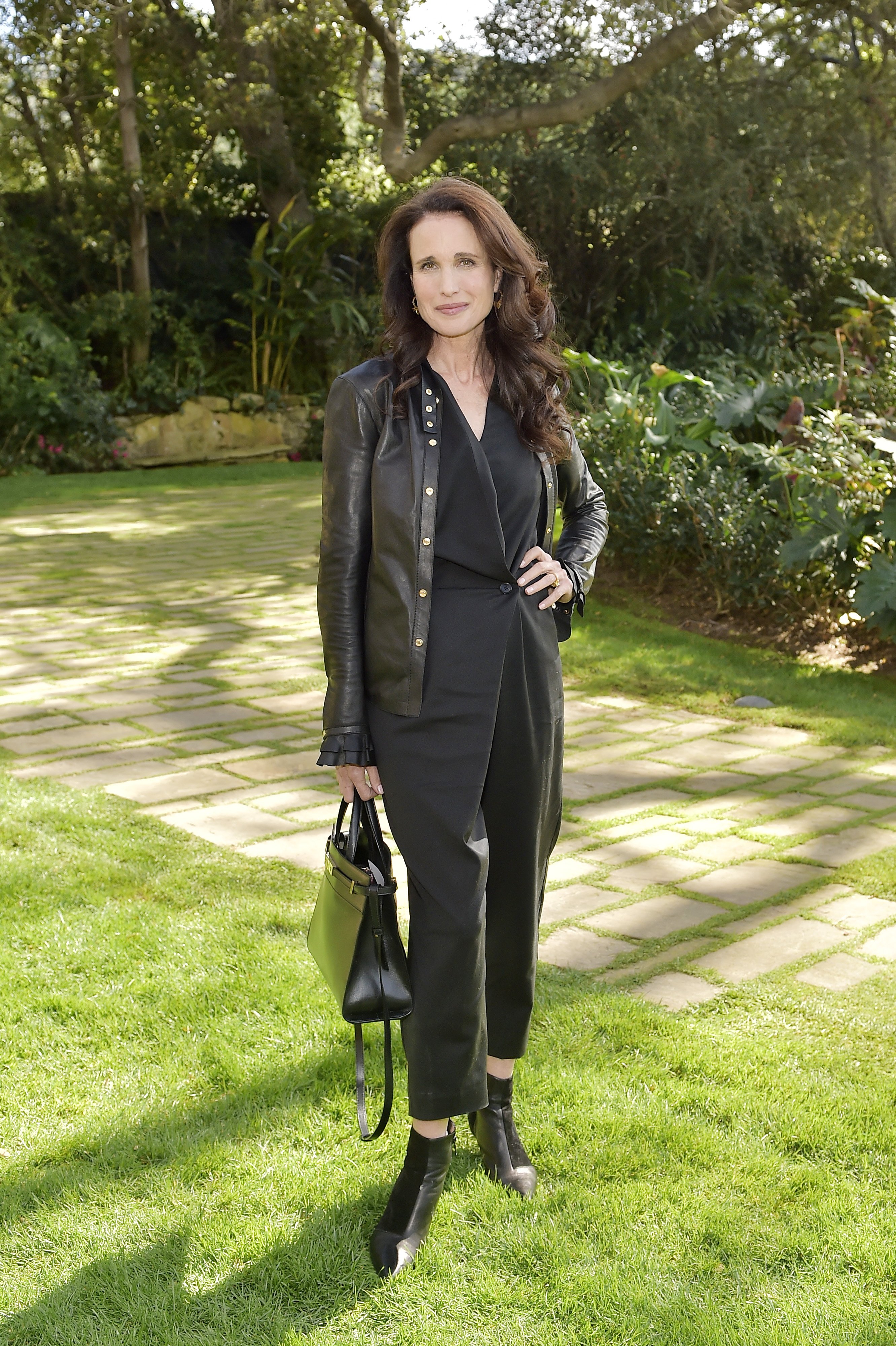 Andie MacDowell attends Diane von Furstenberg and Academy Museum of Motion Pictures Host 6th Annual Oscars Luncheon to Celebrate Female Nominees at Private Residence on February 05, 2020 in Beverly Hills, California. | Source: Getty Images
When she was 16, MacDowell and her mother worked together at McDonald's — her mother was fired due to her alcoholism. MacDowell assumed that her mother was constantly drunk, as she never saw her sober:
"I thought she was sober enough to work that day, but I misjudged. Because I never saw her sober, I never knew what was sober enough."
Fortunately, the L'Oreal spokeswoman and model revealed that they got along well and had a good relationship despite her mother's addiction.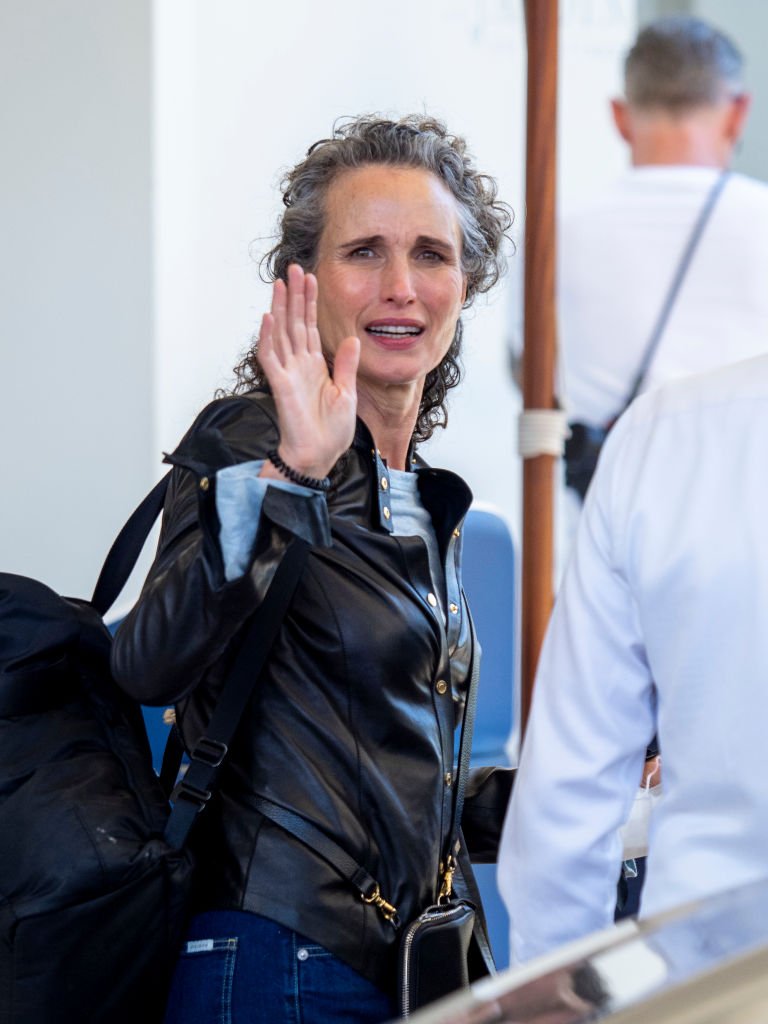 Andie MacDowell is seen at the Martinez Hotel during the 74th annual Cannes Film Festival on July 09, 2021 in Cannes, France. | Source: Getty Images
MacDowell started her career as a model, and she worked with renowned brands such as Calvin Klein, Yves Saint Laurent, Vassarette, and Armani. Her debut as an actress was in "Greystoke: The Legend of Tarzan, Lord of the Apes" in 1984.
Five years later, she received accolades for her performance in "Sex, Lies, and Videotape." She won the Independent Spirit Award for Best Female Lead Actress and was nominated for a Golden Globe.
Her outstanding performances and nominations led her to a series of starring roles in other films. She appeared in titles such as "Short Cut," "Green Card," "Groundhog Day," and "Four Weddings and a Funeral."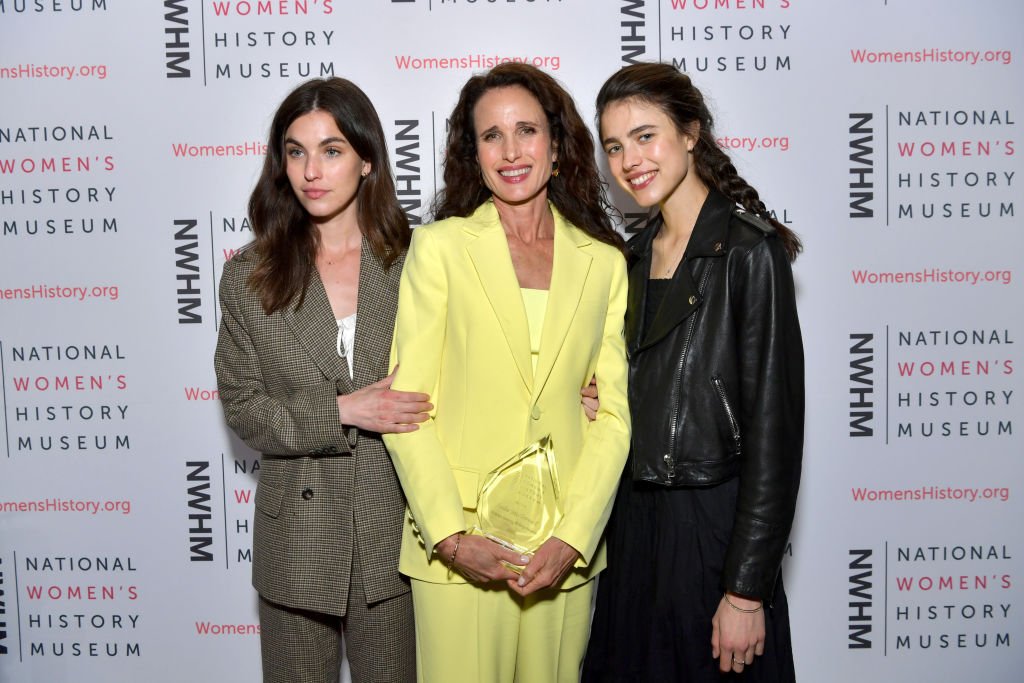 Rainey Qualley, honoree Andie MacDowell and Margaret Qualley attend the National Women's History Museum's 8th Annual Women Making History Awardsat Skirball Cultural Center on March 08, 2020 in Los Angeles, California. | Source: Getty Images
In the past few years, MacDowell has mostly been seen in L'Oreal's campaigns and TV shows, such as the BBC sitcom "Cuckoo," Hallmark Channel's "Cedar Cove," and ABC Family series "Jane By Design."
This year, we can see MacDowell alongside her youngest daughter Margaret Qualley costarring Netflix's "Maid." The drama series is based on Stephanie Land's book, and MacDowell's daughter takes on the lead role.
Please fill in your e-mail so we can share with you our top stories!