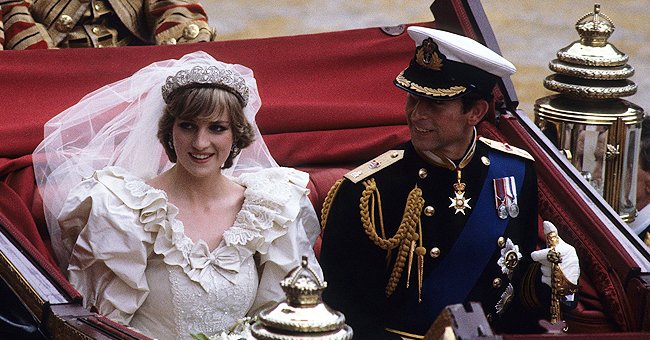 Getty Images
Prince Charles Reportedly Had to Be 'Coaxed to the Altar' on His Wedding Day to Lady Diana

Prince Charles reportedly was so afraid to marry Diana, Princess of Wales, that he had to be coaxed to the altar. However, he was not the only one with second thoughts.
It has been over two decades since Prince Charles and Diana, Princess of Wales, formally divorced. Nevertheless, their unhealthy relationship keeps making headlines.
In the unauthorized biography "Charles: Heart of a King," author Catherine Mayer revealed hidden details of the days before Diana and Charles's July 29, 1981 wedding. The book included why they almost didn't make it to the altar.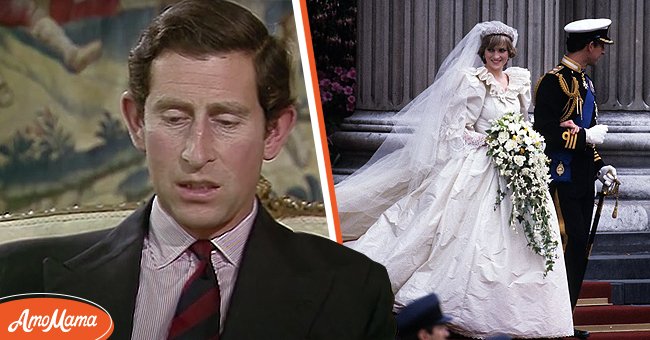 Prince Charles during his 1985 tell-all interview with ITN [left]. Prince Charles and Diana, Princess of Wales following their wedding on July 29, 1981 in London, England [right] | Photo: Getty Images
CHARLES GOT COLD FEET
On the eve of the ceremony, held at St. Paul's Cathedral in London, Charles allegedly told an aide that he couldn't go through with the wedding. Like Diana, he knew their relationship was flawed and destined to fail.
Apart from that, the Prince of Wales was worried that he was rushing to marry a woman he hardly knew. It is important to point out that they were engaged for only five months and had a brief courtship.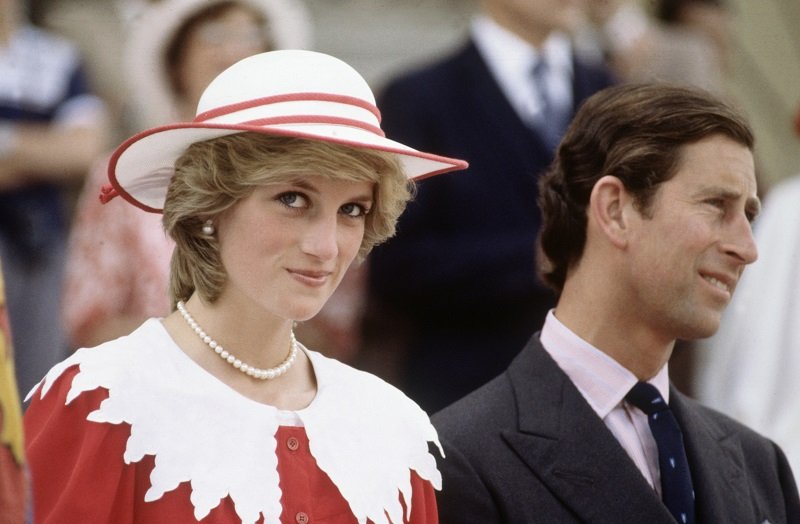 Diana, Princess of Wales and Prince Charles on June 29, 1983 in Edmonton, Alberta, Canada | Photo: Getty Images
Charles realized Diana was not the "jolly country girl" he thought she'd be during those months. Instead, she was a vulnerable and complex woman dealing with an eating disorder.
One of Charles's friends added that he was not truly committed to the relationship. He further stated that if they had a Catholic marriage, it could have been declared null.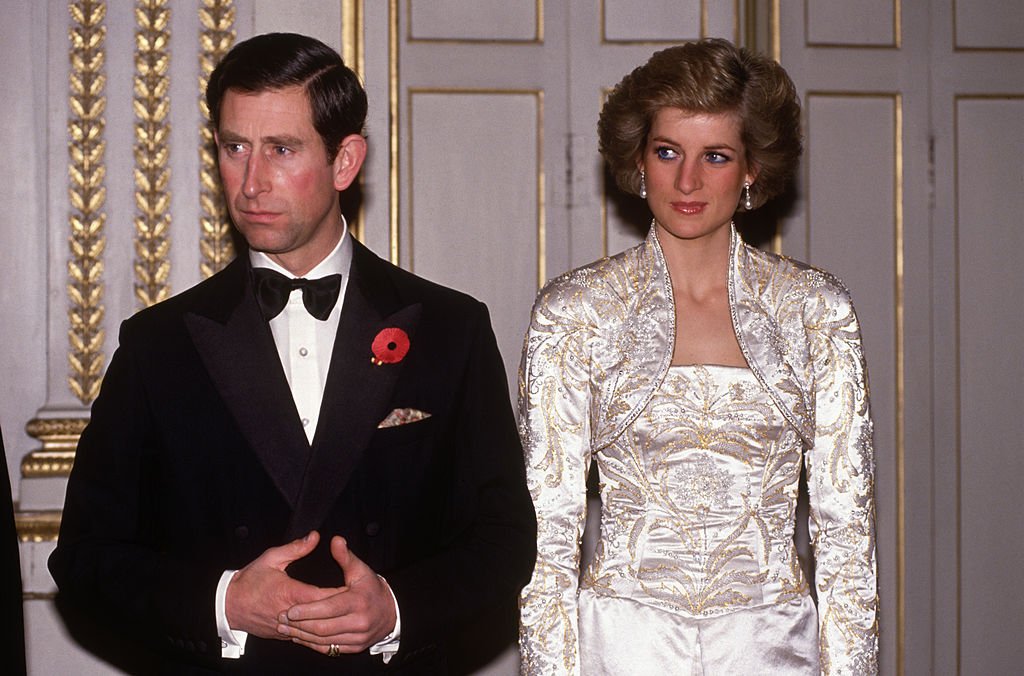 Prince Charles and Diana, Princess of Wales in Paris, France in November 1988 | Photo: Getty Images
The Prince of Wales was supposedly "desperate," and astrologer Penny Thornton, who Diana frequently consulted, once backed up that statement. She revealed that Charles told Diana he didn't love her the night before the wedding.
Thornton believed Charles didn't want to walk down the aisle "on a false premise," so he tried to clarify things with her. However, it was a devastating blow for Diana.
[Diana] told her sisters that she couldn't marry him as it was "absolutely unbelievable."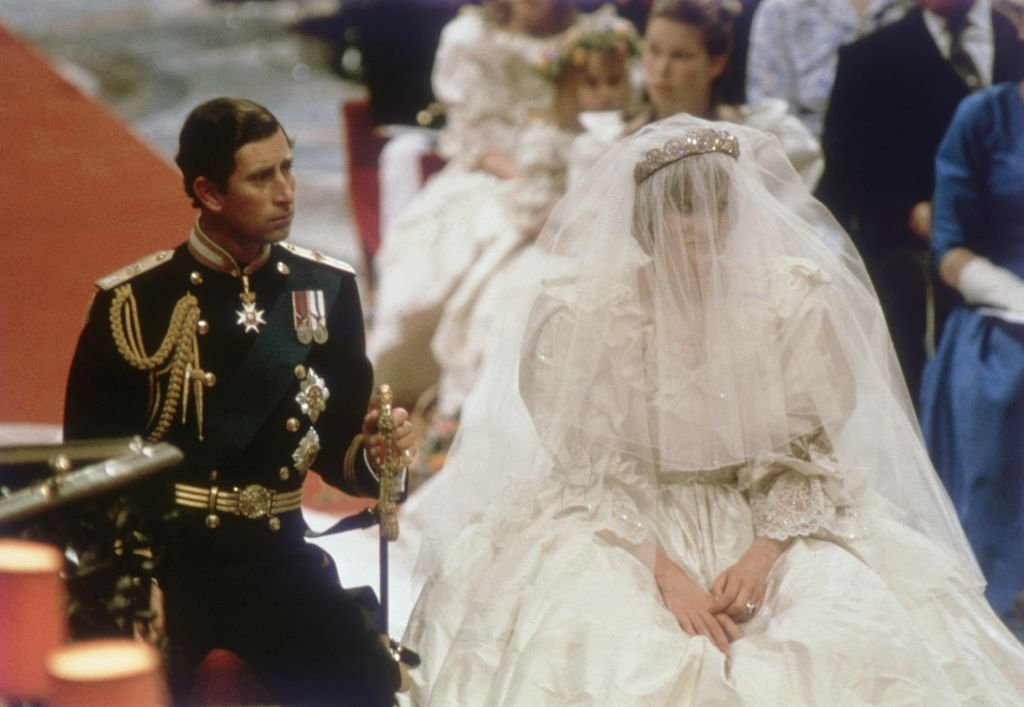 Charles, Prince of Wales, with his wife, Princess Diana at St. Paul's Cathedral on July 29, 1981 | Photo: Getty Images
DIANA'S SECOND THOUGHTS
Learning that the person you are supposed to spend the rest of your life with doesn't love you one day before saying "I do" must be heartbreaking. Diana knew it firsthand, so she considered not attending the wedding.
That was not the only reason she had second thoughts, though. Diana was also aware of Charles and Camilla Parker-Bowles's romance. Diana found a bracelet intended for Camilla with the letters "G" and "F" engraved among a pile of wedding presents and cards.
Although it is unclear what those letters stood for, she believed they meant "Gladys" and "Fred." The names were significant because they were Camilla and Charles's pet names inspired by characters from "The Good Show."
Prince Charles and Princess Diana on November 3, 1992 in South Korea | Photo: Getty Images
Diana knew that her future husband and his ex-girlfriend used those nicknames to call each other. She picked up on the names from some of Charles's friends and a note he had previously left behind.
Another possibility for the initials was that they stood for "Girl Friday." Girl Friday was also the Prince of Wales's pet name for Camilla back then based on the film "His Girl Friday."
Nonetheless, the letters were irrelevant next to the idea that Charles had planned to give a bracelet to Camilla – his ex-girlfriend – right before marrying Diana.
The People's Princess told her sisters that she couldn't marry him as it was "absolutely unbelievable." However, they told her that backing out was impossible because her face was already on the tea towels.
According to Mayer, whose biography was labeled "controversial" for how Charles was depicted, Diana was unaware that her groom had to be "coaxed to the altar."
DIANA'S WORST DAY EVER: HER WEDDING
National Geographic's documentary "Diana: In Her Own Words" shed light on Diana and Charles's wedding, which the Princess of Wales described as the "worst day" of her life.
On their honeymoon, Diana confronted Charles after seeing the gift Camilla had given him: a pair of cufflinks with two Cs entwined. Diana explained:
"I said, 'Camilla gave you those, didn't she?' He said, 'Yes, so what's wrong? They're a present from a friend.' And, boy, did we have a row. Jealousy, total jealousy."
Diana and Charles's 15-year marriage was destined to fail right from the start. During her 1995 interview with the BBC, Diana revealed that Charles was not the only one involved in affairs during their marriage.
Initially, the Princess of Wales famously told reporter Martin Bashir that her marriage was "a bit crowded" because there were three people in it, referring to Camilla.
Diana confronted Camilla by telling her she knew she was Charles's mistress.
She then confirmed she was romantically involved with former cavalry officer James Hewitt. Their connection was so strong that Diana admitted she was in love with him.
Her interview with the BBC has been frowned upon for years. Bashir allegedly coerced Diana into speaking out by faking bank statements to make her believe her closest confidants were spying on her for her enemies.
THE LOVE TRIANGLE
For years, people wondered why Charles didn't marry Camilla instead of Diana as it would have prevented years of heartbreak and affairs. The main reason was that Camilla lacked an aristocratic bloodline.
In addition, she didn't seem "virginal" enough to become a royal wife. It is also essential to remark that Camilla was married to Andrew Parker Bowles when Charles and Diana tied the knot.
When Charles served in the Royal Navy in the early 1970s, she married Andrew and broke Charles's heart. They remained close friends and rekindled their romance in the late 1970s.
In the late 1980s, after Charles and Diana welcomed Princes William and Harry, Diana confronted Camilla by telling her she knew she was Charles's mistress. Camilla responded:
"'You've got all the men in the world fall in love with you and you've got two beautiful children. What more do you want?' So [Diana] said, 'I want my husband.'"
Diana also told Camilla she was sorry for being in their way as she knew it was probably "hell" for them. But she also asked Camilla not to treat her like "an idiot."
The confrontation didn't do much as Charles and Diana separated in 1992 and officially divorced in 1996. In August 1997, the People's Princess and her boyfriend, Dodi Al-Fayed, died in a car accident.
In 2005, three decades after their relationship started, Charles and Camilla tied the knot in a groundbreaking ceremony. A future king had never married a divorced woman before, making their union extraordinary.
Please fill in your e-mail so we can share with you our top stories!