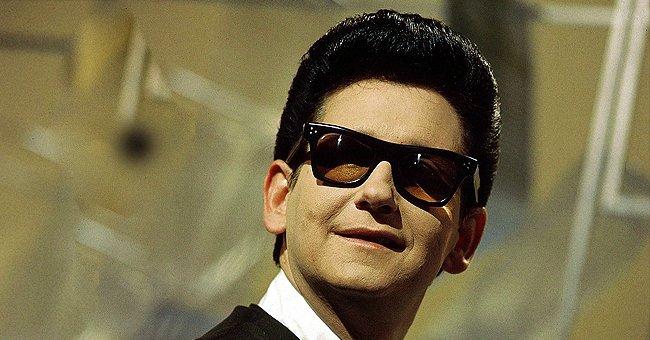 Getty Images
Roy Orbison's 1st Wife Died in His Arms at 27 - Their 2 Kids Died in House Fire 2 Years Later
It was no news that Roy Orbison, the singer with excellent vocals, was a famous personality in his time, but he also faced an overwhelming tragedy, including the death of his loved one and the loss of his home.
Roy Orbison, also called "The Big O," distinguished himself among the stars of his generation. He was great at delivering impeccable on-stage performances and stole the hearts of many with his exquisite handling of musical instruments. These instruments included guitar and harmonica.
His voice was incomparable when switching from incredibly high notes to a low tune. The superstar created a successful career, inspiring many top figures like Bruce Springsteen, Paul McCartney, and Bob Dylan.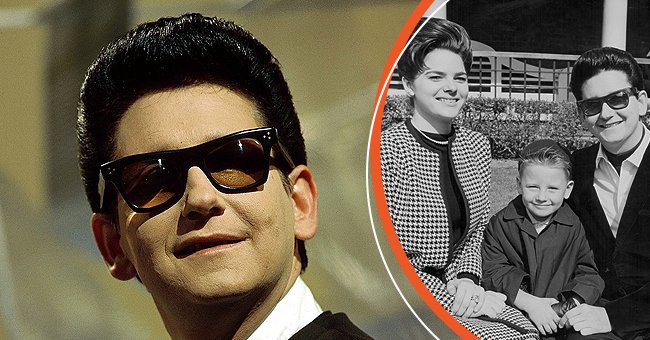 American singer, guitarist and musician Roy Orbison (1936-1988) performs on 'Thank Your Lucky Stars' television show for ABC Weekend Television [left]. Portrait of musician Roy Orbison, with his wife Claudette and son Roy Jr, in the gardens at Dolphin Square, London, April 9th 1964 [right] | Photo: Getty Images
Sadly, he passed away at age 52, unable to accomplish some new goals, which he set out to do before his demise. Still, his contributions during his life live on and would not fade away irrespective of the years or innovation in the entertainment industry.
Music was not the only thing that connected people to the icon, his personal life was intriguing, and a few hardcore fans were neck deep into his story.
However, some publications have presented new sources over the years, making it easier for Orbison's disciples to understand the kind of man he truly was.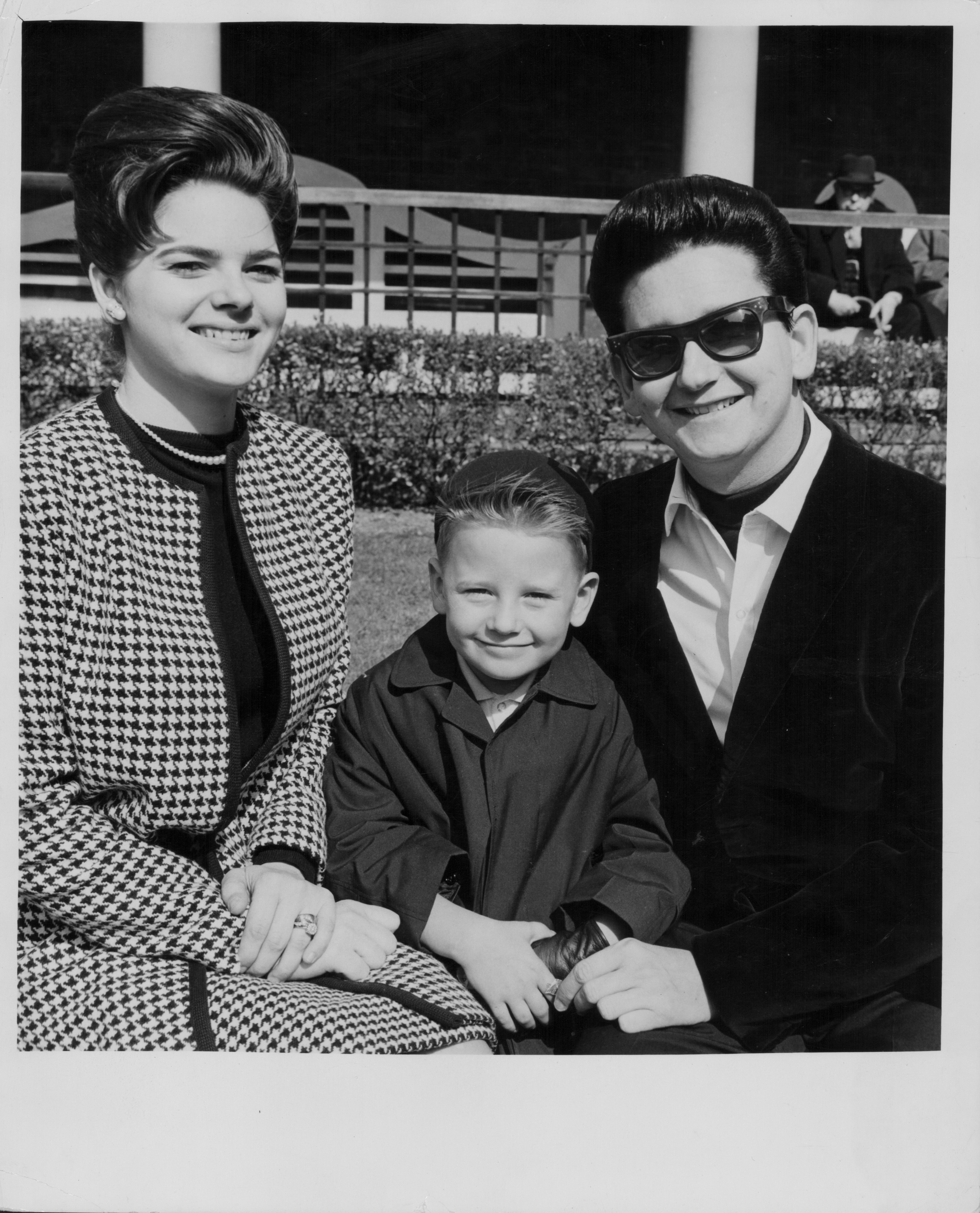 Portrait of musician Roy Orbison, with his wife Claudette and son Roy Jr, in the gardens at Dolphin Square, London, April 9th 1964 | Photo: Images
ROY ORBISON'S EARLY LIFE
Orbison was born in 1936 and grew up in Texas. He became familiar with melody at a young age after receiving his first guitar on his sixth birthday.
As a young boy, he was in love with country music, and he made two great country artists, Hank Williams and Lefty Frizzell, his role models.
The Texas native studied the superstars to the letter but reinvented himself when making his music. He added complexities to the tone of his voice, which made him distinct from others.
Two years after receiving the guitar, he brushed up on his musical prowess and began airing on local radio shows.
When he got to high school, Orbison formed a band named "Wink Westerners," They made music by drawing inspiration from country music and Glenn Miller tunes.
The "Wink Westerners" became so popular in their town that they earned money after featuring on a local gig. Their first pay was about four hundred dollars.
Orbison saw that he could make money from writing and performing songs, which came naturally to him. He began rubbing shoulders with some top acts like Elvis Presley and Sam Phillips.
He soon realized his worth, as did those around him. A famous music group, "The Everly Brothers," worked with the singer and somehow brought him to the limelight after the success of his "Claudette" song.
The songwriter found fame across the nation and Europe, where his songs like "Over" and "Oh Pretty Woman" topped the charts. When writing his content, Orbison would leave his family, his wife, Claudette, and their firstborn.
The singer often drove away for inspiration and came back with a handful of words that were eventually accepted by many through his music. He was also conscious of his appearance; he loved to look good.
But Orbison struggled with his vision, so he created a signature look by wearing dark sunglasses on-stage. That was not the only reason he wore sunglasses.
Despite his superb talent, the man was shy and had stage fright, and the glasses helped him hide and promote the notion that he was blind.
ORBISON'S FIRST MARRIAGE
Before fame, Orbison was already a married man with a son. Although he often got away from his family to pen down songs, on one occasion, Claudette motivated him to script down the words in his "Oh Pretty Woman" song.
The hitmaker teamed up with Bill Dees for a song when his wife interrupted the meeting to tell him of her Nashville trip. She yelled the catchphrase "a pretty woman never needs any money" during their conversation, and within an hour, Orbison penned down the hit track "Oh Pretty Woman."
Claudette and the singer did not have a fairytale marriage. Her husband was addicted to the road, more committed to his music than his family, which affected their relationship, and led to her being unfaithful. They divorced in 1964, but the couple reunited shortly.
The Nashville trip was after the reunion— Orbison's wife planned the outing on a motorcycle, but it tragically cost her life; she was 27 years old. At the time, the couple already had three sons, Roy Dewayne, Wesley, and Anthony.
She passed away in his arms, leaving her grieving husband to cope with the boys. Before her last breath, Orbison held his wife, a memory that remained with him until his demise. Although the celebrity was enveloped by grief, he continued his music while attending to fatherly duties simultaneously.
TRAGEDY STRUCK ONE MORE TIME
Two years after Claudette's untimely death, their family house was accidentally razed to the ground. Orbison was away in Britain on a tour when he received news of the loss and hurriedly made his way home.
He lost his home on Old Hickory Road and his two sons, Dewayne, 11, and Anthony, 6, who were caught in the house fire. The youngsters were buried at Woodlawn Cemetery.
Thankfully, the youngest, Wesley, 3, was the only survivor because he was camping with his grandparents. Fellow singer Johnny Cash later purchased Orbison's American home. He took the burned building, renovated it after the fire incident, and later constructed an Orchard.
LIFE BEFORE ORBISON'S DEATH
The "Over" crooner married again. This time, it was to a German native known as Barbara Jakobs. His second marriage produced two sons, Roy Jr. and Alexander. The couple remained together until Orbison's death in 1988 following a heart attack.
Jakobs lived a full life and passed away in 2011 after suffering from cancer. Orbison's fame dwindled around the end of 1970, but the songwriter began to rise to stardom before his death.
He was inducted into the Nashville Songwriters Hall of Fame and created a hit track titled "You Got It." According to his son, Roy Jr., his father was a sensitive man who loved to thrill people with his voice and possessed so much enthusiasm for life.
After his losses, he never looked back; he kept a positive mindset. Orbison's mini-me said he remembers his dad as a cheerful man who loved to collect cars, ride motorcycles and make light of any issue, even his tragedy.
Please fill in your e-mail so we can share with you our top stories!