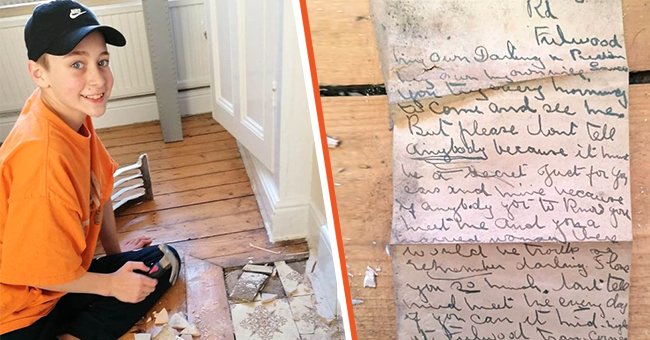 twitter.com/nypost
Mom and Son Find a Buried 100-Year-Old Letter Revealing Secret Love Affair
A UK mom and son duo stumbled upon a century-old letter hidden under the tiles of a room in their house. The letter was addressed to a married woman from her secret lover, imploring her to keep their relationship a secret.
There's something uniquely profound about discovering old and hidden gems, including treasures or lost items holding sentimental value. After all, uncovering such intriguing pieces comes with its own charm, enticing the human mind and heart.
A mother and her teenage son had no idea their house was holding a 100-year-old hidden letter corresponding to a secret and supposedly forbidden love affair.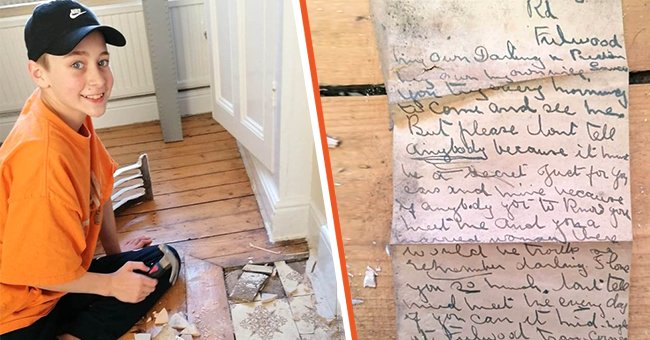 Dawn Cornes and her teenage son Loukas found a 100-year-old secret letter hidden underneath their hearth tiles. | Photo: twitter.com/nypost
The 48-year-old Preston mom Dawn Cornes revealed that her 14-year-old son Loukas accidentally found the letter. He was cleaning his room when the 55-inch TV fell from his dresser, breaking some of the hearth tiles. She also added:
"As we were cleaning up, we decided to take the tiles up. My son said 'Wouldn't it be funny if we found something hidden, like the deeds to the house' and then proceeded to find the letter."
Cornes shared that finding the concealed letter was indeed a spooky experience, especially after her teenage son's comment. As it turned out, the love note was written to a married lady and unveiled a secret love affair.
The scandalous love note was penned by a man named Ronald, and his surname looked like Habgood or Halgood. Cornes shared the letter in a Facebook group, where several people helped her decipher its text. Some even thought the letter read:
"My own darling, My own my own will you try every morning to come and see me (sic)."
In the letter, Ronald had asked his lover not to tell anyone about their relationship. If anyone ended up learning about their secret affair, trouble would befall them as she was married.
Moreover, he also confessed his sheer love for the woman and asked her to meet him every day at midnight at Fulwood tram corner. The scandalous letter concluded with a sweet ending note that said:
"Hoping to see you darling, Your own boy, Ronald (sic)."
The mom and son duo said they were extremely delighted to discover the hidden details of the letter. While the letter was not dated, Cornes shared that her house had been built in 1917, and she had moved into it in May 2021.
Cornes shared that she didn't know much about the previous inhabitants. People in the Facebook group also helped her figure out other important details. A few of them suggested that given the paper size and writing pattern, the letter could be from the 1920s.
Given that the letter contained a reference to Fulwood tram corner, it could possibly date as far back as 80 years. Some group members even tried taking help from online archives to find more information on Ronald but didn't find exact results.
Cornes' post amassed thousands of likes and comments from people online. Some called it a "sweet discovery," while others were curious as to what became of the secret lovers. Cornes revealed she'll keep the letter as a memento and have it framed.
Please fill in your e-mail so we can share with you our top stories!