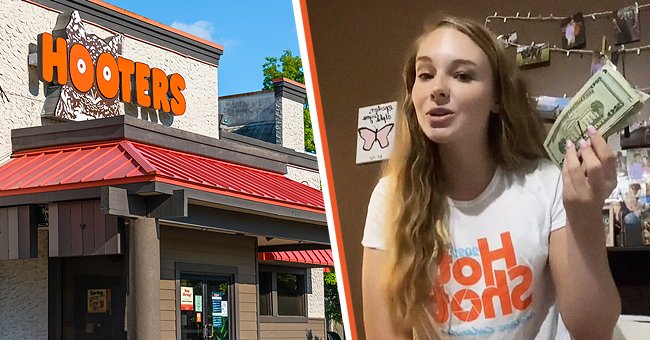 shutterstock tiktok.com/@theflathootersgirl
Hooters Waitress Shows off the Impressive Tips She Made in a Week

Some jobs might appear to have little pay when compared to other seeming professional jobs, but after a Hooters waitress shared the details of the tips she made in a week, people might be forced to have a rethink.
Singers, actors, and other celebrities, as well as professionals such as bankers, lawyers, and doctors, seem to enjoy all the prestige and financial benefits one might think of. But there are other professions that make ridiculous amounts they did not have to work for.
Recently, a Hooters waitress surprised her friends when she revealed how much tip she made in a week, leaving her followers speechless. Kirsten Songer, who works at a South Carolina branch of Hooters, has quickly become an internet sensation after sharing her exciting news.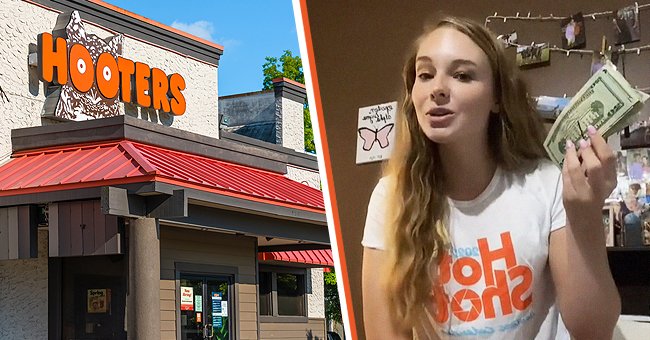 Photo of a Hooters diner and a Hooters waitress, Kirsten Songer | Photo: shutterstock tiktok.com/@theflathootersgirl
Songer made the revelation on her TikTok, adding that in addition to her $2.13 hourly wage, across multiple shifts, she gets up to $1,308 in tips for the week, which is a huge sum considering she did not work for them.
Giving a breakdown of her free earnings, Songer noted that she has both good and bad weeks, but on good weeks, she is sure to walk to the bank with a huge smile on her face, all thanks to the generosity of her customers.
In the viral clip, she was seen saying, "This is how much I make in a week at Hooters. This is a really good week to show, 'cause I had some really great shifts and then some not-so-hot shifts."
She claimed that one shift won her $50 in tips, but another gave her a big break of $408, with another $60 coming from a customer who tipped her only for chatting with him.
According to reports, Songer's earning potential might be close to $70,000 over the course of the year, which is comparable to the pay of transportation inspectors and insurance underwriters. Quite lucrative for a seemingly modest job.
The clip has been viewed more than 240,000 times, and some viewers acknowledged that they were stunned by the profit she makes. Also, Songer's pay is widely considered impressive since the average median salary for people in South Carolina is $54,672.

A netizen's comment on a viral Tiktok video | Photo: Tiktok.com/@theflathootersgirl
Despite the widespread praise she received, there were those who complained over the meager hourly sum she earned.
Some believed she should be receiving up to $7 an hour, but according to reports, the federal minimum wage for servers and other tipped employees is $2.13 per hour in South Carolina, North Carolina, Texas, and Nebraska.
Hooters remains one of the most popular restaurants in America. Founded in 1983 by businessmen with no restaurant experience, Hooters quickly became popular due to its double-entendre name, suggestive emblem, and their waitresses, who wear short orange shorts and low-cut white T-shirts.

A netizen's comment on a viral Tiktok video | Photo: Tiktok.com/@theflathootersgirl
Now in more than 20 countries, Hooters recently made headlines due to an employee reaction over the company's new, more exposing shorts.
The company introduced more exposing shorts which bartenders and servers opposed and likened to innerwear. To prevent the issue from escalating, the shorts were made optional for employees.
Please fill in your e-mail so we can share with you our top stories!