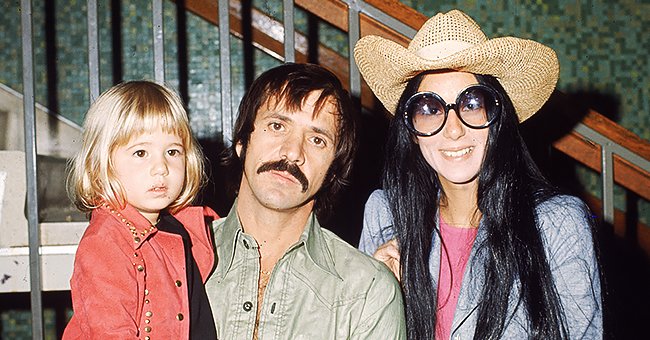 Getty Images
Cher's Ex Sonny Bono Passed Away before Daughter's Transition

Sonny Bono lived an extraordinary and exciting life, but unfortunately, he did not live long enough to see his daughter, that he shares with legendary singer Cher, through gender transition.
Sonny Bono was born on February 16, 1935, in Detroit to Sicilian immigrant parents. They moved to Los Angeles when he was seven years old.
At the time, Bono was not doing very well in school, so he dropped out of high school and worked as a waiter, truck driver, butcher's help, and a construction worker.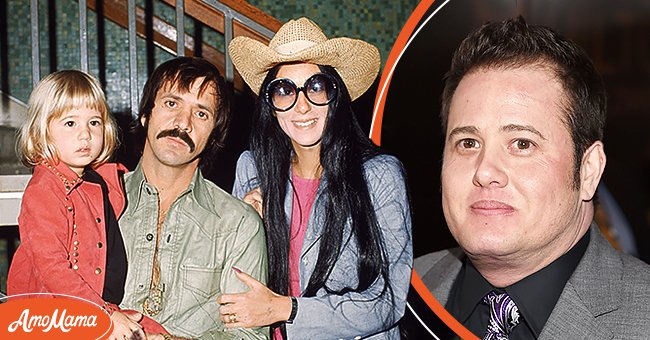 American singers and actors Sonny and Cher Bono pose with their daughter Chastity in front of a staircase, March 1, 1973 [left]. Chaz Bono attends the 25th Annual GLAAD Media Awards at The Beverly Hilton Hotel on April 12, 2014 [right]. | Photo: Getty Images
He got involved in the music industry in his 20's and worked as a songwriter with Specialty Records working with Little Richard and Sam Cooke.
He wrote songs like "You Bug Me" and "Needles and Pins" for groups like "Righteous Brothers" with producer Phil Specter. His life changed when he met 16-year-old Cherilyn Sarkisian (Cher), who he claimed so desperately wanted to be an entertainer.
Together they had fairly successful songs like "Just You" and "Baby Don't Go" before their 1965 hit song "I Got You Babe" made them global stars.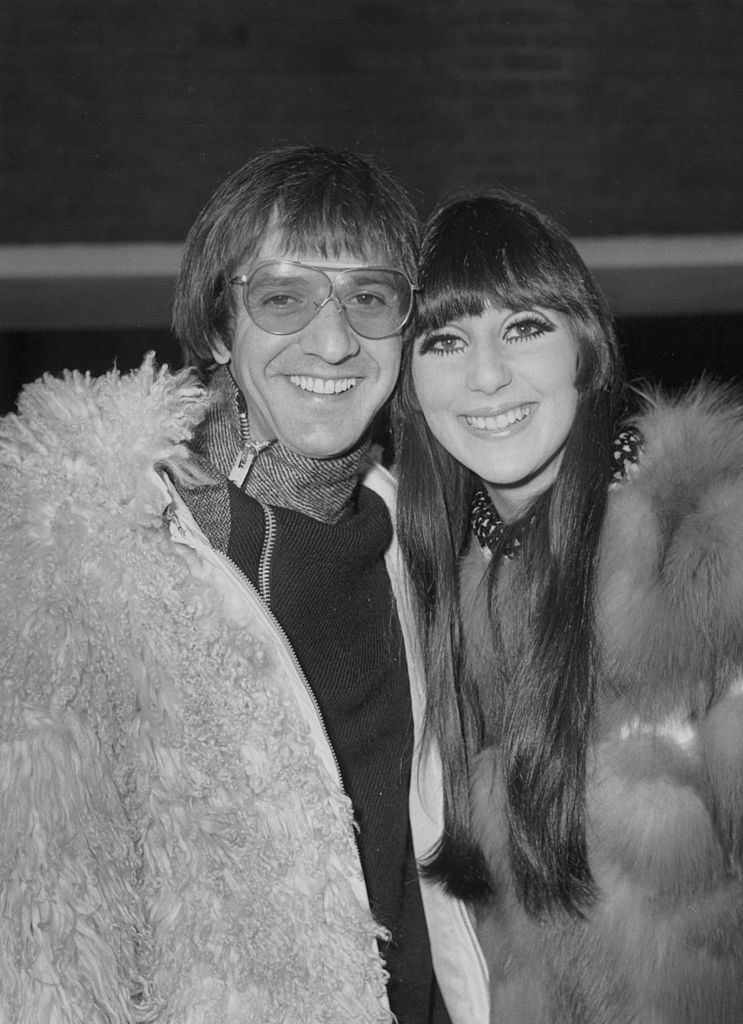 Sonny Bono and Cher at the London Airport in 1967. | Photo: Getty Images
Bono claimed the song was written as an expression of the love they had for one another. Soon after his success, he divorced Donna Rankin, his first wife who he had a daughter named Christy.
Bono and Cher got married a couple of years after and they had a daughter, Chastity. After appearing as a guest on the "Merv Griffin" show, the head of programming at CBS, Fred Silverman, decided to turn the couple into TV stars.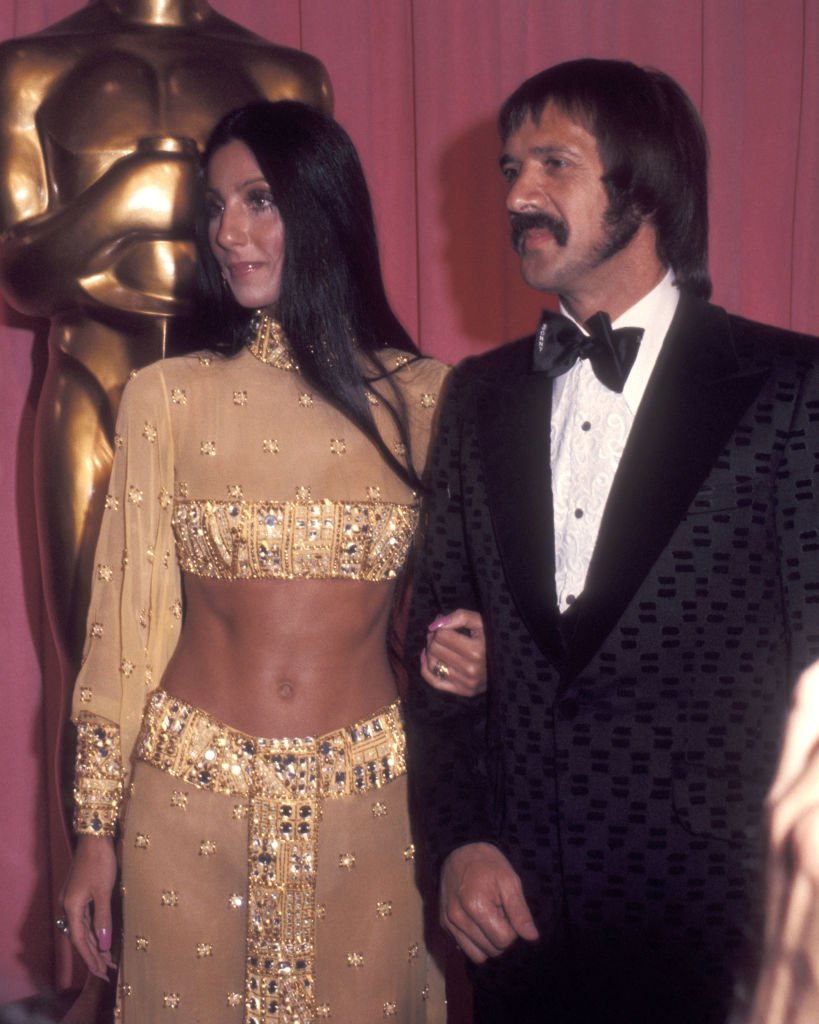 Cher and Sonny Bono at the 45th Annual Academy Awards on March 27, 1973 | Photo: Getty Images
This birthed "The Sonny and Cher Comedy Hour," a show which began as a summer series in August 1971. The series was an instantaneous success. The show aired until 1974 when the couple broke up due to cheating allegations.
Bono went into the restaurant business after that while Cher's movie career survived for a while. Bono was married twice more after his marriage to Cher, and he became a congressman.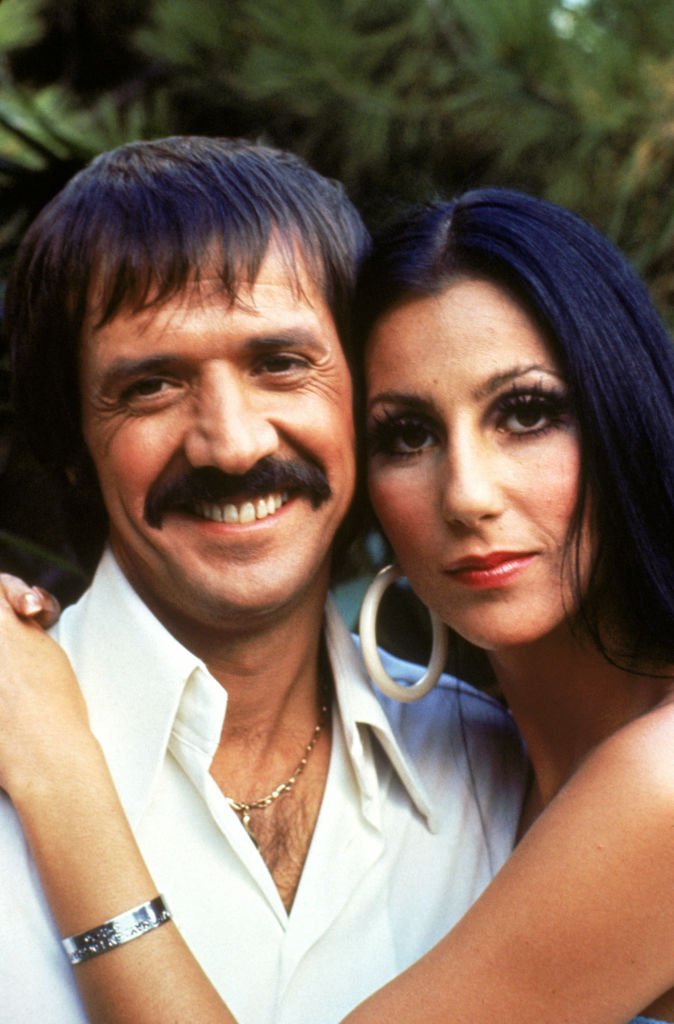 Cher and Sonny Bono pose for a promotional photo for "The Sonny and Cher Show" circa 1968-1970. | Source: Getty Images
BONO'S POLITICAL CAREER AND DEATH
Bono began thinking of serving as mayor after he faced red tape trying to put a sign on his restaurant in Palm Springs at 53. He was later elected as mayor and served from 1988 till 1992.
After his regime as the mayor, he tried contesting for a senate seat in the California Republican primary but lost. In 1994 he won the Congressional seat in the Republican Party representing the state's 44th Congressional District.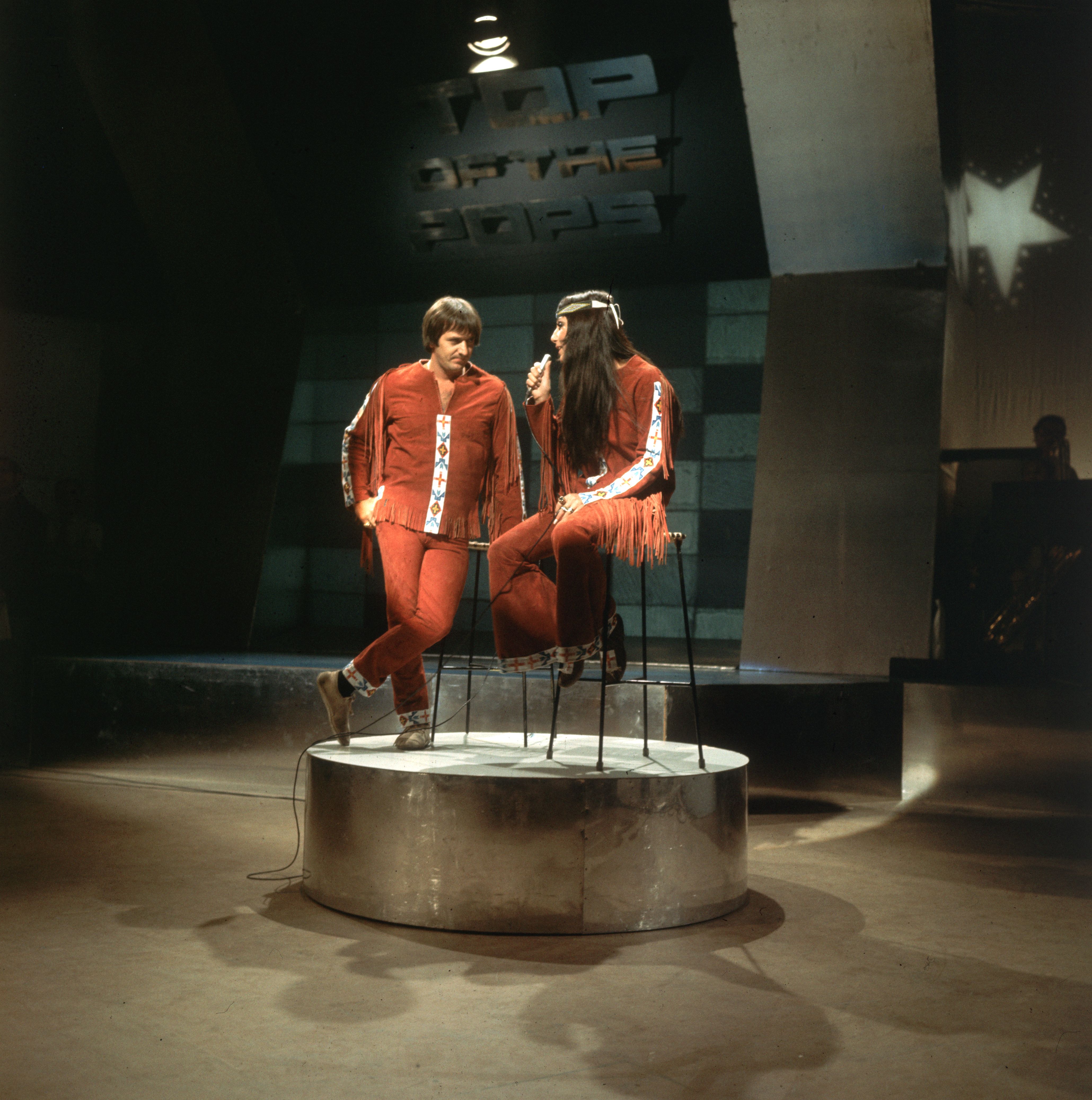 Cher and Sonny Bono during their performance in London on September 2, 1966. | Source: Getty Images
He defeated his opponent, Steve Clute of the Democratic party, by 65 percent to 38 percent and was re-elected in 1996. Bono generally subscribed to conservative agendas focusing on immigration, copyright, and environmental issues.
Unfortunately, Bono died after crashing into a tree while skiing in South Lake, Tahoe, California, on a Sunday afternoon. He was 62 years old at the time.
At the time, he was on holiday with his wife, Mary Whittaker, who he met in 1985 when she walked into one of his restaurants to celebrate her graduation from the University and their two kids.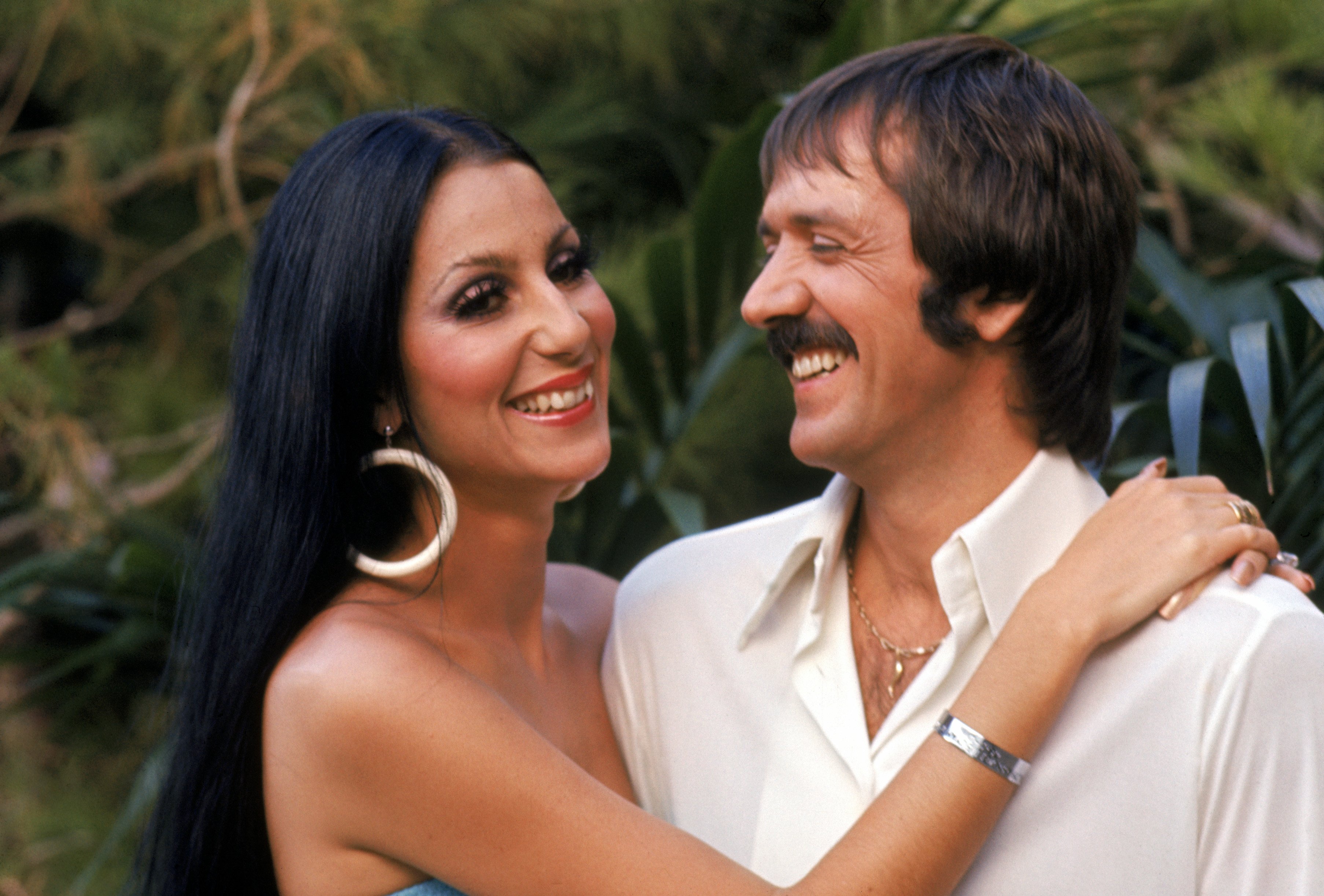 Cher and Sonny Bono pose for a promotional photo for "The Sonny and Cher Show" in 1970. | Source: Getty Images
On the day of his death, Bono left Mary, his son Chesare who was nine, and his daughter Chianna, six, at about 1:30 p.m. to ski alone as his wife tried to help one of their kids who fell.
His family kept waiting for him at the end of the slope, but after hours of not showing up, they got nervous and alerted the police.
The Sheriff of Douglas County, Ron Pierini, reported that Bono was skiing in a wooded area and unfortunately hit a tree. No evidence of drug or alcohol use was found.
After the news of his death, many politicians sent their condolences lauding him for his impact in the political sphere.
Former President Clinton said Bono earned the celebrity status because of how he joyfully entertained millions of people but earned respect for his participation in policymaking in Washington.
Before his death, Bono claimed he loved his daughter Chastity, who was a gay activist, but he could not accept gay marriage even though he respected gay people.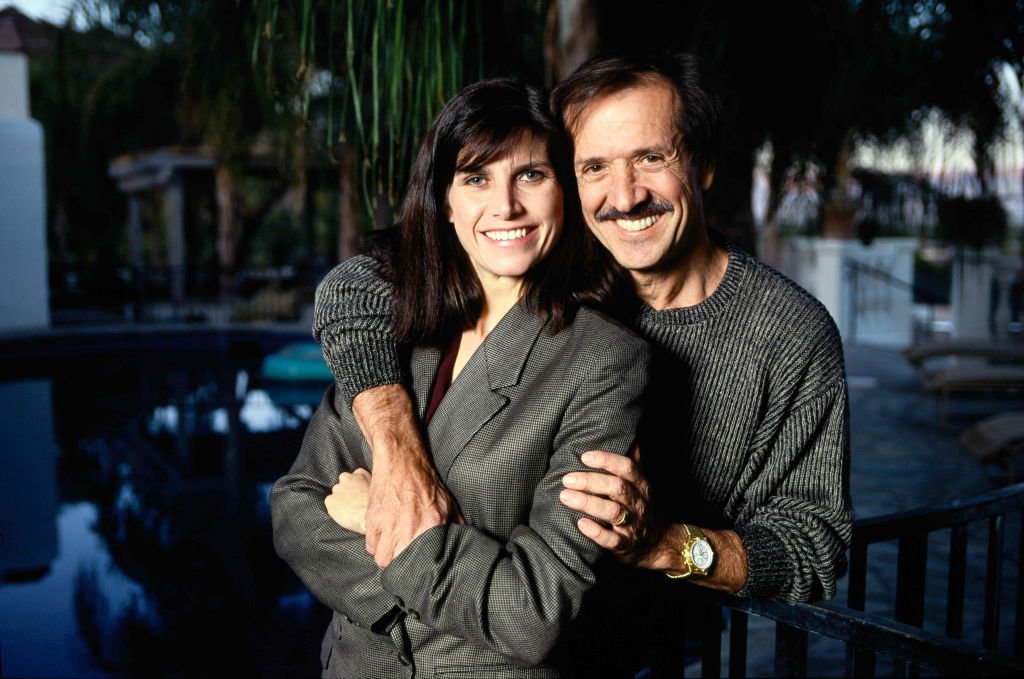 Sonny Bono and his 4th wife Mary Whitaker on January 1, 1991 in the kitchen of their Palm Springs home | Photo: Getty Images
CHASTITY (CHAZ) BONO'S GENDER TRANSITION
Bono and Cher's daughter Chaz was previously known as the little girl the former couple held in pictures. He is now legally known as Chaz Bono after changing his gender from female to male.
His parents Bono and Cher, broke up when he was just four years old, and at the time, he claimed he could wear male clothing at his father's house but could not at his mother's house.
Chaz claimed he started feeling like a lesbian after his 13th birthday, and although several blogs reported he was a lesbian, it was not until 1995 that he admitted it.
He thought something was wrong with him because he felt like a man, not a woman, so the tag lesbian did not fit. Chaz was determined to have a gender reassignment surgery after this 40th birthday, and after the surgery, he claims to have found peace.
The details and events leading to the surgery are detailed in his memoir "Transition: The Story of How I Became a Man" and his documentary, "Becoming Chaz."
Chaz claims his father, Bono, had a male nickname for him even though he was not alive long enough to see his gender transition. He said Bono called him Fred, and this happened one weekend in Palm Springs as he was trying to pick a toy with a name.
Since none of the toys had his name, Bono picked out the toy with the name tag Fred and asked him if he liked it. Chaz claims the name stuck for a while because he liked it.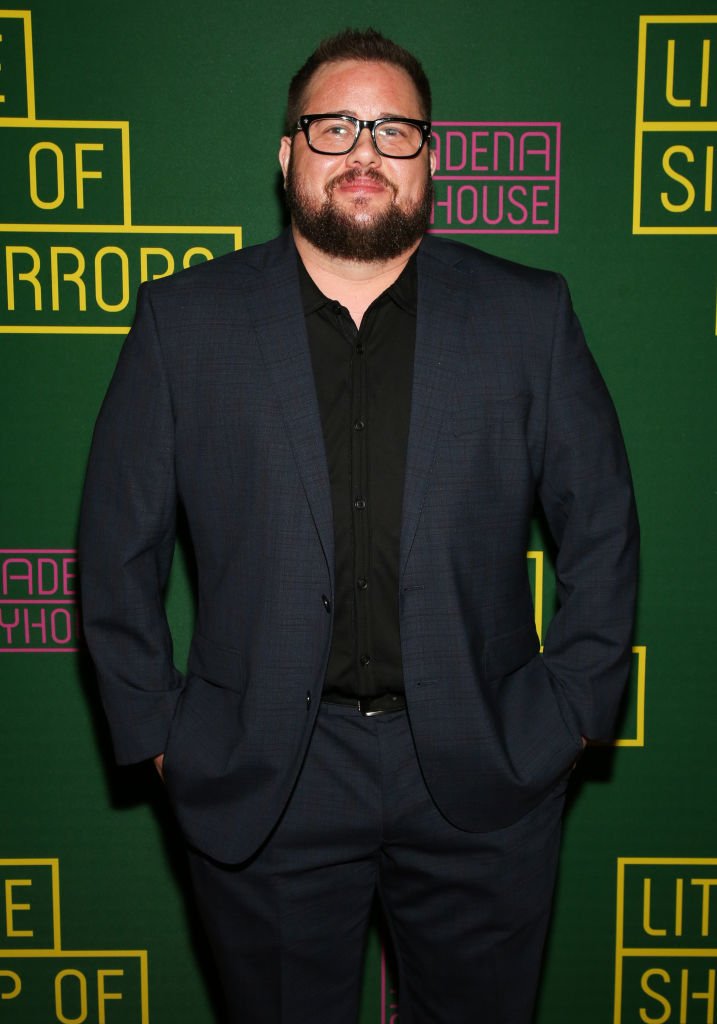 Chaz Bono at the opening night of "Little Shop Of Horrors" in Pasadena, California on September 25, 2019 | Source: Getty Images
CHER'S REACTION TO CHAZ'S TRANSITION
Cher, who has been an avid supporter of the LGBTQ community, was reportedly scared of her son's transition. She claimed it was initially quite difficult for her while speaking to CNN's Christiane Amanpour.
According to Cher, they had talked about him changing his gender for a couple of years, but Chaz was not convinced until he finally decided to do it. She admitted that although it was quite difficult, Cher realized that she didn't lose her child; Chaz is just in a different shape.
Cher said Chaz is happy and does not understand what people's problems are with accepting it. She pointed out religion as one of the reasons for fear. She believed there is still much work to do for transgender people to be fully accepted in society.
Please fill in your e-mail so we can share with you our top stories!