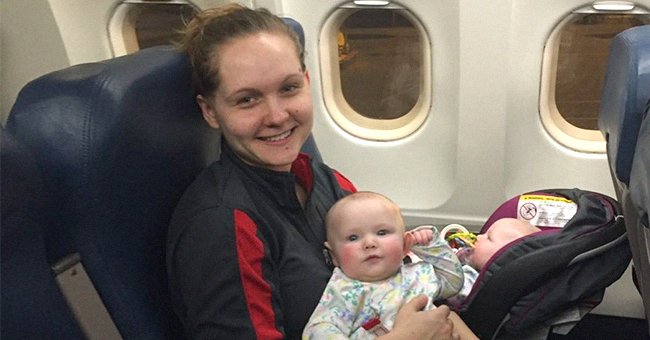 instagram.com/triedandtruemama
'You Grabbed My Daughter:' Mother's Heartfelt Letter to Stranger Who Helped Her during a Flight
While flying to another state, Molly Schultz was also on a fast trip to a complete meltdown, surrounded by the blurry noises of baby screams and passengers murmuring. Luckily, an angel stepped forward to assist among the screeching racket.
Twenty-nine-year-old Molly Schultz is a stay-at-home mother of 6 beautiful children. Along with her husband, Tim, she is the parent of girls 6-year-old Presley, 5-year-old Sawyer, 4-year-old twins Lennon and Halen, and one boy, Bowie, who is 1 year old. Speaking about being a mother, she expresses:
"My journey of motherhood has been one filled with many plot twists and surprises, along with more love and joy than I ever knew possible."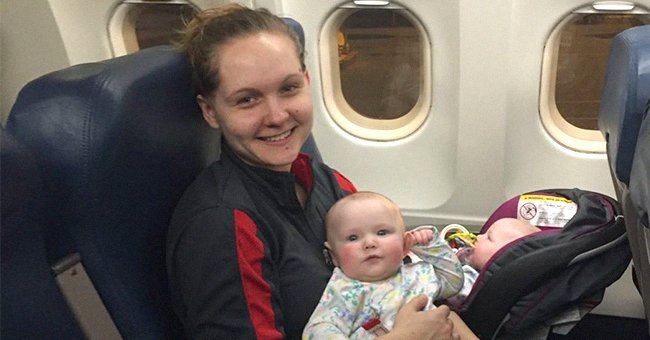 Molly Schultz holding her 7-month-old twins while sitting in an aeroplane. │Source: instagram.com/triedandtruemama
TO MY AEROPLANE ANGEL
The "Tried & True Mama" blogger shared one of these journeys about a Good Samaritan she met in 2016. The twins were still breastfeeding, Schultz's father had just passed away, and she was traveling alone with Lennon and Halen to say her goodbyes. All a possible recipe for disaster.
Writing an open letter to a woman that helped her in this time of need, the mother explained that on this flight from Minneapolis to Detroit, the two 7-month-old girls were insistently crying. The online writer recalled that her fellow passengers were annoyed by the constant nuisance.
Schultz revealed that, combined with her dad's death and traveling with two disgruntled babies, she was heading for a breakdown. However, a stranger took one of her wailing daughters out of her hand just as the mother's tears began to flow.
A SHOULDER TO LEAN ON
Without judgment, the mommy blogger remembered, this woman gently consoled the crying child, managing to get her to relax. Schultz shared:
"Maybe an angel whispered to you loud enough that you knew you needed to answer."
Although she remembers the immense gratitude she felt, the mom of 6 stated that the details are blurry. She wrote that she remembers nothing personal about the woman, from her name to how she looked.
SOMEWHERE OUT THERE
Schultz penned that she wishes she had taken a picture of this kind lady but expressed hopes that she may be reading the letter somehow. Showing her appreciation, the mother wrote:
"I hope you know you saved a mom from a severe mental breakdown at 35,000 feet in the air."
You May Also Like: Walmart Cashier Pays for Customers in Need and Refuses to Take the Money Back
Schultz stated that she is grateful that there are individuals out there who withhold their presumptions towards mothers who seem to be struggling.
The blogger included a picture of herself with babies Lennon and Halen from that day on the airplane. She hoped it would spark the Good Samaritan's memory if she happened to read the open letter.
Hopefully, this loving mom's letter kindled an understanding and remembrance in its readers that motherhood can be extremely challenging, and we should rather help than judge from the side seats.
Please fill in your e-mail so we can share with you our top stories!