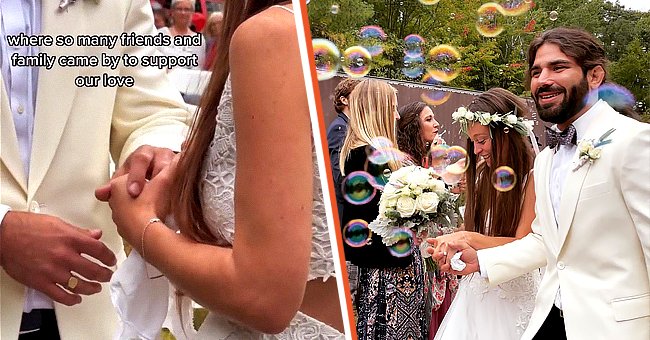 instagram.com/asfvision instagram.com/tackiefedora
Bride Marries Blind Groom Wearing a Tactile Dress So He Can Feel How Beautiful She Looks
A blind groom had the perfect wedding where his lovely bride wore a detailed and textured dress, so he could feel what she looked like. The couple tied the knot in a dreamy beachfront wedding in October, surrounded by their loved ones.
For differently-abled people, life comes with its fair share of struggles. Oftentimes, they give up on the notion of finding true love and an understanding partner who would stand by them and accept them for who they are.
Anthony Ferraro is a blind musician, motivational speaker, and athlete who is currently training to participate in judo at the Paris Paralympics in 2024. He got the biggest surprise of his life when he crossed paths with Kelly Anne, a tech expert.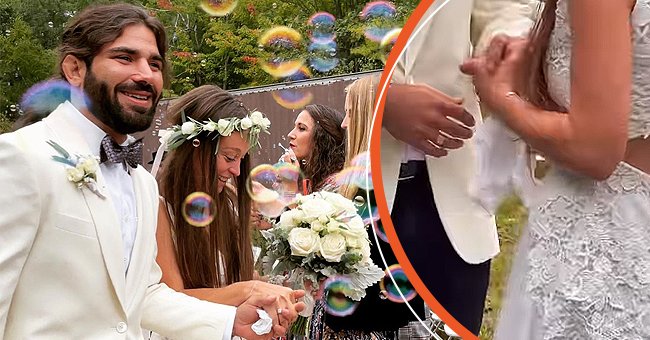 Anthony and Kelly Anne Ferraro tied the knot in a dreamy wedding ceremony in Maine on October 2. | Photo: instagram.com/asfvision | instagram.com/tackiefedora
The love birds first met in 2017 at Belmar beach in New Jersey, where they were accompanied by Kelly's sister, who was dating Anthony's best buddy at the time and is now happily married. Regarding her first meeting, Kelly recalled:
"I met him and didn't really know how blind he was and thought, 'This guy doesn't look blind, whatever blind looks like (sic)."
Kelly had just returned from her holiday in Thailand while Anthony was back after completing his judo training in Tokyo. Anthony also shared that the moment he was introduced to Kelly, he felt an "instant connection."
In January 2018, Anthony took Kelly's number from her sister. He invited her to the New York premiere of "A Shot in the Dark," a documentary detailing his journey as a blind athlete and wrestler.
The lovely couple's future plans include taking the message of positivity and hope forward, sharing it with everyone including the blind community.
Kelly agreed to accompany him and intentionally donned a gorgeous velvet dress, so Anthony could feel what she looked like and have a perfect memory of their first-ever date night etched in his mind.
Over time, they became fond of each other's company and began traveling the world together. They finally put a ring on it in May 2020 and got married on a beachfront property in Maine on October 2 this year.
Kelly did a lot of research about blindness and how blind people perceived different textures after meeting Anthony. She even placed pillows and bubble wrap around sharp objects in their apartment as Anthony liked the touch of velvet and soft fabrics.
She then worked with her mother to map out the perfect wedding, prioritizing Anthony's comfort. She even penned a beautiful letter for him in braille, a written language meant for blind people.
The wedding took place during the day so Anthony could perceive shadows and light. Kelly picked a tactile wedding dress from Loulette Bride made of silk and velvet, featuring an open back with tassel ties and decorated with lace flowers. Anthony shared:
"She [Kelly] had a velvet strip around it [wedding dress] and all this silk, and this beautiful fringe, and lace — all these materials. And it wasn't weird textures. It was beautiful, tactile, pleasing, sensory (sic)."
As a sweet nod to their first date, Kelly also chose a fringed velvet jacket to wear over her wedding gown. Anthony revealed how his pretty bride looked like an angel on her wedding day, and the pleasing textures of her dress blew away his mind.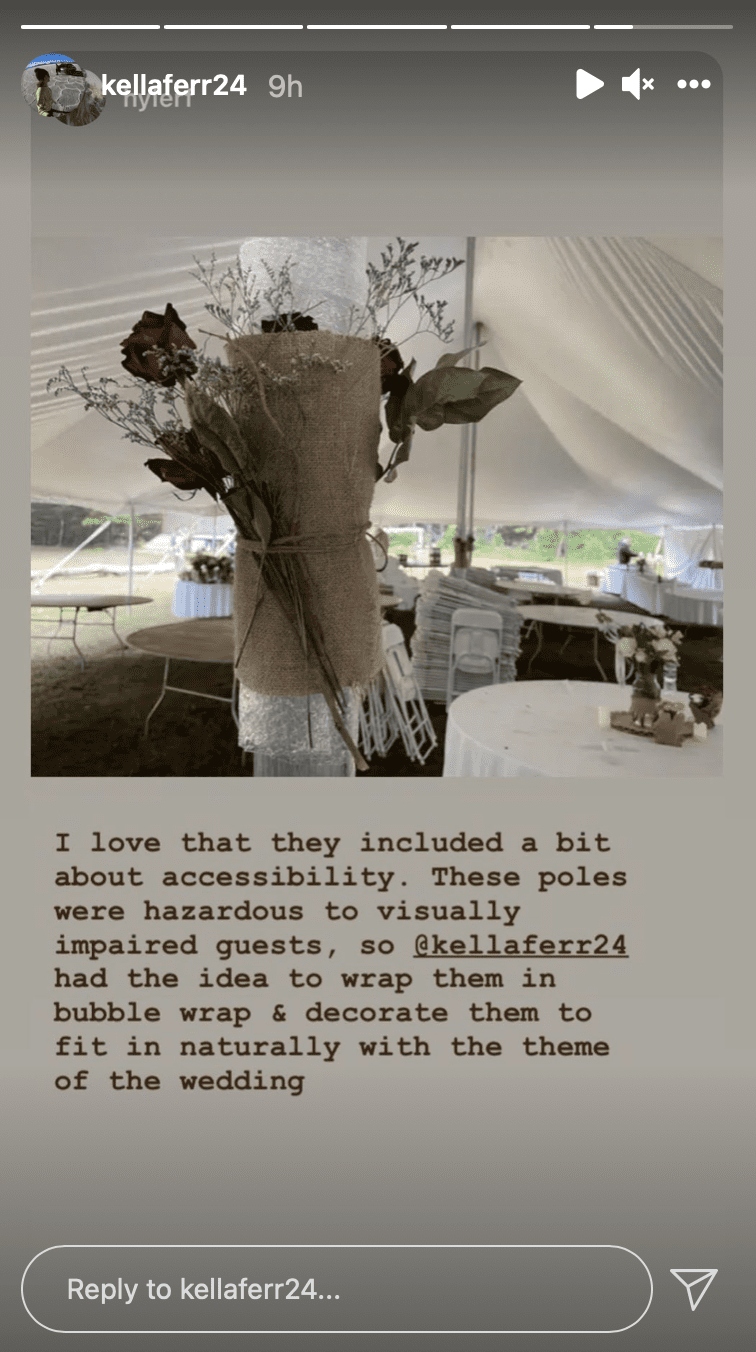 The metal poles at the wedding ceremony were wrapped in bubble wrap and decorative material. | Photo: instagram.com/kellaferr24
The wedding reception took place in a tent, and to help Anthony move around easily, his lovely bride covered the metal poles in bubble wrap and decorative material. Anthony also appreciated his wife's thoughtfulness:
"The thoughtfulness and work behind making our wedding accessible for me meant everything. She's truly my best friend and like I said, 'my eyes in the world (sic).'"
The lovely couple's future plans include taking the message of positivity and hope forward, sharing it with everyone, including the blind community. They also can't wait to embark on travel excursions together, and we wish them all the best.
Please fill in your e-mail so we can share with you our top stories!