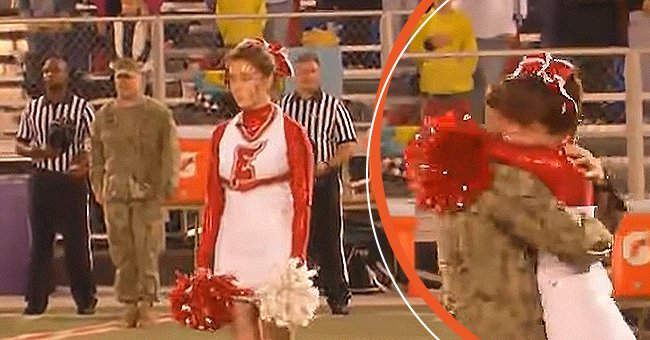 youtube.com/WLOS News 13
Cheerleader Who Has Not Seen Navy Dad for 7 Months Doesn't Suspect He's Standing behind Her
A Navy officer decided to surprise his daughter for her cheerleading performance at her high school homecoming game in 2012. He was helped by the athletic director and cheerleading coach, and the plan was kept top-secret.
It's a widely known fact that fathers are particularly attached to their daughters and would do anything to bring a smile to their faces. For young girls, having their dads by their side means the world to them, and they'd never trade it for anything.
14-year-old Kendall Williams had the same feelings about her high school homecoming football game. All she wanted was for her father to be with her, watching her performance and being her biggest support.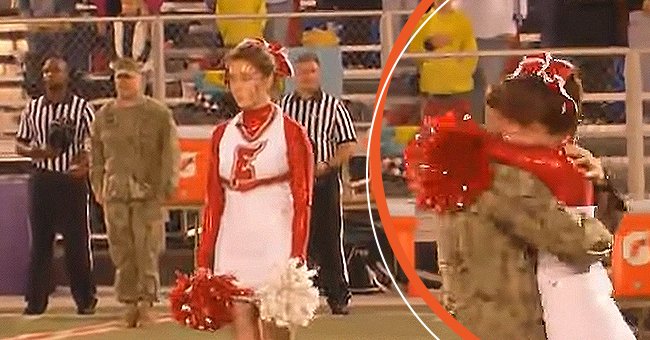 The emtotional reunion of Kendall Williams and her dad Dale Williams in the field at Erwin High School. | Photo: youtube.com/WLOS News 13
As is usually the case with working dads, Kendall's father, Dale Williams, had a much bigger responsibility on his shoulders. He was serving as the Petty Officer 2nd Class in Guantanamo Bay.
Kendall, who was a student at Erwin High in Asheville, North Carolina, had tried contacting her dad, sharing with him her desire to have him watch her perform.
Despite her several text messages, her father had not quite given her a satisfactory response, which pretty much left her hanging and gloomy.
But what the young girl didn't know was that her dad was planning a grand surprise for her. It was not until the game day that Officer Dale astonished his little princess while he stood in the field, hiding behind the Color Guard. He also recalled:
"I lost it. I knew I would."
Kendall had no clue that her father was present in the field, watching her from a safe distance. She said she even looked in his direction a few times but was unable to decipher whether it was really him.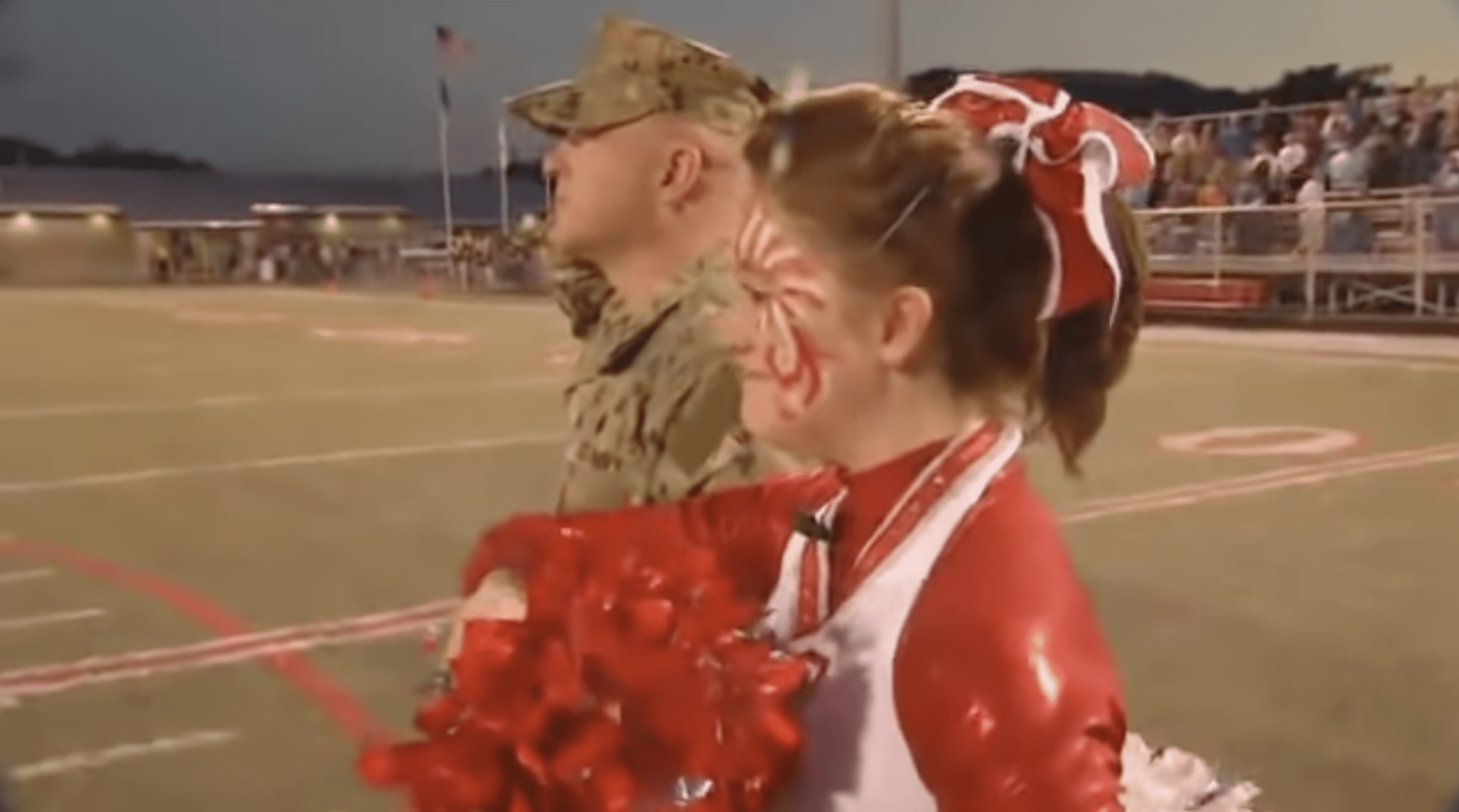 Kendall and Dale Williams standing in the field, hearing the national anthem before the game. | Photo: YouTube.com/WLOS News 13
Soon afterward, the announcer called out the naval officer's name before the national anthem. At first, she thought he was simply trying to honor her dad, who was also an alumnus of the same school. But then she turned around and saw him. She shared:
"I saw him behind me...I was like woah (sic)!"
The high school cheerleader said she couldn't believe her eyes, as she wasn't expecting her father at all. Officer Dale revealed that he simply lost himself when he called out his daughter's name and saw her emotional reaction.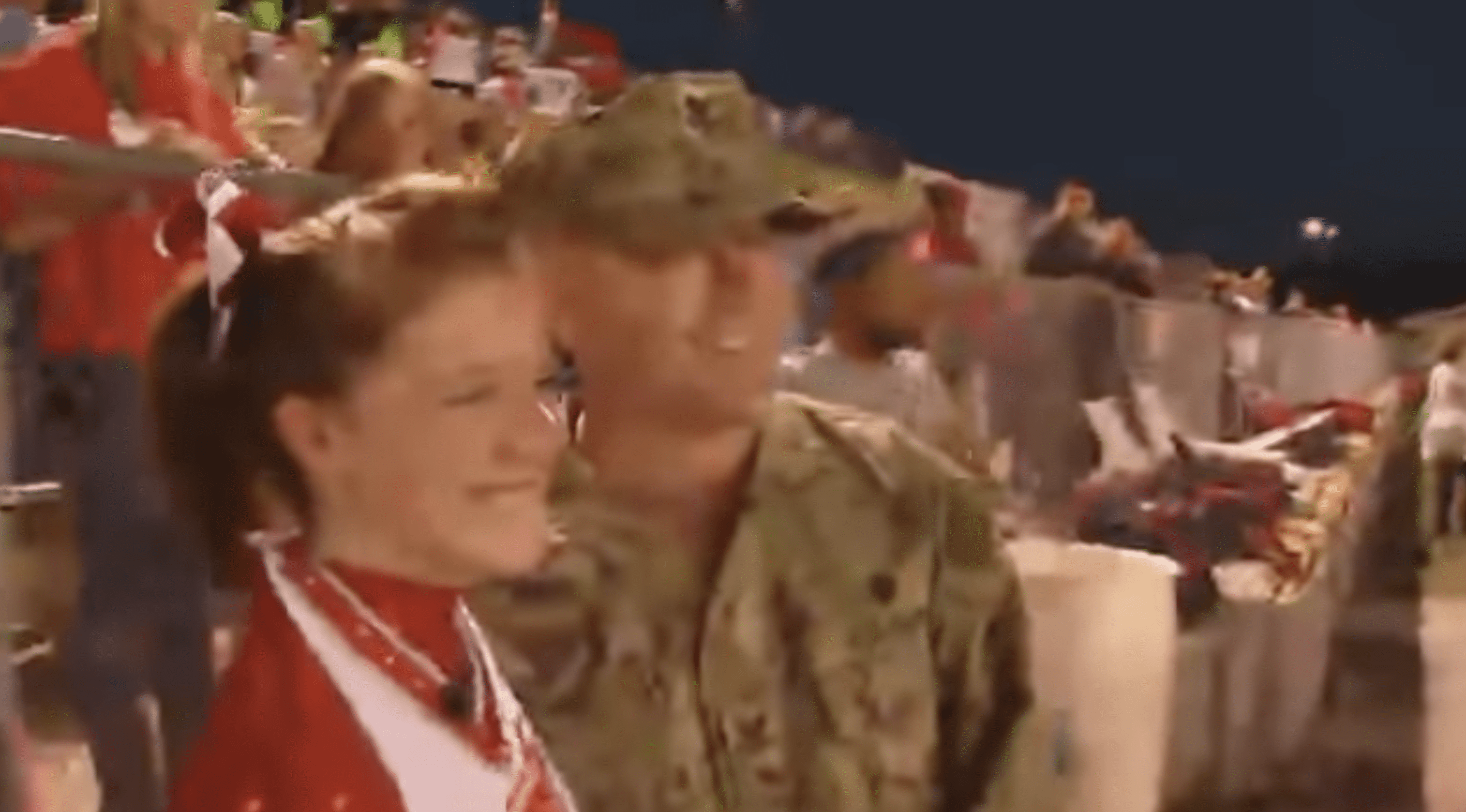 The emotional reunion of Kendall and Dale Williams. | Photo: YouTube.com/WLOS News 13
The Naval Officer had apparently requested his command staff earlier that year to allow him a 24-hour leave but had to wait for two months for the final confirmation. Regarding his little princess, he expressed:
"It's worth it. This kid's a daddy's girl. She's 14 years old and she's my everything."
Interestingly enough, he had been helped by the athletic director and cheerleading coach at Erwin High School to plan the grand surprise for his daughter. By the looks of it all, it was indeed worth it, and we're so glad things worked out so perfectly.
Please fill in your e-mail so we can share with you our top stories!