youtube.com/DoctorOz
Woman Texts Father Every Day after His Death, Gets a Response the 4th Year
Losing someone dearly close to us can be harrowing. From praying to keeping something that reminds us of them, there are many different ways we connect with our loved ones who have passed. But what if they try to connect back?
In 2019, 23-year-old Chastity Patterson shared a story that caused her to reawaken her spiritual side. All it took was a text message, and this young lady's life changed forever.
Patterson grieved her father for a long time, who passed away in a car accident in 2015. She sent a text message to her dad's cellphone number every day to cope with the loss.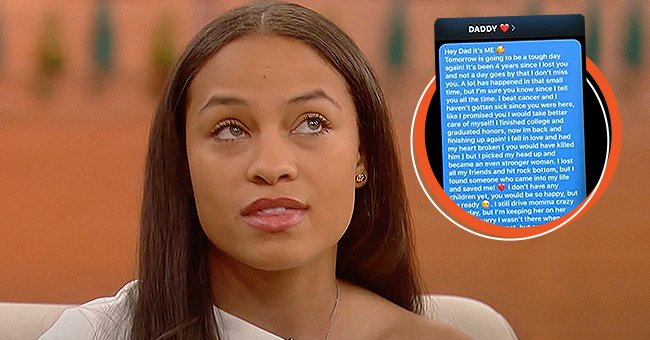 Chastity Patterson with a picture of a text she sent to her father who passed. │ Source: youtube.com/DoctorOz
In these texts, the 23-year-old would share what was happening in her life. From a difficult day to beating cancer, graduating, and having her heart broken, Patterson found solace in these daily scribblings.
A SHOCKING RESPONSE
One day, four years after his death, she decided to send her dad one last message, ready to let go. Suddenly, she heard a beep from her phone. It was from a man, but he was not her father. Since she began texting in 2015, he had been receiving her messages. He partially wrote:
"My name is Brad and I lost my daughter in a car wreck August 2014 and your messages have kept me alive."
Pictures of Chastity Patterson and her father alongside texts she sent to him after he passed away │ Source: youtube.com/DoctorOz
This individual didn't want to tell her sooner that he was receiving her texts as he was worried it would break her heart. The man said to her that he wished his daughter were alive to grow into the type of woman Patterson is.
A SOULFUL AWAKENING
Since this incident, the young woman claimed that although she was never profoundly spiritual, she couldn't pin this down to a random coincidence. Patterson expressed:
"You have no choice but to believe that it had to be a reason it happened."
The daughter has stated that it may take an extended period, four years in this case, but that God always makes himself known at the right time.
LONG-LASTING PROMISES
Patterson's story shines a light on the extraordinary connection that fathers and daughters have with one another. Mary Bourne Roberts also had a beautiful relationship with her dad and ensured that he danced with her at her wedding before passing away.
Mary and her father Jim Roberts danced in the kitchen when she was just a girl to "I Hope You Dance" by Lee Ann Womack. They pledged that they would dance to this song together at her wedding when she grew up.
You May Also Like: Emotional Moment Bride Walks Down the Aisle with Man Who Received Her Late Father's Heart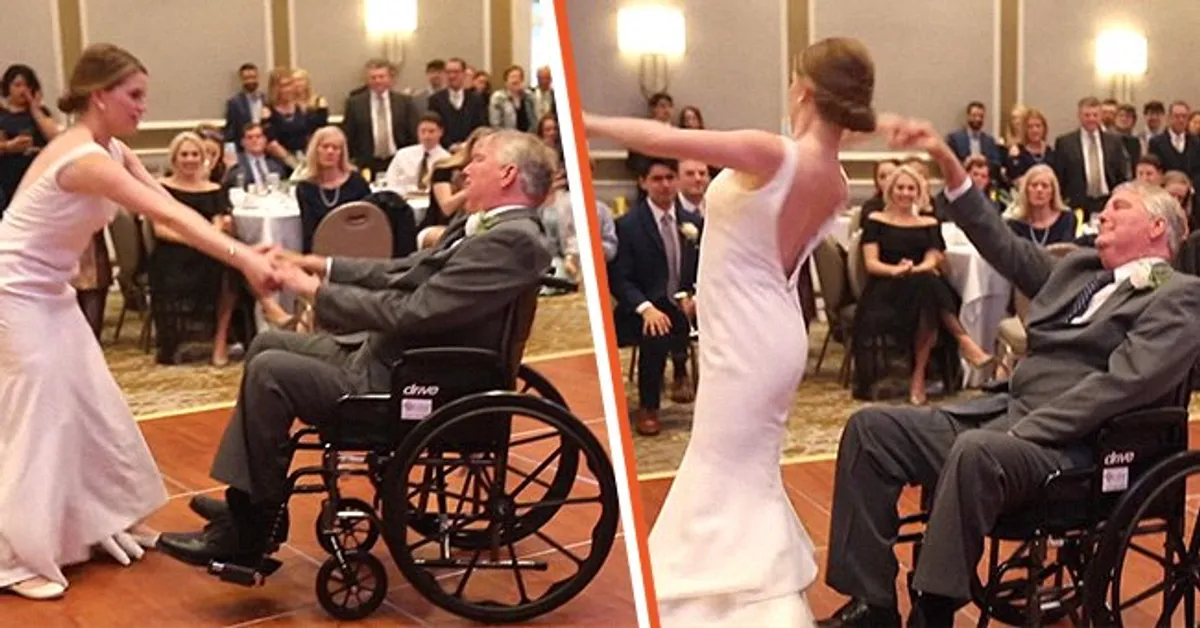 Mary Bourne Roberts dancing with her father Jim Roberts on her wedding day. │Source: youtube.com/Blue Room Photography
A TOUCHING GOODBYE
Mary eventually had that long-awaited ring on her finger. However, devastating news rocked her world when she found out in 2017 that her father had a rapidly growing brain tumor.
Mary, determined to dance to their Lee Ann Womack song, moved up the wedding in 2018 so she could dance with her father one more time, which they did. Jim passed away on January 10, 2019.
Like many of us, both Mary and Patterson only have memories of their dad. However, it is these recollections, whether it's telling your father about your lousy day or dancing with them in the kitchen, that keep them alive within us.
Please fill in your e-mail so we can share with you our top stories!