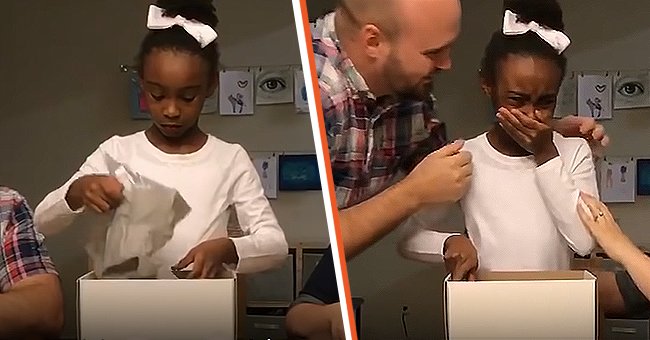 youtube.com/ABC Television Stations
Touching Moment Girl Opens Gift and Cannot Hold Back Her Tears upon Learning She'll Be Adopted
The foster care system can sometimes be a cruel, unforgivable, and arduous system to navigate. However, adoption can be the shining light at the end of this endless-like tunnel, and one little girl found her glowing home.
Foster parents Paige and Daniel Zezulka from the city of Athens in Georgia first took in 5-month-old Kai. The Zezulkas did not know that this baby had an older sister, Ivey, living with other foster parents and that a younger sister of his would soon be born, named Lita.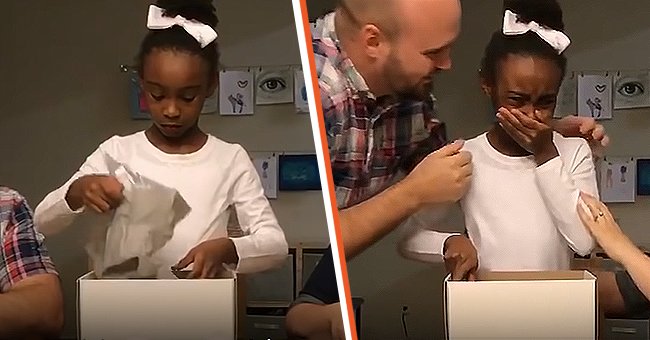 Ivey opening a box [left]; Ivey crying while Daniel Zezulka goes in for a hug [right]. │Source: youtube.com/ABC Television Stations
After spending time with Ivey via playdates, the couple was approached in 2016 as to whether they would consider adopting Kai and Ivey. Then, Lita came along, and they decided to foster her as well.
AN INSTANT BOND
Ivey moved into their house along with little Lita as Paige and Daniel did their best to make her feel as comfortable as possible.
However, the transition was easier than the duo had presumed, with the foster mom expressing:
"God was amazing. The first night she moved in, she asked if she could call us mom and dad. The second day, she asked if she could stay forever."
The foster care system's general goal is to reunify children with their biological parents, but it was legally decided that this was not wise in these three siblings' case. This made it easier for the foster parents to adopt the trio in 2018 when Ivey was 10 years old, Kai was 3 years old, and Lita was 2 years old.
Daniel, Ivey and Paige, Zezulka sitting together. │Source: youtube.com/TheEllenShow
CONSUMED BY JOY
Paige and Daniel Zezulka took a video of the 10-year-old finding out about her adoption. In the clip, Ivey opened a gift box and took out a framed note breaking the news to her. The young girl broke down in tears after realizing she was being adopted. Both parents went in to hug her as Daniel said:
"We love you, sweetheart. We will always be your parents."
Paige was also crying as she affectionately lay her forehead against her daughter's shoulder. Daniel, now Ivey Zezulka's official father, kept lovingly kissing his daughter's cheek.
WE CHOOSE OUR BLOOD
The new mom expressed her hopes that this video would inspire others to look into becoming foster parents. Paige stressed that there was a massive shortage of those willing to look after children that have no place to call home.
You May Also Like: 9-Year-Old Boy Receives 5,000 Adoption Offers after Asking to Be Picked in Emotional TV Speech
Although these three siblings were only legally adopted by 2018, in essence, the Zezulkas were always their family, to begin with. It's not blood but love and security that form this bond that can not be broken.
Please fill in your e-mail so we can share with you our top stories!