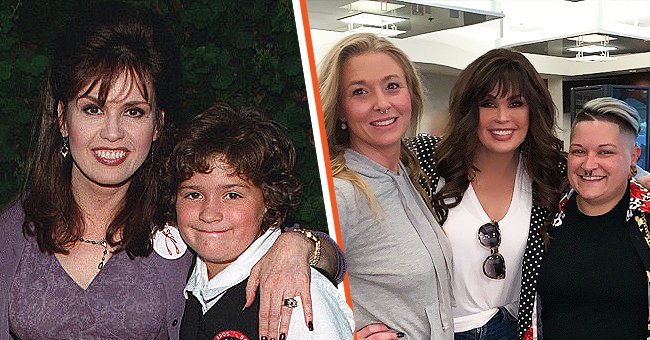 Getty Images | instagram.com/marieosmond
Marie Osmond Cried When Her Child Said She's Gay but Is Now Happy for Her Daughter & Her Wife
Marie Osmond is the loving matriarch of a large family, but she cried when she learned that her daughter, Jessica Blosil, was gay. She needed some time to come to terms with it.
Country music singer and actress Marie Osmond may be a very successful entertainer, but her priority has always been her children, including her adopted daughter with Brian Blosil, Jessica Blosil.
Unfortunately, raising eight kids with such a busy schedule has not been easy, and when Jessica came out as gay, Marie's emotions got the best of her.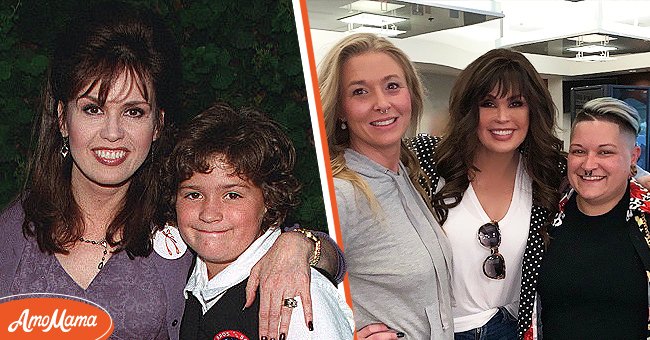 Marie Osmond and her daughter, Jessica Blosil in June 1998 [left]. Marie, Jessica, and her wife Sara on their wedding day in June 2019 [right] | Photo: Getty Images - Instagram.com/marieosmond
MARIE'S MARRIAGES
As one of the members of the famous Osmond family, Marie has been making headlines for almost five decades, especially after hosting the TV variety show "Donny & Marie" with her brother Donny Osmond.
In June 1982, when she was a few months away from turning 23, she married her first husband, Steve Lyle Craig. One year later, they welcomed their first child, Stephen.
Their relationship didn't stand the test of time, and they parted ways in 1985. The following year, Marie walked down the aisle with her second husband, Brian Blosil.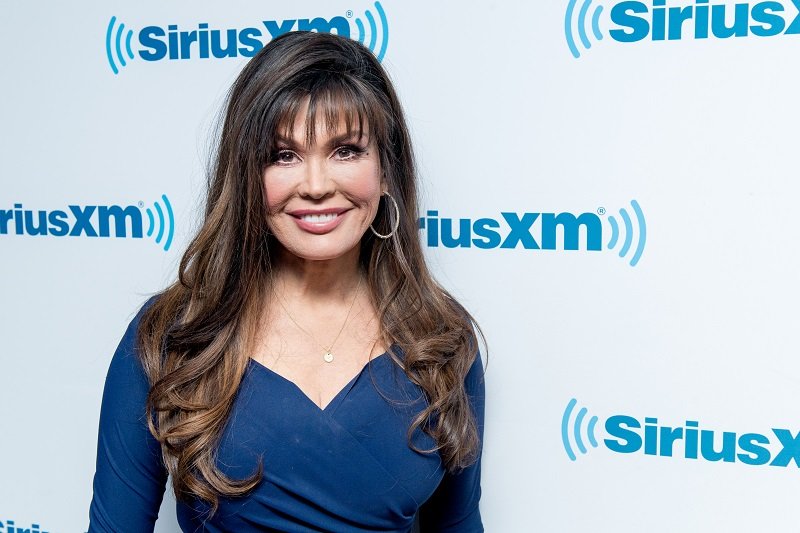 Marie Osmond on January 10, 2018 in New York City | Photo: Getty Images
The former couple welcomed six biological children – Rachael, Brandon, Brianna, Matthew, Abigail, and Michael (more on him later) – and one adopted – Jessica, who joined the family two years after her birth in December 1987 – before divorcing in 2007.
Marie and Steve eventually found their way back to each other, and in 2011, they tied the knot again. At the moment, they are still going strong. He was by her side during arguably the most challenging time of her life: grieving her son, Michael.
A suicide is especially painful because parents don't get the chance to ask why.
MICHAEL'S PASSING
On February 26, 2010, Michael died by suicide at the age of 18. He struggled with depression and drugs for a while, and when he passed away, she felt as if someone ran a knife into her heart.
Three years later, Marie published a book, "The Key is Love," where she revealed some details about his passing and served as a tribute to her mother, Olive.
In a conversation with Fox News, she revealed that a parent could never get over a child's death. Their lives change from that day on, and it "never gets better."
According to Marie, a suicide is especially painful because parents don't get the chance to ask why, so it is harder to have closure. The "Paper Roses" singer added:
"I feel like the message of the book is not to block your intuition. Never be too busy to listen to your instinctive feelings when something feels wrong. You need to get there."
Following Michael's death, Marie waited only a couple of weeks before returning to work. Some people criticized her for not getting enough time off to grieve, but she did it to avoid her family from dying along with him.
His passing understandably impacted them, and some didn't even want to go to school or resume their daily activities, so Marie took the lead and showed them how to keep living. The fact that she did it for her kids didn't make it any easier, though.
Unlike other families that shut down and never open up about such tragic situations, Marie and her children talked about it. She realized that while she lost her son, her children also lost a brother, so everybody needed to process his death.
JESSICA COMING OUT
Marie addressed another sensitive topic in her book: her reaction after learning that Jessica, her adopted daughter, was gay. The "Meet Me in Montana" songstress said she cried when Jessica came out at 17.
Given that Marie has many gay friends, she knows all the judgment her daughter would have to go through, so she couldn't avoid shedding tears thinking about it.
Jessica has worked as a counselor to help people kick drug addictions.
The singer confessed that even though being gay nowadays and as an adult was easier, it wasn't when Jessica came out, especially as a 17-year-old child, so her heart "broke for her."
Marie pointed out that judgment was still present in today's society as people would criticize everything from religion and race to heritage and sexuality. She explained:
"I believe in [Jessica's] civil rights as a mother. I think my daughter deserves everything she desires in life. […] I don't think God made a one-color flower. I think he made many."
Unlike Marie, Jessica prefers to keep the details of her life away from the spotlight. Instead of following in her famous mom's footsteps and working in the entertainment industry, she has been a Provo City Police officer in Utah for years.
Apart from that, Jessica has worked as a counselor to help people kick drug addictions. According to Marie, she worked "full time" in both activities and loved it.
What Jessica loves the most, though, is her wife, Sara. The lovebirds tied the knot in June 2019 after being in a relationship for years, and Marie took to social media to share the good news. In the caption, she wrote:
"Congratulations to my darling daughter Jessica and her new wife Sara! I'm so glad I got to fly in for the day to be apart of such a happy occasion!" [sic].
A few months later, Marie revealed that Jessica absolutely loved her life as a wife. Knowing that Jessica had somebody in her life also made Marie happy.
Given that Jessica and Sara are very private about their lives and relationship, it is impossible to tell if or when they will enlarge their family. If they do, Marie will be thrilled.
The singer and actress has made it clear that being a mother to her eight kids and grandmother to her many grandkids has been the biggest blessing of her life. Way to go!
If you or someone you know is considering suicide, please contact the National Suicide Prevention Lifeline is 1-800-273-8255. Other international suicide helplines can be found at befrienders.org.
Please fill in your e-mail so we can share with you our top stories!