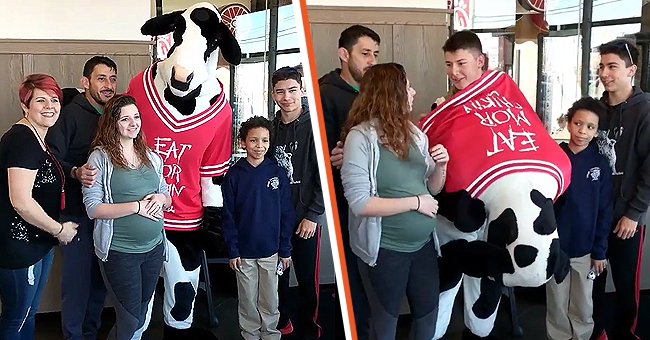 facebook.com/cfaskibo
Pregnant Woman Takes Picture with a Chick-Fil-A Cow, Not Knowing It Was Her Soldier Husband
In 2018, a pregnant Brandy Rodriguez was due in only a few weeks. While excited to say hello to her newborn, knowing her husband Antonio Rodriguez would not be there to hold her hand through labor left her feeling bittersweet.
Either way, this up-and-coming mother chose to carry on with her life and enjoy time with her family. Brandy went to have some lunch with her in-laws at a Chick-fil-A in Fayetteville, North Carolina.
Unbeknownst to the army wife, the 82nd Airborne Division decided to let Antonio take a trip home so he could be there for his and Brandy's child. However, his in-laws did know, and they had been planning a surprise along with their son for weeks.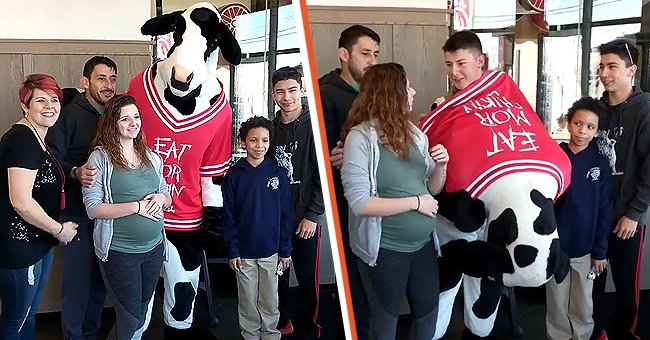 Brandy Rodriguez getting her picture taken with the Chick-fil-A cow and her in-laws [left]; Chick-fil-A shocked to see her husband Antonio Rodriguez in the Chick-fil-A cow costume [right]. | Source: facebook.com/cfaskibo
Father to the young soldier and veteran Michael Rodriguez was the one who had approached the chain Chick-fil-A to help them. He went to the restaurant before picking up his family to ensure everything was in order.
While there, and in a video posted online, Brandy and her in-laws stood together, about to take a picture with the Chick-Fil-A Cow.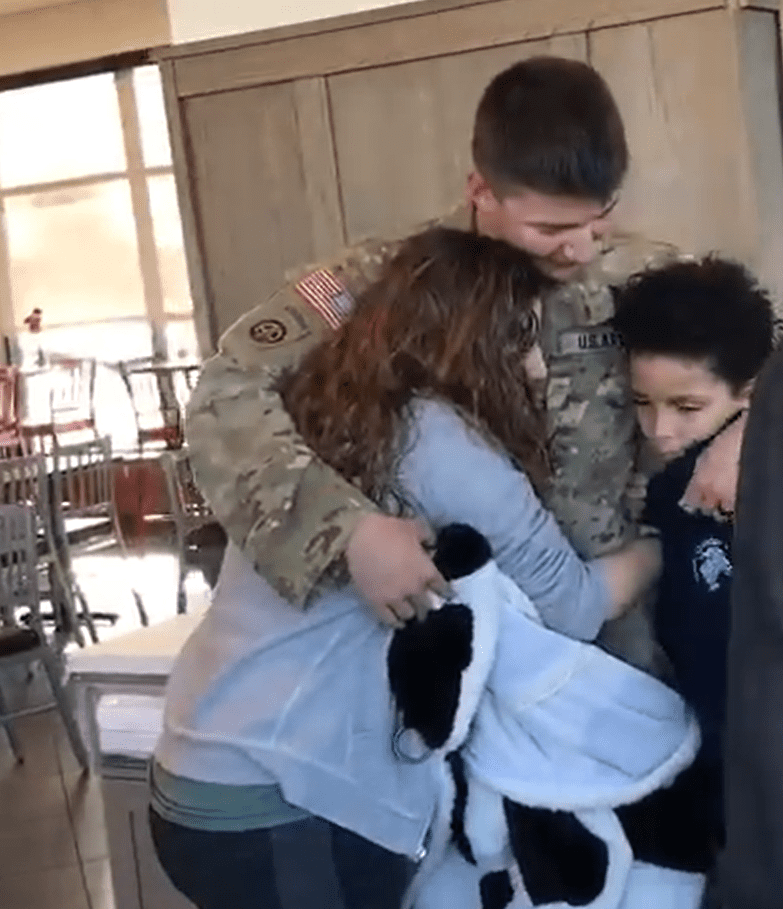 Brandy Rodriguez, Antonio Rodriguez and another younger family member all hugging. | Source: facebook.com/AndreaBlanfordWTVD
The individual in the costume then began taking the mascot's head off, to which the pregnant woman appeared confused. However, when Brandy realized it was her husband, she gasped and embraced him, not letting go.
Everyone was in tears as they all began enthusiastically cheering and clapping for the adorable couple and their heartwarming reunion.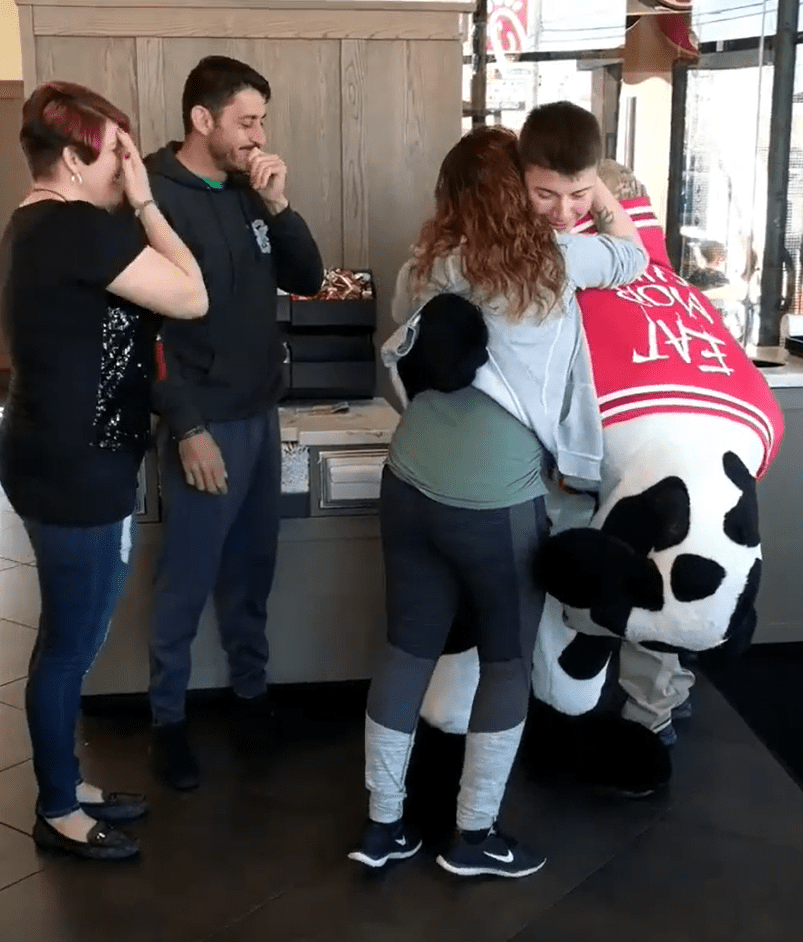 Brandy Rodriguez hugging Antonio Rodriguez who is in the Chick-fil-A cow costume as their family looks on. | Source: facebook.com/cfaskibo
Michael was the one who suggested they all take a picture with the Chick-Fil-A Cow in the first place. Commenting on the experience, the dad expressed:
"We are so honored and happy that Chick-fil-A helped us welcome our son home."
Chick-fil-A Marketing Director Denise Windsor also commented on the reunion, stating that the fast-food restaurant loves the military. The Director said it was a massive pleasure for them to take part in such a touching gesture.
This beautiful idea was echoed by 10-year-old Tyler Tafoya, leaving the room sobbing as well. The young boy was now in fifth grade, and with his father, Chief Master Sergeant Rubel Tafoya, deployed overseas, Tyler was only a baby when he last saw him.
The 10-year-old had never even hugged his army dad. Rubel was assisting with Operation Allies Refuge before he came back to the United States of America. However, his son was unaware of his return.
That's why when he turned around while busy taking pictures with a teacher of his, he was shocked. Then, as if making up for all the hugs lost, he didn't let go of his father.
Let's hope that both of these families soak up every moment they have with one another, knowing their time together may be short.
Please fill in your e-mail so we can share with you our top stories!