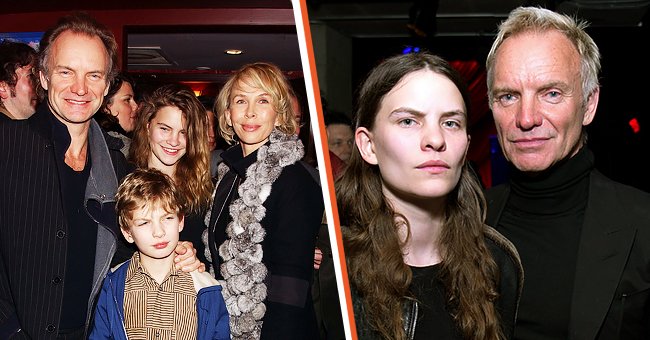 Sting and his children | Getty Images
Sting's 6 Children Won't Inherit His $300m Fortune because of His & 2nd Wife's Lavish Lifestyle
Sting has enjoyed a remarkable career spanning several decades, but despite his wealth, valued over $300 million, the artist has no plans to leave his children an inheritance. Here's why.
Sting is, without a doubt, one of the most famous singers of all time. The rock singer rose from obscurity and a poor childhood to build a life of money and fame.
Despite his immense wealth, Sting revealed that none of it would be passed on to his children. In 2014, the singer reportedly stated that he will not have left much for his children to inherit by the time he dies.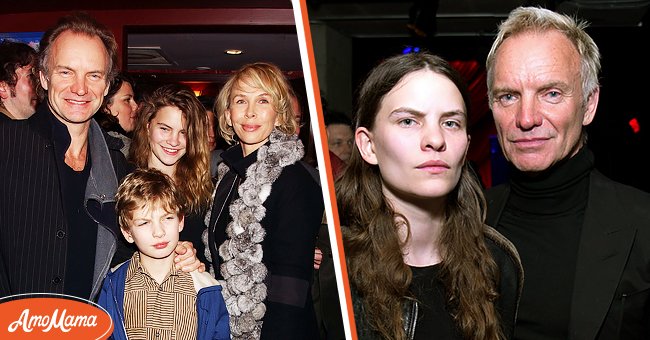 Rock star Sting with his wife and kids [left]. Sting and his daughter [right]. | Photo: Getty Images
STING WON'T LEAVE A DIME
Although Sting claims to be a supportive father, he encourages his children to look away from his $300 million fortune in favor of amassing wealth for themselves; after all, he built his empire with little to no advantages.
The former "Police" frontman explained that his children know his commitment, noting that he has over 100 people on his payroll alongside other duties. In the end, it leaves little or nothing to pass around to his three sons and three daughters.
The singer explained that he did not want to leave trust funds for them, which would be a problem. His band, staff, and company are all managed by his longtime wife, Trudie Styler, and the singer attributes his financial success to her top-quality management skills.
The actor feels grateful for having his longtime partner by his side, noting that her contribution has been pivotal to his success. Sting stated that he expects his children to work for themselves and lead responsible lives.
The 70-year-old is known for his big heart and charitable work, and he hopes his children will understand how he spends his money.
It appears that the rockstar's children have accepted their father's decision, as he previously stated that they hardly asked him for anything, which he admires and respects.
Sting is eager to help his children, even though he does not intend to leave them a fortune, but thus far, he has noticed that none of them have needed his assistance because they already have the work ethic required to achieve success.
The singer was once asked if he felt guilty for his wealth, and he noted that he was proud of his accomplishment, citing that his wealth was a product of his hard work and dedication to his craft.
Despite his fame and success, Sting wants to live everyday life like any other citizen. He wants to walk down the street, go to his favorite bar and catch his flight without being mobbed by diehard fans.
HUMBLE BEGINNINGS
Born into a poor home, a visit by the Queen Mother to Swan Hunter shipyard over five decades ago planted a new desire in the heart of the young Gordon Summer, who would later be known as Sting. His grandfather had been a shipwright, and Sting was expected to go into a manual job.
At the time, the royal family member drove past the front door of his street in Wallsend, North Tyneside, throwing him a generous wave while in her Rolls-Royce.
The elegance of her look left Sting with a desire to be wealthy like she was. Sting decided to put his talent and singing abilities to work, hoping to acquire the best houses and cars.
A few years after his great awakening, the rockstar went on to buy seven homes across Britain, Italy, and the U.S., sell more than 100 million records and earn an estimated £180 million.
In an interview, Sting confessed that all of his accomplishments would have been impossible if he had failed to leave his family. He described his family as dysfunctional, noting that his parents were not happy together, which affected him.
Sting's mother was unfaithful, which led to the eventual breakdown of her marriage and divorce from his father. Although his parents loved him, their constant fights and violence made him feel mentally unsafe.
The "If On a Winter's Night" singer pursued his dreams, which his father dismissed as irrational. And, at times, fame and fortune appeared to be a fantasy, as Sting struggled through a series of jobs before settling down as a teacher, with his musical abilities unappreciated.
After relocating to London, Sting did not experience much success as he was mostly performing in small gigs at pubs in London. Everything changed in 1979, when he and his band, "The Police," charted with their song, "Roxanne," and everything changed.
Sting went on to enjoy five No. 1 albums with "The Police," great success as a solo artist, leading roles in movies, rainforest crusades, 16 Grammy awards, and one of the longest marriages in rock 'n' roll.
As he embraced his successful life, Sting attempted to reconcile with his broken past; his relationship with his parents, but it was almost too complicated. He chose not to attend the burials of either of his parents, although he visited his father as he lay sick with cancer.
Although Sting achieved more success than his parents could dream of, he admits that his children have a strong shadow over them to eclipse his achievements. He said:
"With my children, there is great wealth, success – a great shadow over them – so it's no picnic at all being my child. I discuss that with them; it's tough for them."
STING'S KIDS ARE CREATIVE
The famous rock singer was first married in 1976 to actress Frances Tomelt. The couple shared two children — Joseph, born in 1976, and Fuchsia, born six years later. Sadly, the marriage ended in 1984, but the Grammy winner would have more little ones.
His second marriage to Trudie Styler produced four children, "Mickey," Jake, Eliot, and Giacomo. All six of Sting's children have their creative talents — thanks to their creative genes.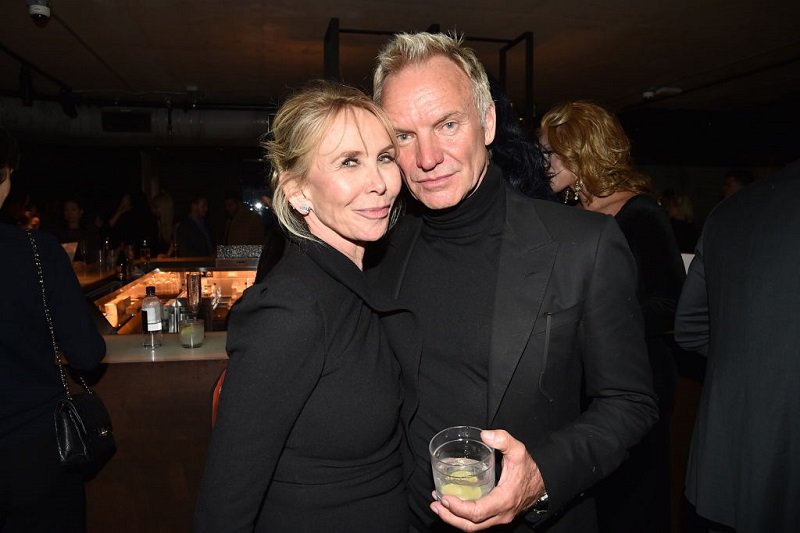 Trudie Styler and Sting on January 10, 2018 in New York | Photo: Getty Images
Some of his kids chose to pursue movie careers, while others opted for a career in music like their dad. Seeing his children succeed is undoubtedly a source of pride for the Hollywood great.
Please fill in your e-mail so we can share with you our top stories!