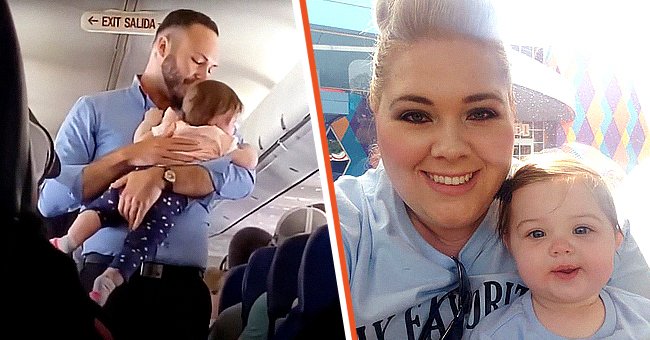 facebook.com/ashley.lusmanndowell youtube.com/GMA
Mom Cannot Calm Crying Baby during Flight, 15 Minutes Later an Attendant Picks up the Child

Stepping onto a plane full of strangers, a tired mother with her unhappy baby immediately felt unwelcomed. How she would get through this flight was a mystery to her and all the other seething passengers.
Except for a few golden-hearted angels, babies crying on flights is a universal annoyance, and many individuals don't try to hide their fury.
Either with a glare or scowl, fellow travelers make sure to let the parents know that this is a deeply unpleasant experience for them.
Wesley Hunt carrying 9-month-old baby Alayna [left]; Ashley Dowell with her 9-month-old baby Alayna [right]. │Source: facebook.com/ashley.lusmanndowell youtube.com/GMA
FEELING UNWELCOMED
In 2019, Ashley Dowell from Rockford, Illinois, was severely aware of this discomforting fact as her 9-month-old baby Alayna shrieked incessantly, disgruntled by her first time in the skies. The mom recalled:
"We're feeling like we're those people on the plane with the baby that's crying and everyone wants to kick you off the plane."
This mom, along with her husband, baby Alayna, and their two older children, were making their way to Disney World, all hoping that the flight would end as soon as possible.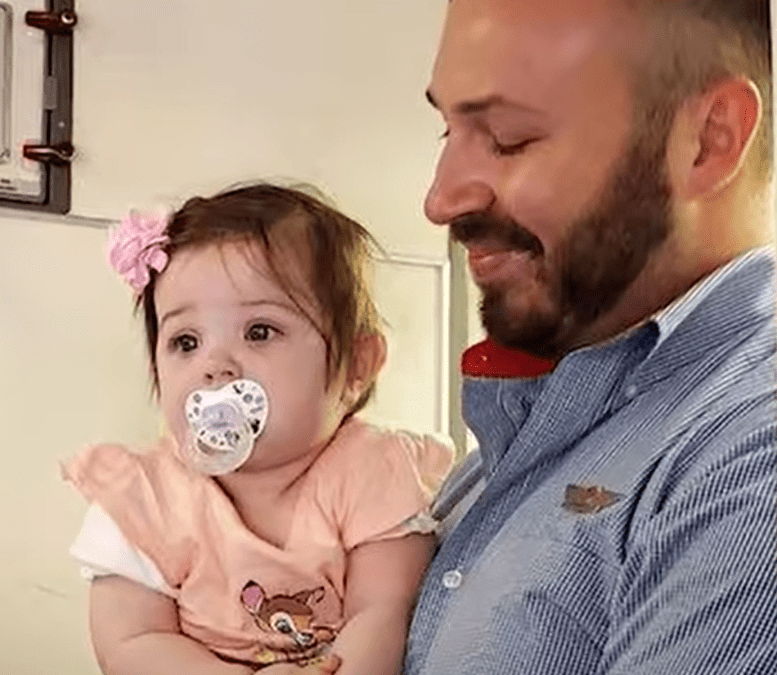 Wesley Hunt carrying 9-month-old baby Alayna. │Source: youtube.com/GMA
A BLUE SKY LULLABY
Luckily, a compassionate flight attendant noticed their struggle. Speaking after the fact, cabin crew member Wesley Hunt stated:
"Poor little Alayna was just screaming her head off, they could not get her to stop."
Acting on his Good Samaritan impulses, Hunt picked up the baby as soon as the belt sign was turned off. Walking up and down the aisle, he soothed the little one and tried to calm her down.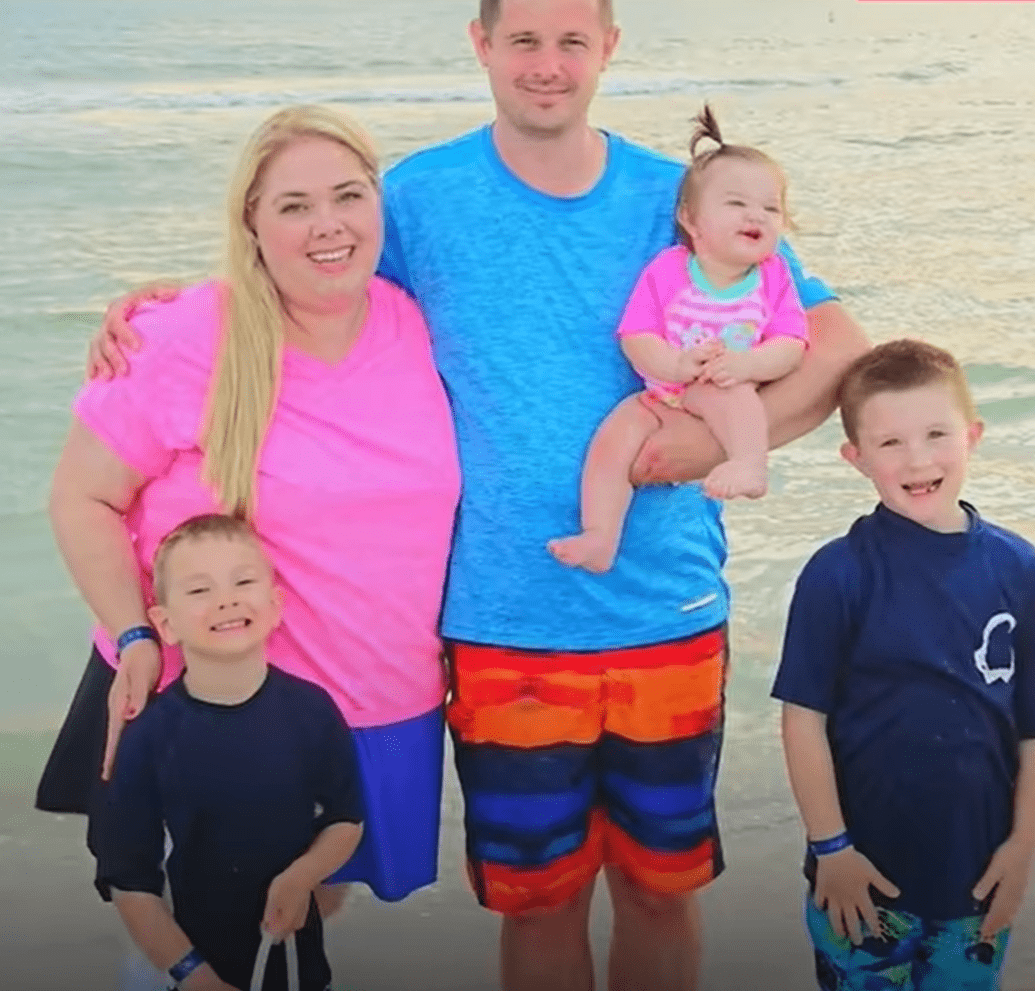 Ashley Dowell with her 9-month-old baby Alayna, her husband and their two other children. │Source: youtube.com/GMA
AN ILLUMINATING PRESENCE
After the flight attendant gave the baby back to mom and dad, Alayna soon found herself in slumberland, hopefully only to wake up in the land of Disney once the flight was over. Hunt has further stated:
"In a world full of hate, I like to be a shining light to someone who needs it."
Dowell could undoubtedly feel his brightness. In a Facebook post about this experience, she stated that his beautiful gesture reminded her that there are still good people in the world.
A RADIANT STRANGER
It looks like earth angels enjoy flying. In another instance where a mother struggled, a fellow passenger stepped in before the parent had a complete meltdown.
Twenty-nine-year-old Molly Schultz was traveling alone with her baby twins. The mom was on her way to say goodbye to her father, who had just passed away.
You May Also Like: Influencer Holds Photo Shoot in Front of Dad's Open Casket and Sparks a Debate on Social Media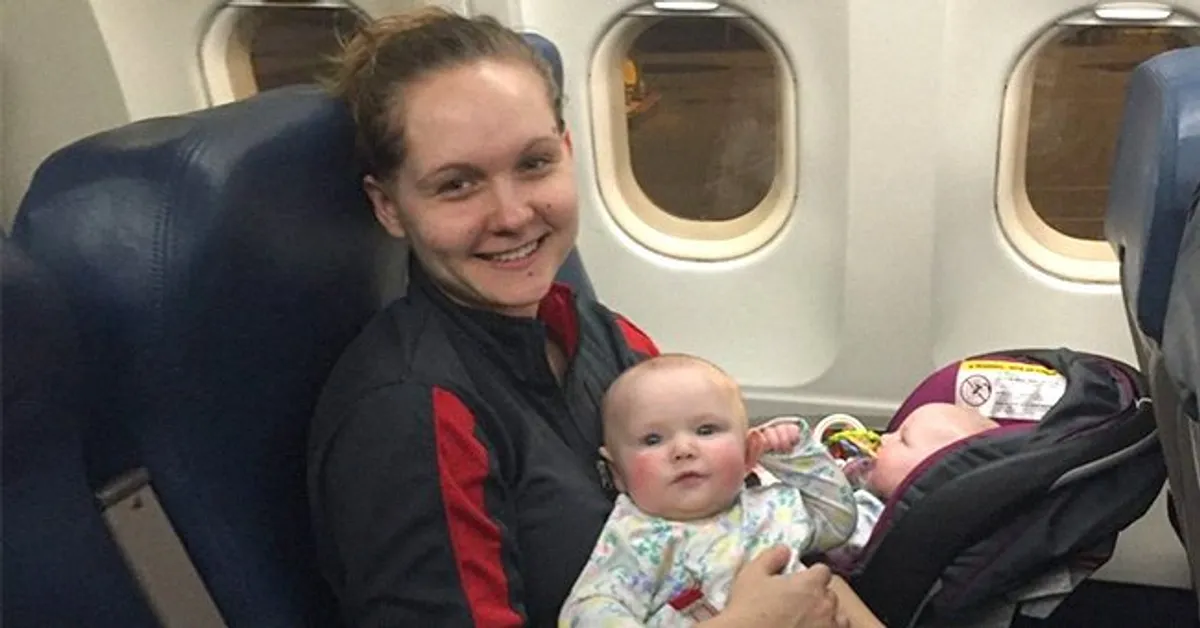 Molly Schultz holding her 7-month-old twins while sitting in an aeroplane. │Source: instagram.com/triedandtruemama
Schultz revealed that, combined with her dad's death and traveling with two irate babies, she was on her way towards a breakdown. However, an unnamed woman took one of her wailing daughters out of her hand just as the mother's tears began to flow.
The mom thanked this fellow passenger for her empathy, helpfulness, and non-judgmental nature in an open letter, penning that she hopes she may be reading it somehow.
What do you do when a baby won't stop crying on a plane? Sit silently in unspoken irritation, try to practice patience, complain or help the struggling parent?
Please fill in your e-mail so we can share with you our top stories!